Trump Meets Kim, Steps in North Korea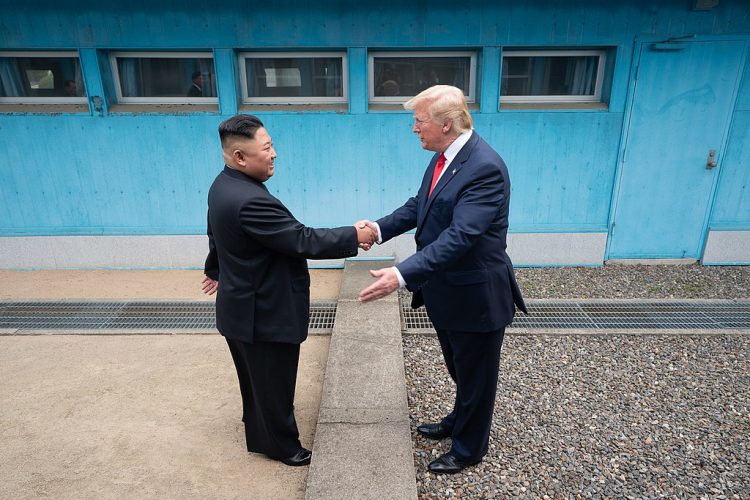 President Donald Trump went there:
On Sunday, Mr Trump became the first sitting US president to set foot in North Korea, accompanied by leader Kim Jong-un.

Mr Trump had earlier tweeted asking Mr Kim if he would like to meet while the US president was in South Korea.

On Monday, KCNA carried extensive coverage of the unprecedented meeting.

North Koreans rarely receive news of the outside world, and the heavily controlled media has depicted the US as its most hated enemy for decades.

Images of the US president walking into the North as a friend of Mr Kim will be an extraordinary sight for ordinary North Koreans.

Negotiations over North Korea's controversial nuclear programme have stalled since the second summit between the two leaders ended without an agreement in February.

After their surprise talks on Sunday, they reaffirmed their claims to friendship and said talks would continue through their negotiating teams.

Critics have dismissed the occasion as an act of political theatre which does not make substantial progress towards North Korea giving up its nuclear weapons.

*

Negotiations with North Korea to try to convince it to abandon its controversial nuclear programme reached a peak last year when Mr Trump and Mr Kim had a historic meeting in Singapore.

They both committed to the "complete denuclearisation" of the Korean peninsula, but without clarifying what that meant.

It was hoped their second meeting, in Hanoi in February, would make some concrete agreement about North Korea handing over its nuclear programme in exchange for some of the tight sanctions against it being lifted.

But those talks ended with no deal, as they failed to agree on the pace at which sanctions should be eased.