My Class, Their Class, Our Class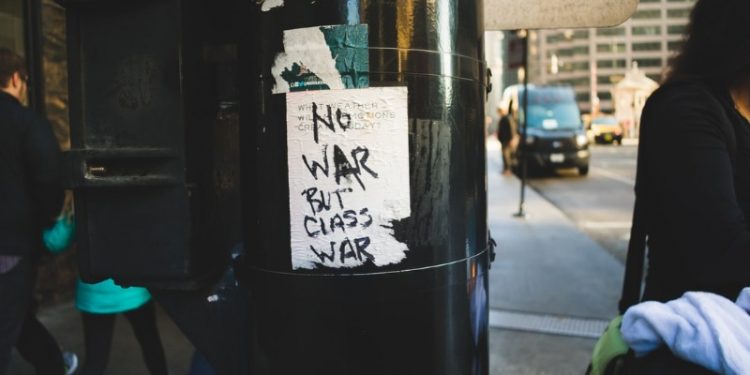 In last week's Twitter arguing about Senator Josh Hawley's speech1 on "the cosmopolitan elite," there was one position that I found compellingly, engrossingly, powerfully wrong—that it is not only incorrect but absurd to lump the "financial elite" and academics/urban creatives together into the same class.
The position was argued mostly by Adam Serwer of the Atlantic. Over the course of winding Twitter threads, he slides between talking about class and culture and economic interests and race in ways that are… pretty confusing, actually. At various points in the wandering Twitter thread, he declares that Hawley's attacks on finance are mere ornamentation over "boilerplate Republican culture war" attacks against urban white liberals of the academic/media/etc. class. The right-ish wingers he is arguing with respond that Silicon Valley tech-lords, Wall Street bankers, and the broader urban elite all share a culture, and so it actually makes sense to group them together in a partially culture-war broadside.
At some points he directly denies that financiers share the typical educated-urban-secular-mobile culture (the cosmopolitan culture) denying even that they have the same hobbies or eat the same food. When Megan McArdle says that she worked on the edge of Wall Street and personally witnessed how its denizens fit comfortably with the rest of urban elite culture, he shrugs it off by saying that:
The financial elite is "overwhelmingly white" (as opposed, presumably, to the "increasingly diverse NYC creative class" mentioned earlier)
Reiterating that they have different economic interests (e.g. "lobbying Congress to deregulate the finance industry [or] roll back clean air rules")
At another point he claims that the financial elite are not "particularly" cosmopolitan, and "That's why Trump cut their taxes." I am not certain how to interpret this, though it seems something like "If Wall Streeters were Republicans' cultural enemies, they would not support their economic interests."
Shades of White
Let's start with that "overwhelmingly white" bit.
The whiteness of the financial elite is a reason they are in no way part of the same class or culture as "English professors or website graphic designers." Perhaps it is an indication that they do not share the liberal cultural values of diversity and inclusion, or that as holders of the real money and power they more zealously guard their privilege.
Anyway, I made a table!
So I'm cheating a bit, because articles or House hearings about the troubling lack of diversity in finance focus on the top of the hierarchy—senior management and executives. In that Goldman Sachs report, that category is 80.4% white, and the number seems to be similar or higher elsewhere in the finance industry. Except… wouldn't the equivalent of the top executives at investment banks be the top executives at Buzzfeed? Who are… white, male venture capitalists.
To the extent racial demographics indicate something about class and culture, finance and academia and media look very similar (compare also American publishing houses and the New York Times newsroom for traditional media). Whiter at higher ranks, relatively diverse among the incoming youth, making lots of official noise about valuing diversity and official programs meant to promote it.
From what I can tell the key distinction, demographics-wise, it is that finance, like Silicon Valley, employs more Asians and fewer people from other minority groups. (And like Silicon Valley, those Asians become white when rhetorically convenient.) There's maybe something interesting to say about how bankers resemble scientists and engineers rather than humanities-graduates. But it is not a story of an entirely distinct culture readily identified by their whiteness.
Socio+Economic
Consider some of the culture war rhetoric from Hawley's speech:
The cosmopolitan elite look down on the common affections that once bound this nation together: things like place and national feeling and religious faith.
They regard our inherited traditions as oppressive and our shared institutions—like family and neighborhood and church—as backwards..
What they offer instead is a progressive agenda of social liberation in tune with the priorities of their wealthy and well-educated counterparts around the world.
Just to start with… do we think the financial elite spend a lot of time at church?
Chris Arnade, author of Dignity, was a Wall Street bond trader. He combines the whole credentialed class—the one he belonged to as both a bond trader and a PhD physics student—into the "front row" (as in the front row of class). He describes this class as devaluing faith and place (old neighborhoods and little hometowns) and yes, even family, in a way that fits pretty comfortably with Hawley's speech2.
Even if we focus not on these more abstract, lifestyle values, but instead  on the conventional set of culture war issues— the "progressive agenda of social liberation"—Wall Street has a rich history of pouting at Ted Cruz and pining for Michael Bloomberg over social issues.  I will grant that I doubt there are many out-and-out social justice warriors among them, and they obviously didn't care enough about social liberalism to not donate to Mitt Romney, but in fact someone's cultural values are shown even through their empty rhetoric.
The standard template for deriding the Republican coalition is to say that cultural issues are thrown to rural white people to satisfy them while catering to the plutocrats on economics. If that's how you view it, it shouldn't seem absurd for certain Republicans grappling for dominance to point at the plutocrats, and say "Hey! Those guys are also on the other side of the culture war!"
So Classy
My entire life I have been aware of a class divide with confusing and disturbing political implications, but it was never between me and the 1% or the rich or the generally more-privileged-than-me.
I grew up in a small southern community (let's call it the Town) where my dad was one of three process engineers at the chemical plant. All three engineers were from out of state originally, and my dad was the only one to choose to live in the Town rather than a twenty-minute drive away. My parents also chose to send us to the public schools, which were genuinely extremely terrible. And frankly the private school in the next town over wasn't what I'd call "world-class."
I always knew that I would leave the Town and the state and never come back. It wasn't even an ambition. It was just what was going to happen, the same as with my brothers and sisters, all of us scattering like dandelion seeds. I went off to college, made friends. Were their parents music teachers, novelists, engineers, doctors, lawyers, state department people, international bankers? Did they grow up in California, Texas, Sweden, Japan? You couldn't tell until they told you, and everyone went to the same parties and married each other.
On a few occasions I'd be invited to someone's parents' house and walking inside, think, "Geez, I am the 99%." But I always thought it tongue-in-cheekly. It was so obvious that the gulf between me and these people with their grand piano and their bidet and their bajillion-foot ceilings was so much smaller than that between me and the people back in the crumbling, shrinking Town. I was there in those houses as a friend, after all. It made resenting "the rich" on my own behalf seem silly.
It's not like Chris Arnade's "front row" can't be sliced into pieces with different shades of culture, different spots along the money-power-privilege scale—when my brother went from being a medical student in a Western state to a medical intern and resident in a northeastern one, his friends shifted. The average income of their parents went up. They became more likely to be from the coasts, to have gone to an Ivy League university as well as to one of those New England private high schools everyone's obsessed with, to have a husband who works on Wall Street. (Speaking of sides of the culture war, my brother sums up the politics of his new milieu as "Trump is a dictator but it's Mike Pence who really scares me.")
But the great attention sometimes paid to those distinctions reminds me of a Ross Douthat column circa the Kavanaugh hearings pointing out someone from the No. 2 private high school in Connecticut opining on the exclusionary elitism of students from the No. 5 private high school in Maryland, back when they were all eighteen.  It makes me tired3.
If the hedge fund men holding political fundraisers evaporated tomorrow I honestly don't know what that would do for the Town. That's one reason I don't think it's vital to focus on them like a laser to the exclusion of other sources of power and influence, including cultural power, including upper-middle-class power, including regular middle-class power, even. And I never assume the rich and powerful look nothing, nothing at all, like me and mine.
On whether "cosmopolitan elite" is an anti-Semitic dog-whistle—"cosmopolitan" really is a regularly used word for, basically, worldly, mobile, city-ish people. Skipping a lot of to-be-fairs and on-the-other-hands, Ilhan Omar's denunciation of the Israel lobby seemed to track the shape of anti-semitic "tropes" more closely than this, and I think the attacks on her rhetoric are unfair and don't really blame her for continue to say pretty much the same sorts of things. There is a distinction between hedge fund managers who hold fundraisers for politicians. On the "National Conservatism" Conference in general, I appreciated this, this, and this.
Only pretty comfortably because Arnade emphasizes that the faith-family-place-appreciating class is racially diverse (and includes immigrants) and Hawley significantly does not.