Wednesday Writs: Pro Se Edition
Oh, that's right, legal fans, the amateurs are in charge now with Em off on Vacation.
Normally this is where the case of the week goes, but since I don't have the basis of knowledge for such a thing, and the person I ask on such things is Em, we'll be doing things a little bit differently.
[WW1] Normally, the Case of the Week is a Supreme Court flavor legal matter. If you are not sure, it's helpful to know how the Supreme Court actually works. Not as a branch of government, but the actual machinations of a case being argued before the 9 robed figures.
A Term of the Supreme Court begins, by statute, on the first Monday in October. Usually Court sessions continue until late June or early July. The Term is divided between "sittings," when the Justices hear cases and deliver opinions, and intervening "recesses," when they consider the business before the Court and write opinions. Sittings and recesses alternate at approximately two-week intervals.

With rare exceptions, each side is allowed 30 minutes argument and up to 24 cases may be argued at one sitting. Since the majority of cases involve the review of a decision of some other court, there is no jury and no witnesses are heard. For each case, the Court has before it a record of prior proceedings and printed briefs containing the arguments of each side.
During the intervening recess period, the Justices study the argued and forthcoming cases and work on their opinions. Each week the Justices must also evaluate more than 130 petitions seeking review of judgments of state and federal courts to determine which cases are to be granted full review with oral arguments by attorneys.
That Oyez part actually has a little bit more too it:
Opening formalities link the current day to the past. The Marshal or Deputy Marshal acts as Crier. A few minutes before 10 a.m., Crier and Clerk, formally dressed in cutaways, go to their desks below the ends of the high bench. Pencils, pens, papers, briefs, and a pewter mug of water are at each Justice's place.

At their tables, attorneys glance over notes or confer softly. A young lawyer may fidget slightly, while a veteran checks his watch. Seconds will count, for today each counsel has only 30 minutes—unless he or she has a very unusual case. Before each chair at the four counsel tables, lie white goose-quill pens, neatly crossed; most lawyers appear before the Court only once, and gladly take the quills home as souvenirs. Snuffboxes, once indispensable, vanished long ago, along with arguments that lasted for hours and soared to splendid heights of oratory.

Meanwhile, the Justices, summoned by buzzer, gather in their conference room. Each shakes hands with all the others, even if they were chatting a few minutes earlier. Chief Justice Fuller instituted the unvarying custom as a sign that "harmony of aims if not views is the Court's guiding principle."

Promptly at 10 o'clock the Crier begins to bring down her gavel. Everyone rises instantly as she intones: "The Honorable, the Chief Justice and the Associate Justices of the Supreme Court of the United States!"

As the Crier speaks, the nine Justices stride through openings in the curtains and move to their places. The Crier chants the call for silence: "Oyez! Oyez!! Oyez!!!" From the centuries that Anglo-Norman or "law French" was the language of English courts, the word for "Hear ye!" survives.

Steady-voiced, the Crier continues: "All persons having business before the Honorable, the Supreme Court of the United States, are admonished to draw near and give their attention, for the Court is now sitting. God save the United States and this Honorable Court!"

The gavel falls again. The Justices and all others take their seats. Visitors unacquainted with the Court can quickly check identifications against seating charts. In the center sits Chief Justice John G. Roberts, Jr., who began his Supreme Court career as a law clerk to Associate Justice William H. Rehnquist. Seniority determines the seating of the eight Associate Justices, alternating between the Chief's right and his left.

Argument is easier for all to follow since the Justices approved a change in the shape of their bench. "I remember when I used to argue cases here," a senior lawyer recalls. "I would get two questions at once, from opposite ends of the bench—the Justices couldn't see or hear each other." In 1972 the shape of the bench was altered to its present shape, with two wings each set at an 18-degree angle, a form that has been widely used in American courts since the mid-1950s.

Even the technical cases can stir attention as the lawyer begins—"Mr. Chief Justice, and may it please the Court…"—and develops his or her theme—"…insurance companies are entitled to justice like anybody else…" The questions start: brisk, no-nonsense queries from the Justices.

At times the proceedings seem much like an advanced seminar in constitutional law, with Justices and attorneys exchanging points of law and citing precedents. At other times the exchange is more like a cross-questioning, as when Justice Scalia probes into an attorney's equivocal answers and concludes, "You say maybe yes, maybe no, you just don't know."

An attorney used to this Court may take an unwelcome idea in stride: "Possibly, your honor, but I would suggest…." Or suavely field a question on what Congress intended in a statute: "…the Congress does many things that I wonder at…."

With veiled ruefulness a lawyer remarks, "I see my time is running short"; or the Chief Justice may offer a gentle reminder, "Counsel, you are now using up your rebuttal time." Or the other way around: "We have taken up much of your time with our questions; we will give you six more minutes." When a red light glows on the lectern, the Chief Justice says, "Thank you, Counsel, the case is submitted."
[WW2] Let's review that great tool that every good lawyer has in their tool box…the billboard advertisement.
ABQ lawyer goes full @BetterCallSaul in new billboard http://t.co/vrTttuKyeV pic.twitter.com/3dnuZqLpbd

— Chris Ortiz (@ChrisJOrtiz) February 11, 2015
Points for staying on a hometown theme, I guess.
@ColeLopez77 Found a billboard of Greg Hardy's attorney pic.twitter.com/mwussSgYlQ

— MJ (@MJJ_616) November 13, 2015
I'm no lawyer, but technically I guess Larry has a point.
My favorite South Austin billboard. The Attorney that Rocks! Anyone actually tried out his services? #keepaustinweird pic.twitter.com/YSo0MuakKX

— LanaMcGilvray (@LanaMcGilvray) June 13, 2013
C'mon, you knew that was Austin even without the hashtag, didn't you?
Prominent auto insurance attorney and prolific advertiser Mike Morse has replaced the "MIKE" in his Southfield law firm's phone number in this billboard ad with himself. pic.twitter.com/bBfxdaFUa1

— Chad Livengood (@ChadLivengood) March 28, 2018
I mean, if you don't know it's Mike do you dial "HEAD" or "FACE" or what?
Support you local Nomad Law Firm. Take a pic of one of our billboards + tweet pic + DM = free T-shirt. pic.twitter.com/PhD0IogSw0

— Byron Browne (@brownebyron) September 8, 2014
Kind of a Sons of Anarchy vibe, dig it.
My personal favorite — sometimes just go with the name and double meanings: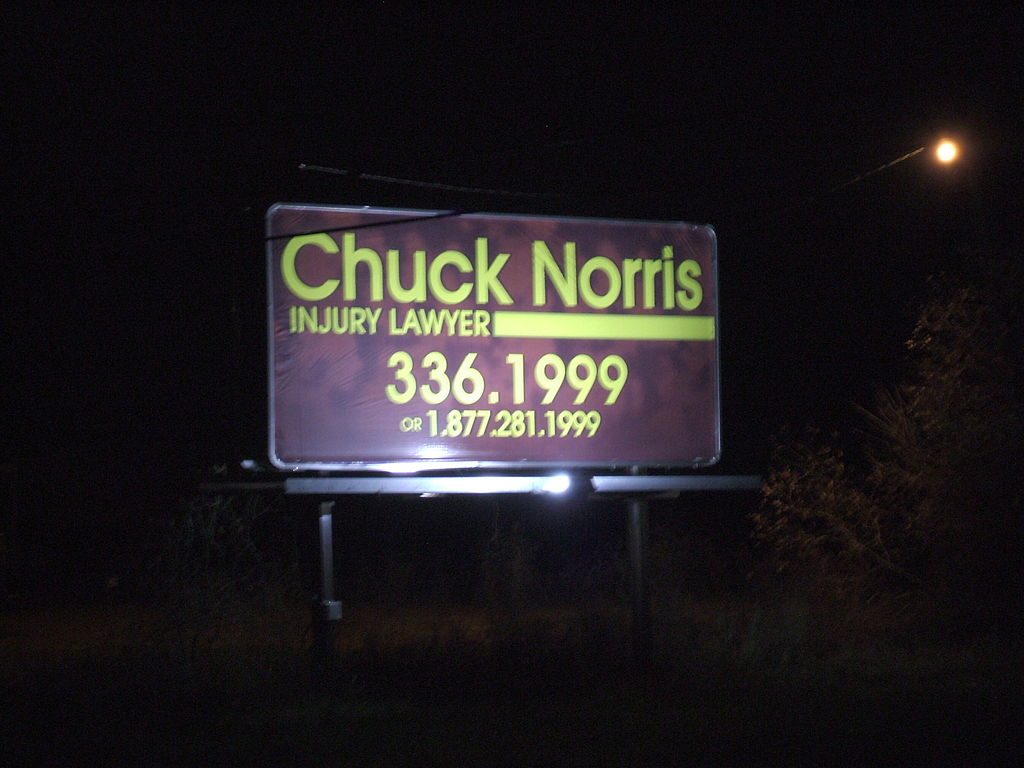 [WW3] That FaceApp challenge that was going around? It was Russian, so expect those pics to show up again on bot accounts, and it again raises the same legal and privacy questions social media always seem to have:
A key difference between FaceApp and Facebook is that a Russian company developed the former. The New York Post published an explosive headline claiming, "Russians Now Own All Your Old Photos." But falling back into Cold War–style rhetoric can be misleading. Concerns about Russian apps stem from the close relationship between government and industry, and the likelihood that Russian companies will be unable to fight government requests for data. Then again, companies in even the most liberal, democratic nations often have to share data with their government as well. In the United States, tech companies and their users do generally enjoy a higher level of legal protection from government than their counterparts in Russia do. But users of non-Russian apps should still be concerned about where their data will end up.
[WW4] Bad Lawyers make Bad Lovers, Worse Bill Coders:
An Eagan lawyer is suspended indefinitely after having an affair with a client whom he represented in a divorce, then billing her for time they spent having sex. Thomas P. Lowe, 58, won't have a chance for reinstatement for at least a year and three months after the decision, filed Thursday, Jan. 10, by the Minnesota Supreme Court. Lowe, an attorney since 1985, had known the client for many years. Both are from Valley City, N.D. The woman met with Lowe in August 2011 to discuss pursuing a divorce from her husband. He agreed to represent her. During a phone call days later, Lowe asked about her sexual relationship with her husband, commented on her appearance and asked if she was interested in sex with him. The following month, they began an affair that lasted until March. At various points, Lowe billed the woman for legal services on the dates of their sexual encounters, coding the time as meetings or drafting memos. In March, after several arguments with the woman about the affair and his own marriage, Lowe said he was breaking things off. Two days later, he said he was withdrawing as her attorney. That day, the woman, who was considered vulnerable because of past abuse and mental health treatment, tried to kill herself. While hospitalized, she disclosed the affair. The Office of Lawyers Professional Responsibility brought the petition against Lowe in July. He initially denied much of it, but now "unconditionally admits the allegations," according to court filings. A man who answered the phone at Lowe's office Monday said Lowe was unavailable. In addition to a few previous citations for issues of decorum, Lowe was placed on probation in 1997 for using cocaine and being involved in purchasing the drug.
[WW5] Could be a trend to watch: "Corporations just keep on moving more and more of their legal work in-house, and it doesn't look like that trend will stop any time soon. According to a survey by the Corporate Legal Operations Consortium (CLOC), only 46 cents of every dollar went to external legal costs — like law firms — in 2018, compared with external costs taking 62 cents per dollar in 2017. That's a big swing in only a year."
[WW6] Lawyers as entertainment: The Death of the Middlebrow Legal Thriller – "Twenty-five years ago, Hollywood was enjoying a pipeline to success as clean and unobstructed as any. The paperback legal thrillers of author John Grisham featured in supermarkets across the nation, and starting with The Firm in 1993, were taking over movie theaters, too. The cinematic versions arrived with impeccable casts and big-name directors, all raking in over $200 million at the box office (when adjusted for inflation). Sydney Pollack helmed The Firm, starring Tom Cruise, Gene Hackman, and an Oscar-nominated Holly Hunter. That same year, Alan J. Pakula directed The Pelican Brief, with Julia Roberts and Denzel Washington. Joel Schumacher would end up making Grisham's debut novel A Time to Kill with Samuel L. Jackson, Sandra Bullock, and a breakthrough actor named Matthew McConaughey. But first he'd direct Susan Sarandon to a surprise Oscar nomination in 1994's The Client.
With its incredibly simple yet compelling premise — a kid on the run from the Mob avails himself of the legal services of a self-made Memphis lawyer who works outside the system to get justice — The Client may well be the quintessential '90s Grisham thriller, a genre that's been seemingly lost to history despite the echoes it continues to have in the careers of the films' stars."
[WW7] You just knew an attorney named "Winner" would end up on the bad lawyers list, didn't you?: "The Sandy Springs attorney accused of offering inmates prohibited items in exchange for sexual favors left the Cobb County jail early Sunday. But then he was booked into the Fulton County jail on drug charges, records show. Michael Stuart Winner, 45, was being held Sunday night without bond for allegedly having amphetamines and for having prescription drugs in the incorrect container, according to booking records. It was the second trip to jail for Winner since Thursday evening, when he was booked into the Cobb jail on eight felony charges involving two female inmates, according to his arrest warrant obtained by Channel 2 Action News. Winner allegedly met with the inmates in private attorney-client rooms at the Cobb County jail on numerous occasions, the warrant states. On one occasion, Winner exposed himself to a female inmate, and another time, he asked to see a woman's breasts, according to the sheriff's office, which secured the warrant. In exchange, Winner offered to bring the inmates drugs or tobacco, items prohibited in jail, according to deputies. An inmate's complaint about Winner led to an investigation into his actions."
[WW8] Law School should be more like trade school?: "Supreme Court Justice Robert H. Jackson, who also served as solicitor general, attorney general, and chief American prosecutor at the Nuremburg Trials, was one of the most accomplished lawyers of his era. But Jackson only attended law school for one year. He passed the bar in 1913 after studying under a lawyer—his uncle—in upstate New York. Today, the legal realm would greet Jackson's education with disdain. Elite law schools, staffed with highly paid faculty lacking any meaningful experience in the profession, equate the practical model with a trade apprenticeship—just a lengthy bar-review course. But why are bar-review courses even necessary for students who just finished a three-year course of study in the law? Isn't learning about the practice of law the raison d'être of legal education? The open secret is that elite law schools don't see their mission as teaching the nuts and bolts of regular legal work. Tenured faculty leave the real training to the lesser caste of clinical instructors and adjuncts, postgraduation cram courses, and on-the-job training by law firms."
[WW9] Horizontal drilling and mineral rights finally get some restraint in West Virginia:
West Virginia law states that mineral owners have the right to do what is "reasonably necessary" to access their minerals. But the legal concept of "reasonably necessary" was developed at a time when gas wells were a few pipes sticking out of the ground.

The majority of gas that EQT extracted from the well site on the property did not come from beneath Crowder and Wentz's land, but rather from neighboring properties. The 1901 lease gave the company the right to produce gas from beneath the land owned by Crowder and Wentz, but it did not give them permission to use their land to drill into neighboring tracts.

In 2014, they sued EQT for trespassing. In 2017, they won a $190,000 victory in Doddridge County Circuit Court. EQT later appealed to the West Virginia Supreme Court.

Filing a lawsuit against a gas company in West Virginia is a difficult decision. Judges are elected in the state and some, including Supreme Court justices, receive donations from the industry for their election campaigns. Natural gas companies are also valued in communities where work is scarce.

In the last decade, the number of jobs provided by the sector has risen from around 8,000 to over 18,000, with average salaries ranging from $67,000 to more than $117,000, compared with $45,000 for most private-sector jobs in West Virginia, according to an analysis of data collected by Workforce West Virginia.

In 2018, more than half of the natural gas jobs were in the highest paid category, pipeline construction. But those jobs will likely decline in the next few years as the need for new pipelines diminishes.

On June 5, the West Virginia Supreme Court unanimously ruled in favor of Crowder and Wentz. The court said that natural gas companies must get permission from surface owners to use their land to drill into minerals under neighboring properties.

"The right must be expressly obtained, addressed, or reserved in the parties' deeds, leases, or other writings," Justice John Hutchison wrote.
[WW10] There's the law, then there is the application of the law, then there is Denny Crane: