"I'm saying a prayer for the whole world, George."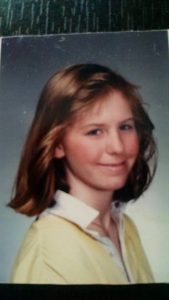 In the 1980s, there were exactly three things I really knew about Japan.
First: Speed Racer was from there, and I loved Speed Racer. Way past when I should have. I liked his look. I liked his car. I liked his song — Go, Speed Racer, Go! When Speed came on and no one was looking, I would kiss the screen.
Second: Hiroshima and Nagasaki were terrible tragedies. Even when explained in the vague pablum given to children, the cities loomed large — horrifically present while also seeming like little more than a plot line in a distant movie.
One year, when I was 14 or so, I took part in a Hiroshima Day ceremony in which paper boats were set adrift with a candle and a wish for peace.
In my boat, a sincere apology:
I can't believe I'm part of a country that did this. I wish I could make it up to you. But I feel so far away. And there's nothing I can do.
And off my little floating wish boat drifted. Also hunkered in there — an ugly little stowaway — was my relief that it was someone else and not me who'd experienced the effects of the bomb. No immediate incineration; no slowly dawning radiation poisoning; no birth defects years later in my children.
Third: Godzilla. Really, it was the only movie we knew from Japan. A monster. A vague unclear threat. Fear itself.

We were living through the last decade of the Cold War's nuclear shadow. At school we did drills where we got under our desks, a strategy which our teachers assured us would save us in the event of a nuclear explosion. The kids would talk about the movie The Day After, whose takeaway was that the best thing to do in a nuclear situation is die, because if you survive you're in a world of hurt. There was a bomb shelter on my street.
I lived in a suburb of St. Louis. Florissant, to be exact. It's a couple of miles past the home of the original Monster Truck. Specifically, Bigfoot — the WORLD'S BIGGEST MONSTER TRUCK. The Monster Truck that gave birth to the very idea of Monster Trucks. A beast. A dirt churner. The kind of truck that leaves a trail of destruction in its wake with little concern about what it crushes.
We'd moved to Florissant from St. Louis' inner core, and so my suburban experience always felt a little surreal—roller skating at the rink, sun burning at the pool, and hanging out in this spot next to Coldwater Creek, in a micro-woods wedged between McDonald's and a storage facility. The creek had been dug out and concreted, and the dirt mounds left behind were perfect for exactly two things — dirt biking and making out. To this day, if I smell Polo cologne, I am instantly transported there. Into the body of a girl with feathered hair, a Coca-Cola rugby and acid wash jeans, with some boy who smells like Doritos sticking his tongue down my throat.
During World War II there was this thing called the Manhattan Project.
St. Louis was home to a chemical manufacturer called Mallinckrodt, and Mallinckrodt had signed on to enrich the uranium that would make the world's first controlled nuclear chain reaction. The uranium that led to the atomic bomb. It did so for fifteen years.
After a while, Mallinckrodt ran out of room to store what it called "the poisons" in its downtown facility, so the workers put it on trucks and sent it to a place far away where they knew no one would ever move, about 6 miles North to the airport.
Later, when they realized people totally did move out near the airport, they shoveled it back into barrels and trucked it up to a new place where they were sure no one would ever ever go. About 2 miles north of the airport, where they buried it in what is essentially a public park alongside a creek. The kind of creek that had been dug out and concreted, with dirt mounds left behind that were perfect for exactly two things — dirt biking and making out. Over the years, after season after season of flood and retreat, Coldwater Creek liberally delivered Uranium-238 with a half-life of 4.5 billion years and Thorium-232 with a half-life of 14 billion years to the backyards of homes in seven counties.
Ferguson. Hazelwood. Black Jack. Spanish Lake. St. Ann. Berkeley.
Florissant.
When they shored up the creek with concrete, the dirt they flung alongside the now-wider concreted creek was filled with radiation. Surely, it was in the hands and on the forehead and even on the lips of the sweaty dirt-biking boys I kissed.

I was diagnosed with ovarian cancer in 2009. A year later, the news came out about the creek. As it turned out, it was not just me. Hundreds of people who lived along the creek, who kicked up the dirt when they ran around the baseball diamonds, were also sick. Their children were dying of rare cancers. They were too.
In 1973, some of the waste was picked up and moved yet again, to the Westlake landfill in neighboring Bridgeton. It is buried there today. An exothermic reaction (read: underground fire) has been smoldering near where the waste lies for almost five years, and it's getting closer. Experts are squabbling about the timeline, but some, including Missouri Attorney General Chris Koster, have said it might reach the nuclear waste in three to six months time. Schools in at least four districts have sent home letters, outlining their emergency plan: Shelter in place. Stay home. Go into the basement, the bomb shelter. Leave. Go, Speed Racers. Go.
I think back to the boat ceremonies.
I think back to feeling how far away from everywhere else America seemed. I think back to seeing a plume of dirt rise up from a churning angry truck, circle around a track, and come back. I think: My backyard, your backyard. My dirt. Your dirt. My Bigfoot Monster Truck. Your Godzilla.
In the 1954 trailer, as Godzilla breaks through the electricity barrier and the people start running, the announcer says, "I'm saying a prayer for the whole world, George."
Not Hiroshima. Not Tokyo. Not Ferguson. Not Florissant. Not America. Not Japan.
The whole world.
[Images: Cold Creek; The Author at Fourteen, both via Maud Kelly.]