Nondenominational: The Lost Tribe of Evangelicals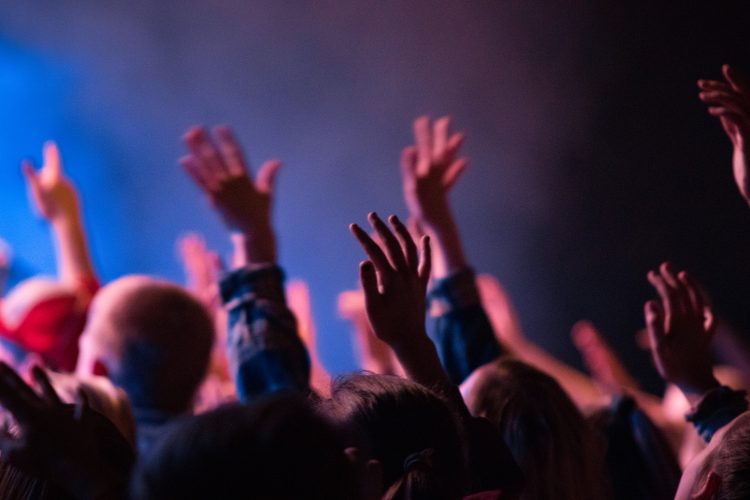 Writers on American religion spill a lot of ink over evangelicals. I believe that there is a lost tribe of folks who qualify as evangelicals but who do not fully figure into the studies of this group. I am wired to be an outside observer. I don't often make a normative case when it comes to religion, politics or culture. Yet I still care deeply about the world I will describe below. It's the center of my cultural, family and social life.
I'm suited to the topic. While I am a student of Political Science at the University of Nebraska, I have a previous degree in theology and music from an evangelical bible college (1988). I was an evangelical pastor for 9 years before I started my tech career in 1995. My father and mother are both Pentecostal preachers and they are still working hard in their late 70s. While growing up, church was essential to our lives. As a singer I appeared on "The PTL Club" back in it's heyday and hobnobbed with Jim and Tammy Baker and Jimmy Swaggart (friends of my parents). I have visited hundreds of evangelical churches over the course of my adult life. As a Christian, I have led a checkered life that has made many demands on grace. Today, I am very active as a voice coach of around 30 worship leaders, and as a leader in my local church (a medium sized mega church of some 4500). So I come to this topic with love, experience and expertise – all of which makes me a little defensive. That is my full disclaimer.
Innovating the Hell Out of Church
The death of evangelicalism has been predicted ever since Nietzsche proclaimed that God is dead, yet the resiliency of the evangelical church surprises secular observers. They get it wrong because they misunderstand how the church operates. There's no pope or bishop – no leaders who really matter. No overarching plan or strategy. It's organic. When the media brings up Joel Osteen or Franklin Graham and tout them as representative, many evangelicals scratch their heads trying to remember who they are. Maybe they follow them, maybe they don't, but they feel no particular loyalty to them as spokesmen.
Evangelicalism proposes a personal God, personally speaking and personally interacting with his children. Each believer asks what God expects of him or her and each one gets to decide where to attend and who or what to believe. While a grab bag of theology loosely binds evangelicalism together there is only a shallow consistency to it. This allows factions to coalesce around various preferences and it leads to constant experimentation. A style of worship, a particular subset of theology or a transformative speaker or worship leader can be a seed for a new "movement". Most of this happens outside of denominational structures. New movement churches spring up – often populated by folks who have left a larger more established church or movement. This is how evangelical churches proliferate – well under the radar of media or academics. How is it that these brush fires escape notice? It's because the DNA of evangelicalism is designed to subvert and destroy religious tradition.
Indeed the evangelical movement innovates the hell out of church. Its ability to re-invent itself is misunderstand and under appreciated. Pundits seem startled each decade when evangelicals show up in surprising strength. I believe this is because studies underreport the size of the evangelical movement.
Measuring the Christian Right
Estimates are as low as 5% and as high as 40% when estimating the number of Americans who are "evangelical". Why the disparity? Measurement is tough. There are basically 3 types of questions that studies use determine if someone is an evangelical:
 Self-Reporting – Are you an evangelical Christian?
 Denomination – Are you a member of any of these denominations: Southern Baptists, Church of Christ, Nazarene, Four Square etc.?
 Theology or Beliefs – Do you believe in a born again experience? Are you "saved"?
If you are old enough to remember Jimmy Carter's "born again" presidential campaign these probably make perfect sense to you. But if you are a 30 something member of a movement church you probably don't have the right answer to any of these questions. Innovation means movement evangelicals re-describe their experience in ways that are new. They self-consciously discard the old language. They have a fresh new theology – or rather, a fresh set of terms for the old theology. Consequently they've not necessarily heard the church they attend described as "evangelical". They aren't part of a denomination that they know of, and they have new and different ways of speaking about their relationship with God.
Denominations settle into tradition and ritual – they stop changing and atrophy to protect the status quo. As they atrophy they become older and more predictable in liturgy, worship and theology. But when an evangelical denomination stops changing, it begins to calve. Groups of the faithful often splinter and reinvent themselves as a new "movement". Innovation is part of the DNA of evangelicalism and without it churches no longer seem "alive". So these "movement" churches spring up in rebellion and break the mold. They exist as a critique of existing tradition and structure within the evangelical church. Evangelicalism has never been hierarchical in the way of other denominations. In a very real way, local evangelical churches represent a kind of direct democracy – people voting with their feet.
Movement evangelicals have always seen themselves as rebels. Pentecostals like my parents had worship that was considered too emotional and lacking in proper awe. They reveled in their low-class status. The Azusa street revival in Los Angeles (an early part of Pentecostal lore) was started by a small group of interracial parishioners. That in itself was a scandal. Pastor William Seymour (an African American) stuck his head in a crate and only pulled it out when the Holy Spirit gave him something to say. While it sounds crazy it was, in fact, a critique of the lifeless rituals of the "dead churches" of the time. It was breaking the mold of traditionalism and conformity. It was a liberal movement – hippies with long skirts and no makeup in 1906 Los Angeles breaking down racial stereotypes and attacking the view of God as impersonal and unknowable.
Back then, Pentecostals scandalized tradition when blacks and whites met together and women preached as ordained pastors. Now, movement evangelicals have a different set of issues, but the purpose is the same – to innovate away from the atrophy of tradition, energize a base of youth and win a new constituency. They fit few stereotypes you have seen in media. What does a movement church look like?
Movement Church Subversion
They skew young. The seats (rarely pews) hold singles and couples in their 20s, 30s and 40s. I would estimate the average age at 35. There are are gay couples, cohabitants, married couples as well as single moms and dads. There are felons, business owners, drug addicts, and musicians. The nurseries are full of babies and toddlers. While these churches tend to be white and often show up in white suburbs and neighborhoods, they attract a higher percentage of immigrants and minorities than their surrounding neighborhood demographics.
They have a different relationship to culture than their more traditional fellow travelers. For example, check out this Bethel song, So Will I, by Amanda Cook. The song was hugely popular with movement churches in 2018. Buried in the text is this line about creation:
"As you speak, 100 billion creatures catch your breath, evolving in pursuit of what you said…" (about 2:20)
Sounds innocuous right? Until you realize that traditional evangelicals often insist on a literal 6 day creation story. The song writer is melding evolution with creation. This song would probably not be sung in a traditional evangelical church but it is wildly popular in movement churches. Its popularity is a hint that young movement evangelicals are more comfortable with evolution (and a host of other issues). They meld their faith with it rather than dying on a hill of "6 literal days".
Take a closer look at the video and what do you see? A huge crowd, concert lighting, tattoos, a youth vibe, a visceral emo performance. This is a typical Sunday morning service, not a concert. Don't get hung up on the music because you think it's pedestrian. Consider its purpose. It's created to serve as a contrast to the stodgy traditionalism. It's designed to be subversive. And movement evangelicals exist to be subversive within the church world. Their sermons focus far more on the hypocrisy of the church than on the wages of sin.
Do such churches believe in a "born again" experience? Yes they do. Do they use the words "born again" or "saved"? Almost never. Their religious lexicon is constantly re-invented to be relevant. A quick review of notes from sermons from the pulpit in the church I attend shows many references to "relationship" and "following Jesus" but zero references to "born again". Why? Because that word has come to mean a specific kind of religiosity. And the lost tribe hates religion, even if by the markers of groupishness, attendance and contribution they would be considered very religious. These folks would say un-ironically that "organized religion" makes them uncomfortable. Tell one of them they are "very religious" and you might get a surprised look – it's not religion to them. They see their faith as a critique against religiosity. It's lifestyle, community and relationship. Religion is for dead not the living.
Meanwhile, these churches are brilliant and effective culture factories. Having created a movement, they often replicate their culture using technology. Using video, high tech sound and lighting and social media such churches are able to duplicate their culture to campus locations in a way that is cheaper and more effective than traditional church planting. Campuses can exist all over town, or in different states and countries – all of them connected via live video stream in real time. They each seem small, but in aggregate a single church can have thousands of attendees (not members; actual folks in the seats) each Sunday even if their main location or building seems modest. The lost tribe is very busy.
So when you see that poll or study that claims to understand evangelicals as a monolith take it with a grain of salt. There's a lot more going on under the hood than you might imagine. Where might you find the "movement churches" in the media? Look for the word "nondenominational". If someone claims to go to a "nondenominational" church it's almost certainly a movement evangelical church. See this article in Christianity today.
There were an estimated 12 million such "nondenominational" parishoners at 35,000 churches in 2010 and indications are that this movement is still growing. Much of the growth comes from bleeding away adherents to the now-atrophied evangelical denominations. This leads to a false sense that evangelicalism is on the decline, but in fact it is going through it's predictable periodic rebirth. Political scientists and academicians are beginning to take note of the phenomenon. For now, how these movement evangelicals fit with the views and preferences of traditional evangelicals is fuzzy.
---
For more in depth understand of the measurement problem see a 2008 article by Conrad Hackett and D.Michael Lindsay titled "Measuring Evangelicalism", published in the Journal for the Scientific Study of Religion. I have put something of myself out there in the hopes of furthering discussion. That's always a risk for a writer. Please be kind in disagreement. Thanks!