Carried Interest is Not Labor Income – The Capital Structure Perspective
A little while back, I was involved in a brief conversation about the tax treatment of carried interest.  As a full-length post is the best way to explain why carried interest represents a capital gain as opposed to labor income or a gift, I wrote one.  I'm assuming that readers know what carried interest is and why the tax treatment is controversial.  If not, please feel free to visit these sources (Wikipedia, International Business Times)
Of all of the posts I've written, this one is my favorite.  While the subject material isn't intellectually stimulating, and perhaps boring as hell, I admit to having a certain level of enjoyment knowing that my position is not only unpopular as hell, both here and elsewhere, but also because the arguments in favor of treating the taxation of carried interest as ordinary income that don't appeal to tax justice or fairness, are as appealing as they are correct.  Consider this short-yet-sweet excerpt from a recent New York Times editorial by Victor Fleischer, a proponent of taxing carried interest at ordinary income levels.
…carried interest is not a capital asset. It is labor income, the amount of which happens to be determined by reference to a capital asset…
The argument appears unassailable because all phases of an investment cycle (acquisition, management, development, disposition, etc.) require labor.  A private equity firm that acquires a distressed company, re-positions it and sells it via an initial public offering will get money for that asset in part due to labor's contribution.
Making my job more difficult is that, to be blunt, most of the defenses of the current tax treatment of carried interest that I've read suck. Arguing that the issue isn't/shouldn't be a big deal (here), that the fiscal impact is small (here), or that capital is capital and this is the way partnerships have always worked (here) fail to address the best argument of the other side – labor's contribution to capital value.
A very good exception to this rule is a Kevin Williamson article at the National Review.  He deserves credit for trying to address the relationship between labor value and capital value, and he does so by trying to equating carried interest with "sweat equity" and stock options. Williamson writes:
A programmer…decides to go to work for a startup…; …he accepts equity in the firm, in the hopes that it will be successful and he'll get a big payday down the road…if he ends up making $10 million on them five years down the road, he pays the 15 percent rate, not the top individual-income-tax rate, even though what he put up was his time and work, not investment capital. The case for taxing the carried interest of private-equity firms at ordinary income rates is also the case for taxing those Silicon Valley foot soldiers at the ordinary rate.
While a very good exception, it's still comparing apples and oranges.  A programmer starts with a capital base (options) that can earn a profit on that capital in the event the options go in-the-money.  Whatever returns the programmer receives on those options will always be proportionate to the capital (market price less strike price).  This is not the same as carried interest, as carried interest represents the return above and beyond invested capital (i.e. a 20% profits interest less a 5% interest = a 15% carried interest).  The programmer's equivalent would be a bonus, and whether it's in the form of cash or stock, it's taxable at ordinary income.  Williamson's example inadvertently undermines his argument.
The problem remains.  So long as labor is considered a key factor in the carried interest equation, defending carried interest as a return on capital and the tax treatment as a capital gain on that basis is extraordinarily difficult.  Therefore, the solution is to craft an argument that deliberately excludes but does not ignore labor.  The way I'm going to do this is to reconcile carried interest with the basic capital structure of partnerships, specifically with respect to equity.  Seeing as capital structure theory deals with how firms are capitalized (debt, equity, hybrid securities), involving labor is inappropriate.
I'll start my analysis with this comment from Kolohe:
If you put up a 5% stake your return on capital should be proportional to that 5% stake. If you're getting back double or triple what the other capital owners are getting as a proportion of their stakes, you are obviously getting a return on labor, not just capital. Or you're getting a gift, which iirc is taxed like labor at high enough levels to close that potential loophole.
I think it's a great comment because his argument is based on proportionality.  Consider this simple example: Kolohe and I are 90%/10% partners in a real estate joint venture.  Kolohe is the limited partner, and I am the general partner.  We develop a property for $1 million and sell it upon completion (sales proceeds represent the only cash inflow).
Taking Kolohe's quote and creating a visualization of the capital structure gives us this.
Kolohe and I are investing on a pari passu basis.  We are equal partners that share in the profits and losses on a proportionate basis.  Where I think Kolohe bases his proportionality argument on the amount invested, I think there's a better explanation:  returns are shared equally because risk is shared equally. I created a visual assuming a single pool of equity because from a risk/return standpoint, in a pari passu structure, all equity is equal.
However, the more typical arrangement in a partnership where higher risk investments are made (real estate development, leveraged buy outs, etc.) is that the risk is not shared equally among the partners.  The reason limited partners invest with a general partner is because the general partner possesses the expertise the limited partners don't have.  This lack of expertise also translates into lower risk tolerance.  Because the limited partners contribute the bulk of the capital and the general partner will have a greater risk tolerance, the parties can agree to reduce the limited partner's risk through a distribution waterfall.  Taking the real estate example, assume the following waterfall distribution.  Ignoring time value of money, in the event that we exit the investment, cash proceeds are distributed as follows:
First, 100% to Kolohe until he receives his $900,000 investment plus a 10% return ($90,000)

Second, 100% to me until I receive my $100,000 investment plus a 10% return ($10,000)

Third, all remaining proceeds are split 80% to Kolohe and 20% to me
The visualization changes: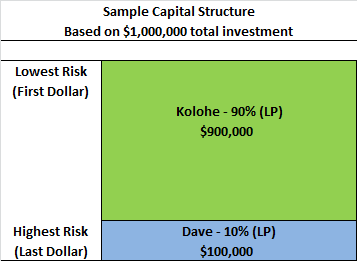 Clearly, I am bearing a much greater share of the risk.  Assume a 1% loss – a sale at $990,000.  According to the above waterfall, Kolohe earns a 10% return and my capital is wiped out.  In fact, it takes a sale of $1.1 million before Kolohe and I have equal returns.
I'm going to take the part of Kolohe's comment where he mentions labor and gifts and turn the tables a bit.  Assuming the $990,000 sale price, does the fact that Kolohe received a disproportionate share of the return have anything to do with labor?  No (if only because the limited partners contribute no labor anyway).  Did I decide to give Kolohe a gift out of the goodness of my heart?  No. By definition, a gift is something given without the expectation of receiving anything in return.  Given that my capital is now in the higher risk and Kolohe in the lower risk position, our return expectations need to reflect that.  Therefore, the carried interest in the third step, the portion of the payment where I receive a disproportionate share of the profits represents the return on my capital as compensation for it taking a disproportionate share of the risk.  At its core, carried interest is nothing more than the positive relationship between risk and expected returns as applied to partnership structures where the general partner bears a disproportionately higher share of the risk.
My (correct) analysis notwithstanding, I don't expect my explanation to change the tone of the discussion.  Since tax justice/income inequality reasons are motivating factors, whether or not carried interest is capital or labor is irrelevant.  It can get whatever tax treatment gets written into the tax code.  Also, the argument that the tax treatment of carried interest can be separated from capital gains taxes even if it is capital, is a strong one.   As Victor Fleischer points out in his op-ed:
Because carried interest is labor income, the usual techniques for avoiding capital gains taxes don't work…

The usual technique for avoiding a tax on capital gains is to hold on to an appreciated capital asset, deferring the tax gain until the asset is sold later…

A fund manager doesn't have this option. In private equity, carried interest — the manager's share of fund profits — isn't earned until an investment is sold. Few fund managers would defer the sale of a portfolio company to avoid tax. Better to pay some tax than risk a decline in the value of the portfolio company and lose the carried interest allocation altogether.
While I don't agree that it's labor income, the way carried interest is earned has more in common with labor income than with capital gains in that the avoidance strategies used to defer capital gains taxes don't work here.  Also, from a policy standpoint, assuming that the goal is increased tax revenue, addressing carried interest through an increase in capital gains may not work given how sensitive long-term investors are to changes in capital gains rates.  Increases in tax revenue via carried interest could get offset through decreases in capital gains revenues from other sources.
I'll leave it at this because this post is not about how to tax carried interest, but rather an explanation of carried interest as a risk-adjusted return of capital, an explanation completely independent of labor contributions.
Image via Wikipedia Commons