When is a Speech More Than Just a Speech?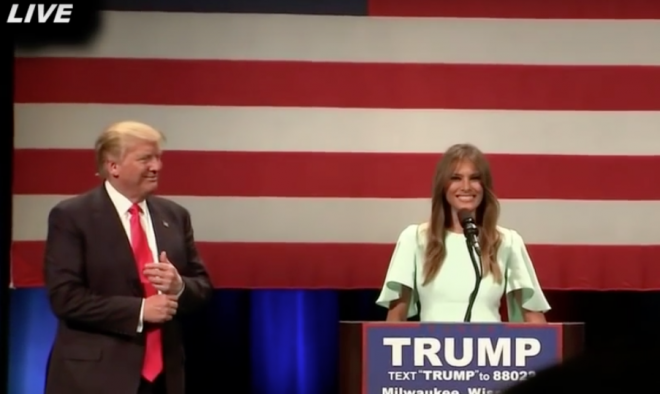 Over at Hit Coffee, Will asks a damn good question: What does it really matter that a potential First Lady had parts of her speech plagiarized from different speech?
The answer in many cases and across the political spectrum, appears to be "not one whit." After all, many argue, a convention speech isn't an essay assigned in your sophomore English class. And it isn't like she's going to have the nuclear launch codes; she's just (potentially) going to be the First Lady. What we should be concentrating on instead, I am repeatedly told, is what a dishonest murderer that Crooked Hilary is — or perhaps, depending upon who is talking to me, how Trump is a Nazi leading our precious Democracy into a fascist dictatorship.
I understand all of these arguments, and I do agree that in the great scheme of things Melania's gaffe is pretty small potatoes. More than that, if I'm being honest, I confess that I really feel for Mrs. Trump. She seems a good and decent person. By all accounts, she didn't really want her husband to run, and has spent most of the campaign purposefully staying as far out of the spotlight as possible. She's not a professional speaker, writer, or politician, and likely she was simply stuck in front of a teleprompter and told, "Read these words someone else wrote for you." (Which, to be clear, is exactly what every other potential First Lady has to do.) Any snide or disparaging slights against Melania Trump for this hubbub are pretty bush league, in my humble opinion.
That being said, Melania's plagiarized speech is still a damn important story — far more important, I would argue, than appears at first blush. The scandal highlights a number of troubling issues within the Trump campaign. Some of these issues should be troubling to those hoping for a Trump victory; others should be troubling to those #NeverTrump-ers who fear he might actually take the White House
The first and most obvious issue Melania's speech highlights is the Trump camp's surprising, continued ability to open itself up to accusations of incompetence. Simply put, the convention FLOTUS speech isn't a lamestream-media "gotcha!" moment. It's a essentially a staged, glorified photo-op thrust smack dab in the middle of a staged, glorified PR event. Further, it's the one moment of a national convention that is allowed by the media to be completely free of criticism. And yet, somehow, Trump's people couldn't even get this one tiny thing right. For a campaign that is running in no small part on the theory that Trump's legendary business acumen will bring superior management to politics, it is yet another particularly stinging embarrassment.
Closely related to the appearance of staff incompetence is the issue of the "all press is good press" learning curve. Over the course of the primaries, Mr. Trump was able to keep the cameras focused on him and him alone. Sometimes this desire to be ever-in-the-spotlight cumulated in truly brilliant, inspired, guerrilla PR events, such as his sitting out a GOP debate and doing a pro-veteran fundraiser on a competing news network instead. Other times, however, Mr. Trump repeatedly pulled national attention to his campaign by creating off-the-cuff offense and outrage. This worked surprisingly well for the primaries, but it's been assumed by everyone — including many GOP strategists — that a pivot needed to happen heading into the convention. Thus far, this pivot has not occurred — and the fact that the campaign allowed this to happen to Mrs. Trump does not bode well for its ability to occur any time soon.
An addendum to the various issues of perceived campaign incompetence can be highlighted by the aftermath of Donald Trump, Jr.'s speech last night.
If you didn't catch it in real time, Mr. Trump, Jr's speech was shockingly excellent. In twenty short minutes, the Trump most often ignored and dismissed by the press delivered what the entire Trump campaign has not been able to cobble together in over a year: a concise, compelling case for people outside the red-meat-devouring, talk-radio-addicted, Republican base to consider voting for Donald J. Trump. That his speech appeared in the middle of a floundering convention that was turning off middle-road voters as well as (I can personally attest) Trump-voting delegates and attendees just made it that much more an incredible home run. But thanks to the Melania hubbub, the entire focus of Mr. Trump Jr.'s speech last night and this morning has been discussions on whether or not he, too, is guilty of plagiarism. 1
An additional concern for pro-Trump campers is the issue of honesty.
Throughout this convention, Mr. Trump's designated speakers have decided to highlight honesty and straight-forwardness as the number one reason to vote Trump. Because of this, the plagiarism scandal looks bad. And to be clear, I'm not talking about it making Melania look bad. Over the past 48 hours, the Trump camp has been leaking conflicting stories about how the "accidental" plagiarism occurred. All well and good, I suppose — except that as of this very morning, Trump's top campaign official is continuing to go on television to claim that no plagiarism occurred. The pro-Trump base won't care, obviously. But for middle-of-the-road voters, the response of the Trump camp stupidly and unnecessarily undermines their own primary reason to consider pulling the lever for Donald Trump in November.
Closely related to all of that is the persistent accusations of everyone in Mr. Trump's so-called "back-stabbing" inner circle caring more about their own position within the Trump court's hierarchy than helping Mr. Trump win an election. The inner court and outside advisors all appear to be using this small scandal as a way to bring out the long knives for their intramural rivals. The time for position-jockeying has already come and gone, and the inability of Mr. Trump's camp to cooperatively circle their wagons is startling.
Which bring us to the single biggest way in which this silly, seemingly inconsequential scandal has utterly shocked me.
Initially, the plagiarism in Melania's speech was assumed by the press to be the result of a bad campaign hire. And had the Trump camp quickly leaked that this had indeed happened, and that some young pimple-faced intern had been properly but quietly taken to the woodshed, the matter would have quickly died. But instead, sources from inside the Trump camp began leaking the insinuation — true or not — that any plagiarism was inserted into the speech by Mrs. Trump herself.
If you've never worked on a campaign, you wouldn't necessarily know this, but the one person who everyone universally agrees to never throw under the bus, under any circumstances, is the wife of the candidate. 2 There are tons of reasons for this. 3 It doesn't matter if the candidate's wife is someone you don't particularly like; it doesn't matter if you think she isn't pulling as much weight for her husband as you would like; it doesn't matter if she yelled at you once in front of your coworkers.
You simply don't throw the candidate's wife under the bus. Ever.
That some number of people within the Trump camp would do this is nothing short of shocking to me. It speaks to a level of dysfunction that, even after everything else that has transpired over these past two months, I did not believe existed within the campaign hierarchy. It's just, really, really, really bad.
So no, Melania Trump is in no way a villain. And no, the story of her speech's plagiarism is by no means the most important issue on the table in this election — not by a few billion light-years. And no, by November 8, Mrs. Trump's speech will not be a thing anyone remembers, let alone influences their vote.
But that doesn't mean it isn't important.
He's clearly not. Which surely makes the aftermath of Melania's speech that more frustrating to the camp faithful.
To a lesser degree this is true of candidates' husbands as well. But it's much more true of candidates' wives.
One is certainly avoiding the wrath of the candidate. But a bigger reason is the fact that throwing the candidate's wife under the bus looks fishing terrible from the outside, because the mainstream public has a natural instinct to want to protect candidates' wives from ugliness. Again, you may think the fact that the public behaves in this way is sexist — but it doesn't mean that the public doesn't behave this way.