How Big Is the Big Tent?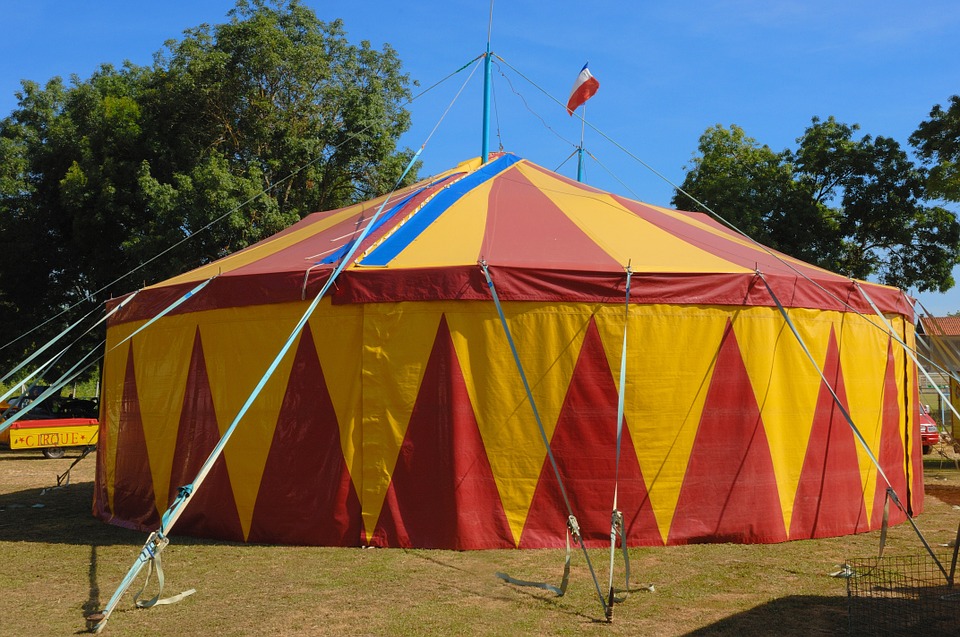 Presidential election years are a good time to take stock of my own political views and compare them to the mood of the country, both among the electorate and those running for office. This year is a weird one because lately I keep being told I am a conservative Democrat and that just makes me want to take a shower. I can't blame the people telling me that though. At a casual glance it might seem Democrats have more to offer.
These days I have developed a bit of a libertarian streak. On civil liberties I mostly just want the government to get out of the way. I still believe gun ownership should be easy and I applauded President Obama for beginning to roll back our terrible drug policies. Insofar as Democrats can also claim to be fans of personal liberties, perhaps this would be a good fit, but at the same time, I am a big supporter of the police as a general concept and I struggle with accepting a woman's right to choose simply because a pregnancy is inconvenient.
Adrian's recent post sparked a great conversation among the readership and our writers. In particular, Jaybird just killed it with this hyper-accurate assessment of the current Republican party:
The number one problem that I see with Conservatives is that they want to pass laws that express sentiments. People shouldn't do drugs. People shouldn't have abortions. People shouldn't be gay.

If you ask "well, if someone breaks this law, should the police kick down doors and start shooting dogs?" and, for the most part, the answer is not only "no" but "that's an offensive question, this conversation is over". They do *NOT* want women who have abortions to get arrested (Trump notwithstanding). They do not agree with the idea of the cops arresting two consenting adults who have sex with each other (Lawrence v Texas notwithstanding). Some of them approve of drug users being thrown in jail, but it's far more likely that they think that *DEALERS* should go to jail and users should go to some sort of 12 Step Program where they can overcome their addiction to marijuana or whatever.

When pressed, they admit that the whole "rule of law" thing gets a bit fuzzy when it comes to making something illegal *BUT* they think it very important that we, as a society, pass a law signaling disapproval of socially bad things.
I will henceforward call this the 'Jaybird Test'. If each potential policy position is viewed through the lens of sentiment vs. good policy, it makes it easier to see where my heart is trumping my brain. Historically that is not a dynamic I am comfortable with. It feels like radical conservatism has little chance of passing this test, but with the exception of abortion, I have never had very much in common with the Far Right.
If you believe that the GOP no longer has a moderate wing (a position that is getting harder and harder to rebut) then the question is where to land for the 'moderate' conservative? When my friends on the Left side of the aisle have suggested a home in the Democrat's Big Tent, I asked them, "Since when do Democrats get to claim all of the moderates?" I simply don't believe their tent is big enough for all of us.
At the same time, when considering why I joined the Republican party nearly 20 years it may be that even in 1998 I was dreaming of a Republican party that was fading away. In truth, I never wanted to belong to the party of No. I wanted to belong to the party of Teddy Roosevelt and Dwight Eisenhower and I daresay, Nixon. All three of those men subscribed to the ideal of Progressive Conservatism, a term which I have adopted for the majority of my adult life. They looked forward. Roosevelt gave us trust-busting and the National Parks. Eisenhower gave us the interstate system and expanded FDR's social programs. Nixon gave us the Clean Water Act, the EPA and went to China.
What I realize I want is forward progress. I like fresh ideas and a refusal to accept inaction. Generally-speaking, I think we are better off today than during the Reagan years and I don't want to look backward. So, I think it's fair to say that I am a Progressive. At the same time, the Left has gotten plenty of things wrong too. As Jaybird also pointed out in the comments of Adrian's post, often it takes a lot longer to undo the bad policies enacted by the Left than it takes to end opposition to good policies on the Right.
So if you're willing to pursue change, but you think it needs to be slow and measured, I supposed that makes you a Progressive Conservative. Or a Conservative Democrat. Or a Moderate Republican. At the end of the day though, I don't know that it really matters. Labels are fine as a form of shorthand, but they rarely capture our positions accurately. What I do know though is that while Democrats believe that coalition governing is the right path to electoral success, I don't see very much in common with blue collar union guys and San Francisco Lefties. Minorities see a party that acknowledges their struggle, but takes them for granted in a lot of other ways.
I think for now I am content to remain an Independent and following my own advice, staking out my positions issue by issue and finding common ground where I can. What does that hold for me this election year? That is a question worth asking but one for which I don't have an answer at present. While I can dream of a viable third party, I really have no idea what that would look like. I am not completely opposed to a President Sanders…and that may be the most interesting development of the year.