Saturday Spins: Cowboy Junkies The Trinity Session
I have been waiting a long time to spin this one for y'all. Last time we met, I talked about Kurt Vile and Courtney Barnett and their excellent collaboration album. This week is an Americana band that is made up of Canadians. This record was released the year I was born and still holds up 32.5 years later.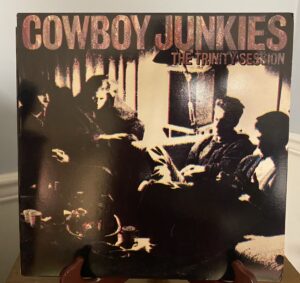 Cowboy Junkies
The Trinity Session
1988
Commentary
Every now and again I cover an album on this here digital forum that is perfect. This is definitely one of those times. Cowboy Junkies were formed by the Timmins siblings and another dude, Alan Anton, in the mid-eighties. Their first album didn't garner a whole lot of attention, but something compelled them to record an album at the Church of the Holy Trinity in Toronto.
What is unique about this album is that the band played and sung around a single ambisonic microphone in the church. The record jacket notes that there was no mixing, overdubbing, or editing. When I discussed Dawes' first LP a few months ago, it was a similar circumstance, recorded live to tape--only sans the ambisonic microphone and they had a slightly bigger sound.
I am also blessed to have two copies of this LP, the one pictured above, is an OG pressing from 1988. I also have a 2013 double-LP reissue. The original vinyl track list leaves out two songs, but they are available on this reissue. The album (with the full track listing) contains a few folk standards, some original songs, and a couple of covers.
According to the essay in the gatefold of the 2013 reissue, the band was able to secure the church by telling the church officials that they were the Timmins Family Singers and were going to record a Christmas concert for the CBC.
In 2006, the band and special guests came together to record another version of the entire record in the church for its 20th anniversary. Special guests include Ryan Adams, Vic Chesnutt, and Natalie Merchant. The vinyl version of Trinity Revisited has been on my want list for a very long time. If anyone would like to donate towards my effort to purchase it, I'd appreciate it. It has been going for between $175-$225 for the past few months on Discogs.
Track by Track
1. Mining for Gold
This traditional folk song is sung a capella by Margo Timmins. Her voice and the natural echo of the church sounds amazing. It's very short and very poignant, but somehow gets the record rolling.
2. Misguided Angel
The classic tale of a small-town girl falling in love with a bad boy from out of town with a "Heart like a Gabriel, pure and white as ivory
Soul like a Lucifer, black and cold like a piece of lead." It's considered by Margo Timmins to be one of the best songs she has ever written. Pretty interesting that it is heavy on the biblical themes whilst being recorded in a church.
3. Blue Moon Revisited (Song for Elvis)
Not originally on the vinyl track list, this song was a clever cover/reconfiguration/tribute to the original Elvis song. In order to fully
appreciate this album, you really gotta hear it through headphones or in complete silence. There are so many discreet sounds to be heard and little vocal nuances that should not be missed. For a song like this one, you have to focus to hear some real raw sorrow come through.
Cowboy Junkies - Blue Moon Revisited (Song For Elvis) (Official Video)
4. I Don't Get It
If you're in an existential mood, buddy do I have a song for you. This cabaret-style country tune is all about the meaning of life. The singer is "looking for answers in so many places." There is a pretty badass harmonica solo that gives way to a dialed-in-clean guitar solo.
5. I'm So Lonesome I Could Cry
Have you ever asked yourself, what happens when a bunch of Canadian folk singers cover Hank Williams? Here is your answer. The end result being somehow more sorrowful than the original. I think it has something to do with the ethereal sound of Margo Timmins' voice coupled with the acoustics of the church. I have to say, the Cowboy Junkies did this song justice.
6. To Love Is to Bury
"I buried him down by the river/'cause that's where he liked to be" I believe it was Greil Marcus that said something along the lines of, "if something [in a country song] is happening down by the river, it's never good." The full band plays on this, including some according and fiddle. If you like murder songs like "Long Black Veil," you'll definitely enjoy this one.
7. 200 More Miles
Here is without a doubt my favorite song on this album. I mean, the entire thing is great, but this song was my gateway to the Cowboy Junkies. It is a true "road song" written by Michael Timmins with the Cowboy Junkies early self-booked tours in mind. Here is an example of some great lyricism:
I got Willie on the radio
A dozen things on my mind
And number one is fleshing out
These dreams of mine
On Trinity Revisited, Ryan Adams sings lead vocals and does it justice. Even Margo seems pretty impressed at the end of the video. Here are both versions:
Cowboy Junkies - 200 More Miles (Official Audio)
8. Dreaming My Dreams with You
Another cover song, albeit done a lot differently than the original. This song was written by Allen Reynolds for Waylon Jennings. Of course, the Junkies somehow managed to make an outlaw country song into a folk-country dirge. It's a shame Margo and Waylon never sang this one as a duet together.
9. Working on a Building
Here is the second track not included on the original vinyl release. Interestingly enough this is a southern spiritual that was originally associated with the African American community in the deep south. I recently discussed how folk and blues standards are often reconfigured by other artists who put their own spin on it, this is no exception.
10. Sweet Jane
For those of you keeping score at home, we've had the Cowboy Junkies own brand of folk-country, outlaw country, deep south spiritual, Elvis, and Hank Williams. Why not throw in some [checks notes] Lou Reed…? This cover launched the Junkies into the mainstream. It is also based off of the version on 1969: The Velvet Underground Live. Again, Margo Timmins vocals really bring this one home.
Cowboy Junkies - Sweet Jane (Official Video)
11. Postcard Blues
A haunting and somewhat lonely-sounding song. It was written by Michael Timmins and is very quiet save for a brief, but explosive, harmonica solo.
12. Walking After Midnight
The album closes out with a cover of Patsy Cline's "Walking After Midnight." In the essay from the 2013 reissue this song is described as a "loose take," however, I think it sounds pretty well done. A good mix of harmonica and accordion compliment Margo Timmins doing her best Patsy Cline impression (you can hear a little bit of twang in her voice). Anyway, the song has an accordion solo, which is cool as hell.