Year in Review: Movies, Music, and More!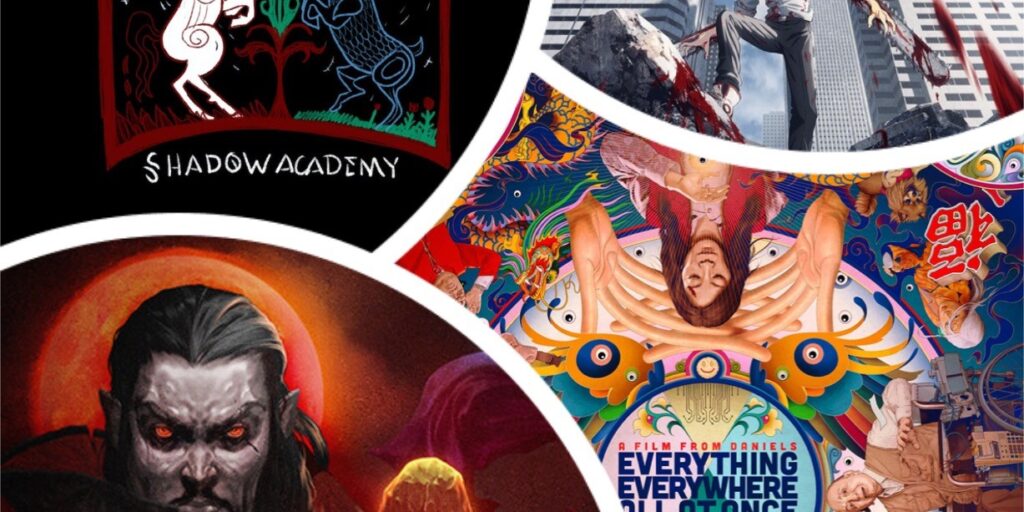 This has been a pretty good year, all things considered, when it comes to the broader pop culture. I wish Ninja Sex Party had released an album or even a single, but that's quibbling. Movies were both so good and so bad that I have both a top 20 and a bottom 20. Movies are first on the docket, but I will also cover my favorite new show, album, song, and video game.
TOP 20
20) As if sacrilege, RRR only makes it to number 20 on my top list. The issue with the movie, more than anything, is its length. There was way too much fluff between the action set pieces that could easily have been streamlined. Those action scenes were choice, though.
19) The first movie I have yet to talk about, Puss in Boots: The Last Wish was so much better than the movie that preceded it in the franchise. The animation is also much crisper and fluid. It is a rare that a decade can go by and a sequel, especially an animated one, can surpass the original, but this one did it in spades.
18) I had almost forgotten this movie came out this year, but Beavis and Butt-Head Do the Universe was a real fun time. Another legacy animated sequel that kicked ass. Mike Judge has still got it. The reboot of the show that followed it didn't bring it as hard, but that's to be expected. The movies are my favorite thing about this franchise.
17) A movie that will likely get nominated for a slew of Oscars, The Banshees of Inisherin was small story but one acted and staged very well. As I mentioned previously, this one is calling out to be made into a Broadway play.
16) Another legacy sequel that did a great job, Scream had a sequel greenlit so quickly, the teaser trailer is already out. The kills were brutal, which is all a good slasher must have to work.
15) The best comic book movie only managed to top out at 15, The Batman is a return to form, in that we got a good Batman film for the first time in a decade. James Gunn appears poised to just fold this movie's continuity into the broader DCEU/DCU movie continuity going forward. Solid choice.
14) The best Predator movie we've gotten since maybe the very first one, Prey did what more legacy science fiction franchises should do: Put it in the past. I still want a Terminator western.
13) One of the more ridiculous action movies this year, Bullet Train had so much going on that it could make your head spin, but I kept up with it all. Solid time.
12) I knew it would be hard for this movie to crack my top ten, but Top Gun: Maverick sits at 12. It's perhaps the best legacy sequel of all time in that it was so much better than the original. I am not a fan of the original outside of the two music tracks that film reuses half a dozen times each. The mission that takes up most of the final third of the movie is just edge of your seat enjoyable.
11) The first A+ to appear, Terrifier 2 just misses the top ten. Not the best horror movie this year, but what a year horror has had. The kills are probably the most brutal of the year, done practically for the most part with the most shoestring of budgets. Art the Clown is a slasher icon now.
10) To kick off the top ten, X just surprised me harder than I ever expected. Pearl didn't because you could tell who could die in its limited cast, leaving the mystery only with the how. But this movie's twists just kicked all the ass.
9) The second movie I have yet to discuss, Guillermo del Toro's Pinocchio is the animated movie of the year. Based on a version of Pinocchio that was published this century, del Toro proved he's one of the best filmmakers going right now. Set during the events of WWI through WWII and in Italy, the setting just clicks so hard. The king of gothic filmmaking is now del Toro. Tim Burton, you have been replaced.
8) A movie I thought would land higher, The Northman is such a brutally good time. A revenge tale that points out precisely why revenge is a bad move. The acting, the special effects, and the plot are all solid as Hell. This is probably Robert Eggers' best movie, although I still need to see The Lighthouse.
7) A blink and you'll miss it film, The Outfit is one of the biggest surprises of the year. This movie came out of basically nowhere. Set in 1950s Chicago mostly in one location, we get a bottle episode movie with palpable tension and clever twists.
6) Another movie that came out of nowhere and gave me such a good time, Violent Night is the best pure action movie this year. The John Wick studio once again proving they're the best in the action game right now. Santa meets Die Hard is an idea that I'm so glad exists.
5) Perhaps the biggest surprise of the year, Studio 666 is an idea that should not work but totally does. Every member of the Foo Fighters plays themselves in this bloody good horror movie. The cameos are tight, the humor lands, and the kills are varied and fun. This really shouldn't have worked.
4) You all know this one was gonna rank high; Weird: The Al Yankovic Story does exactly what it had to do. It is the most straight-faced pitch perfect parody of the musician biopic. How much serious biopics just blatantly make up is always sky high, but this one just does that as the goal. "Weird Al" Yankovic does it again.
3) Coming out of nowhere seems to be the trend in 2022; The Menu didn't drop a trailer until maybe October and that trailer hooked me the second it was over. Such a brilliant concept with amazing execution. The acting from all involved was stellar.
2) I love me some comedy murder mystery; Glass Onion: A Knives Out Mystery gave me just about everything I could have wanted from the concept. I'm not sure if it is better than the first one, but I think it might be. I did watch it again when it dropped on Netflix. Caught things I didn't the first time.
1) To the surprise of no one, Everything Everywhere All at Once is my movie of the year. Nothing really got close to taking the crown from it. This is easily in my top twenty movies of all time. I have seen it a total of four times as of this writing, although I know I will be watching it again very soon. I hope, for the first time ever, my favorite movie of the year wins Best Picture. That would be nice.
BOTTOM 20
20) A movie I didn't like as much as all the critics, Tár just didn't impress me that much. There is so much wasted time in that first hour or so. Easily could have cut 45 minutes from it and lost nothing important. Way too indulgent.
19) A movie with a similar problem as the last one, Armageddon Time just ran in place hard after the first hour. The final monologue from father to son in the car at the end of the movie is not enough to make up for that. And the random anti-Reagan stuff just felt tacky.
18) A movie that just got worse the longer the year went on, The Lost City just fell apart on the shoulders of the zero chemistry between the two leads. And Brad Pitt just should not have been in the trailer. Stupid.
17) One of the dumbest movies of the year, Moonfall is not a good disaster movie. The twist is so very dumb. Almost every actor in this phones it in hard.
16) A comedy that just lacks humor from the lead actor to the point of annoyance, Bros was not a good time. Spoiler Alert, which I saw in December, ended up being much better.
15) A weird movie that just didn't sit well with me the longer the year went on, Men is such a strange idea that failed in execution. The point is a bunch of male-focused at women gaslighting, but why get a man to write and direct this then? Just comes off as patronizing in the end.
14) A boring movie with a stupid twist, The Invitation just defeated itself. Vampires, really? I was expecting something cleverer than that. Disappointing…
13) A prequel that has zero reason to exist, Orphan: First Kill is painful. You know exactly where everything is going from the second the movie starts. There is zero tension. And how could there be? The original movie explained the entire plot of this movie in under five minutes. What was even the point?
12) A movie with so much promise that failed to deliver, Lightyear could have been amazing. Gallivanting space adventures with Buzz Lightyear could have been awesome. But we didn't get any of that. Skip this, as most of you already did.
11) The second Disney animated movie in a row, Strange World was only worse because of the stupid beat the audience over the head with a two by four environmentalism message. Disney should be better than this.
10) A movie that crashed hard in my ratings as I realized how terrible it really was, Jurassic World Dominion is awful. Maybe not as bad as the previous entry in this franchise, but that's a competition no one enjoys. Why is it so hard to make an excellent Jurassic Park sequel?
9) This one just didn't even try to adapt the source material at all; Uncharted is based on a franchise I have no particular love for, but there was not even an attempt to take the personalities of Nathan Drake and Sully from the games. And that painful Papa John's product placement. They were in Italy!
8) It's Morbin' time; Morbius I am honestly surprised it is only the eighth worst movie this year. Matt Smith is the only actor who seemed to show up to play. That shirtless dancing scene is a meme for the ages.
7) Another soulless Disney live-action remake, Pinocchio is terrible. It has no reason to exist, but why take the original and sand off every single edge? Tom Hanks is just there, adding very little heart to the picture, which should have been rather easy for him to do. Avoid this.
6) The movie that killed a franchise and is leading to a hard reboot, Fantastic Beasts: The Secrets of Dumbledore fumbled the bag again. Eddie Redmayne is not a good leading man to pin a franchise on. This franchise, if meant to be an origin for Dumbledore from the beginning, should have just focused on Jude Law. But the writing is terrible, leaving a dude I know can deliver with little to work with.
5) The worst horror movie this year, Prey for the Devil just pissed me off royally. The ending completely undoes the entire movie. This is pointlessness personified.
4) This one sort of had to be here; Avatar: The Way of Water only makes it to fourth worst, which is a marked improvement for the franchise. My full thoughts can be read here.
3) Surprisingly, The Munsters is only the third worst movie I saw this year. Rob Zombie just isn't a good comedic filmmaker. And the acting in this film is almost universally terrible, especially from the two leads.
2) A movie I almost completely forgot about, The Tiger Rising nearly took the top spot. The fact I had to drive nearly an hour to see this movie just to be so thoroughly let down is why it ranks so high, outside of how completely forgettable it is. The plot is insanely bad. Almost nothing of note happens, which is crazy for a movie that involves a tiger. No one cared about this, and no one likely ever will.
1) The worst movie of the year just had to be this one; Disenchanted came out in a year filled with legacy sequels. This is perhaps the laziest legacy sequel I've ever seen. The original is such a damn good movie. This movie is both incredibly predictable and lazy. You will see every twist and turn in the plot coming a country mile away. And the new actors are virtually all terrible, adding nothing and just letting everything down. The returning actors are all given so little to work with that there's no way they could have rescued this.
EVERYTHING ELSE
While this was a damn good year in movies, television also brought it. Of all the shows that premiered this year, there was one absolute standout. Chainsaw Man rocked my socks so hard, it brought me back into watching anime. Andor, Peacemaker, and Guillermo del Toro's Cabinet of Curiosities were all excellent, but the amazing mature and bloody action meshed with excellent world building and dialogue just made this super easy. Chainsaw Man is easily one of the best first seasons of anime I've ever had the pleasure to witness.
Album of the year was rather easy. Dan Avidan only released one album this year. His newest band, Shadow Academy, released their debut album, fittingly named Shadow Academy. Since that was rather easy, let's also tackle song of the year. Rhett McLaughlin, of Internet comedy duo Rhett & Link, released a solo country album this year called James and the Shame. It's a deconstruction of his loss of faith. While randomly political, the album is excellent. Dan Avidan had featured vocals on the first single off of Tupper Ware Remix Party's new album, out next year, called "The Eve of the War," a War of the Worlds inspired song. The lead singer of Steel Panther had another single in 2022, a cover of "Pumped Up Kicks" but metal that was featured in Peacemaker. Probably the best new cover this year. That band even has a new album due out early next year as well. I have danced around it too long. Song of the year goes to "White Whale," the lead single off Shadow Academy. It was honestly down to that and "Once and Never More," the second single off the same album. Such a great album.
To close out 2022, the best video game of the year is Vampire Survivors, an indie darling that absolutely brought it. While the concept of it is rather simple, the game has massive replayability. I have yet to play the DLC or the most recent update before that, but I've already sunk over 60 hours into the game. For a game that only cost me $2.99, that's a Hell of a bargain. Pokémon Legends: Arceus was in the running, as it is better than Scarlet and Violent, but the indie game that could deserves the top honors.
And that's the entire pop culture landscape of 2022 in review. I had a great time. I hope everyone reading did as well. My December movie theater review will come out some time after this, as the year in review was more important.