Who's Afraid of Cancel Culture?
"Cancel culture" is a new term in the cultural lexicon, barely registering in Google search trends prior to 2018. It has since been the subject of countless columns and editorials, often in highly simplified terms: are you for or against cancel culture? Is it good or bad?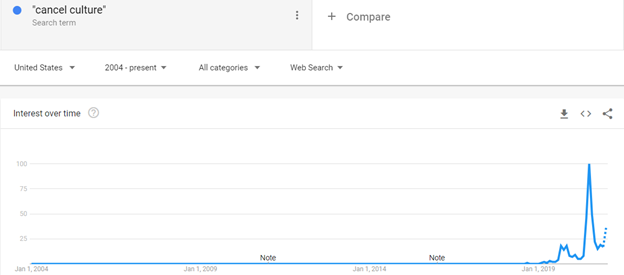 What is "Cancel Culture"?
Like any debate, we should start by defining the terms as clearly as possible before passing judgment. This is the hard work that's often avoided in favor of writing click-bait takes, but it's important to get it right.
Before going further I should be very clear that nothing I say here is a defense of anyone who has been subject to cancel culture. In many cases there were serious wrongs that may appropriately be met with some of the consequences inherent to cancel culture. I have zero interest in excusing bad behavior.
Here's a definition of "cancel culture" that captures much of what people talk about in this debate: cancel culture is a system in which concerned individuals advocate for and apply extraordinary consequences for behavior they consider problematic. To say the consequences are extraordinary is just to say that they are not applied through ordinary means (e.g. legal action, decisions by employers or consumers, etc.) Extraordinary consequences might, or might not, be proportionate— that's a separate question. A paradigmatic case of cancel culture would be someone (let's call him Jim) making a problematic comment on social media, resulting in viral calls for him to be fired from his job.
With that definition in mind, I want to highlight why cancel culture has become common and some potential risks from this escalation.
Analyzing Cancel Culture
The newness of cancel culture is largely thanks to the Internet. Data is now so cheap that what happens on the Internet stays on the Internet. (There are limited exceptions, like the "right to be forgotten" provisions in the European Union.) Data is permanent as well as global. So, if Jim's bad comment becomes "news," it will stick with him for years, maybe decades, and be available information for anyone with Internet access. If Jim had said something problematic before the age of social media and cheap data, it would not be "news" unless he was a celebrity.
There is a good side to this: if what Jim said was truly bad and he continues to act in problematic ways, future employers or romantic partners will benefit from this information. But there's a bad side as well: maybe Jim's remark was out of character, his account was hacked, or he sees the error of his ways and has a change of heart. In those cases, the "information" being preserved online has less value and may be more misleading than anything.
Moreover, because cancel culture is outside the normal framework of applying consequences, there are no constraints on what an appropriate "social cost" is. Should Jim lose his job? Depending on what he said that might be appropriate, but this decision is going to be heavily influenced by the degree to which the online crowds are enraged about it. While there is a "wisdom of the crowds" in the sense that aggregating information can improve forecasts, there is also good reason that we don't allow random groups of people decide who is guilty or innocent of a crime. So, a major risk to cancel culture is that there is no good reason to think that the costs applied will generally be proportional to the offence.
Another issue is with the asymmetry of power in these cases. It costs nothing to go on Twitter with an anonymous account and accuse someone of something, or to retweet a viral and possibly misleading claim about them. There are some legal recourses like defamation suits, but these might not help against a bunch of online trolls— and lawyers are expensive. The asymmetry, then, is that it's easy to accuse or spread accusations, but more difficult to correct the record or fight back when an accusation is mistaken. It's hard to go viral for doing good things like apologizing for a past remark— what gets the most clicks are the calls for cancelation.
This asymmetry has benefits. When powerful people are faced with claims of sexual harassment (as with the MeToo movement), the asymmetric power of online crowds is a useful corrective to the outsized power and influence that the perpetrators wield. But we shouldn't assume that the targets of cancel culture will always be wealthy or powerful. And we shouldn't assume that the targets have always done something wrong. We've seen in the Trump era that cancel culture can be from the left or right, and sometimes it's motivated simply by politics.
There have also been cases where someone is mistaken for someone else who did something wrong and their reputation takes a hit until the correct person is identified.
Cancel Culture: A Critical Evaluation
With this definition and analysis of cancel culture, can we decide if it's good or bad?
I hate to disappoint, but I think the answer is "It depends." I've defined cancel culture carefully because I don't want the definition to pre-judge whether it's good or bad. It would be easy to do so to make this a more black-and-white discussion. For example, I could define cancel culture as having not just extraordinary but also disproportionate consequences, in which case we could clearly say it was bad.
Smuggling some notion of proportionality into the definition raises the question of who decides what is proportional or not. Should the online crowds be in charge of Jim's fate, or should it be Jim's employer, his family, and his community that do so, free of undue pressure that might push the decision-making process in the right direction— or the wrong one?
The "who decides" question gets at the heart of the matter, and it should be considered carefully. There are real benefits to the online age in this respect— the social costs of being openly racist are much higher than they used to be, and this is definitely a good thing. But we should remember that crowds aren't always right, and the people most likely to face real and possibly irreparable consequences are going to be the powerless and vulnerable who can't simply lawyer up or mount a PR apology tour.
Protecting the Vulnerable
So, returning to the title of this column— Who's afraid of cancel culture?
If you watch the news, you see a lot of crying wolf from "conservative" politicians and media personalities about being "canceled." It's hard to overstate the irony of a US Senator using the front page of one of the largest papers in the nation to declare that he is being canceled. Or the CEO of MyPillow going on cable news to play the cancelation victim, when what's really happening is that consumers who have seen him apparently pitching the President on declaring martial law are voting with their dollars and taking their business elsewhere. These aren't examples of cancel culture as I've defined it since these are just ordinary political and business consequences of unacceptable behavior.
If these characters crying wolf shouldn't be afraid of cancel culture, who should? The answer is the vulnerable, those for whom a reputational hit is a threat to their basic livelihood, not just an abstract "social cost." Cancel culture is a blunt social tool that has its uses but should be handled with care. With the risks of disproportionate consequences and asymmetric power enabled by cheap data, cancel culture is more than just a culture of holding others accountable (here I differ from L.D. Burnett's argument at ArcDigi).
In a country with at-will employment like the US, cancel culture is particularly dangerous. A company can fire an employee with almost no pretense, which makes it more likely for employers to bow to public pressure— whether that's correct or not.
Can we make it better? Maybe. While we can't make everyone online be perfectly objective or always respond proportionately, one small step would be for employers to strengthen norms and processes for responding to complaints about employee social media use and related actions that can be targets of cancel culture.
A clear and well-enforced "employee bill of rights" would give employees clarity on appropriate behavior and provide air cover to employers to push back on calls to fire an employee in the event that this is uncalled for or disproportionate. At-will employment heightens the risk of cancel culture, particularly to the vulnerable. The anonymous internet isn't always the best HR department.
Beyond those working under at-will employment rules, there is another crucial group of vulnerable individuals to consider: children.
Minors are online more now than ever, and recent cases have raised the question of when it is appropriate to hold a minor accountable for their action's online years after the fact. While teenagers have an obligation to act responsibly on the Internet and parents need to teach those skills, inevitably mistakes will be made that can haunt a child for years. Our framework for holding others accountable needs to be sensitive to this dynamic. We should consider a norm of ignoring the social media behavior of children after they are of age—some exceptions will be needed, but as a starting point this can lower the risks of peer blackmail and other unhealthy behaviors.
From Cancel Culture to Healthy Accountability
Cancel culture is complex because it involves moral and political questions, like who decides how someone should be accountable and what the appropriate consequences are. The debate should not be whether cancel culture is good or bad, but rather a careful litigation of individual cases and thoughtful consideration of how we build a healthy culture of accountability without the downsides and risks of cancel culture run amok. Now that the town square spans the globe we need a stronger ethical foundation for our digital actions.