Restating: Rethinking States, Cities, and Redistricting
So once again we are at the point we reach here in the United States every ten years where we are forced to reshape our Congressional Districts. Some would say this is an extreme exercise in futility and others will say it is necessary to ensure proper representation in our republic. Both are right. Now, what if we really go at it and Restate?
Maura, what are you talking about? "Restate" isn't a real term. Well, technically it is: "to state again or in another way," per Merriam-Webster. So what happens if we separate major cities from their conjoined states? For example, if we separate Chicago from Illinois, congressionally nothing happens, but suddenly Illinois has two senators. "But Maura, Illinois already has two senators." Yes and no. The issue in many states is that senators are actually elected by the major cities, so in Illinois that means Chicago gets the attention and down state not so much. Missouri is another good example. St. Louis and Kansas City are all anyone has to campaign in to win a senate seat, meaning rural Missouri does not get a say (in disclosure I have lived in the greater St. Louis region for 38 years.)
For this thought experiment let's limit our thinking to metropolitan areas of roughly five million or more inhabitants or about half of the accepted size of a megacity. So what cities would be affected? Well, the top ten off the top of my head would be:
New York City, NY  Population: 20,320,876
Los Angeles, CA     Population: 18,710,563
Chicago, IL             Population:   9,458,539
Houston, TX            Population:   6,997,384
Phoenix, AZ             Population:   4,737,270
Philadelphia, PA      Population:   6,096,372
Miami, FL               Population:    6,166,488
Boston, MA             Population:   4,875,390
Seattle, WA             Population:   4,018,598
The Constitution does allow for this (U.S. Constitution Article IV Section 3.)
New States may be admitted by the Congress into this Union; but no new State shall be formed or erected within the Jurisdiction of any other State; nor any State be formed by the Junction of two or more States, or Parts of States, without the Consent of the Legislatures of the States concerned as well as of the Congress.

The Congress shall have Power to dispose of and make all needful Rules and Regulations respecting the Territory or other Property belonging to the United States; and nothing in this Constitution shall be so construed as to Prejudiceany Claims of the United States, or of any particular State.
So the founders sort of allowed for states to divorce, and there is precedent! In 1861 27 counties chose to leave Virginia and became West Virginia. Yes, this happened at the beginning of the American Civil War, but a precedent is a precedent none the less. So with precedent established, let's dive into this rabbit hole of an idea!1
Chicago! Why Chicago Maura? It's the smallest of your examples. Because it is sort of my back yard and being the smallest itis the easiest to deconstruct. So where and how do we draw the lines? I'm going to use existing county lines as opposed to random edges of weird congressional district boundaries. So here are the counties and their population–all data via Wikipedia.
From Illinois we take:
Boone          53,544 persons     288 square miles in area
Cook       5,150,233 persons     945 square miles in area
DeKalb       105,160 persons     635 square miles in area
DuPage      922,921 persons     322 square miles in area
Grundy        50,972 persons     430 square miles in area
Kankakee  109,862 persons     681 square miles in area
Kane          532,403 persons     524 square miles in area
Kendall      128,990 persons     322 square miles in area
Lake          696,535 persons     444 square miles in area
McHenry   307,774 persons     611 square miles in area
Will            690,743 persons     849 square miles in area
So from Illinois we lose: 8,749,137 persons and a total land area of 6,051 square miles. That leaves Illinois with 51,864 square miles of land and a population of 4,063,371.
Wait Maura! That means Illinois will lose 68% of its population!
Yes, you are correct and part of the point of this exercise. Thirty-two percent of the Illinois population and 90% of it's land, is governed by one city; what is locally called "Down State" is often left out or has very Chicago specific laws forced upon an otherwise very rural state—population density of Illinois in this project is 78.34 persons per square mile on average.
A narrow example, but I live down state and this is the view from my roof taken last summer:
Now I happen to be in a more population dense area just outside of St. Louis!
Part of forming Chicago into a state means we need the entire metropolitan area, so what counties do we take from Indiana?
Jasper     33,270 persons     560 square miles
Lake     485,493 persons     499 square miles
Newton  14,011 persons      402 square miles
Porter   170,389 persons     418 square miles
So Indiana donates 703,163 persons and 1879 square miles of land.
So what does the State of Chicago look like?
Population 9,452,300 (almost a mega-city by definition)
Land area of 7,930 square miles
Average population density of 1,192 persons per square mile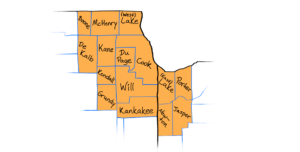 Map courtesy of my daughter Docta Jazz
What is the financial impact of divorcing Chicago from Illinois? Let's begin by figuring income tax amounts and go from there:
These are the counties that would make up the State of Chicago: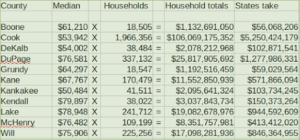 Now, Illinois has a flat income tax rate of 4.95% so figuring the states share of these counties is easy. For simplicity we are going to use median household income and the number of households for each county—see math above. So the state of Chicago would at this rate take in $9,776,723,008 annually.
Now taking the state of Chicago out of Illinois leaves $11,231,861,622. We can clearly see that "Downstate" does bring in more revenue than Chicago by income numbers.
But Maura what about sales tax and motor fuel tax and sin taxes?
While that is a good question the summery is: I am not an accountant or an economist and these numbers are a nightmare! Plus trying to tease them out is not—to me—easy.
Change of heart! Let's walk on the WILD SIDE!! Alrighty, overly complicated generalizations here we go!
Sales and use taxes are lumped together in the Fiscal Year 2020 report at $15,902,689,735.66 for the state. Now if we divide that by total number of households in Illinois it becomes $3281.52 Now we can extrapolate this data into two numbers for Illinois and the state of Chicago.
The State of Chicago would have 3,205,203 households or $10,517,937,748.56 in sales and use revenue.
Illinois would be left with 1,640,931households or $5,384,747,895.12
Now we can quickly see that, as far as sales and use taxes, Chicago is double the rest of the stat
Due to mass transit in Chicago and vast distances in Illinois I will not try to extrapolate fuel taxes and after trying to read the fiscal year 2020 budget and the fiscal year 2020 capital budget I'm not too sure I can tease those numbers out of the data.
So in total Chicago should have an annual revenue about $20,294,660,756.
And Illinois should have an annual revenue about $6,508,609,517.12.
A difference in Chicago's favor of $13,786,051,238.
While this sounds HUGE, let's consider some things that if you can tease them out of the capital budget or the line items your doing better than me.
Chicago would be responsible for the expense of maintaining Interstate highways in their area so: 55, 57, 65, 88, 90, 94, 290, 294, and 355
The entirety of the Chicago public school system would fall squarely on Chicago as well.
Chicago would be responsible for all of their pension mandates.
Prisoner housing would also fall to them and considering they are the largest city in Illinois you can well figure most inmates originate from Chicago.
So who comes out ahead?
In my opinion money wise Illinois does, mostly because of all the things Chicago would suddenly have to fund on its own.
Representation in Congress is a wash, but Illinois would pick up two senators and Chicago would still have two.
The remaining Illinois counties around Chicago would have to greatly tighten their zoning laws though to keep "Outer Chicago" from becoming a thing and losing cropland.
So what about those other cities in the list?
This post taught me something very important: money flow through a state is convoluted and well disguised. State budgets are not like we use at home where everything has a line and is clearly delineated. At a state level everything is generalized, departmentalized, and nigh on impossible for a layman to understand as it is written in a mix of bureaucratese and political favors. There is no reason for this except to keep us commoners from understanding just where OUR money is going. Yes I said OUR because all government is supposed to do is collect tax revenue and allocate it for the good of all its citizens–the way these budgets look, we are getting the shaft and not the mine.
This is just Illinois; New York, and Los Angeles, are both WAY larger and I'm sure have way more convoluted budgets so teasing them apart would take a lot of time IF I could manage to tease them apart at all.
Overall divorcing these mega-cities from their states could be a net positive for both states and cities. Yes, we could see more Democrat senators added which would possibly alter the balance in D.C. but with more areas enacting rank choice voting that may soon be an issue of the past anyway.
---
Editor's note: The legality of West Virginia's secession is still a point of contention among legal scholars after nearly 160 years. The Constitution says no state can be made to give up its territory without its consent. Lincoln's proclamation confirming West Virginia's statehood rested largely on the fact that Virginia had left the Union at the time. -Em