2023 Oscars Projections: The Post Fall Film Festival High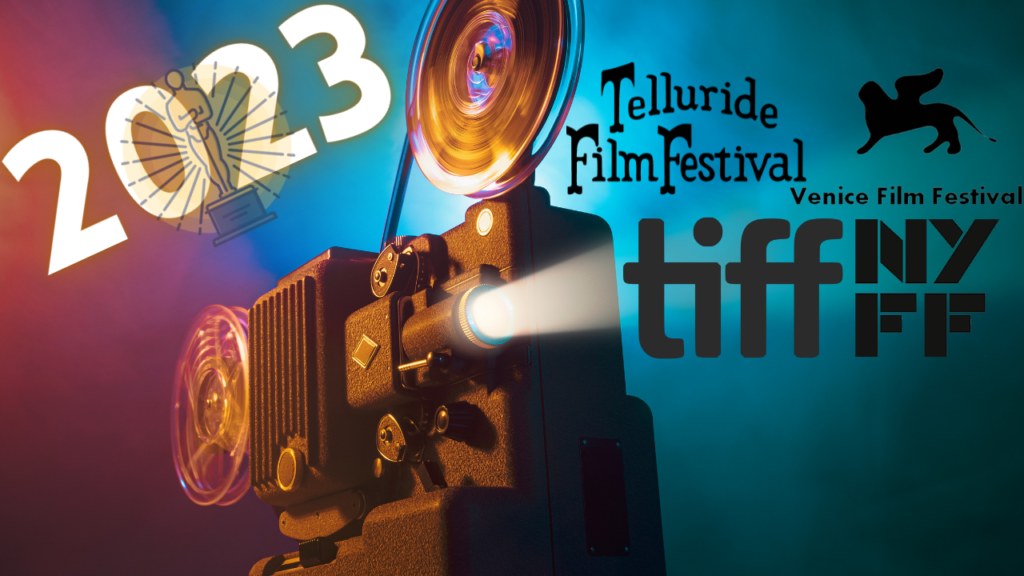 Its been two months since I last wrote about the outlook of the Oscars Best Picture race. At the time we were on the cusp of the fall film festival season with Venice, Telluride, Toronto, and New York all getting to showcase the contenders to critics and some members of the general public at large. Its this period in the season where we arguably go from the training camp process that has been the months of speculation and "Oscar buzz" reading, and into the pre-season of the awards campaign. Eyes finally fall upon most of these movies, critics begin to have their say, and word of academy screenings going well or not start to stream out.
Last year this leg of the race was mostly boring and predictable. We got confirmation that almost all the contenders were indeed the serious contenders we thought they were, and almost all the early released contenders dropped off the board like flies. "Just as we thought" was a common phrase coming out of the fall festivals' screenings last year. This year provided much more chaos and unpredictability. Films I and many others had in their slated ten going into the festivals such as Bardo and The Son, or to a lesser extent Empire Of Light, The Greatest Beer Run Ever, or White Noise ended up getting less than stellar or underwhelming reviews. Meanwhile on the wide theatrical release front movies like Amsterdam, Don't Worry Darling, and Three Thousand Years Of Longing fell flat on their face through negative reviews and/or really bad box office. Then you had RRR get a massive blow to its chances when India for some befuddling reason went with another movie for their international submission. Unlike last year when the fog cleared after festival season and everything was basically intact, this year we practically saw the entire race reset itself after this particular fog cleared.
Thus, instead of the field shrinking after the fall festivals, it remains just as large with some unlikely contenders benefiting. For instance Apple, who was able to win three above the line Oscars last season including Best Picture, are scrambling for a contender to champion this year to the point they've found themselves deciding to release Will Smith's next major starring role in Emancipation –  a movie they originally had delayed until next year. Netflix, who saw their top contender in Bardo get the proverbial whacking from critics and their backup in White Noise get a big shrug are now looking at once unlikely contender Glass Onion: A Knives Out Mystery and the German All Quiet On The Western Front remake as their new top contenders. And then you have some movies coming out of the festival that have been received well and climbed the board, such as Decision To Leave, The Woman King, Till, Triangle Of Sadness and earlier released movies that have benefited from former top contenders such as Elvis slipping at the festivals.
Meanwhile, A24 in a first for them may have a shot at pulling off not just one but two Best Picture nominations in Everything Everywhere All At Once and The Whale, the latter being a film that has catapulted Brendan Fraser into being the new frontrunner for the Best Actor statute. Focus Features originally had Armageddon Time as their top contender but Todd Field's latest in TAR has become one of the most well-reviewed films of the year with its lead, Cate Blanchett, becoming the super early frontrunner for Best Actress which itself is shaping up to be a chaotically over-competitive category this year. Women Talking has continued climbing the ranks going from a movie within striking distance when I first looked at the race back in the spring, to a movie I believe is among the five vying for the actual win when all is said and done. She Said is hanging on there after a decent festival reception but I remain wondering if Hollywood is truly ready to face the skeletons in their closet in regard to Harvey Weinstein. Paramount has two contenders on their hands with Damien Chazelle's Babylon coming out this December and Top Gun: Maverick only getting stronger as a contender to the point I'm confident it will get into the final ten. And then you have Searchlight Pictures, which has Empire Of Light as their big December release, but The Banshees Of Inisherin has surged into the heavyweights-tier of the Best Picture race after its great festival reception and 'Empire' losing steam.
That leaves us with the new frontrunner for Picture. Since the Spring I have had Babylon as my number one, but after it won the audience award at Toronto and the great reviews it received, Stephen Spielberg's The Fabelmans has become the new super early frontrunner to win the top prize. However I can't shake the feeling this is sort of a placeholder frontrunner for now. Since the shift to a preferential ballot during the 2009-2010 season, legacy directors' movies don't win Picture and a late surging crowd pleaser from a previously unrecognized face tends to come out on top. Furthermore, word is from those talking to voters or attending Academy screenings that Everything Everywhere All At Once is doing better with voters than some anticipated and has been gaining momentum. Meanwhile at Telluride there were stories about voters who attended mentioning Top Gun: Maverick as their favorite film of the year so far. And that's not to say that with the Academy perhaps deciding to send a message post-Dobbs or after a likely GOP friendly midterm that a movie like Women Talking couldn't end up going all the way either in the same way Moonlight was a response to Trump's election. I think anyone who is honest with themselves can say The Fabelmans has jumped over Babylon to become the movie to beat coming out of the festivals, but I'm not buying it's a clear favorite either – YET.
Below I've provided my projections and rankings for the eight "above the line" categories in Picture, Director, Original and Adapted screenplay, and the four acting categories. We are getting to that stage of the race when we can start to look a little past the top prize. After this, the next stage of the race will be these festival-premiering films getting to "lesser cities" or releasing wide. As I write this, I myself will finally begin to get an eye on these movies over the next few weeks. Box office or a bigger pool of critics can make the difference in this stage which could also affect the stage after that, which is the critics getting their awards out and pushing their favorites. And with the studios still shifting around who will compete for what acting award, or what movie they'll consider their top priority or not, these races could look pretty different even just a month-plus from now when I check in again after Thanksgiving.
Category: Best Picture
Current Rating: A Pure Tossup
Current Projection:
01. The Fabelmans
02. Babylon
03. The Banshees of Inisherin (New Entry)
04. Women Talking
05. Everything Everywhere All At Once
06. Top Gun: Maverick
07. She Said
08. TAR
09. The Whale
10. Empire Of Light
"On The Bubble":
11. Avatar: The Way Of Water
12. Glass Onion: A Knives Out Mystery
13. The Woman King
14. Elvis
15. Bardo
16. Triangle Of Sadness
17. Decision To Leave
18. All Quiet On The Western Front
19. Till
20. I Wanna' Dance With Somebody
Keep An Eye Out For:
21. White Noise
22. RRR
23. Amsterdam
24. The Son
25. Living
26. Armageddon Time (Returning Entry)
27. Causeway (New Entry)
28. The Greatest Beer Run Ever
29. Thirteen Lives
30. Black Panther: Wakanda Forever
Unlikely Contenders Barely Hanging On:
31. Emancipation (Returning Entry)
32. Guillermo Del Toro's Pinocchio (Returning Entry)
33. Strange World
34. Marcel The Shell With Shoes On
35. The Batman
Off The Board: Cha Cha Real Smooth; Don't Worry Darling; Holy Spider; Three Thousand Years Of Longing
Category: Best Director
Current Rating: A Pure Tossup
Current Projection:
01. Chazelle (Babylon)
02. Spielberg (The Fabelmans)
03. Polley (Women Talking)
04. The Daniels (Everything Everywhere All At Once)
05. Field (TAR)
"On The Bubble":
06. McDonagh (The Banshees of Inisherin)
07. Mendes (Empire Of Light)
08. Cameron (Avatar: The Way Of Water)
09. Prince-Bythewood (The Woman King)
10. Iñárritu (Bardo)
Keep An Eye Out For:
11. Ostlund (Triangle Of Sadness)
12. Chan-Wook (Decision To Leave)
13. Berger (All Quiet On The Western Front)
14. Luhrmann (Elvis)
15. Kosinski (Top Gun: Maverick)
Category: Best Actor
Current Rating: Tilts Fraser
Current Projection:
01. Fraser (The Whale)
02. Jackman (The Son)
03. Butler (Elvis)
04. Farrell (The Banshees of Inisherin)
05. Calva (Babylon)
"On The Bubble":
06. Nighy (Living)
07. Cruise (Top Gun: Maverick)
08. Labelle (The Fabelmans)
09. Driver (White Noise)
10. Bale (Amsterdam)
Keep An Eye Out For:
11. Gimenez Cacho (Bardo)
12. Hae-il (Decision To Leave)
13. Kang-ho (Broker)
14. Hall (Till)
15. Sandler (Hustle)
Category: Best Actress
Current Rating: A Pure Tossup
Current Projection:
01. Blanchett (TAR)
02. Robbie (Babylon)
03. Williams (The Fabelmans)
04. Yeoh (Everything Everywhere All At Once)
05. Colman (Empire Of Light)
"On The Bubble":
06. Davis (The Woman King)
07. Deadwyler (Till)
08. Ackie (I Wanna' Dance With Somebody)
09. Mulligan (She Said)
10. Kazan (She Said)
Keep An Eye Out For:
11. Lawrence (Causeway)
12. Thompson (Good Luck Leo Grande)
13. de Armas (Blonde)
14. Wei (Decision To Leave)
15. Krieps (Corsage)
Category: Best Supporting Actor
Current Rating: A Pure Tossup
Current Projection:
01. Gleeson (The Banshees of Inisherin)
02. Huy Quan (Everything Everywhere All At Once)
03. Dano (The Fabelmans)
04. Whishaw (Women Talking)
05. Pitt (Babylon)
"On The Bubble":
06. Hirsch (The Fabelmans)
07. Ward (Empire Of Light)
08. Harrelson (Triangle Of Sadness)
09. Tyree Henry (Causeway)
10. Teller (Top Gun: Maverick)
Keep An Eye Out For:
11. Keoghan (The Banshees of Inisherin)
12. Strong (Armageddon Time)
13. Hopkins (Armageddon Time)
14. McGrath (The Son)
15. Washington (Amsterdam)
Category: Best Supporting Actress
Current Rating: A Pure Tossup
Current Projection:
01. Buckley (Women Talking)
02. Foy (Women Talking)
03. Condon (The Banshees of Inisherin)
04. Hsu (Everything Everywhere All At Once)
05. Smart (Babylon)
"On The Bubble":
06. Chau (The Whale)
07. Sink (The Whale)
08. Mbedu (The Woman King)
09. Lee Curtis (Everything Everywhere All At Once)
10. Monae (Glass Onion: A Knives Out Mystery)
Keep An Eye Out For:
11. Kirby (The Son)
12. Dern (The Son)
13. De Leon (Triangle Of Sadness)
14. Hathaway (Armageddon Time)
15. Union (The Inspection)
Category: Best Original Screenplay
Current Rating: A Pure Tossup
Current Projection:
01. Everything Everywhere All At Once
02. The Fabelmans
03. Babylon
04. The Banshees of Inisherin
05. Triangle Of Sadness
"On The Bubble":
06. TAR
07. Empire Of Light
08. Bardo
09. Decision To Leave
10. Amsterdam
Keep An Eye Out For:
11. Armageddon Time
12. Cha Cha Real Smooth
13. Nope
14. The Menu
15. Bros
Category: Best Adapted Screenplay
Current Rating: Tilts Women Talking
Current Projection:
01. Women Talking
02. She Said
03. The Whale
04. Glass Onion: A Knives Out Mystery
05. White Noise
"On The Bubble":
06. The Son
07. The Woman King
08. Till
09. Top Gun: Maverick
10. Avatar: The Way Of Water
Keep An Eye Out For:
11. Guillermo Del Toro's Pinocchio
12. Marcel The Shell With Shoes On
13. All Quiet On The Western Front
14. Elvis
15. I Wanna' Dance With Somebody