Coronablog
[caption id="attachment_329088" align="aligncenter" width="955"]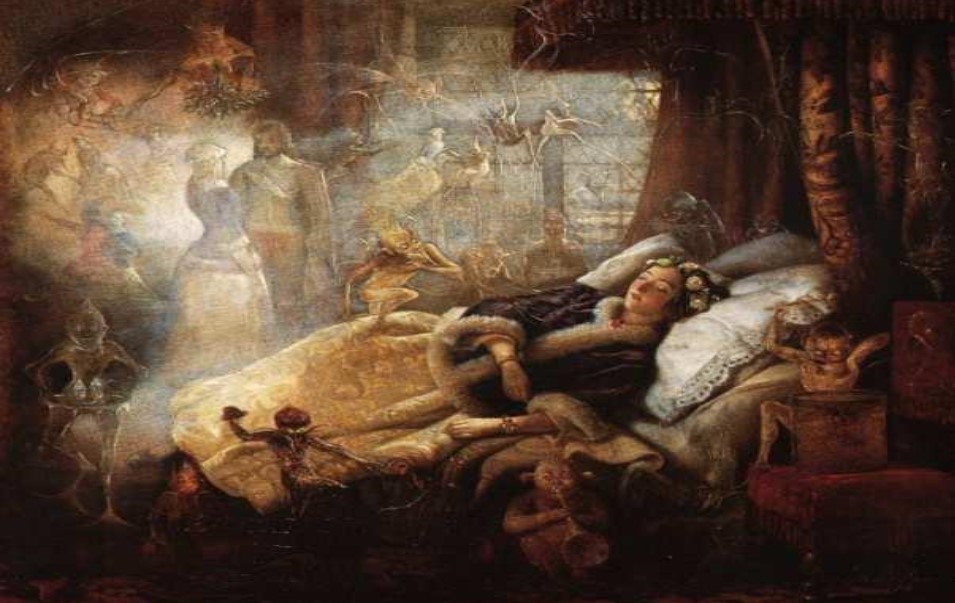 John Anster Fitzgerald: The Stuff that Dreams are made of. 1858
[/caption]
So I was reading that a lot of folks have been having bad dreams about Covid19. You can read some of them here: Vivid 'Pandemic Dreams' and Nightmares Keep Nation Awake During Coronavirus Outbreak.
It interested me because I myself had what I am certain was a corona/economic anxiety dream.
The setup of the dream was that we were a normal family, by which I mean much more consumer-oriented than we really are. We had nice cars and fancy clothes. My husband had an important job and I looked like one of the Real Housewives. (It was kind of remarkable as I have never had a dream where we were in any way other than who we are, and it was a lifestyle that neither one of us would even really tend to enjoy.) We came into a big city for a wedding and I had absolutely no cares about money. We went out to dinner, my husband and I and our nonexistent friends, as if we were enacting a scene from Crazy Rich Asians or something. Practically like being different people, just in our own bodies.
With the wedding coming up, I decided the girls needed new clothes, because the clothes we had brought with us were wrinkled (talk about a First World problem). In my dream, a baby I unfortunately lost was alive, so my two daughters and I, only one of whom actually exists, went to the mall while the boys took in a sporting event.
Now, as we all know, malls in 2020 are somewhat sad affairs with shuttered windows and stores running "going out of business" sales, but this mall was like traveling back in time to the 80's. It was packed with people carrying all these shopping bags. The girls and I went into a store and started shopping, and everything in the place was adorable and super cheap, so we ended up buying all this completely unnecessary stuff. Again, I had absolutely no concern regarding money, I just whipped out a card and paid for it, I didn't worry that my husband might be irritated that I spent so much. Very much not my normal existence to put it mildly, LOL.
But it was too much for us to carry, so I told the girls "Ok, we'll go back to the car and drive around to this side of the mall, so we won't have to walk so far." And as I turned and said "Thank you" to the clerk, the girls took two steps out the door of the store, and a huge crowd of people walked by and they were just gone. That scene in the movie where people just vanish into thin air, and it was happening to my daughters. But I didn't want to panic, I knew they had to be close by, so I walked around looking and looking and I couldn't find them anywhere.
So I went to the help booth at the mall and tried to get the officials to help me, and it was like a nightmare. There were all these bureaucratic rules and forms to fill out and the girls had to be missing a certain time before they would do anything to help. I said "can't you shut the doors of the mall till we find them" and they were like "no, we have to keep doing business, we can't shut down a whole mall" and after going through about 40 different bored, disinterested workers and several even worse managers, finally I gave up because I realized no one was going to help me because the system was just so screwed up and every second that passed my daughters would be in greater danger. I was on my own.
I desperately thought and realized "maybe they went back to the car" so I headed over there and everything outside was covered with ice, like there had been an ice storm, and my heart sank thinking they might have been out in it.  But as soon as I got to the car, they came walking up, perfectly fine, unscathed, unharmed. They told me they'd been in a building when the storm hit and pointed at the scariest looking, run down pedo shanty I've ever seen in my entire life, but they seemed perfectly cheerful, so I had them get in the car and get buckled into their seats.
As we were doing that out of the corner of my eye I saw a guy in a van in front of my car who had a gun and as I was putting my key in the ignition to drive away, he pulled a mask on over his head and got out of the car with the gun, ready to go into the mall to shoot the place up, probably starting with us, and that's when I woke up.
Believe me when I tell you, it was on a short list of the most terrifying dreams I've ever had in my life. Fascinating, but terrifying. It was so obviously about the pandemic, but it manifested itself in a whole different way.
So, how's about you guys?  Are you being plagued by pandemic dreams or is it just me?
Comment →
Ten Second News
Bernie Sanders is ending his presidential campaign:
Today I am suspending my campaign. But while the campaign ends, the struggle for justice continues on. https://t.co/MYc7kt2b16

— Bernie Sanders (@BernieSanders) April 8, 2020
Truthfully, the outcome of this election has been settled since Super Tuesday, but some will be surprised he did not go on to the convention. No doubt the current coronavirus making such conventions highly questionable is among the reasons for Bernie to bow out now.
So, now that Feel the Bern part 2 has gone the way of part 1, what say you?
Comment →
It's become something of a joke when economic numbers come out with the ubiquitous "unexpected" tag, but the data starting to come in on the economic toll of the COVID-19 virus and subsequent social shut-down was expected to be bad, and indeed is off the charts.
The torrent of Americans filing for unemployment insurance continued last week as more than 6.6 million new claims were filed, the Labor Department reported Thursday. That brings to 10 million the total Americans who filed over the past two weeks.

Economists surveyed by Dow Jones estimated 3.1 million, a week after 3.3 million filings in the first wave of what has been a record-shattering swelling of the jobless ranks. The previous week's total was revised higher by 24,000.

On an unadjusted basis, the total was 5.8 million, a number that some economists consider more relevant as seasonal adjustments are less relevant due to the unusual impact the coronavirus-induced shutdown has had on the U.S. economy.

The 4-week moving average, which smooths fluctuations, was 2.054 million, up 327,250 from aw eek ago and the highest since Jan. 14, 2017.

Before the coronavirus shut down major parts of the U.S. economy, the highest week for claims was 695,000 in 1982. The Great Recession high was 665,000 in March 2009.

However, the sudden stop as the government has instituted social distancing policies caused a cascade of joblessness unlike anything the nation has ever seen.

Those at the lower end of the wage scale have been especially hard-hit during a crisis that has seen businesses either cut staff outright or at best freeze any new hiring until there's more visibility about how efforts to contain the coronavirus will work.
Comment →
[youtube https://www.youtube.com/watch?v=3NbQkyvbw18]
For the first time in 8 years, Bob Dylan has released new music. "Murder Most Foul" is a 17-minute epic that starts as a graphic retelling of the Kennedy assassination, but then turns into a sprawling take on culture in the Sixties and beyond.
Comment →
The US Senate gaveled out of session in the early morning hours of Wednesday, announcing what Senator Minority Leader Chuck Schumer called "largest rescue package in American history" was finally ready.
Senate leaders and the Trump administration reached agreement early Wednesday on a $2 trillion stimulus package to rescue the economy from the coronavirus assault, setting the stage for swift passage of the massive legislation through both chambers of Congress.

Senate Majority Leader Mitch McConnell (R-Ky.) and Minority Leader Charles E. Schumer (D-N.Y.) announced the breakthrough on the Senate floor around 1:30 a.m., after a long day of talks with Treasury Secretary Steven Mnuchin and other administration officials.

"At last we have a deal," McConnell said. "After days of intense discussion, the Senate has reached a bipartisan agreement on a historic relief package for this pandemic. ... I'm thrilled that we're finally going to deliver for the country that has been waiting for us to step up."

"Help is on the way, big help and quick help," Schumer said. "We're going to take up and pass this package to care for those who are now caring for us, and help carry millions of Americans through these dark economic times."

The agreement capped five straight days of intensive negotiations that occasionally descended into partisan warfare as the nation's economy reeled from the deadly pandemic, with schools and businesses closed, mass layoffs slamming the workforce and tens of thousands falling ill.

The legislation, unprecedented in its size and scope, aims to flood the economy with capital by sending $1,200 checks to many Americans, creating a $367 billion loan program for small businesses and setting up a $500 billion fund for industries, cities and states.

Other provisions include a massive boost to unemployment insurance, $150 billion for state and local stimulus funds and $130 billion for hospitals.

McConnell said the Senate would pass the legislation later Wednesday. With the House out of session, action there could take longer, depending on whether lawmakers can agree to pass the bill by "unanimous consent," which would require agreement from all members of the chamber.
Comment →
Airbnb recently changed its cancellation policy in light of the Coronavirus. It allowed all of the people cancelling their trips to just cancel and get their money refunded.
This pushed 100% of the Covid-19 losses onto hosts.
Calling all @Airbnb hosts that have been robbed by @airbnb's arbitrary decision to change its cancellation policy making #hosts bear 100% of the losses due to #COVIDー19.

We are building a class action lawsuit.

Please connect, we have much to discuss.

— Airbnb Host Class Action (@AirbnbHostClass) March 15, 2020
(Featured image is "classroom 2nd fl" by cayoup. Used under creative commons license.)
Comment →
Like Us On Facebook