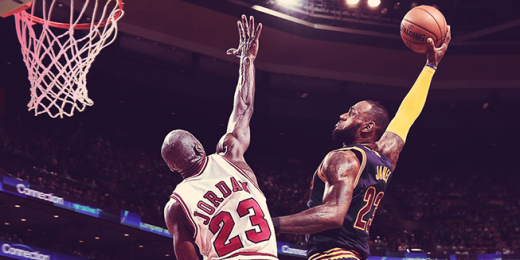 As he heads to Los Angeles, we re-present AdotSad's piece comparing LeBron James and Michael Jordan.
Coronablog
Presented without further comment, because I'm sure you folks will do plenty of that:
"I love history, I love poster art," New York Governor Andrew Cuomo said on Monday. He also loves deploying a mountain analogy to describe New York's fight against COVID-19 and his and the state's efforts to flatten the curve of new infections. He declared that New York was "on the other side of the mountain" during one of his then-daily coronavirus press conferences in early May. Then, at the end of June, after COVID-19 infections began spiking throughout much of the rest of the country, Cuomo shockingly unveiled a huge model of an actual mountain during another press conference to physically illustrate the analogy again, even using his hand to demonstrate New York's journey up and over the metaphorical pandemic mountain:

While Cuomo has not yet held a coronavirus press event using the Catskills, on Monday he unveiled, for the second time this year, an old-timey campaign poster devoted to himself depicting not only his pandemic mountain but illustrating numerous other elements related to both New York's fight against the coronavirus and the quirky asides the governor liked to make across his more than 100 daily pressers during the outbreak.

Both posters have been based on Cuomo's own sketches and painted in a style inspired by a 1900s campaign illustration for a Nebraska politician named William Jennings Bryan. The first poster, released in January, depicted Cuomo's accomplishments as governor utilizing a ship as a metaphor for the state.
The poster, available from the State of New York for the low, low prince of $14.50 plus shipping and handling: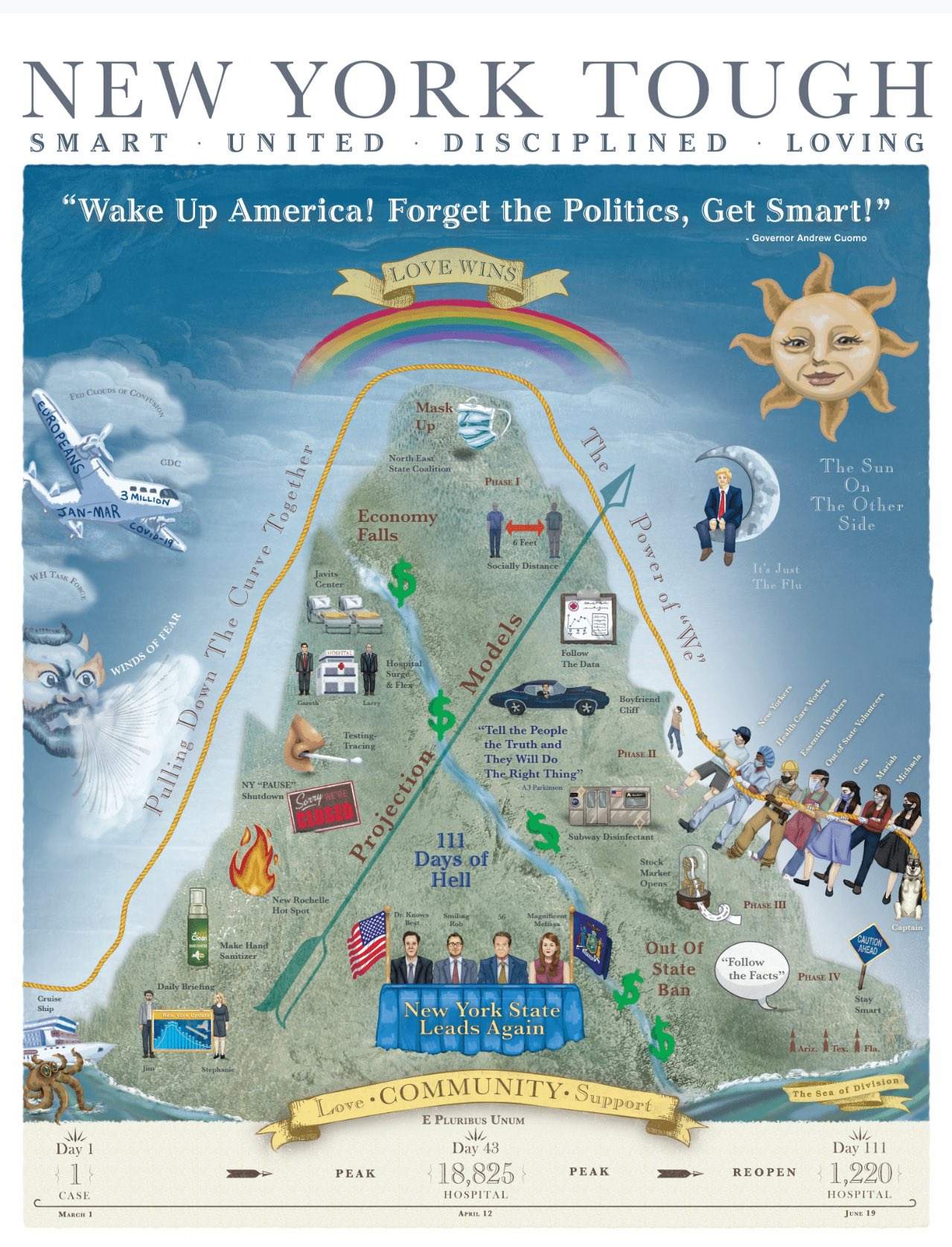 Comment →
Ten Second News
From National Low Income Housing Coalition: Minimum wage workers cannot afford rent in any U.S. state
From National Low Income Housing Coalition: Minimum wage workers cannot afford rent in any U.S. state
Full-time minimum wage workers cannot afford a two-bedroom rental anywhere in the U.S. and cannot afford a one-bedroom rental in 95% of U.S. counties, according to the National Low Income Housing Coalition's annual "Out of Reach" report.

In fact, the average minimum wage worker in the U.S. would need to work almost 97 hours per week to afford a fair market rate two-bedroom and 79 hours per week to afford a one-bedroom, NLIHC calculates. That's well over two full-time jobs just to be able to afford a two-bedroom rental.
(Featured image is "File:Adam Smith.jpg" by Adam Smith Business School and is licensed under CC BY-SA 4.0.)
Comment →
Commuting on a Friday night, Tweet about it all Saturday morning...or something.
President Donald Trump said Saturday that Roger Stone was entangled in "an illegal Witch Hunt," offering his first comment since the White House announced Friday night that Trump commuted the prison sentence of his former campaign aide, sparing his longtime adviser from having to report to prison next week.

"Roger Stone was targeted by an illegal Witch Hunt that never should have taken place. It is the other side that are criminals, including Biden and Obama, who spied on my campaign - AND GOT CAUGHT!," Trump tweeted Saturday morning.

Trump continued to tweet about other players involved in the Russia investigation, including his former attorney general Jeff Sessions and the former British spy Christopher Steele.

"This man should be extradited, tried, and thrown into jail," Trump wrote of Steele. "A sick lier who was paid by Crooked Hillary & the DNC!"

Trump shared multiple articles about Steele, who was ordered by a British court earlier this week to pay damages over "inaccurate" claims in the dossier that he became known for during the 2016 campaign.
Comment →
From CBS Chicago: Joliet Police Sgt. Javier Esqueda, Who Blew Whistle On Death Of Eric Lurry In Police Custody, Stripped Of Police Powers
From CBS Chicago: Joliet Police Sgt. Javier Esqueda, Who Blew Whistle On Death Of Eric Lurry In Police Custody, Stripped Of Police Powers
JOLIET, Ill. (CBS)– Joliet police Sgt. Javier Esqueda blew the whistle on the death of Eric Lurry in police custody, and now he has been stripped of his police powers and placed on administrative leave.

Meanwhile Tuesday evening, there were growing calls to fire the two officers involved in Lurry's death, and sources said the Joliet City Manager has quit.

As CBS 2 Investigator Dave Savini reported, Sgt. Esqueda said he thought he could lose his badge over all this, and he did lose it.
(Featured image is the official Seal of the city of Chicago)
Comment →
From Elizabeth Picciuto's "The Real Free Speech Violations":
Their primary concern is that social, cultural, and institutional (but not governmental, except perhaps in its role as an employer) pressures will be brought to bear on people simply for expressing their beliefs. Their letter decries that people have been fired and publicly shamed for their words, that certain works of journalism or art have not been published or exhibited, that creators and academics feel constricted in what they can express without retribution.

They write, "The restriction of debate, whether by a repressive government or an intolerant society, invariably hurts those who lack power and makes everyone less capable of democratic participation."

An intolerant society can sometimes inhibit speech wrongly. But it is absolutely not the equivalent of a repressive government inhibiting speech.

They are missing the free speech forest for a few free speech trees. Government inhibition of speech is wrong, full stop. Threatened and actual violence in retaliation for speech are wrong, full stop. Firings, deplatformings, and social stigma for self-expression are not always wrong. They are wrong on a case-by-case basis.
(Featured image is "Well, Vercovicium" by Rudi Winter and is licensed under CC BY-SA 2.0)
Comment →
Like Us On Facebook