The fight over House Speaker won't change anything in this Congress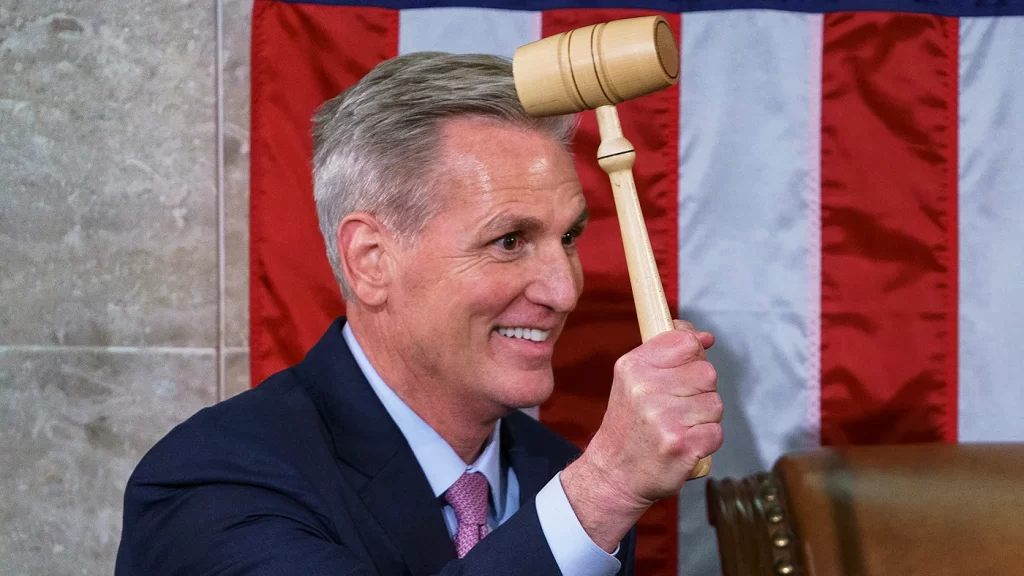 After 15 votes, Kevin McCarthy reached the heights he's sought since he first came to Congress — Speaker of The House of Representatives.
It's a clear win despite all the not-in-writing concessions he made to members of the Crank Caucus to get him over the top. It was a spectacle, one that will be forgotten in several weeks — but will resurface (more on that soon). More than enough journalists did the serious face "what it all means" routine when it doesn't mean much of anything. For now.
McCarthy will have a difficult two years. The Crank Caucus will see that they do what everyone expects them to do. If this is sounding familiar, one only has to go back ten years when Speaker John Boehner had to deal with similar nonsense from newly elected Tea Party members who foolishly believed they could get everything they wanted despite Democratic control of the Senate and the White House.
Here we are in 2023 and it's the same scenario. Only now, instead of people like Thomas Massie (who is still there), Justin Amash, Dave Brat, Dan Webster (still there), etc, McCarthy has to deal with the likes of Matt Gaetz, Marjorie Taylor-Greene (don't let her support for McCarthy fool you into thinking she will be anything less than a cyclone of crazy), Lauren Boebert, Bob Good, and Scott Perry. None of them care a whit about governing. Gaetz, MJT and Boebert see Congress as their platform. They didn't get elected to pass legislation or to conduct oversight. They did it for Twitter followers, cable news hits, invitations for prime speaking gigs at conservative clown-car conferences, and podcast listeners.
Yuval Levin, in his book, A Time To Build, said institutions are like molds "that shape people's characters and habits." That is how an institution should work. He argues institutions have largely become platforms "that allow people to display themselves before a wider world."
Would anyone care what Gaetz, Boebert or Greene would have to say if not in Congress? Gaetz loved every minute of that clown show. He once said, "If you're not making news, you're not governing." Gaetz had to lower his profile somewhat the last two years as he faced allegations of underage sex trafficking. In the fall of last year, prosecutors recommended against charging him and that unshackled him. Gaetz is a buffoon, but he isn't stupid. He saw the writing on the wall when the GOP didn't secure a wave victory in November. In December, at a Turning Point USA conference, Gaetz said of Trump pushing for McCarthy as House Speaker, "I can't wait to vote for Donald Trump in the 2024 election but if Donald Trump believes that Kevin McCarthy should be Speaker of the House, then Donald Trump is wrong."
Fortunately, people like Gaetz (and Democratic counterpart, Alexandria Ocasio-Cortez) are a minority within the ranks of Congress. They have outsized influence because they understand the media and social media landscape, and know how to get people talking about them.
As for how the House will conduct business, the legislative process broke down ten years ago. John Boehner wanted a more open process, one that allowed for the chamber to vote on amendments to legislation, but his caucus rebelled against him with many members saying that doing so gave way to the "establishment" and he had to close the process down to move bills out of the House. Paul Ryan continued that "closed" process. Nancy Pelosi, in her first round as Speaker, had more bipartisan votes on amendments than any time since Newt Gingrich held the gavel. However, that changed when Democrats took control of the House in 2019. With Trump in office, and a Republican majority in the Senate, there was no way she could give legislative victories to the president with the amendment process. She did the same in the last two years, shuttling legislation from her office to the House floor, securing partisan victories for President Biden's legislative agenda, made up almost entirely of spending bills.
It's hard to imagine anything changes. Though a more open process is something McCarthy promised to people like Rep. Chip Roy (who is often a firebrand, but hardly someone like Gaetz), what will it benefit McCarthy with a Democrat controlled Senate and a Democrat in the White House? Once again, bipartisan amendments will get cast by the loudmouths, cranks, and entertainment wing of the conservative movement as "failure" or "capitulation" to the "establishment," "donor class," and "ruling class."
Regular order within the budgetary process? That was another ask of people like Roy, who wants to get away from continuing resolutions and 2,500 page end-of-year omnibus spending packages that members get 24 hours to read before voting on it. The Crank Caucus will have none of it because the 12 appropriation bill process requires debate, amendments and bipartisanship. So in the end, we will end up with CRs and an omnibus package that will require some concessions on McCarthy's part to Democrats to get it passed.
And in doing so, there will be yet another round of wailing and gnashing of teeth by the people who "fight" but fight for nothing other than nihilism, disorder and chaos. It's what they want. Doing actual work is boring.
It's not only Gaetz and AOC. Rep. Katie Porter is a heroine of the progressive left. She's done little since coming to Congress in the way of legislation or policy. What she has is a host of viral videos where she is "destroying" someone in the business community using tactics designed for a segment on The Daily Show and with a zero understanding of how the business world works.
As an aside, it's interesting to note that someone like Arizona Sen. Kyrsten Sinema is someone who gets work done. Legislation has her name attached to it. She helped negotiate the $1.2 trillion infrastructure bill. She helped get the gun control bill passed and was part of the negotiating team that helped get the gay marriage law passed. Still, activists and progressives consider her a pariah in the Democratic Party because as an institutionalist, she didn't vote to overrule the Senate parliamentarian on a minimum wage increase getting included in a COVID relief package, and wouldn't vote to override the legislative filibuster. For all her efforts and work, Democrats hope a loudmouth crank, Rep. Ruben Gallego, replaces her. Now that she's an independent, that's become a much murkier scenario.
It might sound pessimistic to think we won't see anything productive this year from Congress. Of course, even if the GOP House majority didn't have The Crank Caucus, Senate Majority Leader Chuck Schumer will see that nothing the House passes on a party-line vote ever makes it to Biden's desk. The likelihood is we'll get treated to a slew of messaging bills, a lot of investigations and lots of chatter from the press about how the Republican Party can't govern and is only interested in partisanship.
Business as usual.