Sunday Morning! "Rat Bohemia" by Sarah Schulman
A few weeks ago, my partner and I went to the Strand and paid to hear a conversation between Lucy Sante and Jeremiah Moss about the book Feral City and "finding liberation during lockdown in NYC." Moss is best known for "Vanishing New York" and the discussion afterwards took on the character of a support group meeting as longtime New Yorkers were invited to share their accounts of the liberating moments of the early pandemic when the city felt like the "old New York" again.
Of course, for the comparison to really work, this would have to be a support group for people who didn't quit: they all still live here. I mean, it really is impossible to begrudge anyone for fighting the good fight, it's nevertheless hard to wonder if the things they found in NYC years ago might be better replicated somewhere else. Everywhere could be the Lower East Side.
It's still fascinating to me how we all tend to associate certain places with certain times in our lives when life felt flush with possibility. I'm not sure we can ever avoid this sort of romanticizing, even if we know how toxic nostalgia can be when taken in heavy doses. At this point, there's a bit of a sunk cost fallacy to staying in places like New York and hoping for them to be as culturally relevant as they were three decades ago. Big cities are a bit like crypto currencies at this point: pumped up with hype, severely overvalued, and creating nothing of lasting value. It turns out that when you price out everyone but the top ten percent, you lose all the people who create vitality in a city. Who knew?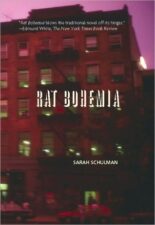 This week, I also read Sarah Schulman's 1995 novel Rat Bohemia, which I've been circling around since I moved here and finally picked up in the great Bluestockings Collective Bookstore on Norfolk Street in the Lower East Side (not the "East Village"!), and it was a good reminder that the sort of "community" that is lacking in our modern transient cities really existed back then as a survival mechanism. Many of those people came to the cities because they weren't welcome or wanted anywhere else. Especially not at home.
Schulman's novel is most striking for the ways it refuses to romanticize the subject most tempting to romanticize in the era: the AIDS crisis. Her characters are a gay man and three or four lesbians in the Lower East Side of the late 80s; everyone they know is dying, or caring for someone who is dying, or attending all too many funerals. They're not saints or martyrs, but complicated people who fight and bicker, get sick of each other, tell the same stories to the point of boredom, go in and out of the closet, and get weary attending funeral after funeral. As Edmund White wrote when the novel came out:
"AIDS burnout has at last found its bard in Sarah Schulman."
Her central character, Rita Mae Weems, is unblinkingly honest about the non-transformative nature of dying:
I know that we tend to romanticize things like death based on some kind of religious model of conversion and redemption. We expect that once people stare down their mortality in the mirror they will understand something profound about death and life that the rest of us have to wait until old age to discover. But that's not what happens. Actually, people just become themselves. But ever so much more so.
Rita works as a rat exterminator for the City of New York, an endless battle the city has waged for decades and is gearing up to fight again. The metaphor is never pushed to its breaking point, but it's clear that Schulman's characters are seen as vermin by their families and much of the society around them. The vehemence of 1980s homophobia is somewhat forgotten about now, but I still remember one of the first jokes I learned as a child (when I was too young to get it): "What do you call a gay in a wheelchair? Rollaids." And certainly, every respectable teen comedy film from that era had at least one "fag" joke.
Laugh? You'd die trying.
And so, people found some strength in numbers. In fact, it would be better to say the novel has four central characters: Rita; her best friend Killer, semi-employed at best; Killer's new girlfriend Troy; and Rita's old friend David, who narrates the second section of the book while dying and wondering who will remember him; his family hardly remembers him in life, never mind after death. On the periphery, the much discussed now-closeted writer Muriel Kay Starr has moved on from her former life and written a best-selling novel about nice, trendy, and straight versions of her old friends.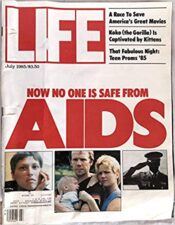 It strikes me that a lot of LGBTQ fiction from the last century are basically ensemble pieces: City of Night and Boys in the Band also came to mind. One of the things "Rat Bohemia" does best is to show how recreating ourselves through our "elective families" is a messy business; her characters still carry the scars of rejection by their birth families. The novel offers a painful reminder of how many families were reunited by AIDS deaths only to find that Mom and Dad still resented their child's homosexuality as something that was "done to them." In reality, "family values" destroyed many a family.
So, reading Sarah Schulman and Rat Bohemia about 30 years after it was published, offers insights both cheering and grim about modern New York. Much of the Lower East Side today resembles a resort town or expensive college quad. In a new introduction, Schulman pulls no punches about the role of AIDS in gentrification: landlords salivated at all the rent-controlled units suddenly becoming available. I was reminded of David Wojnarowicz, whose landlord finally agreed to let him live out the remainder of his life in Peter Hujar's apartment, with the caveat that, if a cure for AIDS was ever found, he would have to move out.
On the other hand, things seem a bit less dire for gay children today, in spite of the best efforts of "Christian love" to turn back the clock. Maybe fewer people will need to move to places like New York in order to be who they are and find liberation from their stifling hometowns. Maybe everywhere can be the Lower East Side one day. And, if there's nothing else to celebrate about the present, thank goodness AIDS is no longer a death sentence.
And so, what are YOU reading, writing, watching, playing, pondering, or remembering this weekend?