The Pride, the Fall, and the Backyard Brawl
47th in health care.
45th in education.
48th in economy.
50th in infrastructure.
Fighting Kentucky and Georgia for #1 butt of toothless inbred hillbilly jokes.
West Virginia is not the envy of the rest of the country in any way, except perhaps natural beauty. But there was a time not so long ago when we had the chance to be.
Picture it: Morgantown, WV, December 1st 2007. The eyes of the entire state are concentrated in one place and for once, much of the rest of the country is paying attention, too. The #2 ranked West Virginia University Mountaineer football team, having lost only one game that season, has only one contest between them and the national championship: the 4-7 Pittsburgh Panthers. It's a position WVU has rarely experienced. The team is tough to beat, feared by its opponents.
Respected, nationwide. It was our year.
***
West Virginians have a sense of pride that is hard to understand to outsiders. Refer to the beginning of this essay; it doesn't seem like much to be proud of.  I think that's precisely why we are so fiercely defensive. We are not going to roll over and concede that we are a worthless people stuck in a place not worth living. We are instead going to double down on our love for our hills and our history, be it taking a stand against slavery in the civil war,1 or literally fighting to the death for the rights of laborers. It is not an easy place to live and that in and of itself is a source of pride, a response to those who can't fathom living here by choice.
So, when the rest of the country has to take notice of us, has to concede that we are elite in some category, even one as frivolous and inconsequential as a ballgame, it means something greater than, say, Duke going to the Final Four again. West Virginia has no pro teams and only two Division I schools. Most of the state rallies around WVU (from which I am a double grad), save a few pockets of kelly green who instead claim our little brother, Marshall. The flying WV logo is everywhere, on decorative license plates, hats, porch flags, tshirts, and tattoos, within our jagged borders and beyond, as even the WV diaspora continues to show their mountaineer pride. Fall Weddings are planned around the WVU football schedule. We are deeply invested, even when the team is struggling and not giving us much to hang our hats on.
In 2007, though, we were in the upper echelons of NCAA greatness. We were still in the Big East back then, and we were 11-1 with only one (inexplicable) loss (to South Florida, SMH).  We were all but guaranteed to go to the big show for the first time in nearly 20 years. WVU, with 14 conference titles and a 60.3% winning percentage, is the winningest football program without a national title to its name.  With Pat White and Steve Slaton, it was our time. The only thing in our way was one last home game against a team with a measly 4-7 record. That team was Pitt.
The University of Pittsburgh Panthers. The school 75 miles to the north. Our most hated rival, the "big city" school that looked down on us, just like the rest of the country does. How sweet it would be to just trounce those jerks and move on to face LSU for the title that was so long in coming to us. It was a beautiful night and it felt like destiny.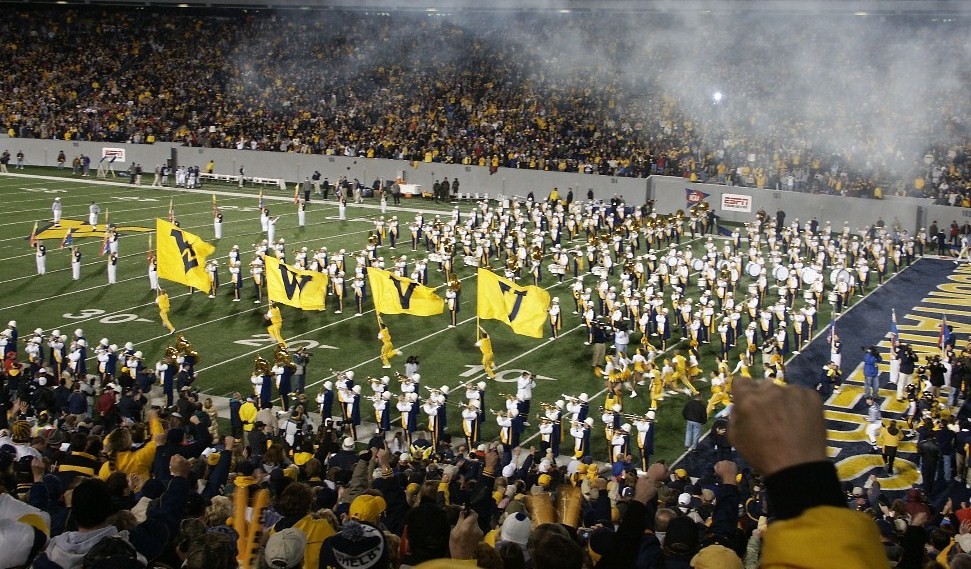 Photo by Al Johnson (www.alandsuejohnson.com), CC BY-SA 3.0
And I guess it was, in a way.
Pat White was having an off night and then injured his thumb. And Pat McAfee, our ever-reliable kicker and punt returner who had not missed a field goal in his last ten attempts, missed two.2 Unbelievably, we lost 13-9. To Pitt. Nothing could have hurt worse at that moment. To have our hopes crash in on us like that was bad; to have shit-eating Pitt be the team that brought us down was unbearable.
The season was – almost – all downhill after that. We were invited to the Fiesta Bowl as a consolation prize, where we would have to face the heavily favored #4, Oklahoma. And in the weeks between the 13-9 tragedy and the game against OU, our coach up and walked out on us. To be honest, that hurt almost as much as the Pitt loss. Rich Rodriguez was one of us. He was born and raised here, he played at West Virginia. He had turned down a job at Alabama the year before, making us believe he was devoted and in it for the long haul. And then he very abruptly left for the head coaching job at Michigan. He wouldn't even stay for the bowl game. Duplicitous, traitorous, disloyal, ungrateful… just some of the more family-friendly descriptors most of us had for him back then. Time has soothed the wound a bit, and hearing him say it was a mistake provides satisfaction (as does the downward trajectory of his career after that.)
West Virginia fandom is a roller coaster of highs and lows. We felt at an all-time low after the disappointment of December of 2007. Assistant Coach Bill Stewart took over for Rich Rod and we all prepared for the worst as the Fiesta Bowl loomed.
And then we won, 48-28. Vindication? Redemption? Maybe, but it still wasn't a natty. Nevertheless, it was a great night to be a Mountaineer fan. Coach Stew's locker room speech still gives me chills:
But I digress.
"It's just a game," said some dude on Twitter when I mentioned I was still not quite over 13-9. I explained that he just didn't understand. It is a matter of pride for people who don't have much to brag about. It's a chance to be celebrated instead of derided, for once. The rest of the country would have to recognize that we were #1, top of the mountain. It means something to the people of this state. "It's just a game," he repeated dismissively. Some men, you just can't reach.
Tonight is another "just a game", as the Backyard Brawl returns after over a decade-long hiatus since Pitt left the now-defunct Big East football conference for the ACC (we lost to them again in 2008 before beating them the following three years straight.) To be honest, I didn't miss it and I don't look forward to it. The Mountaineer fandom rollercoaster is again at the bottom right now, trying to climb the next hill. The only thing worse than Pitt, college football-wise, is losing to Pitt. They are ranked pre-season #17; we ended last year 6-6 then lost in a minor bowl game to Minnesota. And I have a bad feeling in the pit (no pun intended) of my stomach about this game.
But I will watch, in my luckiest game day gear, and one way or the other I'll be screaming.
---
Post-script: "Our state versus your neighborhood" might be the best encapsulation of this game I've ever heard.
I want to take a minute here to say that I absolutely abhor the way McAfee was treated after that game by "fans". It was not his fault we lost; it wasn't his fault we were in a position in which two field goals decided the game. I will never boo anyone who is willing to play for WVU, especially those without ties to our state.