Sunday Morning! Gord Lewis and "Teenage Head"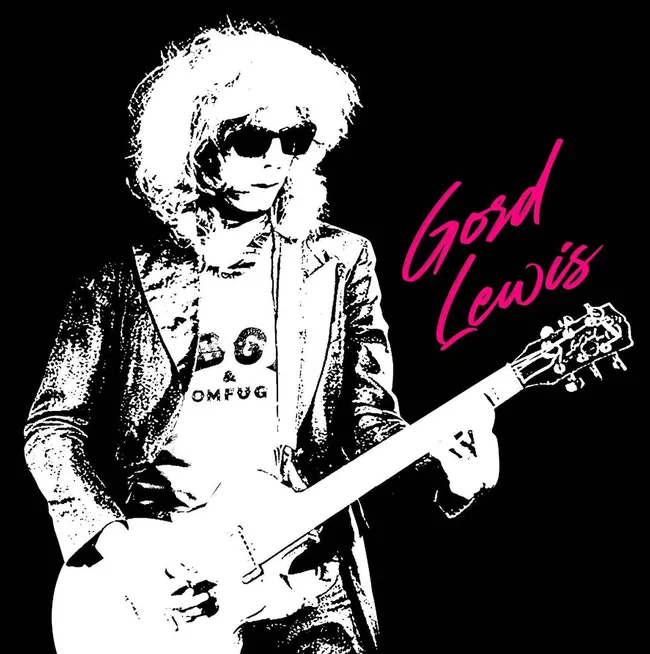 A musician friend once pointed out a nice parallel about small towns: people will get as fired up with pride about the local band that got played on the radio as they do about the football player who went pro. He recalled watching Hamilton, Ontario's legendary band Teenage Head playing one sweaty night in the local music club "This Ain't Hollywood" and middle-aged guys who went to High School with them cheering "Go get 'em, Gord!" at the front of the stage. "It was the cutest damn thing," he said. "I hope I have fans like that when I'm that age!"
"Gord" was Gordie Lewis, the guitarist who founded the band back in 1975 at Westdale High School in Hamilton. Teenage Head was one of those bands that really really should've "made it" around the world, but never quite broke out of the Canadian content circuit. Like the Tragically Hip, it's very easy to imagine Teenage Head on a tour today with, say, Blondie and the B52s; they were in that vein of good time throwback rock'n'roll, and they sure had the chops. They've been called the "Canadian Ramones," but it's a little inaccurate- Teenage Head sounds more like the soundtrack for a backyard high school party than a breaking and entering at a Queens pawn shop at 3 a.m.
But there's probably a nice parallel there too: if you're a rock'n'roll obsessive, you'll recognize that "Teenage Head" was a killer blues rock song by the San Francisco band The Flamin' Groovies. Hence, the "Canadian Ramones" were named after a song by the "American Rolling Stones." At the time, Gordie had only seen an ad for the single in a rock magazine. Like I said, these were high school kids. For life, really.
They were in the right time and place for the beginning of punk, but unlike the Toronto bands with whom they were most often associated, Teenage Head seemed more like they worshipped the New York Dolls and glam rock than the Sex Pistols and punk. There's also a bit of Gene Vincent and Elvis in there. Their music smells like beer and bubblegum and summer days in a convertible with the top down. It's the musical equivalent of making out with a high school girlfriend and feeling her tit. Dumb fun.
I've found that "rock'n'roll" is about as difficult to explain in words to a non-devotee as the joy of a rollercoaster. It's just fast and loud and catchy and it takes you out of your brain and puts you into your body. Wheeeeee! Teenage Head stood out from a million other bands because they worked really hard to look like they were goofing off. They played all the time. Frankie Venom had enough stage presence for twelve frontmen and an instantly-recognizable voice. And Gord Lewis was a phenomenal guitar player who worked harder to master his craft than many of the musicians who get dissertations written about them. He was a true rock star. When I moved to Hamilton, they were the one band I had to see live. There was a certain cache about being an American who knew Teenage Head. I'd seen them in Class of 1984 on VHS:
They should've been huge and probably would have been with a little more luck. There was talk early on about moving to New York, but it didn't happen. After their second album "Frantic City" went gold in Canada, they booked a series of showcase gigs in NYC that was cancelled when Gordie was in a car accident that broke his back. The American label MCA finally picked them up, but insisted they change their name to "Teenage Heads" to placate American sensibilities and alienated some of their Canadian fans. They broke up and reunited, and then, quite suddenly, Frankie Venom (Frank Kerr) died of throat cancer in 2008, which I can attest broke a LOT of hearts in Hamilton. It sent Gordie into a deep bout of depression that almost derailed the band, which was chronicled in a documentary about their triumphant return (that is unavailable outside of Canada):
You can sense the kind of person we're talking about here in that trailer. Like everyone who knew Gord Lewis even a little bit is saying right now, he was the kindest most gentle rock star you could ever imagine. Like a big sweet kid with a radiant smile. I was in a much worse garage rock band for a time and Gordie had only kind things to say to me, talking to me as shy and smiling as if I was the rock star. We all knew about his troubles, the car accident that broke his back, the bouts of depression, the son who was deeply troubled, the recent surgery- but he always seemed like he felt very lucky to be around the hometown music fans who loved him. And there were a great many. To them, he played on the soundtrack of their youth. To me, he was the quiet, ursine man who I saw in the bar with my friends. I wish I knew him better; I'm shy too and I wish I knew a lot of people better. I knew he loved music and he loved his guitar, and just about everyone in Hamilton loved him.
So, I know well how gutted and heartbroken those hometown friends and fans are feeling right now at the news that Gord Lewis was found murdered this week in his Catherine Street apartment. The most chilling part of it is a lot of us were not surprised to hear who did it. The number of people in the music scene who had warned the police about the delusional and threatening behavior of his son, over a number of years, is staggering. Nothing was done. The police told a great many people not to worry. And now, they've arrested his son. I have no answer for the problem of untreated psychosis, but goddamn there must be something in between sending people to the horrific Bedlams we did away with and leaving people who are in obvious psychological turmoil to their own madness until they commit murder. This never had to happen. It shouldn't have happened.
But at a certain age, as many people leave your life as enter it. And really, none of us are teenagers for very long. I've said it's like a railway journey, in which people and places fly by and fellow passengers come and go. Some of them you wish could have rode a little longer with you. But, a few of them made the whole ride more enjoyable. All praise to the ones who showed us some kinda fun.
And so, what are you pondering, playing, watching, reading, creating, or rocking out to this weekend?