Saturday Morning Gaming: Wingspan
Last week, doughty commenter JHG recommended the board game Wingspan.
Now, as someone who plays a lot of games with the tag "boardgame" on Steam, this is also a game that I've seen recommended by the algorithm there. So I looked up Wingspan on Steam. Very positive reviews, very positive recent reviews… and it was 40% off. Okay fine. That pushed me over.
So I booted it up and went through the tutorial.
First off: You will need to go through the tutorial. The game is fairly complex and isn't yet another Parcheesi variant. (You know what I'd compare it to, actually? Magic: The Gathering.)
The Steam version is downright gorgeous, though. Let's walk through some stuff:
First off, the game is GORGEOUS.
Seriously, it's calming to just sit and look at it.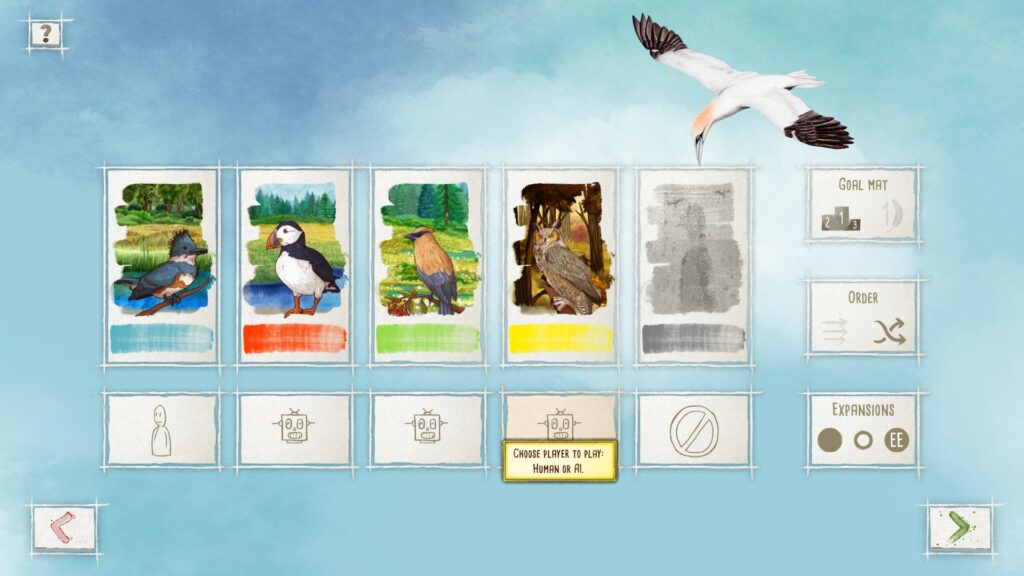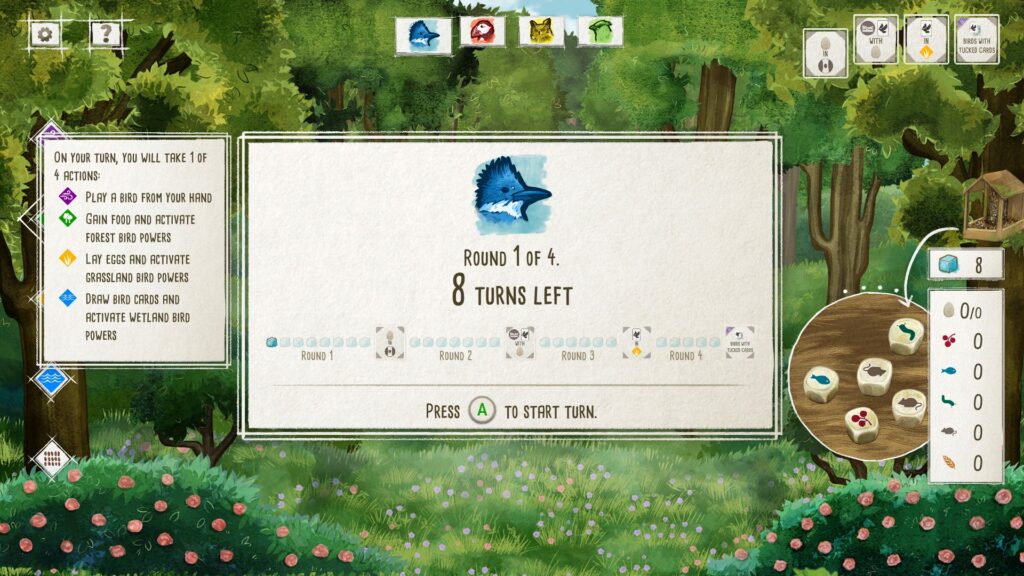 Okay. There are four rounds. Each round gets 8 action dice to mark the 4 turns in any given round (turn 1 gives you 8 actions, turn 2 gives you 7, turn 3 gives you 6, turn 4 gives you 5… and then it's time for round 2). There are three habitats: Forest, Grassland, Wetlands. In the forest you get food, in the grassland you lay eggs, in the wetlands you get more cards. The birds in your hand can only be played in certain habitats (the pine siskin can only be played in the forest, the bald eagle can only be played in the wetlands, but the mourning dove can be played anywhere).
You need different kinds of food to cast your bird and you need to have the right kinds of food available in the bird feeder. (If you have only fish and rodent-fed birds and nothing but wheat in the feeder, you're going to have a bad time.)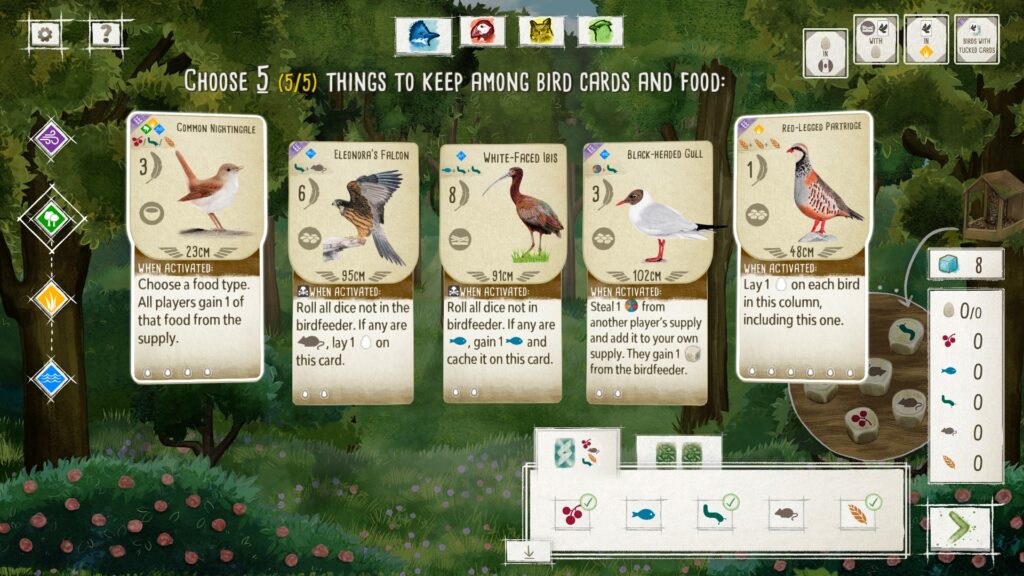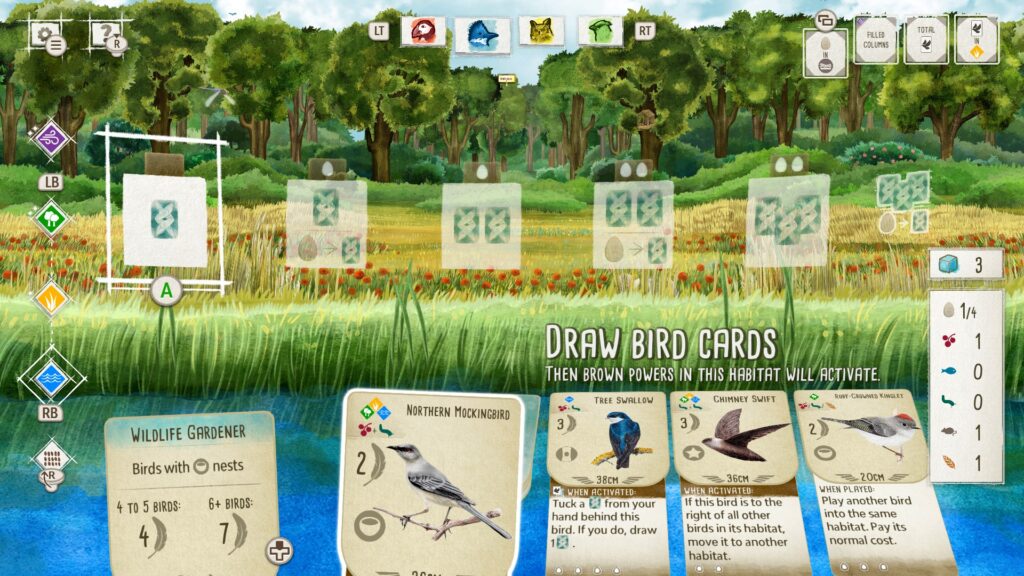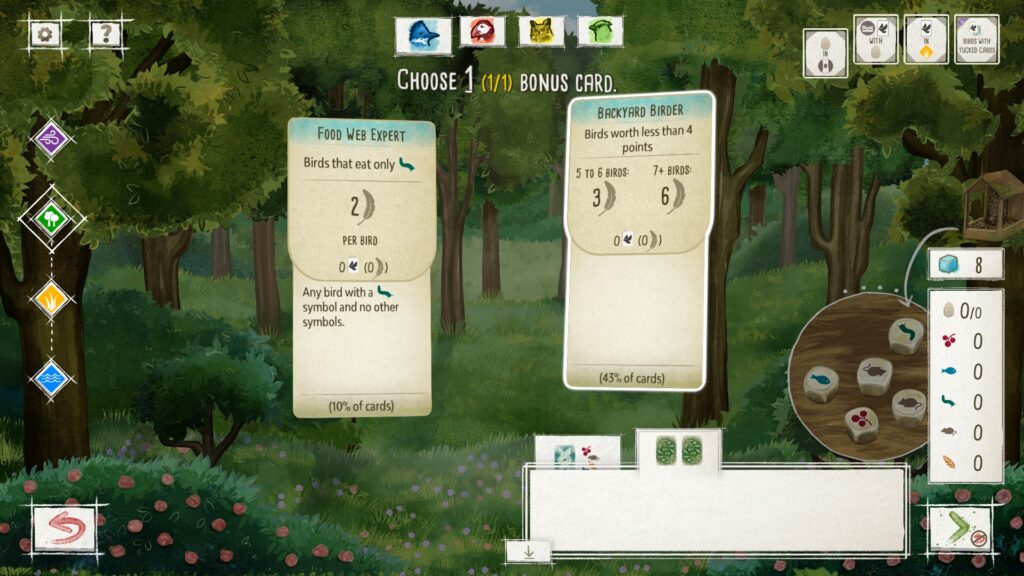 Grab the appropriate type of food from the feeder, cast your bird, have your birds activate their powers, lay eggs to cast more birds, draw some more cards, and holy cow, I'm out of turns already. Count up the points. You get points for all kinds of crazy things. The number of birds you've played, the number of birds in a particular habitat. The number of birds that have a particular type of nest that have an egg in it. The number of opponents' birds that you have predated with your predator birds.
And then, at the end of the game, most points win.
It's kind of an engine game. You need birds to make birds. And, of course, you need the right birds. But the food dynamic makes me think of Magic: The Gathering. "I need bug mana and wheat mana to cast this bird… oops, I don't have enough egg mana."
There are enough different ways to generate points that there are different ways to play… do you want to get points from food? Do you want to get points for predating your opponent? Do you just want to make birds, birds, and more birds?
It's a beautiful game to look at, it's got some complex mechanisms in there for the hardcore gamers in your group to chew on, and the theme is actually a nice one instead of one involving zombies or explosions or global pandemics. And, if you're playing the Steam version, the game will give you information about the birds you play. Hummingbirds eat small insects! Huh. I did not know that.
So… what are you playing?