Sunday Morning! "Desperate Characters" by Paula Fox
My mother resides in the suburbs in a small Virginia town where she has lived for over five decades now, and where members of my family have lived since before she was born. It is a fairly anodyne and prosperous community whose population is 50% white and 30% Asian, known mostly for its historical attractions. According to FBI data, your chance of being a victim of crime there is 1 in 81, although my mother only really leaves the house for groceries and to dine out with her brother. She remains convinced that one day very soon "rioters" will come to burn the town to the ground. Other members of my family are the same way: they're exemplars of middle-class prosperity and totally convinced their civilization is on the precipice of an abyss. Maybe it's a common anxiety.
Certainly, all of the anxieties of the bourgeois class are well-documented at this point. Literature has laid them all bare and flogged them thoroughly, and then offered them free therapy. It feels like every second novel I've written about here has dealt with bourgeois anxiety in one form or another, and this week's novel, Desperate Characters by Paula Fox, is maybe the most anxious. It's not as if this is a huge interest of mine. At some point, I need to read a few more novels about coal miners.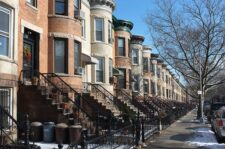 "Bourgeois" is one of those words that's hard to use without sounding like a college radical, so let's define them as the affluent upper middle class whose values and mores tend to most characteristically define the culture of their society. It's not too much to say they created the modern world in all its good and bad, partly because they have a great deal of cultural capital; but also because they tend to have the most time and impetus to worry about things like what shoes go with what outfits and where soup spoons should go. And what it all means. Literature has probably focused so excessively on the bourgeois class because that's who traditionally reads (and writes) the most novels. It's their world; we just feed and clean up after them.
Oh, the other thing is they're pretty miserable, at least, if literature is any guide.
Certainly, the characters of this novel (one of those rediscovered masterpieces one hears about often these days) are fairly miserable, though they couldn't tell you why.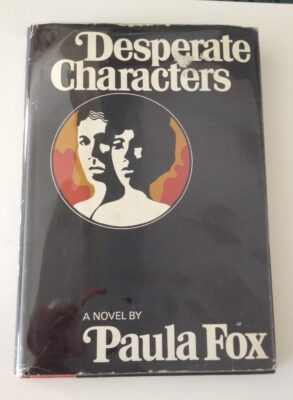 Sophie and Otto Bentwood (a name that sticks on the ear a bit more than in should) are a married couple in their 40s living in a brownstone in a part of Brooklyn that is changing less rapidly than they'd like in a marriage that seems more like purgatory. Their immediate problem, however, is the stray cat that bites Sophie's hand on the first page of the novel. Throughout, her reluctance to get the hand checked out will be a repeated refrain. It's alright. It'll be fine. Just a little swollen. Maybe she's afraid of finding out the cat has rabies, or afraid of the tetanus shots. Or maybe she thinks she deserves whatever's coming to her. At one point, she says out loud:
"God, if I am rabid, I am equal to what is outside,"… and felt an extraordinary relief…
Meanwhile, Otto's legal partner, Charlie, has unceremoniously broken up their long-time partnership, a decision throwing everyone into turmoil, although Otto is mostly annoyed. Charlie is what we'd call a social justice warrior today and a bleeding heart then, and Otto is annoyed with the pretense: "Because he doesn't mean it," he cried passionately. "Because he wants to be caught up by something, to be swallowed so as not to think about anything." Everyone's trying to distract themselves.
At the same time, the culture is changing in ways that seem to Otto like barbarism, and that annoys him as well. A revolution would make sense; what bothers him about the petty hooliganism and random violence that will befall Otto and Sophie over the course of the story is that it's "meaningless. It doesn't represent an idea. It is primitive, the void…" In fact, it's an attack on meaning. One of the side stories in the novel is about an abusive artist who has rebuilt typewriters to produce nonsense. Throughout, Otto and Sophie seem to be assailed by illogic. They are the repositories of a certain middle class logic, and yet they're also almost inarticulate.
So, on one hand, we're dealing with urban decay and the upending of the social order- a big theme in 1970. Just think of Saul Bellow's Mr. Sammler's Planet or Brian Garfield's Death Wish (a rare example where the novel is worlds away from the movie). Desperate Characters works better, I think, because the characters are not as articulate: they're not mouthpieces for the author's doctrines. There's also a strangeness to the novel that reminds me more of John Cheever, a writer who's really more of a surrealist of suburbia than a sociologist.
Really, the bind is that Otto and Sophie are at the top of the social evolutionary scale, the ideal to which everyone around them is striving, and they don't know what the hell they're doing. Like any number of these bourgeois wife characters, she had an affair in years past, but the lover didn't really want her and nothing came of it, aside from the realization that she stopped loving Otto a long time ago. And the husk of memories; this has to be one of the most devastating lines in literature:
"She had put herself to sleep again, nursing memories of Francis Early like an old crone with a bit of rag for a baby."
And then, there's this:
"The truth about people had not much to do with what they said about themselves, or others said about them."
It's a bit strange to read about the malaise associated with a life that fewer members of the rising generation will even attain. My boomer parents lived like this without even really trying. But Generation X was likely the last generation in history to worry about "selling out." In 2022, Otto and Sophie's life seems like a somewhat unlikely fantasy. Maybe the cat bite shatters all of the importance and stability of their roles as suburban totems because it reveals how little that stability actually means to them. They awake from the dream, not really knowing why they are where they are in life, or what to do about it. At one point, Otto says: "I wish someone would tell me how I can live." No answer comes.
Are they even entitled to be unhappy living the dream? And, worst of all, when you've achieved the ideal life in your society and are desperate for something else, where do you go from there?
So, friends, what are YOU reading, writing, playing, pondering, watching, or seeing a doctor about this weekend?