Anxiety and Hardships
The other thing that triggered these reflections was a discussion of anxiety in a school setting. We're not given much detail, but the phrasing isn't childlike; one assumes this is a young adult.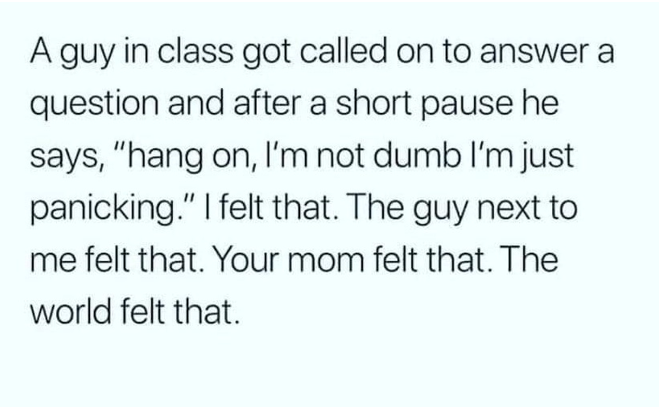 It's not my intention to denigrate the young man in the anecdote, or even the young person sharing the anecdote. It is to understand these are young people, just starting on the path. The question here is: "How is it a young man gets to high school or college without enough practice of being asked questions, that he responds with panic"? (The phrasing certainly doesn't sound like someone younger, but the point holds even if it were middle school.) Any student past the first grade has had literally years of being asked questions in class. What are public schools doing to/for these kids?
You don't ridicule a student for not having an answer, or even for having a wrong answer, particularly if it is reasoned. But you don't reward them for not trying to answer, and you don't feed into a neurosis by tacitly accepting it.
He could have said any number of things. He could admit to not knowing. There is little danger in that, other than being being assigned remedial work (which we know doesn't often happen because in context of public school it is now considered punitive rather than corrective). He could ask for more time to think about it. He could try to reason it aloud, any of which are "healthier" and more effective approaches.
People have always had anxiety about public speaking, you know how they got through it? They practiced until they got used to it. This is what adulthood has always been like. You grow into it, rather than staying a man child or woman child into your 30s and beyond. The point of raising children is to make adults of them, not larger children.
I admit I was terrified of public speaking or standing out when I was a kid. Now I routinely brief people of high social status, speak in front of crowds, teach people complicated topics in small classroom settings, and give extemporaneous briefings with no warning. It didn't happen overnight, but it wouldn't have happened at all with out starting somewhere and working up to it.
You get inured to it by doing it; convincing yourself that you can't, or that it is worse than it actually is, is no badge of honor. Yes, your anxiety produces a "real" emotion. Your palms sweat, and your heart races. It's a real feeling, but it's just not appropriate. Being afraid of things that won't hurt you is not an appropriate reaction; it's one you need to work on to redirect, reduce, and overcome.
For that matter, panicking in the face of things that can hurt you and really should produce caution, is not an appropriate reaction either. That's why we teach and train people to do better. Because panicking can get you killed, even in a situation where there was little danger. Like panicking in light traffic or a little bit of rain on the highway.
You must become inured to small hardships if you ever want a chance of surviving something really hard and dangerous, which will not come at you with a gentle question in a safe environment.
Q: What do we see from lots of people who would think this is normal? What's the end result of thinking "the world felt that" panic, carried to a logical conclusion?
A: Nobody expects to be able to answer a simple question, everybody feels personally challenged and reacts with fear and aggression to anything and everything.
Like the wine moms closing ranks over their "parenting style", fear/aggression response is the baseline response to challenges to an infantile person's conclusions and assumptions, even when there is no apparent factual basis to their position. People even react negatively to the position that there should be more factual basis to their opinion. "Like, it's just my opinion, man. I have a right to my (however unsupported) opinion." You get mobs trying to cancel each other rather than come to mutual understanding, and eventually that's going to come down to people being physically canceled with permanent consequences if we cannot get the sociopolitical conflict in this country sorted into a more productive discourse.
This meme is not about being nervous. It's not even a good lesson on what happens when one is unprepared for something one should expect. This is about PANIC and projecting it as normal onto the entire world. This is using anxiety, panic, (superficially defensive in this case but it's intended to be) mental illness as a weapon. This expectation that everyone is and will act neurotic is a harmful story the should not be telling impressionable young people. Neurotic behavior is not admirable. It's not necessarily something to punish people for, but it is not an aspirational goal to make everyone neurotic. Gaslighting is PRECISELY making people think that they are mentally ill to undermine their confidence in themselves and competence as an adult to make their own choices.
The appropriate response to a typical question in a safe learning environment cannot be "panic". I'm not suggesting the teacher doesn't help the student come to the ability to answer. Even if it takes a lot of hand-holding. But don't gaslight everyone else that panicking over simple, safe things is normal and expected of "the whole world".
I already addressed that it can be terrifying to speak in public, but what's most important is how one gets over it to be a capable adult. Certainly, work up to stressful things. So that you can then work through stressful things. Don't just excuse failure to perform with "wow, sorry, I just panicked." Being on a stand in court, or in a physical confrontation, or defending a business case before the executives of your company is not a safe space. It has consequences. If one cannot answer questions in a safe learning environment, how will one react to real provocations and threats in a space that is not safe? The whole point I'm making is DON'T NORMALIZE HANDICAPPING PEOPLE.
Part of military training environments is using stress inoculation to reduce the tendency to panic in emergencies. That's hardly what public school and typical college pedagogy is doing; rather the opposite happens within the "safe spaces", it seems. Although the point of military training isn't primarily to induce panic aiming to wash candidates out, not everybody who starts makes it through. This is primarily to build better officers and soldiers, and only secondarily to filter out those who cannot, because being entrusted with weapons and authority is a specialized function that has societal impact.
If you're not used to at least a little bit of spontaneous decision making, answering for your choices with supporting logic, and presenting a factual, reasoned basis in response to a direct question… Then it is time to start. Put yourself on the spot as the person who is going to answer the question with reason, make the decision, and be accountable for success or failure. Anxiety doesn't get you cool points. Nobody admires your anxiety. You don't need to do something crazy, or outrageously extroverted. Just do something useful. Often.
Grow. Up. You're meant to be a capable and competent adult, not a coddled infant in a large body.