Saturday Morning Gaming: Checking in on Darkest Dungeon II
Vintage 70's Mcdonalds Commercial Jingle w/ Anson Williams
We talked about the first Darkest Dungeon a couple of years ago. We discussed the announcement of the sequel last year.
Having been burned by early access before, I am usually pretty hesitant to get a game that isn't even close to complete yet. On top of that, why would I want to play a game that isn't done? You can't beat it, right?
But then I saw this tweet this morning:
"The docks are choked once again with the repellant stench of rotting fish."

DDII Shroud of the Deep update is live!#gamedev #indiedev pic.twitter.com/fWzMXedVzr

— Darkest Dungeon (@DarkestDungeon) May 21, 2022
Okay. Let's check the game out.
The voice acting is, once again, top notch.
But they've changed the gameplay loop a little bit, I guess. Instead of starting out in a town (*THE* town), you're starting out in a carriage and travelling.
There's a torch on the back of the carriage and that's the measure of hope you're travelling with, I guess.
Combat is familiar though the animations have been updated and are downright amazing now. Here, check this out:
these new lads are spectacular, oh my god #DarkestDungeon2 pic.twitter.com/4WZB4NEIeZ

— Dawid Stański 💙💛 (@CulturalLemur) May 18, 2022
And we travel until we get to the Inn… where we are given a choice as to which route we wish to take to get to the mountain…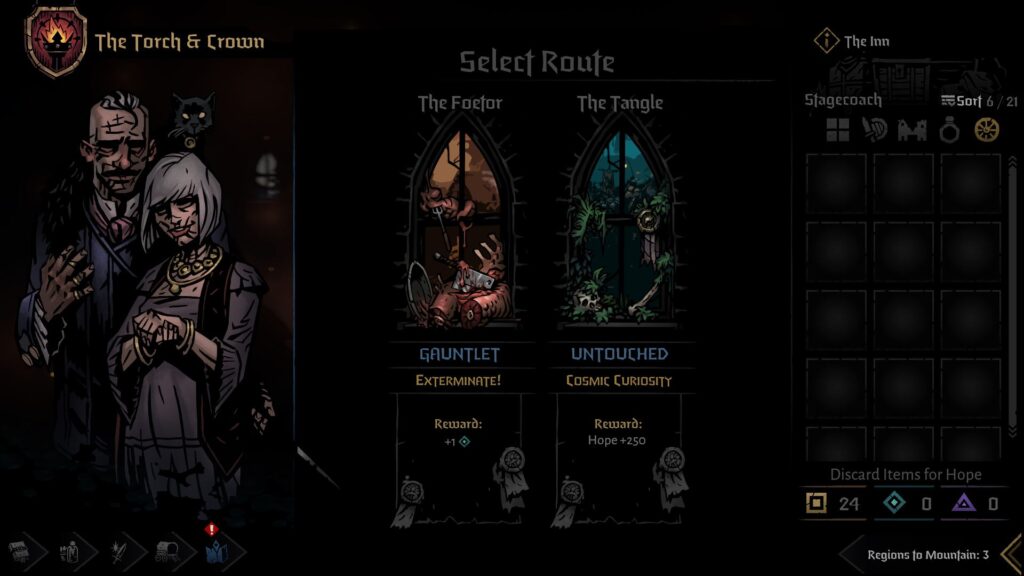 And that's how they do the maps, now. Instead of travelling room to room, you're taking the carriage from fork to fork.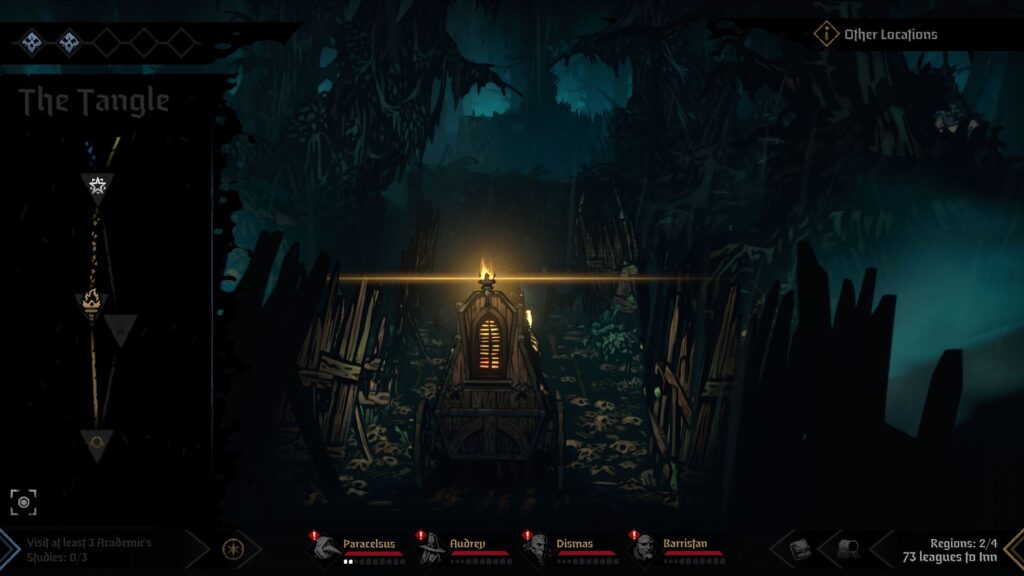 Okay. They're doing it right.
More fights, more deaths… Okay. They're doing it right. I can't wait for it to get finished so I can *REALLY* play it instead of feeling like a beta tester.
So… what are you playing?
(Featured image is the crossroads, a screenshot from the game. All screenshots taken by the author.)