POETS Day!: Walt Whitman and Baseball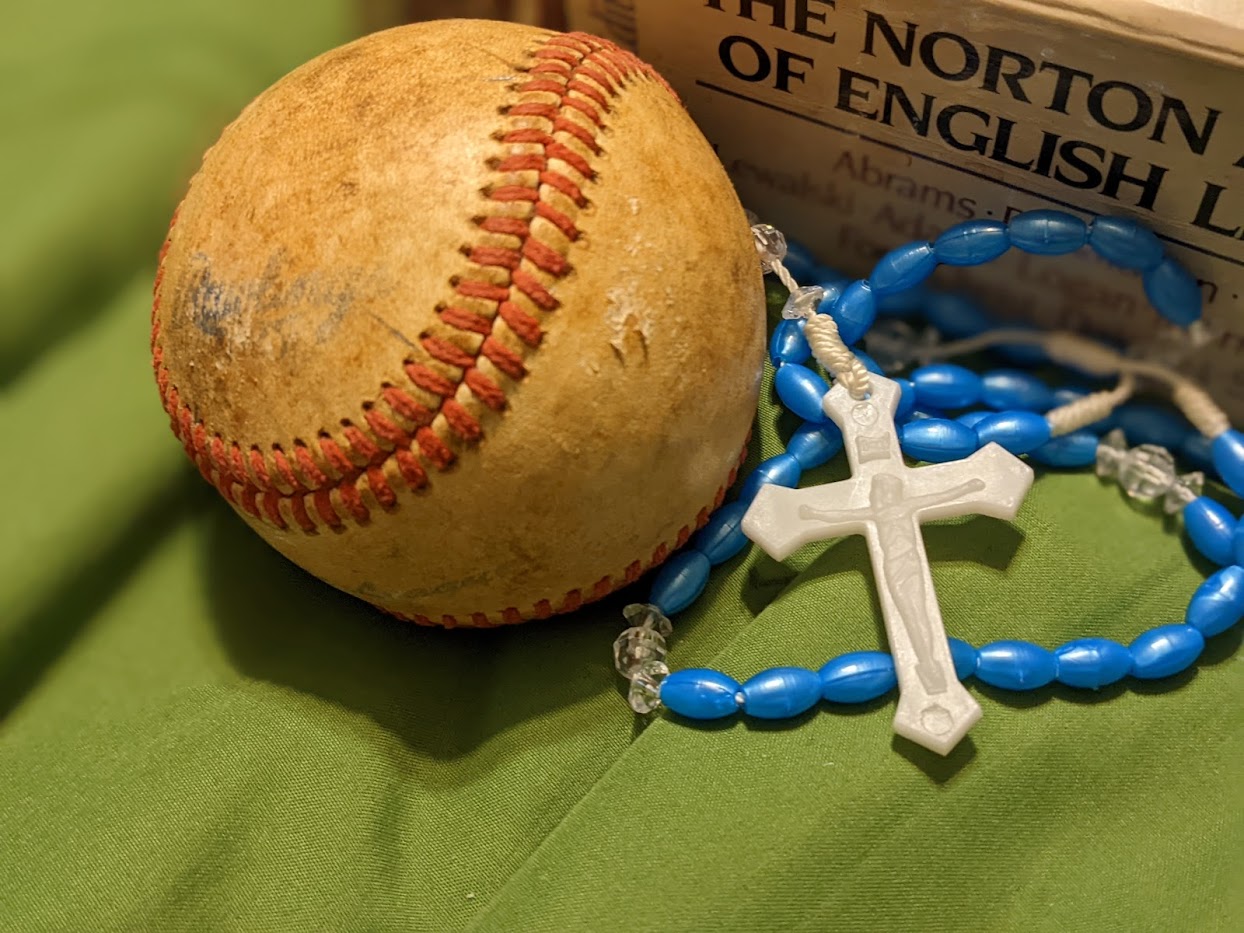 "The road of excess leads to the palace of wisdom. William Blake!"

"William Blake?"

"William Blake!"

"What do you mean William Blake?"

"I mean William Blake."
But I don't. I'm thinking of another of Annie Savoy's quotes. She got the William Blake quote right, but she was wonderfully unreliable as a narrator. In the movie Bull Durham she pontificates on metaphysic, superstitions, and religions ranging from Christianity to Islam to Buddhism to Hindu and plain old tree and mushroom worship. She's fun because she's occasionally wrong but her errors are in the service of something grand: The Church of Baseball.
Toward the sanctity of America's game, she points out that there are 108 stiches in a baseball and 108 beads on a Catholic rosary. She's wrong. There are 108 stitches on a baseball (I just counted) but my rosary has 59 beads. There are other configurations of rosaries, but I can't find evidence of a single one with 108 beads. Who knows? Maybe there is. Just in conception the number should be a multiple of 11 plus 4. But her faith is charming.
The movie ends with a wonderful quote. Annie says "Walt Whitman once said, 'I see great things in baseball. It's our game, the American game. It will repair our losses and be a blessing to us.' You could look it up."
Kudos to the writers of that movie because I did look it up. Annie is a complete character.
Back to that in a second. Let's get you out of work and into church (of baseball.)
I have a cousin that would be a POETS Day legend if he wasn't his own boss. To me the spirit of the day, Piss Off Early, Tomorrow's Saturday, requires some subterfuge, but he calls the shots at his office. He lives and works in St. Louis and when it was clear that his office was no longer big enough for a growing staff he honed in on locations near the soon-to-be-built Busch Stadium.
All hail and glory to that season-ticket-owning cousin of mine. If there's a day game, he'll take lunch at the ball field, have a few dogs and a beer, and catch an inning or two. He's a genius. I don't know this to have happened, but I suspect that if the banking day is slow, he just stays. Unfortunately he doesn't count because he's the one in charge. His may be a cardinal sin for us, but for him its just a venal and stupid pun that embarrasses me just a little too less to not include it in this post.
If you are in the business of meeting strangers for the purpose of advancing commerce, you are in the business of small talk with a bunch of people you have practically nothing in common with. Anodyne subjects like baseball are your bread and butter. That's sales.
There is a ballpark near you. It doesn't have to be an MLB team or AAA squad for you to enjoy the day. It can be practically invisible to the community. I lived in Savannah, GA, when the local minor league team that was barely more than a high school all-star team routinely lost to whoever bothered to wander up or down I-95. At one point when I was there the Savannah Sand Gnats (not kidding) had the worst record in all – minor or major – professional baseball. There was a laundromat across the street from the stadium. The ticket office never charged past the second inning, so I'd run back and forth washing, eating hot dogs, drying, and joining the crowd in a chant of "Put the pitcher in!" when the 0 of his last 15 designated hitter came up to bat.
You have to get to a ballpark on a Friday and have a blast and your best way out of work is making a connection through stupid small talk with someone with as few scruples as you. We have Regions field here and the good people at Good People Brewery opened before the city decided to build a baseball stadium across the street from their tasting room. I have no direct knowledge but I suspect they sold their and maybe other's souls to the devil to get this landfall. Afternoon games down there are so much fun. Beer and baseball go together like some kind of military ranking officer and Tennille.
Make a baseball friend from another company and you are golden. You may be selling to them or they may be selling to you but that's a distinction without a difference. Tell the boss that you have a meeting with a guy from another company who is telling his boss that he has a meeting with you and you are out the door.
A day at the ballpark is hard to beat, but experientially it can be beaten and throttled and crushed by an illicit day at the ball park because that is impossible to beat and you and the guy that's probably going to buy a few thousand dollars of sock tassels or whatever the hell they have you selling because you sprung him for a baseball game are immersed in bliss. That might actually qualify as work. Save the receipts?
Back to Annie Savoy, I looked it up. Walt Whitman never said that. At least he never wrote that in any piece that survived. There was a guy named Horace L. Troubel who took notes on his conversations with Whitman and the fictitious Annie could have mistakenly quilted a few of Troubel's remembrances to come up with that quote, but it wasn't a direct quote and even if you allow for a third party it's suspect. Ron Shelton wrote the movie script and among the brilliances was Savoy's literate certainty despite error. He really made her real, foibles and all. Great character.
That line was a wonderful ending to a magnificent movie.
Here's something that Walt Whitman definitely wrote, but note, when he's not singing to his electric body he's a bit…You'll see.
To a Common Prostitute

Walt Whitman (1819 – 1892)

Be composed – be at ease with me – I am Walt
Whitman, liberal and lusty as Nature,
Not till the sun excludes you, do I exclude you,
Not till the waters refuse to glisten for you, and the
leaves to rustle for you, do my words refuse to
glisten and rustle for you.

My girl, I appoint with you an appointment – and I
charge you that you make preparation to be
worthy to meet me,
And I charge you that you be patient and perfect till
I come.

Till then, I salute you with a significant look, that
you do not forget me.
So… play ball?
Kinda creepy in my opinion.