Sunday Morning! "Hangsaman" by Shirley Jackson
How strange it is to think there was once an entire high culture built around the martini. The post-war American suburban ideal, in which men took the train to work in the city, and women wore white gloves to go shopping, and families got dressed up for dinner, and they all knew how to mix drinks, it all seems like a self-contained fantasy world, as distant from our own as a Melanesian cargo cult. To be fair, it was probably the last flourishing of WASP cultural hegemony, maybe what Boomers have in mind when they wax nostalgic about lost "American greatness." On the other hand, it feels like a fiction created for New Yorker short stories and stilted novels about suburban malaise; surely, people didn't actually live like that, did they?
"I can't stand any of that stuff," Mike tells me, recalling when a friend urged him to read Richard Yates, "all those post-war novels about how bad it was to live in the suburbs. Why do I need to read that? I'd rather read people like Kerouac who were writing at the same time about more interesting things." I guess I should say here that, in one of those incidents of the A story and B story intersecting, my girlfriend Jenni and me went to brunch with June and Mike who are characters in Jacket Weather, which I wrote about here, but also they're really lovely people off the page. And so, after brunch, we wandered around the Strand Bookstore (and, wow, has that place ever changed since I was last there!) and talked about books and what we're currently reading and life in New York and beyond.
And, it's true: because they describe a lost world, most of those novels are now unreadable. There really were a surfeit of New Yorker stories about cocktail parties and suburban malaise, which maybe we are better off without. We got on the subject because I was just reading Shirley Jackson's novel Hangsaman, a story about a young women being bred and trained for dinner parties and garden parties, who might well be losing her mind. It works much better than the typical story in that genre I think because Shirley Jackson is so skilled at depicting a mind slipping awary from reality, and putting the occult and uncanny at odds with post-war social conformity just makes more sense somehow. Whenever I've been at an actual cocktail party, I've wondered if it was all a put on. It already feels uncanny. It's probably why, if you think about it, the greatest work of art in that American "apex" was The Twilight Zone.
"Hangsaman" is a coming-of-age novel about coming unhinged. Natalie Waite is the daughter of a pompous writer and his miserable wife, who is sooon to be shipped off to a liberal arts college; her father has hopes she will develop into the woman he wants her to be; her mother hopes Natalie will escape this sort of life altogether. As the story begins, in fact, the family is holding a weekly potluck, where the mother gets to have her only heart-to-heart chats with Natalie, or anyone, in the kitchen, and unburden herself about how unhappy she is ordering around the maid and mixing drinks and listening to Dad bloviate.
As everyone gets drunker and louder, which seems to be the point to all this, the millieu looks uglier and uglier, and Natalie imagines herself being grilled by a detective as a skilled murderess. It's hard to imagine not dreaming of murder here. She plays around with different personas among the guests and gets progressively more intoxicated herself. One of her father's colleagues takes the opportunity to peel her away from the group and, it is implied, sexually assault her.
From this cloistered non-world, she is placed in a woman's college that is just as mannerly and stilted and unreal- and almost unconsciously hostile. The king and queen of campus are a clever professor and his wife who was, until very recently, his student. They live in campus housing and she drinks away her unhappiness while he carries on affairs with other students. Meanwhile, Natalie's father writes her overbearing letters telling her how to ingratiate herself with this fellow Big Man, and her dormmates practice giving cocktail parties, which seems to be their final destination after college. Every high school student knows Jackson's story The Lottery; this social world feels just as cruel and possibly just as lethal.
Natalie, of course, feels completely alone here and fairly estranged from any of these people, and we're with her as her thoughts turn stranger and more confused; increasingly she's convinced that maybe all of these people are acting for her benefit, or as secret enemies. Soon, she makes a new friend, Tony, who reads her the tarot and mirrors her darkening thoughts, and gives Natalie advice about how to escape all of them and lose herself to the night and the ocean.
"You see," said Tony, her voice still soft so as not to be overheard, but somehow fierce and angry, "it frightens me when people try to grab at us like that. I can't sit still and just let people watch me and talk to me and ask me questions. You see," she said again as though trying to moderate her words and explain, "they want to pull us back, and start us all over again, just like them and doing the things they want to do and acting the way they want to act and saying and thinking and wanting all the things they live with every day. And," she added her voice dropping still lower, "I know a place where we can go and no one can trouble us."
There is still some debate about whether Jackson based the story on the Bennington college student Paula Jean Weldon, who vanished while hiking in 1946 and was never found again.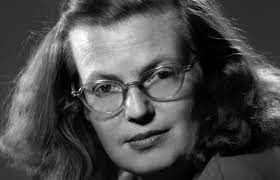 That liberal arts women's colleges in the 1940s and 1950s were training a privileged class for an unhappy life of doting on mediocre men is not exactly a revelation, but Jackson is really good at putting us in the fractured mind of a young woman breaking out of the cult. The satirical aspects are so finely-grained and sharp that they suggest perhaps everyone in this world is insane and maybe Natalie is just coming to her senses. Her prose is sharp enough to cut you. In one biting passage, she even starts to suspect what we're already thinking: Natalie's probably just a lot brighter than men like her father and the beloved professor who are held up as the bourgeois liberal ideal; so, who in the world would she marry? What does she want from these people?
Maybe stories about the post-war suburban idyll only really work if they're dark and Gothic and frightening. It was a life so planned and regimented you'd have to be a little unhinged not to lose your mind there.
So, what are YOU reading, watching, playing, pondering, creating, or drinking this weekend?