Weekend Plans Post: The Garden Gnomes That Weren't There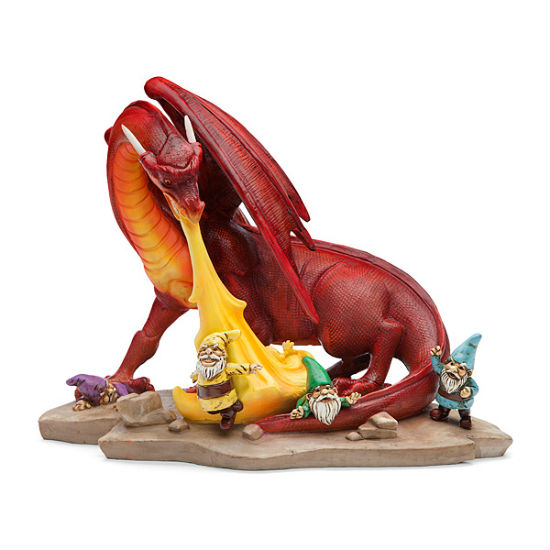 When I was a little kid, my mom had a cabinet that had several owl statuettes in it. Somewhere between 4 and 6 inches tall, made out of different kinds of glass or porcelain or plaster. Different styles, different species. I asked her "Why do you have those?" and she sighed heavily and said "I carelessly said that I liked owls once."
I have about 40 garden gnomes. I have never purchased a single one. When we bought the house back in 2005, we noticed that there was a porch in the back that was about six feet by eight feet with no stairs down to the ground. It was just a little dinky porch appropriate for two people to sit on or two or three to stand and smoke on. I made a joke that it was a little Mussolini porch. "I could give speeches to my garden gnomes!", I carelessly joked.
Soon thereafter, people started buying me garden gnomes. "Saw this, thought of you", that sort of thing. We went to visit friends up in Denver and they asked us to meet them at a particular lunch place and they met up with us and Maribou gave them a big hug and a small gift of a pack of candy cigarettes that we had gotten at the recent State Fair. "OH THANKS!", one of them said. "LET ME GO PUT THIS IN MY CAR!" and she scurried off and the rest of us sat down and ordered sandwiches and she came back 20 minutes later, flushed, and said "wow, we parked farther away than I thought!"
I thought nothing of it.
And then, after a lovely meal, we walked back down to the car and there were 33 garden gnomes in it, strewn about. How my friends laughed and laughed. "They were on sale!", they told me. "Three for five bucks! We had to get all of them!" The pack of candy cigarettes? That had the key to the car in it. Of course it did.
When the neighborhood kids would mow the back yard, they asked if they could arrange the garden gnomes and, of course, we said they could. They regularly set up speech circles and mini battles and goodness knows what.
Then friends who got garden gnomes as presents from their family just started giving them to us. "Hey, we know you collect garden gnomes."
I ended up with a bunch of themed ones. Here's a statuette of a cat eating garden gnomes. We had that one in our front garden. Here's one of a recreation of Kirk's fight against the Gorn. We had that in our front garden too. We also had this epic garden gnome dragon fight.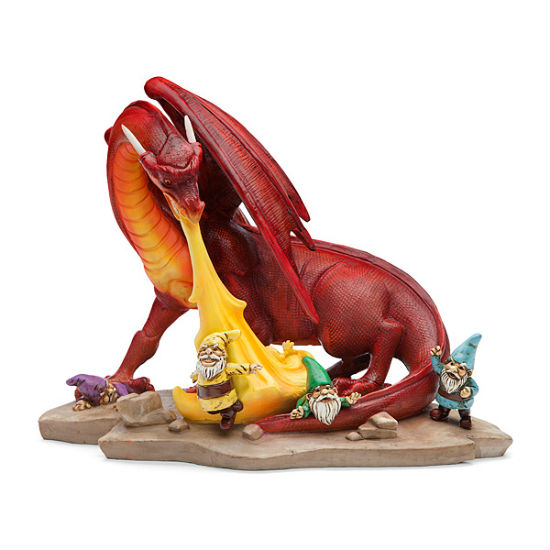 Let me restate: We never purchased nor even ever expressed a desire for garden gnomes. We just sort of started getting them.
Well, one day a couple of weeks ago, I was walking from the car to the house past our little garden in the front and… our garden gnomes were gone. I found myself vaguely confused. I mean… who would take a garden gnome out of a garden? Sure, they were novelty versions. But they were still, you know, *NOT THEIRS*.
And so these little garden gnomes that I had never purchased nor asked for that ended up in the front of the house are now gone.
What is the world coming to.
This weekend, I will spend time contemplating the transitory nature of everything. Also, since Maribou is visiting friends away (on her first trip in a good long while), I will also be batching it. And since this last week was a whole bunch of 12 hour days putting out the fire that didn't go out over Christmas break, I'm even actively looking forward to it.
So… what's on your docket?
(Featured image is the Dragon Attack Garden Gnome Statue.)