Wednesday Writs: Out Of Control Trucks and Runaway Prosecutor Edition
WW 1: Debate has raged for the last week over the sentencing of a semi-truck driver to 110 years in prison after four people died in an 2019 accident. There were no drugs or alcohol involved, but prosecutors focused on Rogel Aguilera-Mederos' failure to utilize a "runaway truck ramp" as his speeding rig descended a Colorado mountain, eventually plowing into stopped traffic. Aguilera-Mederos was 23 at the time of the crash, had a clean driving history and no criminal record. He now wishes that he had been the one to die.
There was an immediate backlash to the extreme sentence imposed on Aguilera-Mederos, with online petitions circulating, truckers boycotting the state of Colorado, and lawyers vowing swift appeal. The judge himself lamented that he would not have imposed such a harsh sentence, but felt his hands were tied under Colorado's minimum sentencing laws which require consecutive sentences rather than concurrent on so-called "crimes of violence." First degree assault and attempted first degree assault, which the defendant was convicted of 6 and 10 counts respectively, fit the definition.
I guess no one had any choice here, then.
Well, except the prosecutors who decided to charge Aguilera-Mederos with 41 counts, 27 of which he was convicted including the aforementioned assault charges as well as vehicular homicide and vehicular assault. Still, though, if the facts fit then the prosecutor has no choice, right?
No, that is not the case. Prosecutors have discretion. And believe it or not, their job is not to secure convictions but rather to see that justice is done. Did justice required 110 years in prison for what everyone agrees was an accident? No, and the prosecutors apparently didn't even think so. According to their statement to the press, they offered the defendant a plea bargain that would not have resulted in Aguilera-Mederos spending the rest of his life in prison. From the AP:
"The facts and consequences of Mr. Aguilera-Mederos' decisions that day were extraordinary enough to support pursuing first-degree assault charges," she said. Aguilera-Mederos refused to accept any plea offer "other than a traffic ticket," King said, and the convictions recognize the harm caused to victims of the crash.

"My administration contemplated a significantly different outcome in this case, but Mr. Aguilera-Mederos wasn't interested in pursuing those negotiations."
He refused to take the deal because he didn't believe he was guilty of whatever charges were offered, the nature of which we are not privy to. So, that means there was a less extreme outcome that the prosecution originally believed would have been sufficient to exact justice. Absolutely nothing stopped the prosecutor from pursuing those charges and those charges alone at grand jury and at trial.
The prosecutor instead chose a path that any criminal defense lawyer will tell you is extremely common: he punished the defendant for exercising his constitutional right to a trial. There is no other way to interpret this. The defendant made the prosecutor's office do work and prove their case, and suddenly "justice" meant 110 years in prison (more, had they prevailed on all 42 counts) instead of whatever was offered in plea negotiations.
Now, plea bargains have their place, and "bargain" means each side gives up something while the other gets something in return. Naturally, it often means a defendant is convicted of fewer charges, or lessor charges, while the state is relieved of the burden of a full trial, the victims in the case are spared the emotional rigors of trial, and everyone enjoys the benefit of certainty that is never guaranteed at trial. Plea bargains are the rule, not the rare exception, and they keep the justice system conveyor belt moving, for better or worse. Of course, if the defendant could receive the same benefit offered in a plea after losing at trial, there is no incentive to accept a plea offer, and the system clogs up and grinds to a halt.
But there is vast space between a plea offer and the absolute maximum punishment the state can achieve. Let's say the prosecution offered for the defendant to plead to 4 serious counts, one for each victim, and the defendant refuses. Why was 42 counts the logical next step? It could have been 8. Or 10. And it didn't have to be additional charges at all; sometimes the benefit of the plea bargain is a favorable sentencing recommendation. I'm not up to speed on Colorado's sentencing laws and perhaps there really wasn't any way to make a favorable sentencing provision part of a plea, but I am speaking generally, because most states provide quite a bit of leeway in sentencing. In any event, I don't think anyone believes there was no middle ground between whatever the plea offer was and what ultimately happened at trial. Bottom line: the prosecutor had a choice and he chose to pursue the most severe outcome he could.
And just in case you think that perhaps the prosecution feels any sort of regret over this outcome that they insist was unavoidable, note that they celebrated their victory with this tasteless "memento" from one trial partner to another: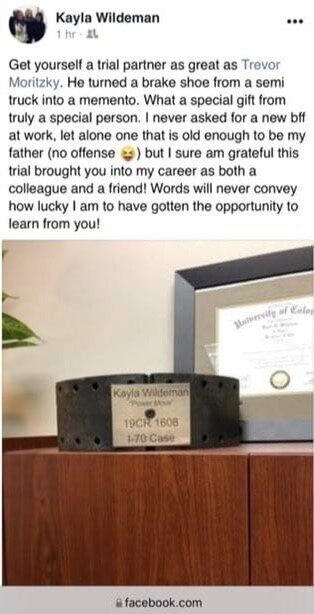 As a former prosecutor myself, I tried to empathize with this lady. I recall the hard work and stress and rigor of trying a big case. Prevailing does feel like a win, and the mood afterward is often celebratory. The more serious the case, the bigger the "win" feels. It was commonplace in the office where I worked to decorate the office door of a successful prosecutor with printed out congratulatory signs when a big conviction was secured, such as in a murder case or a horrific sex crime case. What we did not do was to make a spectacle of ourselves in public. We did not fashion trophies out of mockups of the "murder" weapon. Even in the age of social media, the most I've seen from acquaintances who are prosecutors is vague Facebook posts patting themselves on the back for winning a hard case, and usually at least paying lip service to the tragedy of it all. This is not that. This is gross.
WW 2: For an excellent discussion of this case with real life public defender and Ordinary Times contributor Zeke Webster (Don Zeko) catch this episode of the Heard Tell podcast with Andrew Donaldson. (Relevant portion starts at 23:00)
Heard Tell Radio for Tuesday 21Dec21: Manchin & BBB, Zeke Webster on CO trucker conviction, & more
WW 3: A new law in New York City requires employers to post a salary range in job opening advertisements. Though the bill passed 41-7, it was not without opposition. One Republican council member stated the law "smacks as something someone who never has run a business would support, and is an unnecessary interference in a contract negotiation." Proponents say the bill is necessary because "Lack of salary transparency is discriminatory and anti-worker."
WW 4: Our pal Mike Siegel insists that we can't land on an asteroid and use oil rig equipment to drill a hole in it so we can drop in a nuke and blow it up to save humanity; however, according to NASA, space mining is a thing we could actually do. Like everything else, there are legalities to keep in mind. The 1967 Outer Space Treaty says that no country can lay claim to "the moon and other celestial bodies", but does that mean we can't mine them? NASA says yes:
We also believe that, just like in the ocean, you can extract resources from the ocean. But that doesn't mean you own the ocean. You should be able to extract resources from the Moon. Own the resources but not own the Moon.
WW 5: A federal judge refused to approve the bankruptcy settlement of the Sackler family, makers of the opioid crisis, because the terms went too far in shielding the family from lawsuits. The judge's ruling means the Sacklers lose protection from civil lawsuits against the family from private individuals.
WW 6: After going off the air 10 years ago, the original "Law & Order" series is coming back – as is Jack McCoy, the iconic prosecutor portrayed by Sam Waterston.
WW 7: Former MLB star Miguel Tejada is in trouble at home in the Dominican Republic, where a warrant for his arrest on bad check charges has been
issued.