OT Advent Calendar (& Hanukkah!) Day 8: White Christmas
Advent has always been my favorite time of year. Not only does it lead up to the festival of Christmas, but my birthday falls right around half way through. What's more, I grew up in snowy Central New York—that's the barren hinterlands of Upstate, for those in the city so nice they named it twice—and if I didn't get a White Christmas, the Great Lakes were good for a storm around my birthday so there'd at least be a good beginning to the winter.
Advent is far from an untouched subject around these parts, so I'm clearly not alone.
Your OT Advent Calendar this year will be musical. We'll talk about diamond-in-the-rough traditional tunes just waiting for renewed popularity, crimes against Christmas, the silly songs and the songs that have become modern traditions. We'll also talk about the notion of true Christmas Carols, those which address the twelve days festival beginning on Christmas itself, including not just the one day-counting song but another. 
Let's dive in, shall we?
Today's tunes are "White Christmas" and "Mi Yimaleil."
---
This week's theme is modern Christmas songs, specifically those of the mid-20th and early-21st centuries.
This week's theme is modern Christmas songs, specifically those of the mid-20th and early-21st centuries.
Advent is a season of expectation and sentimentality, two seemingly opposed notions that create the beautiful sauce to ladle over your Christmas goose.
In my family, "White Christmas" is heavy on the sentimentality. The original soundtrack to the 1954 film of the same name was a staple in my mother's house when she was growing up—she and her sisters can do a spot on impromptu sing of the song "Sisters"—and the film itself is oddly quotable. My sister still calls me a "Weirdsmobile" and anything desirable is "the sort of thing you'd spend six-sixty or eight-eighty" to experience.
My maternal grandfather was a Marine during the second World War, and a drill sergeant at Camp Lejeune for Korea, and there are always memories of the Old Man when the song of that name plays.
White Christmas - Ex-soldiers give their former general an amazing Christmas gift
Bing Crosby was already a massive success before the film came out. "White Christmas" first appeared in Holiday Inn, his film alongside Fred Astaire in 1942, but the song sold so well — 100 million copies, charting every Christmas for an age — that it is almost synonymous with Der Bingle himself. The song was so popular that he had to re-record it in 1947 because the original master had worn out from so many re-pressings.
Irving Berlin considered it not only the best song he'd ever written to date, but the best song anybody had ever written. And this despite the wise exclusion of his first verse from the vast majority of recordings:
The sun is shining, the grass is green,
The orange and palm trees sway.
There's never been such a day
in Beverly Hills, L.A.
But it's December the twenty-fourth,—
And I am longing to be up North—
Bing Crosby - White Christmas (1942) Original Version
---
Today is also the eighth and final night of Hanukkah. I'll turn it over to my great friend Cantor Jessica Epstein of Temple B'nai Abraham in Livingston, New Jersey, with many thanks for her contributions over the past eight days.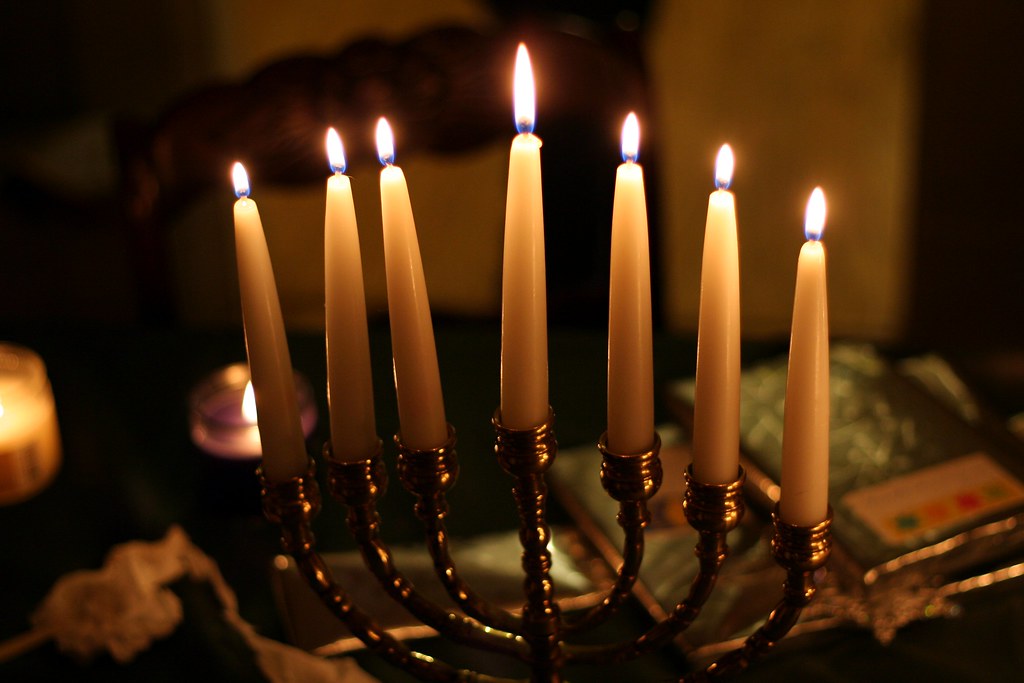 We can't end a series on Jewish songs without some Jewish controversy and disagreement. "Mi Yimaleil," or "Who Can Retell", was written in 1936 by the Communist, Zionist and music critic Menashe Ravina (Rabinowitz),(1899–1968). Ravina was born in Pereyaslavl, Ukraine, went to Palestine in 1924, and became active as a music educator, choral organizer, music critic (for Davar, from 1925 until his death), and composer. He pioneered in music popularization as well as in the arranging of music and singing courses for workers. 
The text praises the Maccabees for uniting and using arms to fight for their freedom. Traditional Judaism emphasizes spirituality and reliance upon God's redemption while Zionism is based upon an anthropocentric salvation. This discrepancy leads to more anti-Zionist Jews eschewing the piece for their Hannukah celebrations.
Here is a rousing rendition by The Weavers from their 1957 album, "The Weavers On Tour."
For a deeper dive on the controversy you can read here and here.
Again, many thanks to Cantor Epstein for her fascinating contribution to these last eight little articles. I know that I have enjoyed being exposed to traditions, folkways and music that was unfamiliar to me, and I hope you found something new, edifying or endearing.