Saturday Morning Gaming: Diablo II's shortcomings (and some defenses of them)
1969 AMC Rebel Commercial - Better Quality Version - Louisa Moritiz
Okay. Diablo 2 has a handful of problems. Some of them are problems that involve the fact that it's a 2021 graphical update of a game made in the year 2000 (there were a lot of compromises you had to make back then that you don't have to make anymore!) and some of them are limitations that you see in games in the current year.
Stuff like inventory management and the need for mules is pretty much something that feels like it's from another era. Give us another tab in the chest! Or switch one of the Shared tabs to be a Personal Tab and let the mules really shine (have a gem mule! A rune mule!) but… you know, being forced to throw away the thing that you thought would be really good if you ever built an Axe Barb might not be the worst thing ever if you have already decided that your frenzy barb is going to be an sword barb.
But unshrinking commenter DensityDuck points out:
"You need to be customizing your character the whole game to be able to deal out that much damage."

This was my criticism of "FTL". Like, there's all different kinds of ways to play the game! And 95% of them will get you straight trucked by the end boss. And if you build for the end boss you'll probably be done with that build about halfway through the game, and the end boss build is massively OP for anything else.
And… yeah… that's kinda right. The game throws a *LOT* of potential skills at you and if you play for a while, you're going to find that you built your character to be less than perfectly optimal.
Here's a screenshot of my Frenzy Barb's "Combat Masteries" tab in his skill tree (he's only level 34) (and click on it if you want to see all of the details):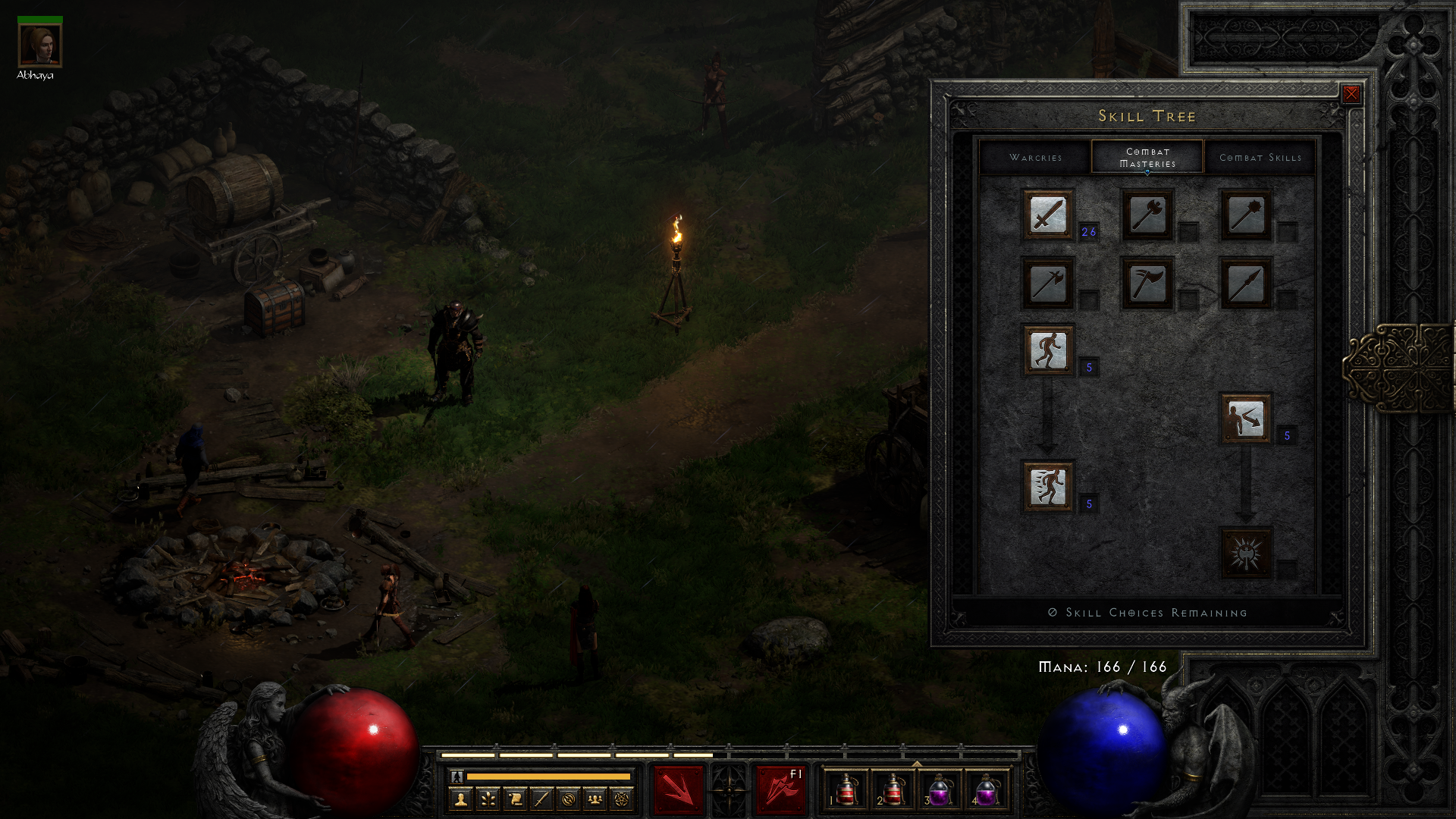 Yep, I've put 20 skill points into Sword Mastery and not a single point into any other type of weapon. I had found a handful of decent mace weapons, a couple decent polearms, and a spear or two when I said "you know what? Jaybarb will be a Sword Frenzy Barb!"
And you know what I found not 20 minutes after finally putting points in Sword Mastery?
I found this: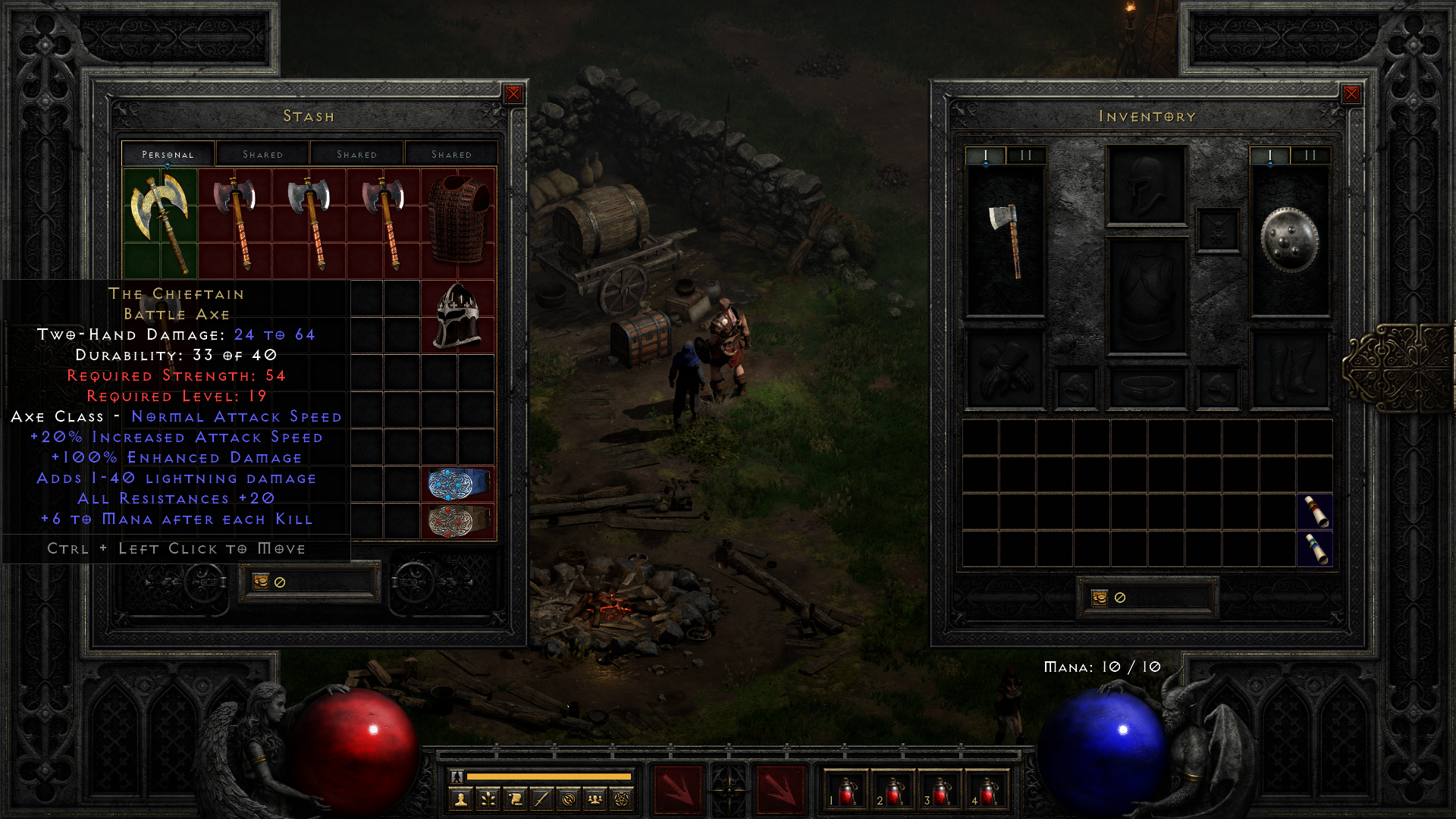 That's right: The Chieftain. (And those of you with keen eyes will see that I also have a full Berserker's Arsenal in there with *TWO* Berserker's Hatchets.)
The problem the game gives you (and gives it to you *CONSTANTLY*) is the whole issue of making you choose something before you have any amount of decent information. You've got a barb… what kind of barb do you want? Lemme tell ya, if you know you're going to be getting a Swordguard and a Doombringer at one point, you're going to have a very particular build. And if you know you're going to find a Stormspire, you're going to build a *COMPLETELY* different kind of Barb!
And, get this, you're not going to start finding Stormspires, Swordguards, or Doombringers until you're somewhere around level 70!
And you're not going to get to level 70 without putting points into *SOMETHING*.
But this isn't quite as bad as Duck makes it out to be. For example, the very first quest of the game has you talking to Akara about doing a mission and cleansing the Den of Evil. You clean it out and her reward is a skill point and an opportunity to respec!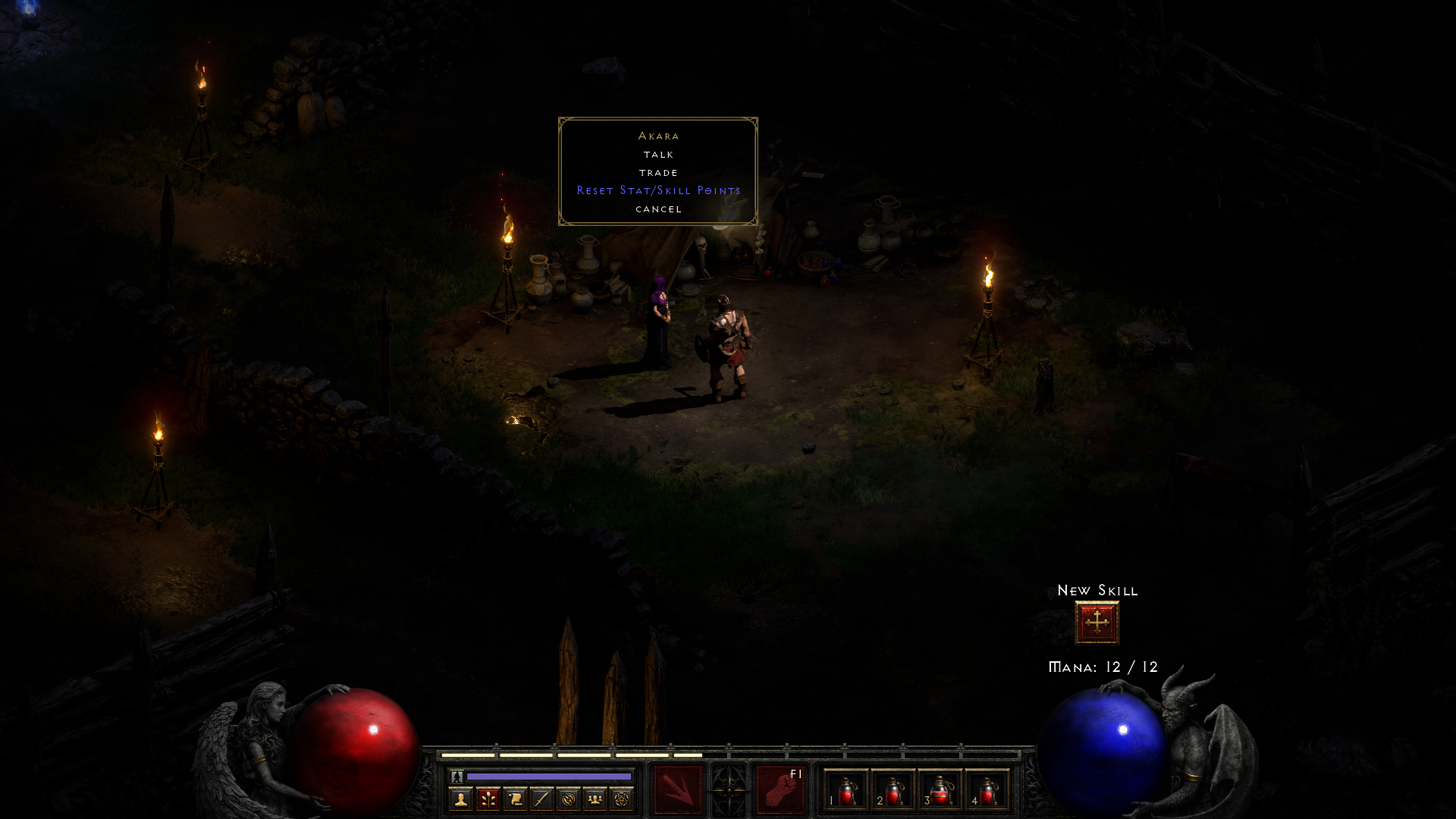 Additionally, she offers this reward three times: Once in Normal, once in Nightmare, and once in Hell difficulty. If you play for a mere 10 minutes, you'll get it in Normal (it's the first quest in the game! They don't even tell you about the 2nd quest until you beat the first quest!), if you play reasonably well, you'll defeat Normal. At this point you'll be somewhere around level 30ish and be able to imagine what your hero will look like at level 60 by now. If you go on to play in Nightmare, well, it's only in the tail end of Nightmare does technique become more important than perseverance. By the time you beat the Den of Evil in Hell level, you should know what you want your character to look like in the end game.
Now there is a really irritating thing. I have been doing Hell runs against Andariel with one of my buds. One of the things that drops quite regularly is a set piece for a set appropriate for Normal.
So, like, you're doing an Andariel Hell run and Andariel drops something like the Berserker's Headgear. Which, may I point out, is an *AWESOME* helm for someone who is 3rd level. It is significantly less awesome for someone who is, oh, 30th level. By the time you're around 30th level, you should be finding stuff that would be perfect for someone who is 20th level or so.
Which brings us back to one of the main problems with Diablo II: Resurrected (which is an updated version of the exact same problem as found in the original):
You don't find stuff that would be good for your character. You only find stuff that would be good for another character (probably 10 levels lower than you). I'm currently running around and trying to level with my Level 74 Necromancer. He's awesome. He only finds stuff that would be good for the other characters in my character bank.
Like, he's the guy I use when I want to find awesome stuff for my Bowazon or my Hammerdin or my Druid (whose build I haven't quite figured out yet but I know it'll involve a Maul). When I find a good something for them? They get it and I play with them for an hour or two (well, not the Druid. But I'll get to him, I promise.)
When I find a good something for me? Well, I'll let you know.
Which brings me back to the main criticism: Sure, you might not have the ideal build for taking on Diablo in Hell Mode solo. Well… the game is designed to have a player have to be part of a group somewhere between the end of Hell's Act I and Hell's Act III. Ideally, you've got a Paladin, Necromancer, Amazon, Druid, Assassin, and Barbarian all taking on Diablo at the same time and, hopefully, sharing when he finally passes.
And then, heck, doing another run. And then another.
It's a skinner box, baby. Maybe the next run will be the one that will give you the item that will make you wish you had saved at least one respec with Akara. Or, heck, start over with a new character. Maybe this one won't suck as much as the last one.
Anyway, it's that sort of defense that allows me to keep doing Andariel runs in Hell Act I over and over and over and over and over again until I go up enough levels to start considering Mephisto runs.
So… what are you playing?