Sunday Morning! "I Will Die in a Foreign Land" by Kalani Pickhart
Sometimes, it seems as if History has become for moderns what Fate was for the ancients: the force from which we cannot escape, but against which we struggle in vain to live our lives free and independently. We are shaped by forces beyond our control, enlisted in battles we can hardly hope to sway, and dedicate ourselves to principles that don't correspond clearly to other people or nations. Perhaps our highest duty is loyalty to the ones we love, but it's hard to do that on the individual level, and all that much harder to act out of loyalty to "our people."
This week, I read Kalani Pickhart's hugely ambitious debut novel "I Will Die in a Foreign Land," which is coming out on Tuesday from Two Dollar Radio, and it occurred to me that all of its characters are trying to figure out how to navigate their loyalties to their loved ones and their homelands, while also trying to be true to themselves. Complicating things further, they're doing this at a time when the forces of history seem almost more entropic than constructive. It's very hard to consistently do the right thing in a maelstrom.
The novel is set in the midst of the Euromaidan, the wave of civil unrest in Ukraine that began in November, 2013, in Independence Square in Kyiv when the President Viktor Yanukovych chose closer ties to Russia over an Association Agreement with the European Union. This sparked the Ukrainian "Revolution of Dignity," which toppled the government of Yanukovych, who was only the fourth Ukrainian Presdient. The War in Donbass, and the larger Russo-Ukrainian War remains ongoing. Vladimir Putin still hopes to make Ukraine his own personal fiefdom.
Some of this information is laid out for the reader by the "Kobzari," the wandering blind storytelling minstrels of the Ukraine who were suppressed by the Tsars and murdered by Stalin in 1932, who act as a sort of Greek chorus throughout the novel. But, rather than narrating all of the events of the Euromaidan, Kalani Pickhart first drops us into a makeshift hospital at St. Michael's Gold Domed Monastery in Kyiv. Here, Katya, a Ukrainian-American doctor from Boston, is attending to injurred patients from the clashes outside. We soon realize she has come somewhat on the fly; her young son Isaac has died unexpectedly and her marriage with husband Ezra is estranged and possibly ending. She's here to throw herself into a crisis away from her own pain and crisis at home.
One of the patients to whom she is attending is Alexsandr Ivanovich, an old Russian Captain who has been playing a piano in the midst of the demonstrations and is badly wounded and likely dying. On him is a cassette in which he narrates the story of his life. When he was a young man, in 1968, he was sent as a soldier and then a KGB spy to Prague, then in its own civil unrest. Here, his loyalties shifted when he fell in love with a dissident and spy, Jara, and he had to decide to whom he must dedicate himself. The two of them wound up in separate labor camps as a result. She died there, but the cassette is for their daughter, if Alexsandr ever finds her.
A tiny community forms in the Monastery with the Captain, Doctor, and the injurred engineer, Misha, who has come to Kyiv construct barracades. His wife Vera died not so long ago by radiation sickness obtained from Chernobyl, and he has since been a sort of port of call to various women who gravitate to his quiet stoicism. During the uprising, Misha briefly reconnected with his former lover, Slava, and he will have a short but intense love affair with Katya that will help her heal emotionally. There's an interesting parallel here: in the same way she is a caregiver, his quiet strength is a resource drawn on by the women in his life.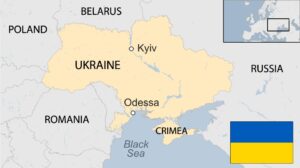 For her part, the activist Slava heals with her body, "her love like benzodiazepine." After Misha, she has a brief relationship with Adam, an American journalist, and is momentarily threatened by his new assistant Dasha, before learning that she prefers women; soon, Slava and Dasha have found something like love together. One gets the feeling that Kyiv is a bit like a theatre troupe: everyone has slept together! Unfortunately, the time and place are still not safe for same-sex love or activists, and Dascha soon goes missing.
And so, the lives and destinies of these four characters intersect and interweave in ways that are somtimes predictable and quite often surprising. A revolution is yet another event that brings people together, a chance to mingle. Each of them will be permanently changed by these connections and engulfed by the events happening around them. The story is impressively a story about the very personal struggles and triumphs of individuals, and also a testament to the people who fought for Ukraine and those who still fight.
So it's an epic story of revolution told in extreme close-up, in which one notes that we "see" very few scenes of violence in the streets and the four main characters are healers rather than warriors; none of the characters depicted are particularly bloodthirsty. Their interpersonal relationships, rather than becoming a soap opera, act as a sort of poignant refuge in a time of violence and disorder. The prose is poetic and affecting and the story moves at a clip; at the same time, Kalani Pickhartt does not lose touch of the struggle and those who fought. It's quite an accomplishment. And a little daunting- after all, most youthful first attempts at novel-writing are much more banal and far less wise. (You will never read the novel I wrote in my early 20s about a fellow just like me doing a lot of nothing!)
Kirkus Reviews, which gave I Will Die in a Foreign Land a rave review, also called it "unremittingly dark," but I disagree. The risk in war and revolution is that human kindness will be extinguished forever, but Kalani Pickhart shows the ways that our loves affect us more deeply and permanently than the ever shifting forces of history. This makes a political struggle that might be a bit confusing for western readers much more accessible- we all know what it's like to experience love and loss. It also personalizes the conflict.
After all, why do we fight, if not to avoid burying the ones we love?
And so, what are YOU reading, watching, pondering, playing, or fighting for this weekend?