OT Contributor Podcast: Heard Tell w/Journalist Molly McCluskey on Gabby Petito & News Media Coverage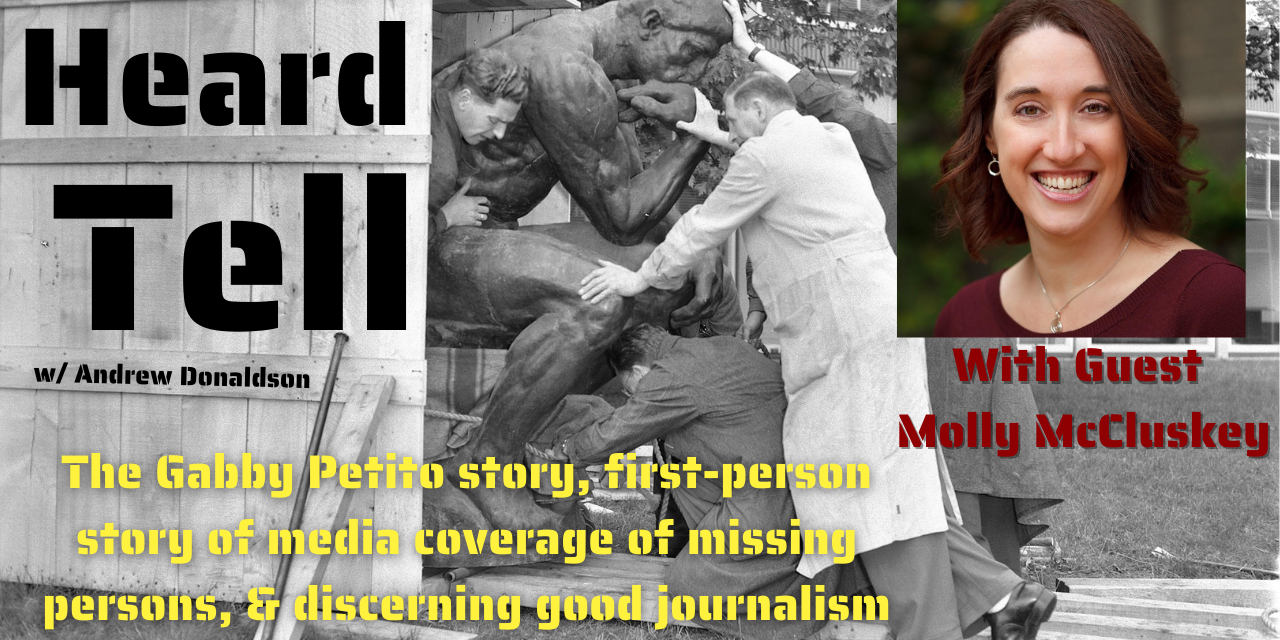 Latest Heard Tell podcast talks with journalist Molly McCluskey about what the Gabby Petito coverage tells us about the current state of journalism and news media, plus Molly's own story of trying to bring a missing persons story to media outlets.
Powered by RedCircle
The Gabby Petito story is the latest true crime missing person story to explode across media, but something interesting happened: the American public started asking questions about why the Gabby Petito story got coverage that some other missing person stories did not. Media outlets responded by running stories along the lines of "What about these other stories" which brought another backlash of folks pointing out that the media dictates which stories get covered. So what do we make of this? We turn to investigative journalist Molly McCluskey who knows first hand what it is like to try and bring stories about missing person's to not only the public's attention but finding media outlets to run them. She is the perfect person to help us turn down the news cycle noise on media coverage and get to the information of how journalism navigates the modern media environment. Her story of missing persons on the Crow Nation lands, and the rejection of the story by many of the same outlets running the "missing person" stories appearing in reaction to Gabby Petito, is something everyone needs to hear. We also talk about responsible journalism, and what the general public should look for in their news consumption to both hold the news media accountable, but also make ourselves a more informed audience. Journalist Molly McCluskey on this episode of Heard Tell.
The story Molly tells in the podcast of trying to get a missing persons story covered several years ago, only to be turned down by every outlet she pitched it too, was finally published by Al Jazeera and is excerpted here:
Like each of the seven federally recognized Native American reservations in Montana, and the nine tribes that call them home, the Crow and Northern Cheyenne share centuries worth of challenges, including the mysterious disappearances and murders of many of their own.

"The Missing Murdered Indigenous Women (movement), it's big in Canada and the United States," said BethYana Pease, an alderwoman in Lodge Grass, in Crow, "but I took a step back and looked at my community, and my area of Montana, and the Crow reservation, and the Northern Cheyenne reservation, there's just as much children, and men missing and murdered as women."

No one knows how many Native Americans have gone missing in the United States and that is a large part of the problem.

Complicating matters is a complex tapestry of historical laws clashing with the demands of modern law enforcement, a dearth of accurate record-keeping and centuries-old discrimination that mean many who go missing are never found.

It is an epidemic impacting land-based tribes across the country and is particularly acute in Montana, where Native Americans are five times more likely to be reported missing than any other group in the state. Here in Crow Nation, disappearances from this sovereign territory have become so commonplace that nearly every member of the Crow tribe has a close friend or blood relative who has gone missing.

'Every time a body is found, everyone holds their breath'
To hear Conrad "CJ" Stewart tell it, everyone in Crow Nation is related.

Credit the sparsely populated sovereign reservation roughly the size of Puerto Rico, or the tribe's culture of adopting each other, and the occasional outsider, so that no one is ever without family. But the result is the same: a tight-knit, extended family that knows each other's secrets. So, when a member of the tribe inexplicably vanishes without a trace, it rips a hole in the fabric of the community. When that disappearance is followed by another, and another, and another, the Crow are often forced to turn to outside law enforcement for help that doesn't seem to be coming.