Saturday Morning Gaming: Loot Running In Diablo II Resurrected
Lost Treasure game classic tv commercial 1982
Okay, I've talked about Diablo II Resurrected a couple of times before.
I have beaten the game on normal with my Necromancer and am wandering slowly through Nightmare with him and my Barbarian is currently going through normal and is slowing down towards the tail end of Act III.
As such, I think I can start talking about the game proper.
It's a bunch of slot machines. Each monster is a pull. Certain monsters are in the high roller's room. Going up more and more levels means that you move from penny slots to nickel slots to dime slots to quarter slots to dollar slots to five dollar slots to fifty dollar slots. That's pretty much it. The goal it to get into the best slot machine rooms the game has to offer… and then get yourself a pull on Mephisto, Diablo, or Baal. If you're lucky, you'll yell *JACKPOT*! If you're unlucky, you'll die before pressing the button. And then you get to do it again.
My complaints last time I wrote about Diablo II Resurrected had to deal with how there wasn't a whole lot of uniques dropping. Well, I am now level 45 with my Necro and while I don't want to say that they're anywhere near *PLENTIFUL*, I have stopped being surprised when one drops. I now think "Oh, there it is…" and then note that the item would be perfect for one of my other characters. (For example, while writing this, I got the unique Kris.)
The frustrating trick that the game pulls is that everything that drops would have been perfect for one of your characters 10 levels ago.
So, at level 10, you get cruddy stuff.
At level 20, you get cruddy stuff but think "man, I could have used this 10 levels ago!"
At level 30, you start getting stuff that makes you say "I should make another character…"
And, at level 40, you start saying "oh, this is awesome. I don't need it, but I know who does."
Currently, my roster consists of:
Necromancer: Jaybone
Barbarian: Jaybarb
Druid: Jaybear
Paladin: Jaybless
Assassin: Jayblood
Amazon: Jaybow
Sorceress: Jayburn
Now, of all of those, only the Necromancer and Barbarian have seen combat… but I have found enough cool stuff to make me say "you know what? I want to make a…" and then I made one.
So now, as I play, I find awesome stuff for pretty much every character except my own. (Luckily, one of my friends is level 80ish and he finds a lot of stuff that would be perfect for a level 40ish Necromancer and he happens to know one.)
So, when I'm not crawling through Nightmare, I go back to Normal with my Necromancer and do loot runs. I, personally, find that the Act III double-punch of Travencal and Mephisto gives the most bang for the buck.
Here's how I do it as a Necromancer:
Take the waypoint to Act I Stony Field and get a handful of skeletons and a handful of skeleton mages. Jump to Act III Travencal's waypoint and run down and face The Council (three named enemies all within a few yards of each other). Run back to the waypoint and go down to Durance of Hate Level 2 and go from there to the Mephisto fight.
I did three Mephistos in a row on Wednesday with my level 41 Necromancer to get you the following three screenshots of the aftermath of a Mephisto run: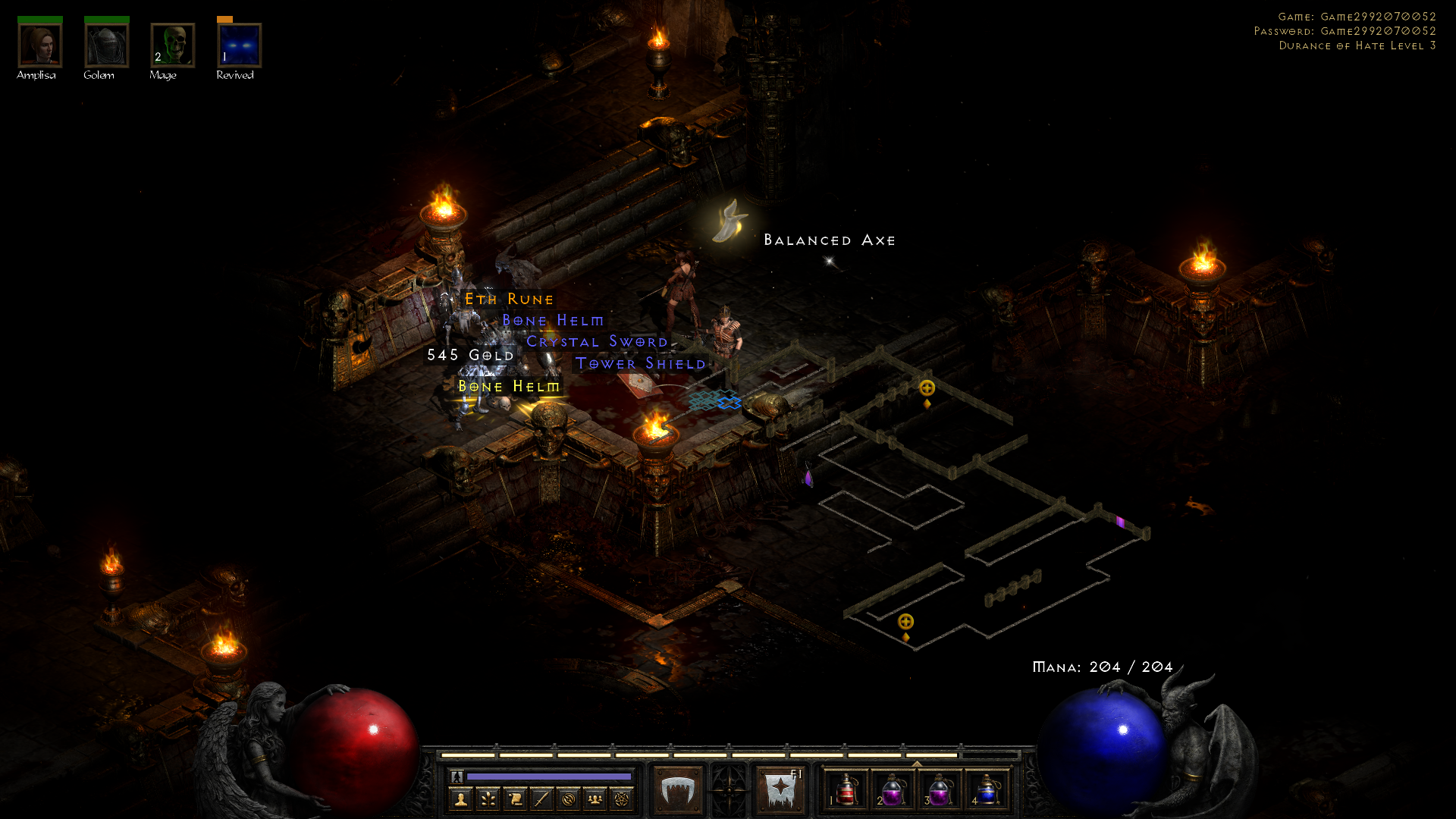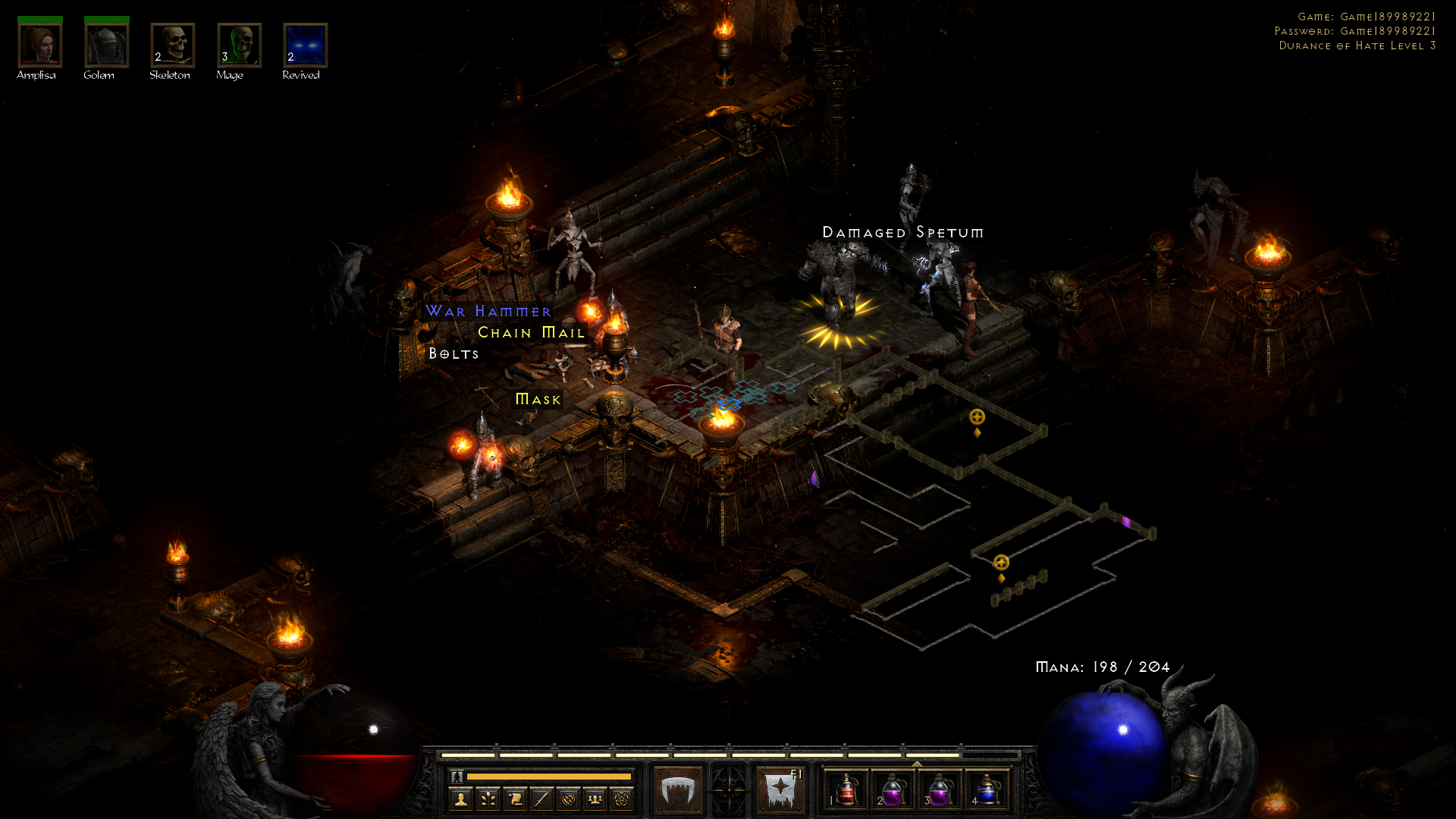 So that's what I got. A good rune, some decent rares, and a buncha stuff that isn't *THAT* useful, really. So I keep getting inspired to go back and work on Nightmare.
BUT! One of the upsides of my particular Necromancer build is its emphasis on Skeletons and Golems. My Golem is a Metal Golem.
Back 20 years ago, I looked at the Metal Golem and saw that you had to build it from an item. The Clay and Flesh and Fire Golems? They sprung up from the earth no problem. Metal? You had to *SACRIFICE* one of your precious items!
So I avoided it at the time. Since then, however, I have found out two major things:
1: The Metal Golem is persistent. Like, between games. You can save your game, reboot, come back a week later, and you'll still have your golem!
2: Holy cow, you get a lot of stuff that you don't even bother to pick up. Like, not even the blues. The yellows! And, yes, some of the uniques!
For example, one of my first uniques was a unique trident. Nice, I guess… but Necros don't use tridents and while there are other hero builds that do, I wasn't planning on building one. So… why not make a golem out of it?
I'll tell you why: That golem was dead after five minutes.
Anyway, you'll get a number of pretty awesome rares. If you want a golem that will tank for you? Make a golem out of some armor or a shield. You want an emphasis on damage? Pick your weapon. A golem based on a large slow weapon will attack less often but hit harder. One based on a fast small weapon will hit quickly but for a lot less damage. The good news is that you will get so much stuff that you won't mind experimenting. Base one on throwing knives! Base one on ethereal armor! Base one on an assassin's weapon! The only rule is that the weapon or whatever has to be made of metal. So if you get an awesome club? You won't be building a golem from it. Otherwise: TRY IT OUT.
Oh, my gosh. This game remains awesome 20 years later. Even if you do three runs in a row and get nothing worth showing off for a blog post. (Okay. I just ran another one just now with my now level 45 Necro.)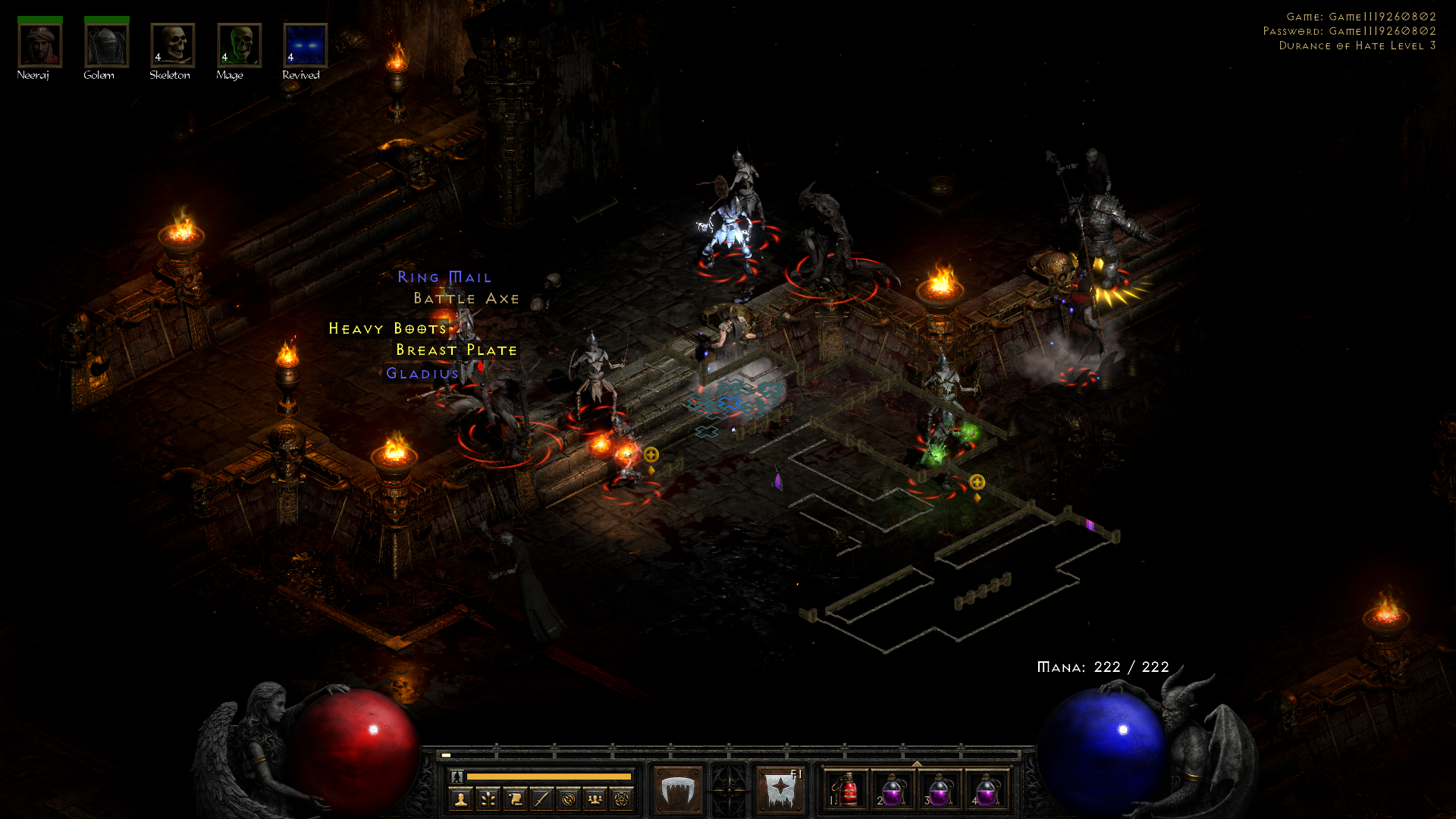 Okay. That's what I'm talking about. Good boots (better than what I'm wearing right now, anyway), good armor for one of my other heroes, and The Chieftain.
That would be an awesome axe for my frenzybarb. Well, it's a two hander. So a different barbarian than mine. But, seriously, that is a pretty high-quality item for a barb that isn't a frenzy build and is fighting through normal.
Or, heck, maybe it'd make for a good golem.
Anyway, I've gotta get back to Diablo II Resurrected. I need to be able to start doing Nightmare Mephisto runs.
So… what are you playing?
(Featured Image is Jaybone. Screenshot taken by the author. And if you want a closer look…)