The Last Normal School Year
"Where's the map of Australia?" I asked my fifth grader. According to his online grading and assignment tracker, he had not turned in said map and therefore it should be homework. His shoulders fell and he sighed. "I forgot it." What I wanted to do was yell. What do you mean you forgot it? We JUST had this talk last night: If you don't finish your work you HAVE to bring it HOME.
I looked at his grades the other day and found a bunch of zeroes. I couldn't tell what had not been turned in versus what had simply not been graded; some things are uploaded, some things are handed in on paper, and I have no way of knowing which is which. When questioned, my kid had no idea, either. He couldn't tell me how he turned it in, IF he turned it in, or where the unfinished product could be located. It might be in his desk, he'd say, or maybe his backpack. His school has a "no homework" policy, except for work that is not completed in the class time allotted. He brings home a planner every day with assignments written down, but routinely answers "no" when asked about homework. Because of the aforementioned "no homework" policy, I hadn't realized what was happening.
We have been working on math, when he remembered to bring it home, and my husband and I have been shaking our heads and fretting over how far behind he seems to be. The other night when he didn't know that 4 quarters make a dollar, or the answer to 4 times 25, I was alarmed. How is it that he's this far behind and I didn't know? When did he become so irresponsible about his schoolwork? Later that evening, the answer slapped me in the face.
First, I have to admit I sometimes struggle to keep perspective when it comes to my kids' academic achievements — or struggles. With the exception of math, school was a breeze for me with minimal effort. Not only that, I enjoyed school… well, at least until high school, when home turmoil made it hard to focus and social and personal struggles made me not want to get out of bed in the morning. Even then, I was on the honor roll. I loved to read, I loved history, I loved achieving.
My boys, on the other hand, are not me. Neither of them like school, despite my efforts to instill my love of learning. Being made to read for 20 minutes is torture, even though they can choose anything they want. Both of them readily assert their hatred of school unprompted, and it disappoints me more than a little. My 8th grader has had difficulties but has leveled out and doing very well so far this year, thankfully. But my 5th grader is suddenly acting as if the very idea of "school" is a foreign concept.
And that's because, in large part, it is.
I realized this while scrolling online when I came across this: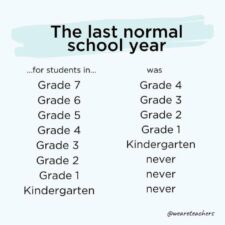 At first, I thought someone needed to check their own math. It didn't seem like it could possibly be right… but it is. My son was in the second half of third grade, in the first week of March when he went out on Spring Break and didn't return for the rest of the year. The last three months of third grade was  "e-learning" when his teachers still didn't know how to "e-teach". School consisted of half an hour of video conferencing in the morning, mindless worksheets, and some reading. A decision was made in our county that no student's grades would drop during this time; they could go up, but they could not go any lower than they were prior to the schools closing down.
When fourth grade rolled around a few months later, I had to lock in a choice for the first semester: send him back or continue with e-learning. My then-7th grader went back, but we chose e-learning for the younger one. He was a preemie who spent time on a ventilator at birth and has always had kind of junky lungs in general. I wasn't comfortable with sending him back yet. And besides, surely over the three months or so since the previous school year ended, the whole e-learning thing would have been perfected – or improved, at least.
Not so much, it turned out. School was still only 2 hours in the morning, and his teacher was teaching two grades so "class" time was minimal. The workload was a little heavier, but he seemed to be doing fine. In November, we had to make our choice for the second semester. Covid numbers were better then, and my son wanted to go back. We decided to let him.
He struggled, but his teacher assured us all the kids did. He had Bs and Cs, and since colleges aren't checking out elementary school report cards anyway, I didn't worry much. He needed to work on some things over the summer, especially in math, but I thought he was muddling along. Fourth grade was not a normal year, after all.
Here we are now, nearly two months into fifth grade, his last year before moving on to middle school, and it's clear just how much the chaos of the last 18 months+ and the half-hearted education he has received in that time has set him back. It's not so much that he has forgotten how to be a student, but more that he never really learned. There is a big difference between third grader and fifth as far as the expected level of responsibility and maturity. He isn't there yet.
I think for the last year and a half, teachers have tried not to expect too much, knowing that students are living through strange times. Similar to the "no dropping grades" policy of the early days of the pandemic, I suspect they have been taking it easy on kids grappling with a new normal. Maybe it didn't seem right to punish them for half-hearted effort while navigating masks, social distancing, illness, and all the other pandemic related weirdness.
His teacher this year does not coddle, and I don't mind that. He has to get it together or he will crash and burn next year. She's graciously giving him a chance to catch up and work on his organization and the management of his time and assignments. We're doing what we can at home to keep him accountable. But we get it now; this is not a matter of impaired ability so much as arrested development.
Many parents have worried that the closure of schools would cause academic regression in our kids, and it has. But it's not just that; there's more to school than learning the material. Learning to study, learning to be responsible and to work diligently are skills that are instilled subtly as students rise through their grade ranks. They've also missed out on social development and other intangibles.
It's early in the school year; there is plenty of time to get my son on the right track here, even if it is somewhat of a "responsibility boot-camp" to make up for lost time. I hope other parents who might be dismayed by their children's school performance this year understand what I didn't at first: this is not laziness or lack of ability.
It's just Covid-19, infecting yet another facet of life.