The 2022 Best Picture Race: Pre-Festivals Projections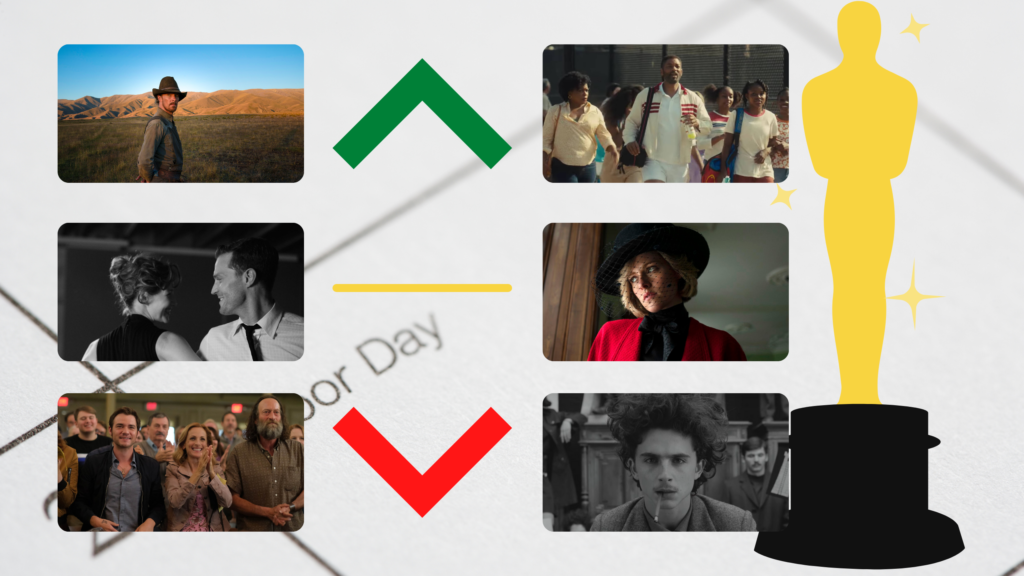 A month back, I updated my projections of the upcoming 2022 Best Picture race for the next Academy Awards. Literally on that VERY NIGHT that they were published the film I had placed as high as #5, Canterbury Glass, was pulled from the 2021 release schedule. Talk about a harsh reminder on how fluid this race still is right now with half a year to go; and I thought writing about the 2020 election was filled with ups and downs. Furthermore, the festival schedules were updated significantly soon afterwards with some surprise campaign moves from certain studios, and I got to get my own eyes on some of the awards contenders I had projected back in July. So instead of waiting until after October as I originally planned, I've decided to get in some pre-festivals projections instead for my most recent update.
Just like before I'm looking at the Top 25 most likely nominees based on personal subjective views, awards journalism buzz, historic trends to keep an eye on, and perhaps a few "insider" tips or two. A reminder: this is not a subjective list of my personal favorites of the year or even my most anticipated; it's an objective attempt at predicting an awards race that won't be decided until early next year. And once again I won't bother to repeat plot points to a film unless I haven't listed it before among my projections. Like before, I've divided up the ranking of films into five tiers that each represent a range of likelihood to win the entire thing and/or get a nomination for the award in the first place.
Changes this time around include the first ever new entry into the Top 10 since I started doing this back in the Spring, foreign language films that have emerged as potential serious contenders, films whose stock has only gone up in the last month at the cost of others' going down, and a film that seemed out of the race that is making a comeback into the conversation. Oh, and a personal break from other such projections regarding one film which I now believe to be the most overrated contender of the season. But before all that let me recap which films that are no longer listed and why.
FILMS THAT ARE OUT OF THE RUNNING FOR 2022 BEST PICTURE…FOR NOW
– Cruella (#25 Previously)
This Disney live action spinoff hung on there as a potential dark horse through two updates, but ultimately any chance for this to sneak in as a crowd pleaser has only faded with time as it's become clearer and clearer that this movie's biggest play will be among tech nominations (Costumes, Hairstyle/Makeup) rather than anything above the line. Add in Disney's public showdown with a beloved actress among the Academy, and the path for this to be that mainstream movie that gets into the final 10 has just completely vanished.
– The Eyes Of Tammy Faye (#24 Previously)
No sooner did Oscar buzz get going for this dark horse than reports started to appear that it's just not a very good movie. It's also got a questionable festival release position, and the studio seems more intent on campaigning this for acting and tech nominations more so than any 2022 Best Picture hopes. Its place in the 2022 Best Picture race ended up being a mere mid-summer blip on the radar, even if it could still make noise with other nominations.
– The Last Duel (#22 Previously)
I had this film on the verge of being on the bubble back in the Spring, but its chances have only dropped with each passing month since. I'm personally curious to see this given that it originally was going to get placed into the most serious part of awards season (December) last year pre-COVID, but questionable festival positioning and the studio and director clearly not seeing it as priority has taken this out of the 2022 Best Picture race entirely in my mind.
– The Green Knight (#21 Previously)
Film Twitter, hardcore cinephiles, and critics love this film and I expect it to make a lot of "Best of the Year" lists among them if not get nominations from certain other award organizations. Mainstream audiences' metrics, though, from Cinemascore to Rotten Tomatoes tells a different story. The film is a technical marvel, but its slow pacing and arthouse structure has made it inaccessible for some and that is a major red flag when it comes to trying to sell a movie to Academy members. I had this as a dark horse for a while but having seen the film for myself now (I liked it, but didn't love it), and noticing what A24 is considering priority for awards season, I think this one has slipped off the board entirely.
– Annette (#19 Previously)
This was a movie I considered on the bubble of making the final 10 back in the Spring. However, a "good, but not great" reception at Cannes, middling critical reviews, and some inaccessible content in it has had it slipping from contention with each passing month. Like The Green Knight, I've seen this one for myself now and I can see why it's a film that doesn't work for many even as well-crafted as it is. Adam Driver might be a longshot to get a nomination for this given his great performance in it, but when it comes to the grand prize of 2022 Best Picture, this one is out of the race altogether.
– Dear Evan Hansen (#17 Previously)
Just like The Eyes Of Tammy Faye, this film's Oscar buzz has died down almost overnight with a slot in the festival season that is generally known as a kiss of death for a movie's awards hope and other musicals seemingly being in better contention than this one. It could get a sudden and unexpected boost coming out of festival season, but it seems to me like it proved to be another mid-summer blip on the radar for the 2022 Best Picture race.
– Canterbury Glass (#5 Previously)
As I stated before the next project from David O. Russell that seemed to be a potential major awards player and had been as high as in my top tier of contenders for two straight updates, was pulled from this year's release schedule following claims of an uneasy on-set production and fear from the studio the movie would end up being rushed too quickly for release in post-production. This one will have to wait its turn for the 2023 Best Picture race.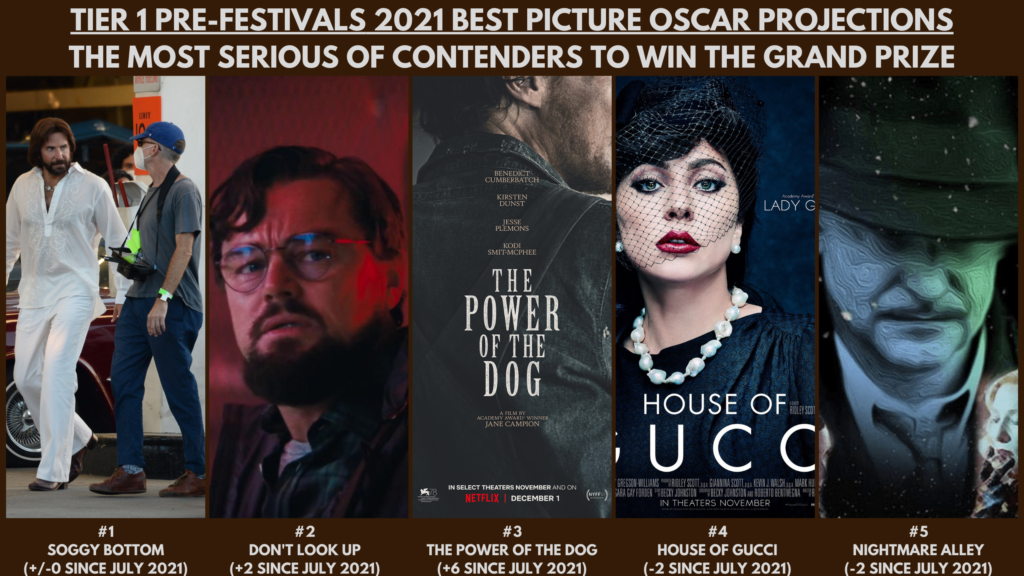 TIER 1: THE MOST SERIOUS OF CONTENDERS TO WIN THE 2022 BEST PICTURE GRAND PRIZE
#1 Soggy Bottom (+/-0 From Previously)
Still my top pick to win it all even though we haven't seen a trailer and the title attached to it might not even stick, this could be Paul Thomas Anderson's time with reports out there that this is going to be the most accessible and crowd friendly film he's ever done. Add in the fact this is a film about the movie industry and it just makes it hard for me to see how this isn't a top contender right now.
#2 Don't Look Up (+2 From Previously)
Adam McKay is an acquired taste, and the Academy are among those who like his stuff. A teaser already leaked for this one and it has the look of a Doctor Strangelove with a big cast, lots of laugh, and an end of the world warning type of message this time with climate change instead of nuclear war. Netflix is placing this one to come out in late December and reportedly see it as their top priority for awards season. This one's stock hasn't just risen into becoming a heavy favorite to get nominated, but it just might win the whole thing.
#3 The Power Of The Dog (+6 From Previously)
I had this placed at #9 in my previous two updates and all based on tips from certain awards journalists that this would be a very serious play from Netflix who are masters at getting multiple films of theirs nominated. Boy am I happy I listened to them! Netflix is playing this at literally every single one of the major festivals and the movie is getting buzzed about as one with multiple strong acting performances that should also get nominated individually. This has gone from a movie I barely had in my final 10, to one I now consider among the top contenders with a strong chance to win it all.
#4 House Of Gucci (-2 From Previously)
Still arguably the most intriguing and wobbliest of the top contenders, this film has given us posters and a teaser trailer that seem to hint at a film with a large ensemble, awards bait performances, and great costumes, makeup, hairstyling, and production designs. The true-life drama and circus behind the fall of the Gucci family is sure to make this a juicy drama as well. But given Ridley's hit and miss record you have to wonder if this one might be that one film that seems like a really strong contender, only for it to flop upon release with voters. I would caution to not to take into account critical reception for this one too much, as this seems like one of those movies critics could end up middling on, but maybe voters will love it such as we saw a few years back with Bohemian Rhapsody.
#5 Nightmare Alley (-2 From Previously)
Del Torro is reportedly working hard to get this one out before the end of the year, but just missed the festival season. That said a trailer is rumored to be coming very soon and word of mouth remains high on this as a potential contender, but it's starting to slip among the top contenders in the highest tier as it seemingly missed out on festival season and more serious contenders have gotten their promotions out to the public faster. Still a top contender, but barely hanging on there as film festival season begins.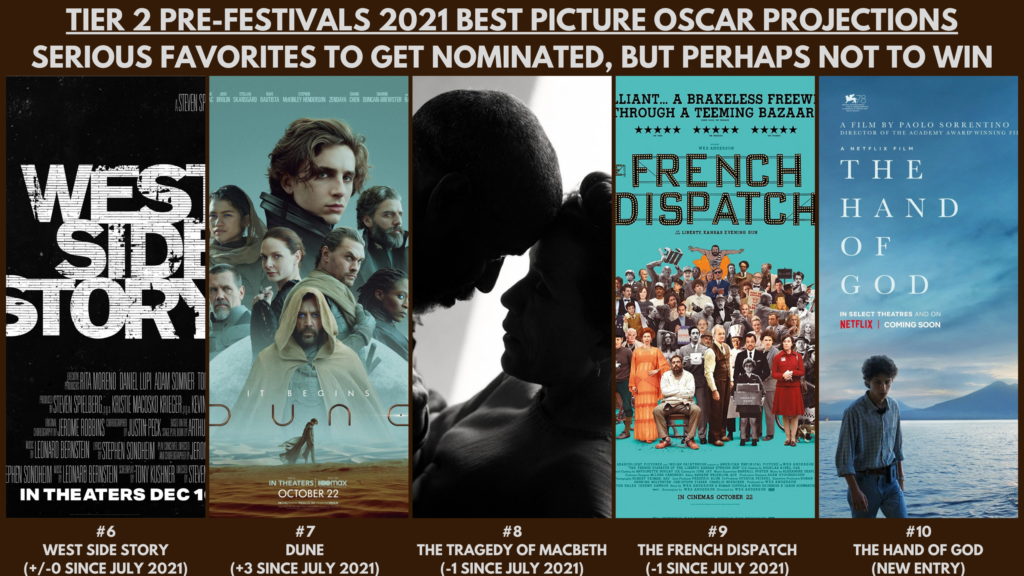 TIER 2: SERIOUS FAVORITES TO GET NOMINATED, BUT PERHAPS NOT TO WIN 2022 BEST PICTURE
#6 West Side Story (+/-0 From Previously)
For the third straight update this remake to the Best Picture winner from 1961 from the one and only Stephen Spielberg himself is ranked at #6. It's in the borderline of being a top contender but not seriously enough to actually win. This remains arguably the topmost likely nominee even as it's not the topmost likely winner.
#7 Dune (+3 From Previously)
After sticking around at #10 for the previous two updates, Dune's box office hopes to be a major blockbuster mega hit are questionable given its high sci-fi and fantasy concept, a source property that lacks accessibility to some, and the issues of same day streaming availability via HBO Max. The director has made some controversial waves as well seemingly going after those critics who remain wary of not getting virtual screeners in the middle of a pandemic. But plenty of top-notch respected voices in the Academy including former Best Director winners (Both for films that happened to have won Best Picture) like Del Torro and Zhao have come out in support of the film and word of mouth is that it's a cinematic spectacle that could grab voters' enthusiasm to see cinema return to the big screen. I don't know if Warner Brothers' hopes for big box office for this one will pan out, but I'm finding myself a tad more bullish on it in regard to its awards contention.
#8 The Tragedy Of Macbeth (-1 From Previously)
The film I had placed as #1 back in the Spring, this Cohen directed A24 distributed, and Apple TV backed film starring living legends like Washington and McDormand and shot in black and white remains A24 and Apple's biggest priority for awards campaigning. The movie is showing up at upcoming festivals and word of mouth will be key with many expecting this one to live up to the hype at very least acting wise. The movie's accessibility remains a question for me and why my bullishness on it has wane a bit, but I remain high on it as likely to make the final 10.
#9 The French Dispatch (-1 From Previously)
Like with some audiences, Wes Anderson has been getting more and more popular with the Academy over the last decade – but that doesn't guarantee his newest film will make the final 10. The movie got some good word of mouth coming out of Cannes and will be showing up in other festivals, but some have said its anthology style of storytelling could be boring to some voters. I think this remains a pick for my final 10, but undoubtedly this movie's stock has taken a bit of a hit of late and will need movies ranked below it to not overperform or catch a passionate fanbase.
#10 The Hand Of God (New Entry)
In the last decade the Academy has started to be more and more open to foreign language contenders. You have Parasite shocking the world in 2019 and films like Cold War in 2018 or Another Round last ceremony being just outside of making the nominees list for 2022 Best Picture, and likely would have were it not for the now defunct 5% rule. With ten nominees now guaranteed, you have to look at what next foreign language film will catch fire with voters and while Cannes gave us more than a few with buzz from critics, it feels like this Italian drama based on Director Paolo Sorrentino's life experiences is the one that is getting a hard look as an Oscars contender for the top prize. Not to mention his previous film, The Great Beauty, won an Oscar and hype has begun to surround him as the next Fellini. Oh, and Netflix will be helping out in the campaigning for this one. It's a brand-new entry from me as I was waiting to see what foreign language films would emerge as top contenders, but it already makes my current makeup of the final 10 projected to make the ceremony.
TIER 3: ON THE BUBBLE OF PERHAPS GETTING A NOMINATION FOR 2022 BEST PICTURE
#11 Eternals (+/-0 From Previously)
Chloe Zhao's follow-up to her effort directing the defending Best Picture winner, Nomadland, and a brand-new Marvel Studios film that has been hyped as being an arthouse sort of MCU movie Disney has awards campaign hopes in. I still see this one as just being outside the final 10 given MCU films may be uber-successful at the box office, but struggle to make noise with the Academy especially in above the line nominations. Also rumors persist that if Shang-Chi And The Legend Of The Ten Rings underperforms, Disney might pull this one back into being a 2022 release. Out of all the potential nominees, this is arguably the wild card of this year's race.
#12 Mass (+/-0 From Previously)
Still just outside of the Top 10 is this Sundance hit featuring what has been hyped to be four of the most powerful performances of the year and among some awards folks I follow, "the best film of the year". As I write this, a trailer to this is finally about to be released, but the film is just a little over a month away from hitting theaters. This questionable marketing for the movie and the decision not to screen it at other festivals only highlights the big reason I've been hesitant to buy this as a serious contender – the studio's horrible track record campaigning for awards.
#13 Tick, Tick… Boom! (+5 From Previously)
Netflix has done well getting two films nominated for Best Picture of late, but that third or fourth film slot for them is a little harder to get. That said Andrew Garfield's performance in this Lin Manuel Miranda directorial debut has been getting heavy buzz and Netflix has reportedly become more bullish on it as an awards vehicle for them. It's surged from a film I didn't bother to note in the Spring, to being a potential contender mid-Summer, to now entering the festival season arguably on the bubble of making the top 10.
#14 Last Night In Soho (+/-0 From Previously)
Edgar Wright has built a fanbase with his films, ingratiated himself with cinephiles as an active Letterboxd member and fellow movie buff, and many believe this new psychological horror film of his could be the one that finally gets him some love from the Academy. It remains just on the bubble of making the final 10 but he will need to overcome the genre bias such a film will face. If the movie doesn't get praised highly coming out of the festivals, get great reviews, and/or do well at the box office this will be the highest its chances ever get with me.
#15 In The Heights (+/-0 From Previously)
Again, you can tell I'm being objective with my projections when the movie that was a literal spiritual experience that connected me back to my roots and might now be my all-time favorite movie is barely on the bubble of being a nominee contender, and on the verge of being an even bigger longshot for a 2022 Best Picture nomination. Yes, the film had amazing word of mouth and is one of the very few of the last year to be well received by critics, Film Twitter, the Letterboxd crowd, and mainstream audiences all at once, but good lord did its box office struggles and now the colorism debate that exploded afterwards in regards to it damage its 2022 Best Picture hopes. The movie seems to still be beloved by critics, so I expect it to make some noise with their awards at the end of the year, and it will certainly make many Best of the Year lists, but with Warner Brothers having bigger awards hopes with Dune and perhaps even the 19th film featured here, this remains a longshot to get love from the Academy. The best thing this movie can hope for is to have many films underperform their awards' hopes.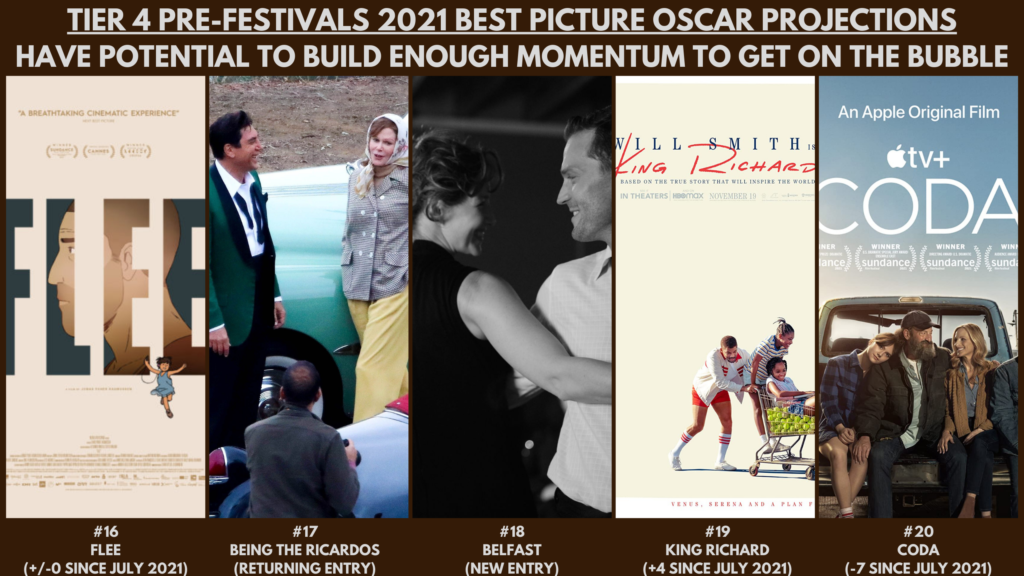 TIER 4: HAVE POTENTIAL TO BUILD ENOUGH MOMENTUM TO GET ON THE BUBBLE FOR 2022 BEST PICTURE
#16 Flee (+/-0 From Previously)
Still atop the films that are just outside of my picks for the most serious to light contenders to make the final 10 is this foreign language animated documentary that could end up becoming the first film to ever get nominated for literally every feature film award the Academy has – Documentary, International Feature, Animated Feature, and Best Picture. I remain skeptical that it'll pull off such a feat given the Academy has never even nominated a documentary for Best Picture but the buzz is there enough that I have it just on the borderline of getting on the bubble with the right momentum.
#17 Being The Ricardos (Returning Entry)
Well, I'm kicking myself for having this one in my Spring projections but then trying to dismiss it by mid-Summer. I really thought the movie would likely fade into perhaps even getting pushed back to 2022, but Amazon reportedly expects this one out in the thick of awards season later this year and may even see it as their top contender of the awards campaign overall. Sorkin can be a mixed bag for some, but the Academy likes him, and I have to admit I jumped the gun and put this one back on the board as one that could catch momentum and get on the bubble of being in the final 10.
#18 Belfast (New Entry)
A film I've been keeping my eye on but haven't been ready to call a contender is this new film from the highly respected, but not always home run hitting Kenneth Branagh. This is to be a white and black shot film based on his experiences growing up in Ireland, and features a pretty impressive cast including the iconic Judy Dench in a grandmother role (grandmother roles have really become hot in the film world of late). The movie is hitting festival season and the buzz for this one has gone from one to keep an eye on to a serious potential awards contender. It's entering the board now that a bunch of mid-summer blips on the radar have faded away. With the right momentum this one could be a contender.
#19 King Richard (+4 From Previously)
Back in Mid-Summer, I had a couple dark horses which have all dropped from the board after proving to be wannabes. But this entry from that update has only surged in buzz with many (myself included) thinking this will be Will Smith's vehicle to another Oscar nomination – if not maybe even a win. The movie looks and feels like a crowd pleaser that could grab voters' hearts and with the 5% rule out of the equation now and 10 guaranteed nominees, it could sneak into that tenth slot. There were concerns that the decision to play this story out through the Williams sister's dad instead of them would cause controversy, but they are involved as producers and will be out on the campaign trail with Smith charming voters. This is one that has surged from not being on the board, to being seen as just a dark horse, to now entering the festival season as one that, with the right momentum, could be on the bubble of a nomination.
#20 CODA (-7 From Previously)
Subjectively, I really liked this movie. Objectively, I think a lot of awards journalists are allowing their love for this film to cloud their judgment in regard to its awards potential. I placed this at #20 back in the Spring regardless of all the Sundance hype because I got a tip that the movie plays too much like a well-funded Hallmark style movie than anything cinematic. The buzz was so strong I decided to bump it all the way up to #13 by mid-Summer. Now having seen the film for myself I would say that first ranking was likely more correct. I will eat crow if I'm wrong, but this just seemed more like a TV movie than a cinematic experience even with the film being screened in limited screens. In my personal opinion this is my pick for the most overrated awards contender of the season. We'll just have to see if the right momentum carries it through, so I have to eat crow, or if I'm proven right with time.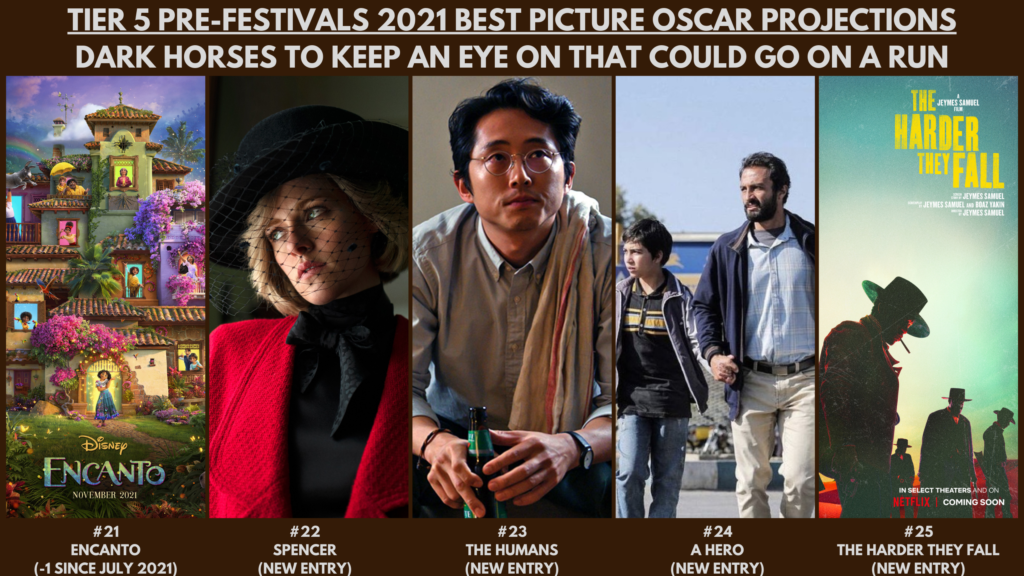 TIER 5: DARK HORSES TO KEEP AN EYE ON THAT COULD GO ON A RUN FOR 2022 BEST PICTURE
#21 Encanto (-1 From Previously)
The campaign for the five films that will be nominated for Best Animated Feature might end up being the most stacked and ugliest of the season. Thus, the chances for this new Disney animated musical to emerge as the obvious winner of that race and thus a strong contender to slip in as the tenth nominee for the Best Picture race, have only dipped the more animated movies release with good reviews. I'd still say this is a dark horse though in case it really blows up come November, but in a year in which we will get 10 nominees we might not see an animated movie get in.
#22 Spencer (New Entry)
Perhaps this update's blip on the radar, but nonetheless one that could be one to keep an eye on, this film in regard to Princess Diana with Kristin Stewart in the lead role has gotten a ton of buzz with her Best Actress chances exploding of late. I would say this is more of an acting vehicle than a 2022 Best Picture campaigner, but you never know if this ends up like a Darkest Hour from a few years back when an incredible lead performance carried that film to major above the line love from the Academy.
#23 The Humans (New Entry)
Based on a play when family dynamics during a Thanksgiving dinner are tested in the midst of a potential supernatural event, this film will be showing up at festival season and buzz abounds that it could end up being a film to keep an eye on with potential Oscar nominated performances. I've waited long enough, and the buzz is undeniable; this is a potential dark horse.
#24 A Hero (New Entry)
Of all the foreign language films to come out of Cannes with buzz, I'd argue this is the most accessible from Iranian filmmaker and two-time Oscars International Feature winning Asghar Farhadi. From what I've gathered, the movie is about a man whose good deed becomes an avalanche of bad luck. It's likely to be Iran's submission for the International Feature award and if The Hand Of God doesn't catch on as much as I think it will, I can see this one becoming that foreign language movie that blows up with the Academy.
#25 The Harder They Fall (New Entry)
This is a Netflix western that features an all-black ensemble with a trailer already out featuring a big cast of popular-with-the-Academy African American actors, and a tease of a film that should be accessible to Academy voters. I've refused to put this on the board given its a genre film that doesn't look like a contender, but Netflix curiously placed this as an awards season release and knowing their aggressive style of campaigning for multiple films alongside the Academy becoming more black especially among the new younger voters, I've become convinced this might be a dark horse to keep an eye on. Maybe it'll come and go without much fanfare, but if this one suddenly explodes at the right time and has great momentum by the end of the year, don't say I didn't warn you all about this one.
And there you have it, my pre-festivals adjacent projections for the upcoming 2022 Best Picture race. We are about to go through festival season, and awards season in terms of wide releases to the public of these contenders will be around the corner before you know it. I have a feeling the roller coaster ride of contenders positioning themselves has only just gotten started. Now the only question is what last second awards campaign surprise will hit this time just as this piece publishes…