Sunday Morning! The Final Revival of Opal & Nev by Dawnie Walton
I sometimes wonder if those of us who obsessively collect old records don't hear the term "cultural appropriation" differently than those who debate the topic. For them, it seems to be a question about originality and who gets to wear, cook, or create what exactly. Artists, in particular, tend to be magpies, picking up images and bits of inspiration everywhere. They often create work that is somewhat imitative of other cultures and artists, and to some extent, art is always appropriative. The debate on the Internet seems to be about whether members of the dominant culture should be "allowed" to ape the styles of minority cultures. Since most of us don't worry so much about this topic, it tends be picked over by those on the extreme ends: one side bristles at any criticism of the dominant (white) culture, while the other generally questions the motives of the dominant culture. White people either can do no wrong, or do nothing right. The question becomes: Was Elvis a bad guy?
But, when I hear the term "cultural appropriation," I think of the record industry, where it has been the norm since the beginning that the most innovative, exciting, and memorable music was always created by people who didn't get paid for it. The question for me was never whether Elvis or the Beastie Boys or even Pat Boone were playing music from a place of sincerity, which is relatively minor in the grand scheme of things. It was about whether or not things have changed from a norm in which the scores of people who wrote and performed songs that are deeply embedded in the fabric of my life ever saw a dime for doing so, when most of those people were Black and America has a long history of exploiting the talent and labor of Black folks. There's a reason that one of the most interesting of the current afropunk bands uses the acronym FUPU. At this point, it's a question more of reparations than motivations, more a labor issue than a creative one.
And, with popular music, it's nearly always a question of collaboration and how it works. Having been in a few bands, I find there is something inherently dramatic and frought about band relationships- you are trying to best express yourself, to externalize your inner world; yet, you are all trying to do so collectively- expressing your individuality together. And you want strangers to like it! As bandmates, you love each other nearly as much as you'd like to wring each other's necks; I've often joked about writing a "protest song" which would just be bitching about the other bandmates. And then, if you find enough success to make it your main gig? Often, a successful band is like a bad marriage: the Ramones barely spoke to each other for years, yet they built a life together.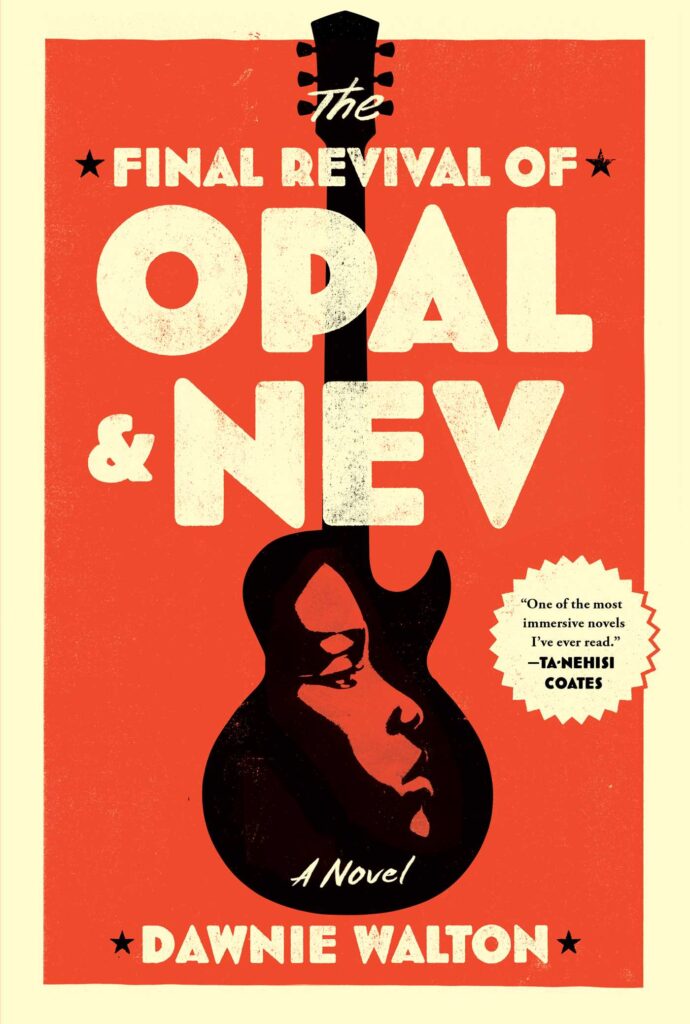 Dawnie Wilson's great debut novel The Final Revival of Opal & Nev is about the greatest musical group that never existed, and a frought and painful collaboration that is pretty much par for the course. Nev Charles was an awkward young boy from Birmingham who discovered that he had a certain facility with writing songs that were also awkward and memorable and a little ungainly. He came to New York to make his fortune and was signed by the fledgling and somewhat dysfunctional independent label Rivington Records, but something wasn't jelling. We see the proof in print that he was a skilled lyricist and guitarist, but we get the feeling he was a bit dull on stage. He needed to find a singer to make his words come alive.
Enter Opal Jewel, a freak like himself: Black, balding due to alopecia, born of unsure parentage to a working class mother in Detroit, and with a voice that pales in comparison to her sister's. Opal would be nobody's first pick for lead vocalist. Except Nev recognizes immediately that none of this matters; being a rock'n'roll vocalist is much more about acting than singing. Sure, there's the occasional Freddie Mercury with a remarkable range and stage presence, but most singers are more like Madonna or David Johansen- there's nothing special about their voice, but they have charisma to burn. Jewel is a freak who burns on stage and naturally she is thrilled when Nev selects her; she has never been anyone's first choice in her life. They will prove to be a collaboration for rock history that lasts briefly and ends badly, something also all-too-real. But, in the end, this is really her story; he's just putting the words in her mouth at first. And people who have been told to be quiet their whole life are often loud as cannon fire once they get the chance to be.
The story is told largely in the form of an oral history, something I find works especially well for actual rock biographies. (Here, I would mention my favorite music bio of all time, Lexicon Devil). Dawnie Walton has a background as a pop culture writer and editor and she has such a bone-deep knowledge of this subject that many readers have had the experience of forgetting while they were reading the novel that it is a novel and this group never existed. The characters are drawn somewhat from real people- the gay clothing designer who gave Opal her wild look and became her best friend, for instance, has to be a bit Larry LaGaspi. But they're also vividly defined through the words that Walton puts in their mouths. One wonders if she's ever been in a band because her vocalist thinks just like a vocalist; her drummer thinks just like a drummer; and her guitarist thinks like a guitarist; and believe me, none of those people ever think in lockstep! Fiction-writing always involves a certain amount of mimicry, of course, but what Walton is doing here is channeling. She gets it.
There's another layer of fiction: the drummer in this case was Jimmy Curtis, the late Jimmy Curtis- and the writer of this fictional oral biography is his daughter, Sunny. The book is intended to promote a forthcoming reunion of Nev and Opal at a huge outdoor music festival. They were never superstars in their era, but their two albums are recalled as pathbreaking proto-punk rock'n'roll, and Opal as an asskicker who was a bit too much for her era (here, it's hard not to think of Betty Davis or even Marsha Hunt) while Nev went on to a more successful solo career (think Rod Stewart after Faces). But we know from the start of the novel there are some pretty horrible memories- in the prologue, we learn that Jimmy Curtis was killed at an ill-fated label showcase that descended into Altamont-style violence. Back in the 1970s, an interrracial music collaboration was a magnet for love and hate, and Nev and Charles apparently reaped the whirlwind.
The violence of that night changed their lives and significantly turned up the volumne of Opal's voice. It forced them to rethink everything about their art and their collaboration and who they wanted to be. What's great about the novel is that Walton also forces us to rethink everything. The first half of the story is so vividly rendered and multivocal that music fans can't help but enjoy these memories and feel like we know these characters already; and then, the narrative pulls the rug out from under us in a way that makes us question if we know some of them at all. Or, if we really know the music business at all. A Twitter friend told me they gasped out loud at this point; I did too.
So, how will they put a broken collaboration back together? Or should they? The novel hinges on a question of appropriation that absolutely affects Black artists more than it does others: just who gets to tell your story and what are they trying to get out of it? It's a story about an artist finding her voice, and then decades later, finally making it her own. I would read it now before it's inevitably made into a movie that doesn't quite tell the story as thrillingly as Dawnie Walton has.
And so, what are YOU reading, pondering, playing, creating, watching, or reviving this weekend?
---
Endnote: Something must be in the air: I wrote about Virginia Woolf's novel Mrs. Dalloway last week, and this week there's a lovely piece in the New Yorker about the book.