Washington Post Reporter Felicia Sonmez Sues The Washington Post: Read It For Yourself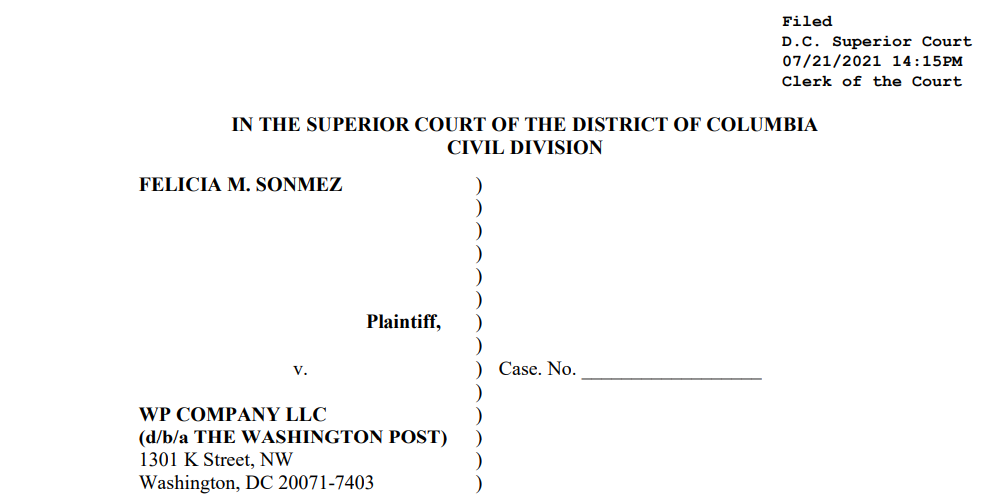 Washington Post reporter Felicia Sonmez has brought a lawsuit alleging her editors and supervisors used her own experience with sexual assault against her, and retaliated to her speaking out on the subject leaving her "chastised, silenced and subjected to humiliation".
A political reporter for the Washington Post (WaPo) filed a lawsuit on Thursday claiming the newspaper unlawfully barred her from writing about allegations of sexual misconduct after she publicly disclosed that she was a victim of sexual assault.

Felicia Sonmez, who covers breaking political news for WaPo, filed a complaint in Washington, D.C., Superior Court claiming she was prohibited from covering alleged misconduct by U.S. Supreme Court Justice Brett Kavanaugh and other major stories that would have helped to advance her career.

Sonmez, who says she was assaulted by a Los Angeles Times bureau chief in 2017, claims WaPo's nearly two-year prohibition caused her to develop depression and anxiety that she is still treating.

"Instead of being able to do her job like her colleagues outside of her protected class, Ms. Sonmez was chastised, silenced and subjected to humiliation on a repeated basis for being a victim of sexual assault (and) for defending herself against false accusations," her lawyers at Alderman Devorsetz & Hora wrote.

A spokesperson for WaPo did not immediately respond to a request for comment. The newspaper is owned by Nash Holdings LLC, which is controlled by Amazon.com Inc founder and executive chairman Jeff Bezos.

Sonmez in the complaint says she was sexually assaulted by the L.A. Times' former Beijing bureau chief, Jonathan Kaiman, when she was living in the Chinese capital. She came forward with those claims after another woman published a piece on the website Medium.com accusing Kaiman of sexual misconduct.

Kaiman resigned from the Times in the wake of the allegations. He denied the claims and said his relationship with Sonmez was consensual.

Sonmez says that after making the claims against Kaiman, she was criticized for destroying his career and received rape and death threats. Instead of coming to her aid, WaPo editors suspended Sonmez from covering sexual misconduct cases and any issues related to the #MeToo movement, according to her complaint.

The newspaper only lifted the ban in late March, one day after Politico published a story about WaPo's alleged treatment of Sonmez, according to the complaint.
You can read the Felicia Sonmez lawsuit against The Washington Post for yourself here:
Felicia Sonmez