A Reverie On Failure Part 5: The Dawn of Disappointment
Editor's Note: This is the fifth piece in the series from the author. You can read all of them here:
---
Victory is in our bones, programmed at conception and inculcated from that moment forward. The trials of early childhood sort us into vocations of achievement, toward the goal of victory, and further, dominance. It is the essence of justice, in fact, that good people achieve victory, while bad people are vanquished, so we build a system of morality around that, and a mode of behavior, or modes, to celebrate victory. This is the rhythm of the Aristotelian world, via Plato and Socrates: all art must resolve in the cosmic will for the good to triumph. The great anti-hero works of art are a wonderful inversion of this cultural trope: even The Godfather was a good guy, subverting the evil of American society through evil means, but establishing his family through love; even his son, Michael, was vanquished in the end [the author of this post does not acknowledge the existence of Godfather III, for better and for worse—DD] when he gave himself over wholly to evil, and in the process destroyed everyone within his orbit of hatred, including the family his father had achieved.
Yet we are unhappy with justice because it always remains not resolved. In our bones we have the programming to achieve it, to extend our dominance beyond the boundaries set by the stars, but we do not have the reach to do so. We are dissatisfied, insatiable for justice, bound by laws set by a just society, applicable not to "them," but to the self, and we govern ourselves accordingly, chafing against laws we consider personally unjust, creating speeches in advance of encountering the constable's stern countenance, but when the constable lets us off with a warning, it is a tale to be told to our fellow-idiots at the pub, a rejoicing in the luck of finding a law-enforcer who would not enforce the law. It would have been better for us, the individual thinking soul and the society within which the individual thinking soul blinks, had the constable written the ticket to force an appearance before the magistrate for judgment, where this small corner of the great halls of justice could have been kept tidy. So long as the constable uses his judgment over against what is written by legislators, justice will not be resolved.
Who would want that? Who would want to contend with the magistrate, when everyone who is going slower than I am is a dangerous sloth and should not be allowed on our public commercial ways, and everyone who is going faster than I am is a maniac and should be taken off our public commercial ways? To be governed by those people is beyond acceptability: it is an affront to the individual absolute. Only when we agree with those people do we readily submit, in mind, in will, and in behavior. Even so, we all know there is an ideal Justice, and because the notion to achieve justice, to live just lives, is both innate and inculcated, we have every confidence that the efforts, the veritable herculean efforts we manufacture, both as individuals and as a society, are worthwhile. They are good efforts, necessary. It is put within us to reach behind the stars, though they be beyond us, and we should obey, of all our impulses, this primal impulse.
In this spirit, I, the good guy, drew my bowstring back, preparing to release an arrow. I had seen him a few days previously, the lord of the woods. At first, I had mistaken him for a cow, he was so massive, but through the canopy of the trees, in which I was perched, I had caught the shine of his antlers. Antlers! Two oak trees were growing out of his head, trunks crowned by golden tines, each as thick as my wrist. How many were there? Not many, but they were huge. The opportunity of a lifetime, the opportunity to assert my lordship (because I am the apex predator in these woods; I declare it), the opportunity to dominate—it was at hand, present and real. He was the ideal buck, the specimen from which all other bucks flow. He was indeed, and he was mine. Surely the cosmic will would incline itself to me, to deliver to me what is in my bones, the victory of the good man to achieve.
The stars wheeled overhead indifferently, heralding not my lordship, nor this buck's, but the dawning of disappointment.
I was joking with a friend of mine several months after this unpleasant realization, that the generational complaints throughout the cycle of a typical lifetime fall along the lines of a recognizable pattern. In my thirties (where he is now), I complained of the unfairness of it all. Yes! It is unfair! I had not yet understood that my dreams were essentially dashed, that I would not achieve, and that whatever achievements I accomplished would come at great expense, things not to be measured on a line, but weighed in a balance. What cost achievement? My complaints eventually yielded to complacency, the embrace of mediocrity as "good enough," but also at a cost. How unsatisfying! I had reached up, and I had fallen from my perch, and they didn't even laugh. Nor did they bend down to help pick me up. This is no playground, not even a campus, nor a social media platform. Where the ideal Justice pours down is a blind, mechanistic world without a teacher or superintendent anywhere to be seen.
"Pity?" cries Gandalf. "Pity? It was pity that stayed Bilbo's hand. Many that live deserve death. Some that die deserve life. Can you give it to them, Frodo? Do not be too eager to deal out death in judgment. Even the very wise cannot see all ends."
I hereby confess to you, dear reader, that when I consider you, I am pitiless. In what manner do you deal out in judgment to me? Well, not entirely pitiless, only mostly pitiless, but what a herculean effort it is to find pity lurking, like a clownfish, darting behind the safe, ominous monolith of judgment! Oh well, I will make the world worse, and I will make the world better. We together as the ascendant society will do the same. Someone along behind us will come, some rising society, and will undo both. No one will establish the work of our hands, will they?
Journal Entry
October 20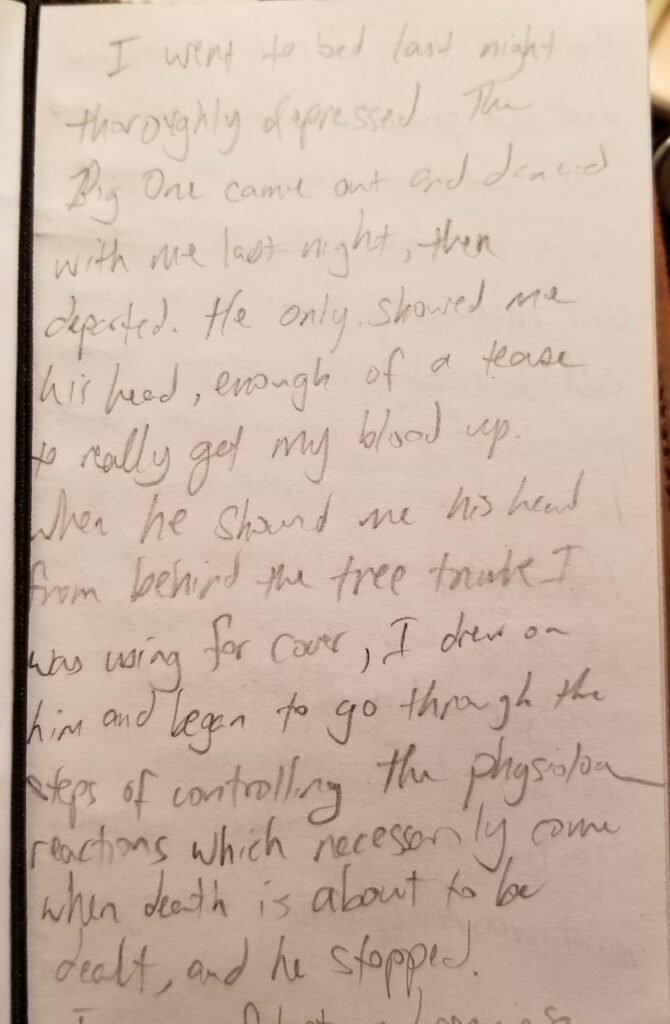 I went to bed last night thoroughly depressed. The Big One came out and danced with me last night, then departed. He only showed me his head, enough of a tease to really get my blood up. When he showed me his head from behind the tree trunk I was using for cover, I drew on him [he was well within my range] and began to go through the steps of controlling the physiological reactions which necessarily come when death is about to be dealt, and he stopped.
I am confident, and remain so, that in the pouring rain he did not sense me, but he was not confident that it was safe to take one more step. One more step from him was all I needed to begin taking pounds and pounds of food from him, but he would not give me that one more step. Instead, he backed off, circled just out of range, and trotted leisurely across the field to where Mike was sitting, and the dance was repeated, this time with my partner, as in a minuet. That was disappointing enough. After he left me, I had tried to tell myself he was one of the pair of large 8-pointers, but afterward, Mike confirmed that it was the Big One, the Once-In-A-Lifetime sighting, that one who carries massive tree trunks as antlers, and whose body will feed a family for a winter.
I fell into depression.
Wise and mysterious the Big Ones are, during the quiet hunting season. When gun season comes, he may possibly be killed, but from a distance, probably by a fool, and as such, the mystery is shattered by the gunshot report, and he becomes a trophy.
The weather cleared and I am here again, hope renewed.