The Rhoden Murders: The Point-Blank Execution Of A Family, By A Family
It looked like a cartel hit, some people said of the Rhoden murders. Eight people executed in the dead of night, most in their beds, and nobody saw or heard a thing.
Nah, said others. It's not cartel. A cartel would not have spared the children.
It was April of 2016 in Piketon, Ohio, a little town about an hour-and-a-half south of Columbus and just as far west of Cincinnati. Bobbie Jo Manley found the first bodies when she went to feed her former brother-in-law's dogs, as she did every morning. At the home of Chris Rhoden Sr., 40, she found his body, beaten and shot in the head. The body of Chris's cousin, Gary Rhoden, 38, was also in the home. These discoveries were just the beginning.
Next door to Chris Sr. lived his son, Frankie, 20, Frankie's fiancée, Hannah Hazel Gilley, 20, and their two little boys, ages 3 and 6 months. The 3 year old answered Bobbie's frantic knock at the door, and Bobbie found Frankie and Hannah dead in their bed, the baby alive between them.
At yet another home on the property, Bobbie Jo's sister Dana, 37, who was Frankie's mom and Chris Sr.'s ex-wife, was also dead, as was her son Chris Jr., just 16. Dana's daughter Hanna Mae, 19, was found next, shot to death next to her unharmed, 5 day old baby.
Finally, a few miles away a Rhoden cousin, Kenneth, 44, was also found dead of a gunshot wound in his own camper.
That's 8 dead family members, all of them shot in the head, all but Kenneth shot more than once. The community was shocked and terrified. Law enforcement encouraged them to arm themselves and lock their doors; surviving extended family members of the murdered Rhodens were given police protection. Then the rumors began:
It had to be someone known to the family; Chris Sr's vicious dogs would have attacked strangers.
Someone scattered $3,000 cash over one or more of the bodies.
This was revenge over a previous altercation involving Chris Jr.
Police found a huge marijuana grow operation; this was clearly drug related.
It was a custody battle over one of the kids.
It was the result of a demolition derby circuit feud.
It was the Manleys.
A local businessman offered a $25,000 reward for information leading to the killer or killers, but as the rumors grew about things the family may have been involved in, the man rescinded the offer. Apparently, if they were living outside the boundaries of the law, their lives weren't worth it. The funerals took place, the bodies were buried. Most of the community moved on.
Meanwhile, law enforcement flailed about for a suspect. They dragged Bobbie Jo Manley out of bed in the middle of the night to interrogate her. "How much did someone pay you to kill your family?" they asked her. They attached a GPS monitor to the truck belonging to Dana and Bobbie Jo's brother, James Manley. They charged him with destruction of property when he found the device and destroyed it, charges which were later dropped.
For two years, there was nothing but speculation and theories, especially online in true crime discussion communities on Reddit or WebSleuths. Slowly, authorities were developing a suspect – four of them, actually: The Wagner family, who had quietly left town and moved to Alaska in the interim.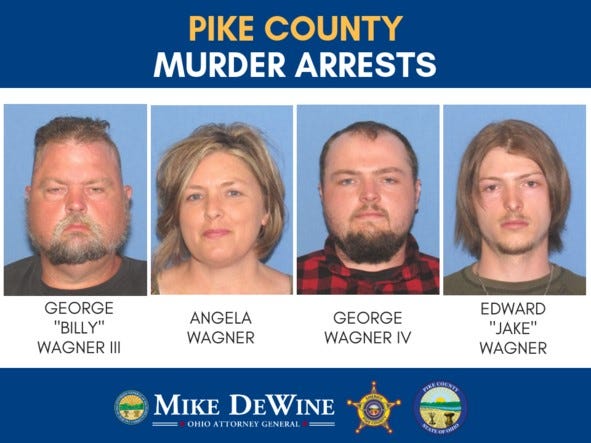 The Wagner Family consisted of George "Billy" Wagner III, his wife Angela Wagner, and their two sons, George the IV and Edward "Jake" Wagner. Jake, now 27, was the father of Hannah Mae Rhoden's 3 year old daughter, Sophia. Sophia wasn't at the Rhoden property during the massacre; she had stayed with the Wagners that night. Their arrests were announced in November of 2018.
Unbelievably, the massacre of 8 people is believed to have been a custody battle. The Wagners, determined to leave no one alive who might compete for custody of Sophia, hatched a plot to annihilate the entire extended family. Authorities say they snuck onto the Rhoden property under cover of night, disabled security cameras, and ambushed the family, silencers on the weapon or weapons used. In the media, their lawyers asserted their steadfast claims of innocence. Their supporters cited the ridiculousness of the alleged motive.
__________________________________
Hanna Mae Rhoden was just 15 when she gave birth to Jake's child. Jake was 20. It's unclear at what point the two parted ways, but there was speculation that Jake was the father of the new baby, as well.1 What is known is that by late 2015, the Wagners were pressuring Hanna to sign papers granting custody of her daughter to Jake. In a private message to a friend on Facebook, Hanna wrote "they'd have to kill me" to get their way. Jake hacked into Hanna's Facebook account and saw the message, and spent the next 4 months planning.
The Wagners were not a wealthy family, per se, but they had resources. The matriarch of the clan was Fredericka Wagner, owner of a large farm valued at over $4 million, as well as several businesses. Law enforcement searched her property three times. In 2018 after the murder charges against the Wagners was announced, she was indicted on charges of obstruction. It was alleged she lied to a grand jury about purchasing bullet-proof vests online; she said she bought them on Amazon when in fact it was Ebay. In any event, it was determined the vests were purchased two weeks after the Rhoden Murders, and charges were ultimately dismissed.
On the other side of the family, Angela Wagner's mother was also indicted. Rita Newcomb faced charges of obstruction, perjury, and three counts of forgery. It was alleged that Newcomb, a notary public, helped to create fake custody documents which made it appear Hanna Rhoden had signed her custody rights over to Jake. The documents were notarized, and dated for a year prior to the Rhoden Murders. The family created a similar set of paperwork for the child of George Wagner the younger, which was also included in Newcomb's indictment.
Newcomb testified at the grand jury that it was her signature notarizing the papers. In December 2019, she pleaded guilty to one count of obstruction. She agreed to testify truthfully at any subsequent trials of the Wagner family, and admitted that Angela Wagner had signed Rita's name to the forged documents. Angela asked her mother to lie and say she'd signed. Newcomb said she finally told the truth, because lying was not a Christian thing to do.
Months rolled by quietly, except for the occasional pre-trial motions and long-shot bond hearings. Covid and other assorted issues delayed the trials, while members of the Piketon community and the online crime buff communities argued amongst themselves over the guilt or innocence of the Wagner family. Others speculated which of the family members might be the first to roll on the other. The smart money was on George IV; he seemed to have the least investment in the situation. Sophia was not his child or grandchild. Others thought it might be Angela, banking on her feminine frailties or perhaps sensibilities; in sharp contrast, some insisted Angela was probably the mastermind.
On April 22, 2021, five years to the day after the bloody massacre on Union Hill Road, most of the speculation came to a shocking, screeching halt when Jake Wagner walked into court and pleaded guilty to all 23 charges against him. 2 He admitted to personally pulling the trigger on five of the victims, though it was not specified which five or who killed the other three. He agreed to testify on behalf of the prosecution in his family's trials. In exchange for his plea, the state agreed to recommend life in prison without the possibility of parole and remove the threat of the death penalty — for Jake himself, and for his family members, in the event of their potential convictions.
It really was as simple as a custody dispute, that prompted the point-blank execution of 8 people, the orphaning of three children and effective orphaning of a fourth. An entire family, acting in concert, stalked the Rhodens for months to learn their habits and patterns before killing them all. We know the why, and we know what Jake did. In the coming months, we will likely learn more about the role played by his mother, father, and brother. But I'm not sure we'll ever understand the minds of people who felt mass murder was the solution to a custody battle.
I never know how to end these articles. There is nothing meaningful to glean from the meaningless Rhoden murders, no nice way to summarize the slaughter of an entire family by another. This is not the Hatfields and McCoys, no matter how many media outlets want to make the comparison. This was a greater evil altogether. We can be glad, I suppose, that Jake Wagner admitted what he and his family did to the Rhodens, and why, and take solace that, at the very least, justice may be done.
---
In addition to the 8 counts of first degree murder, other charges included one count of conspiracy, four counts of aggravated burglary, one count of unlawful possession of a dangerous ordnance, three counts of evidence tampering, one count each of forgery, unauthorized use of property for his hacking of Hanna's Facebook, one count each of intercepting a communication, obstruction, engaging in corrupt activity, and finally, one count of unlawful sexual conduct with a minor for having impregnated Hanna in the first place.