Sunday Morning! "La Strada" by Federico Fellini
We'll never get a firm grasp on Fellini.
Was he the great visual poet of post-war Italian cinema? Was he self-indulgent and his films a bit frivolous and fluffy? Were they profound and witty explorations of dreams and carnivals and the hidden corners of the nightworld? Were they shallow claptrap? Is he overrated, or underrated? Every time you feel like you have a handle on his work, Fellini seems to float away like a soap bubble into the ether.
And yet, I have to agree with the BBC's Chris Nashawaty, who writes that the critics who dismiss Fellini's work as empty vessels "aren't just wrong, their judgements are nonsense on stilts." I can't help but love Fellini. His films feel too elemental, like the first stories we were told as children. It's not possible not to hold  them dear.
La Strada is often called Fellini's best film today; it won the first Foreign Language Academy Award given in 1957. (My personal favorite is Nights of Cabiria, but La Strada is close) And it's customary to call the film a bridge between the "neorealism" of his early films like Variety Lights and the White Sheik– which were not particularly realistic- and his later, more surreal and autobiographical films, like La Dolce Vita, or 8 1/2, which repeated many of the motifs of the early films. Fellini's films always take part in a world of his own creation whose core remains unchanged. In Fellini's Rome, there's always a parade or a circus performance about to break out at any moment.
Like Variety Lights before it, La Strada is about traveling performers who can't do anything else. Antony Quinn plays the brutish strongman Zampanò, who scowls his way through life and breaks the same chain over and over, from town to town, but like Prometheus, he can't ever free himself.
In the beginning of the film, Zampanò comes to visit a poor family who live by the ocean- it's been said that everyone in Fellini's films either lives on the beach or in Rome, and these characters live out a mean existence in a tiny hovel. Zampanò had previously employed the older sister Rose for his traveling show; she has died, and he's come to buy her younger sister, Gelsomina, played by Giuletta Masina. Or, at least, her weeping mother is ready to sell her daughter off, explaining:
He'll teach you a trade. You'll earn some money. And one less mouth to feed wouldn't be bad.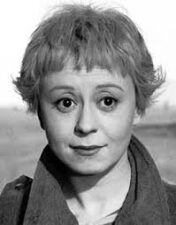 Gelsomina, we are told, was born a little strange. Roger Ebert found Masina's performace "a shade too conscious and knowing" to match the character's supposed "retardation," but I've never read her as slow. It's more that she's lost in a world of her own imagination and wonder at the world. I think she embodies the characteristics most of us shed after childhood, which has more to do with soul than mind. And Gelsomina strikes me as more intelligent than the mother and performer who bargain over her, although certainly she's more innocent, less venal. When they finally settle on the price of 10,000 lire, she walks to the ocean, as if to say farewell, smiles sadly, and leaves with Zampanò.
They hit the road ("la strada" in Italian) and start playing in meager little villages to crowds of bored Italians. The performance is always the same and frankly a little dumb: Zampano ties the chain around his chest and breaks it, and they pass the hat. He's not exactly a master showman and we get the feeling that whatever brains he had, life kicked out of him long ago.
Nevertheless, it's a good gig for Gelsomina, who seems to never take anything that life hands her to be a raw deal. Zampano teaches her to play the drum and cook soup and introduce his performances. He buys her dinners in little restaurants. It's implied he also has sex with her; which is just part of the job. She cries a bit, but the sad smile always breaks through the tears. And she soon finds that she enjoys performing for crowds of people; she is a master showman. Masina has to be the most naturally expressive and gifted comedic performer after Chaplin or Harpo Marx. She was Chaplin's favorite and ninety percent of the story plays out in her facial expressions, a wide open screen within the screen.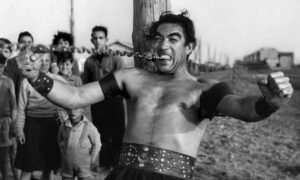 Masina was also Fellini's wife for fifty years, until his death and beyond. His camera is as fascinated with her face as Bergman's was with Liv Ullman's. The movie is drunkenly in love with her, which can seem either grating or charming depending on the viewer. The character is a straightforwardly Good soul, untainted by malice or guile. Zampanò, meanwhile is a brute who lives entirely by his appetites. If he wants to drink wine and sleep with the wiggling zaftig voluptuaries who make up 60% of the Italian population in a Fellini movie, Gelsomina will have to deal with it. We still sense that she loves him, even as she gripes:
"I like being an artist. It's you I don't like."
They're caught in an unhealthy relationship that seems somehow preordained, just natural within the flow of life that makes up the film. We're almost too distracted to notice; there are are endless background characters who pass in parades and processions, and Fellini's camera loves every one of them. The film is part-travelogue and part-picaresque. We get the feeling, in Fellini's cinema, that Italians are always in the streets, that life is just too amazing to stay indoors. The adjective "Felliniesque" is used as a synonym for "carnivalesque" and like a carnival, his stories take place in the liminal space between the world of the spirit and the quotidian world of impoverished lives.
And Gelsomina seems to have one fingertip, at best, in the "real world." When the two of them finally hook up with a traveling circus, Zampanò informs the circus owner:
She's not like us. We've seen the world.
It's a simple statement of fact. She is innocence and he is experience. Their story is really that of every life, wherein experience beats the snot out of innocence.

At the circus, Gelsomina meets and develops a crush on a zany highwire walker, The Fool, played by Richard Basehart. He seems to be always playing tricks on Zampanò, who naturally hates him furiously. Gelsomina starts hanging about the Fool anyway, who tells her quite prophetically that her "husband" will live a long life, but as for him:
I'm the one who's going to die young.
Nevertheless, the Fool is incapable of avoiding the strongman or refraining from pissing him off. He explains to Gelsomina:
I've got nothing against him. But I can't help teasing him whenever I see him.
Again, it's like these roles are preordained. As a trickster, or jester, the Fool sees more clearly than the other characters. After Zampanò tries to kill him, and gets taken to jail, he sits up talking with Gelsomina; he is the first person in the film to have shown her genuine kindness, and maybe the first in her life. The Fool suggests that Zampanò might be like a dog that wants to speak, but can only bark. Maybe, he suggests, the strongman actually likes Gelsomina. There is no outward sign of it, but we suspect he actually loves her. But, the Fool is the one who sees her as a meaningful being. He tells her:
Everything in this world has a purpose. Even this pebble… if this pebble has no purpose, then everything is pointless.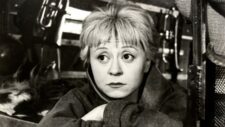 She decides hers is to give Zampanò her love and devotion. But, it's as if he is allergic to love. After he gets out of jail, he treats her as meanly as before, taking her with him, but rejecting her offer of marriage. When they come across the Fool farther down the road, the strongman kills him, and Gelsomina's spirit along with him. She sinks into a deep depression, and he finally has to leave her behind, in a sort of despair of his own. He leaves her sleeping with her trumpet, clothes, and some money, and slinks away.
Years later, Zampanò will come across a peasant who knows what happened to Gelsomina: her father took the waif in and tried to help her, but she wasted away and died of a broken spirit. And this finally breaks the strongman. In the final scene, he gets drunk and breaks down on the beach, crying uncontrollably to a vast ocean that has no pity.
It is a simple story. Fellini began his artistic career drawing cartoons, and La Strada began life as a sketch of the characters. It still feels like a sketch. Years later, I remembered the film as a single scene: the Strongman breaking his chains while Gelsomina plays her drum. Watching it again, there is more to the story than that, but not much.
There are basically three characters, and they are simple enough that we take them as archetypes. Pauline Kael, who was not a Fellini fan, saw Zampanò as Body, Gelsomina as Soul, and the Fool as Mind. I think they could also be taken as Experience, Innocence, and Imagination.
But, the story also draws from very old stock "types" that go back to the Commedia dell'arte and further. The triangle between the Strongman, Waif, and Fool is not far removed from the archetypal Harlequinade love triangle, wherein the gloomy Pierrot loses his "tricky slave" wife Columbina to the witty and lighthearted Harlequin.
But that happy ending isn't really possible here. They're too stuck in their characters. The relationship between the Strongman and the Little Tramp could be called co-dependent and abusive, but these are the roles they've been assigned in life; Punch can't leave Judy.
And there's something very authentic about that; think of everyone you've ever known who was stuck in a lousy relationship or job or family from which they could have walked away at any moment and didn't. How often did it seem they were playing out a part without any reason or free will? How often have all of us been in that position? Adulthood sometimes seems to be that thing you never saw yourself doing, and now you can't see yourself leaving. Fellini's view of this is not cynical or embittered, which is probably why he rubs some viewers the wrong way; he always seems to be standing a bit askance from things, smiling wryly at it all.
Critical opinions of Fellini vary over time. I remember when his early films were called "trivial" and his later ones the "masterpieces." Seemingly, the opposite is how they're seen now. I have to wonder if English-language audiences are even qualified to discuss Fellini. For a time, I had an Italian girlfriend, and she was hilariously akin to a Fellini vixen- madcap, loud, always a little intoxicated, but never drunk. After a point, I started seeing Fellini as an eagle-eyed realist and his films as documentaries.
So, what are YOU playing, pondering, watching, reading, or creating this weekend?