Sunday Morning! Vertigo by Alfred Hitchcock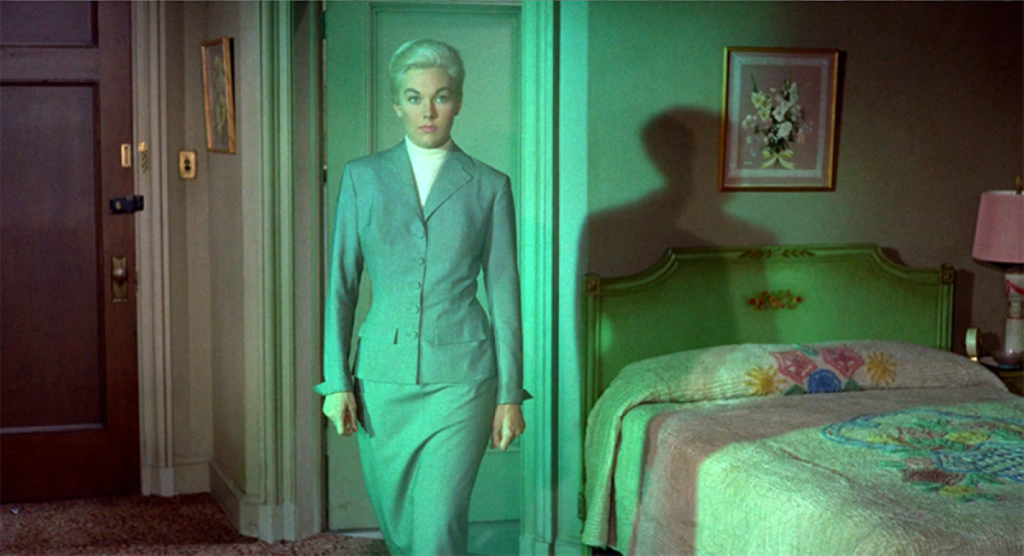 In Greek mythology, Pygmalion was a sculptor who grew disgusted by the mortal women he saw around him, who had been turned to shameless whores after angering Venus, and so put his sexual longing into a statue of a woman, which he carved out of ivory. The problem was he had made this ideal woman so beautiful that he fell in love with the statue. This wasn't so uncommon in folk legends: the sculptor Praxiteles supposedly sculpted a nude Aphrodite who was so beautiful a man broke into the temple in Knidos to copulate with it, and then threw himself off a cliff in shame- a story that brings new meaning to the phrase "getting one's rocks off."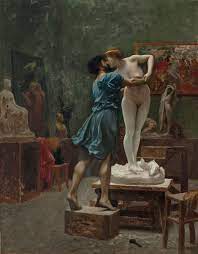 Pygmalion was luckier, however; during the festival of Venus, he prayed to the goddess to be granted a real woman and Venus, knowing his true desire, brought his statue to life. One might expect there to be a cautionary tale here about projection and desire, but in Ovid's version, Pygmalion and his statue, who he named Galatea, fall in love and have a daughter, Paphos. In other versions of the story, Pygmalion was the young horndog who copulated with a statue of Aphrodite. When George Bernard Shaw wrote the play Pygmalion, he used the myth as a metaphor for a man trying to "create" an ideal mate from of a lower-class woman and the creation eventually outgrowing and abandoning the creator.
It occurred to me that both Proust and Bergman, in the artworks we recently discussed, were dealing with the ways in which we make the subjects of our desire into objects of our own design, warping them and ourselves in the process. While each artist deals with this as a type of madness, they also suggest that we can't help but do it- to love is to falsify.
Naturally, this brought to my mind Alfred Hitchcock's hypnotic, unnerving 1958 masterpiece Vertigo, a film I first saw upon its rerelease in 1996 on a date with the first woman with whom I was ever in love, a relationship not quite as obsessive and lust-driven as that in the film, but probably not off by much.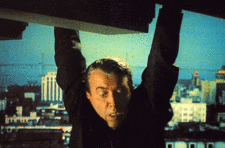 In real life, vertigo — the dizzy feeling that the space around us is moving when it's not — is most often associated with an inner-ear issue; while the fear of heights, acrophobia, only sometimes overlaps with vertigo. Here, we sense instead the vertigo in the title is the dizzy feeling when the interpersonal space between Self and Other opens up to become a yawning chasm. Each of the characters is desperate to bridge that space; none of them are capable. And everything that felt solid, slides and melts into air.
Jimmy Steward plays detective John "Scottie" Ferguson, who has recently quit the police force after a rooftop chase left him with acrophobia that manifests in vertigo. In the opening sequence, we see him left dangling from a roof, while a fellow officer tries to save him and falls to his death. The ground below seems to stretch away from our perspective, an ingenious visual trick invented for the film, in which the camera is dollied towards a subject at the same time as the camera zooms out. The "dolly zoom," or just the "Vertigo Shot," has been used in everything from Thriller to Jaws.
Months later, Scottie is recovering from his acrophobia with the help of his artist friend and one-time flame, Midge (played by Barbara Bel Geddes). His gal Friday, she represents what it might be like to have an emotionally mature relationship; Midge is grounded, approachable, intelligent, and represents the better choice; naturally, Scottie does not desire her at all.
Instead, he falls for a fantasy. A wealthy industrialist, and an old college friend, Gavin Ulster (), gets in touch with Scottie with a proposition: he wants him to follow his wife, Madeleine (played by Kim Novak), who has been acting strange, and he puts forth the strange question:
"Do you believe someone out of the past, someone dead, can enter and take possession of a living being?"
Madeleine has been going into regular trances in which she becomes a person Ulster doesn't know. He wants his old friend to follow her and figure out the key to her delusions. Scottie is skeptical, but he agrees to come to a favorite restaurant in order to get a good look at her and decide if he will follow her.
The scene in which Jimmy Steward first sees Madeleine in the crimson-wallpapered restaurant has become famous and is perhaps the greatest female entrance since Helen sashaying into the city of Troy. If you'll remember, in Homer's classic, two older residents of the city see this kidnapped queen entering their city gates and, knowing very well that this will mean war and the likely destruction of their home, agree that she was worth it. As Novak crosses the room, the wallpaper behind her glows a more vivid electric crimson. Scottie stares helplessly; we know that he will be no luckier than Troy.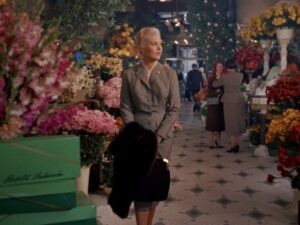 The next day, there is a remarkable, nearly-wordless 12 minute sequence in which Scottie follows Madeleine through the streets of San Francisco: to a flower shop; to the cemetery behind an old Spanish mission; to the art gallery where she sits alone staring at the portrait of a woman; and finally to an old Victorian hotel where she has been checking in under the name Carlotta Valdez, seen on a tombstone in the cemetery. It's pure visual filmmaking, blurring the lines between cinema and dream, and his own gaze draws Scottie deeper into this woman's delusions. It seems that Madeleine is obsessed with the dead woman; Carlotta had been a burlesque dancer in nineteenth century San Francisco, and the mistress of a rich man who built her a house, had a child with her, and then threw her out, taking the child with him. Carlotta went mad in the streets and eventually she committed suicide.
Each day, Scottie stalks Madeleine. He follows her again to Old Fort Point, where she throws herself into the San Francisco Bay. He jumps into save her and brings her to his apartment and she awakens in his bed that evening, remembering nothing. Forty-five minutes into Vertigo, Kim Novak speaks her first line: "What am I doing here?" It will remain an open question throughout the film.
As the two of them start to fall for one another, or so we believe, he comes to realize that Madeleine is hopelessly driven towards self-destruction. Carlotta, who was her great-grandmother, killed herself at the same age and it seems as if Madeleine is intent on following suit. Scottie wants to save her, but he needs to find the key to her mind and it remains a locked vault. In the process, he's driving away Midge.
This is all, of course, a bit farfetched and absurd, which 1950s critics disdained; but, now, it seems audiences have figured out the hypnotic strangeness of the film is the point. We're observing all of this happening through Scottie's perspective, and he's completely delusional. Madeleine might be delusional, or she might be manipulating him. But because she's beautiful, there's really no hope of him escaping her spell; nor of her escaping his fantasies.
Nevertheless, in a last-ditch effort to save her, Scottie brings her to a preserved Spanish mission a hundred miles south of SF that has been appearing in her dreams. It all backfires: she runs up the bell tower with Scottie running after her. Once at the top, she jumps to her death, or so it seems. The case is closed. Scottie is blamed for his weakness, but not held legally responsible for her death and he retires to an asylum. Midge finally departs him, leaving him alone in the hospital. Some viewers have speculated that Scottie really died in the opening chase scene and the rest of the movie is a dream; while I disagree with this take, it is possible he never leaves the asylum.
But, in the next scene, he's returned to a lonely existence of wandering the streets looking for some trace of his lost love. And then, he spies a working class girl named Judy (also played by Novak), who reminds him of his lost love.  Scottie pushes his way into her life and sets about remaking her in the image of Madeleine. He buys her the same clothes and the same flowers, and finally has her hair dyed. In a heartbreaking moment, Judy asks:
"If I let you change me… will you love me?"
And then, he takes her to her cheap apartment, to dress her up, where the neon sign outside the window bathes her in a spectral emerald glow. Madeleine seems to have returned from the dead. Scottie finally loves Judy, but only to the extent that she is someone else.
But we, the audience, already know that Judy is "Madeleine" and the suicide was a hoax; more accurately, she was the woman hired to play Ulster's wife, so that he could kill his real wife. Hitchcock keeps the plot so complicated that we don't really know who she is. But, whoever she really is, she loves him. By the end of the film, the roles have reversed: now, Judy is trying to save the man she loves, who is lost in a delusion. Neither Ulster, nor Scottie, know the woman beneath the one they created. But we don't either.  In the end, all of them are doomed, lost in the labyrinth of sexual obsession and fantasy.
Vertigo has risen in stature greatly since 1958, and is increasingly seen as a key film of the twentieth century, as well as Hitchcock's greatest. Novak's performance, in particular, is a tour de force. What was once seen as a product of Hitch's misogyny is now seen as a statement about patriarchy; indeed, I recall my young girlfriend calling it a "feminist" film in 1996. While Scottie seems, on a superficial level, to be pushing Judy/Madeleine around, treating her like a living doll, it's clear from that key scene in the restaurant that he's completely powerless in her presence. In fact, there's really not much to Scottie; he's more the product of Madeleine's manipulations than the reverse. The parallel between Hitchcock ruthlessly directing the icy blonde actresses who would never return his obsessions, seems painfully obvious. In the end, the art object never does come to life.
There seems to be a fairly profound suggestion about patriarchal civilization here: in the end, it's a flimsy defense against the erotic and irrational forces that threaten to invade from outside the city gates. Scottie is doomed from the start of the film, and his surreal downfall is completely plausible, and seemingly inevitable.
And, in the end, most viewers don't notice that we really don't know anything about Scottie either. Judy's love for him is just as doomed as his love for her. Neither of them know what they're getting into. If we did truly know one another, our love might vanish like a dream in the light of morning. As in Proust and Bergman, the deepest existential fear is that we venture into the night in search of one another, and never find anything but our own hallucinations calling back to us.
So, what are YOU reading, watching, pondering, playing, or obsessing over this weekend?