Saturday Spins Part 1: Sturgill Simpson's Cuttin' Grass Vol. 1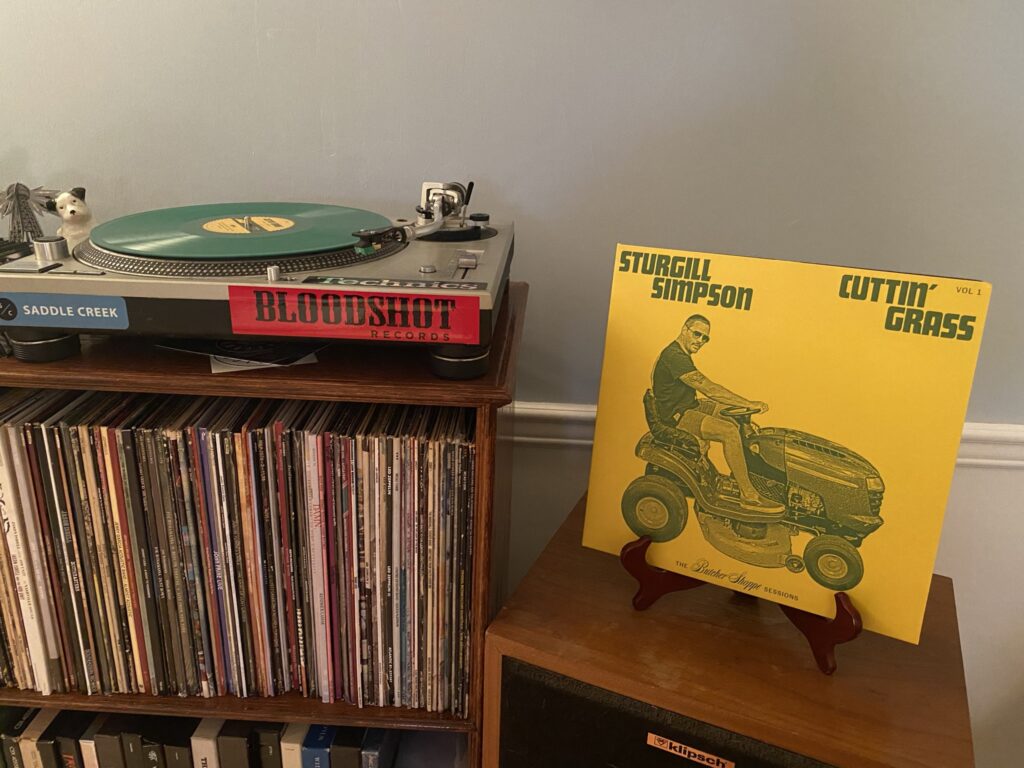 I took some time off, hence the lack of a recent spin, so to make up for it I plan to do a double feature for y'all. The last spin was a little-known Mark Knopfler side project, The Notting Hillbillies. This week I will be covering something hillbilly adjacent. These two records were featured in my Best Albums of 2020 post. However, I only received Sturgill Simpson's Cuttin' Grass Vol. 2 in its physical form last week. We can't discuss Vol. 2 until we get through Vol. 1, so…
Sturgill Simpson
Cuttin' Grass Vol. 1
The Butcher Shoppe Sessions
2020
Fresh off an excellent release in 2019, which I covered here, Sturgill challenged his legion of fans to raise money for Covid-19 relief by purchasing merch from his Dick Daddy Survival School store. This was also after he had his own battle with the 'Rona. In some interviews, he expressed his interest in recording a bluegrass album. He never really gave details. So, after a couple of genre-bending albums, Sturgill Simpson released these straight bluegrass cuts.
Since I have been negligent in my weekly spins as of late, and in order to make it up to the 3 0r 4 people that read this, I will do a double feature this weekend starting here with Vol. 1. As usual, I sprung for the indie exclusive with the green and yellow wax. Since Sturgill is "Cuttin' Grass," there is a John Deere element at play in both the cover art and the color scheme.

The album itself is 20 tracks of reinvented Sturgill Simpson and Sunday Valley songs. It is funny to me that I used the word "reinvented," because Sturgill is a bit of a cosmic gift to country music. He bended all the rules on Metamodern Sounds in Country Music, and that continued with Grammy nominated (and winner) A Sailor's Guide to Earth. Of course, Sound & Fury was a complete stylistic change from both of those albums.
When Sturgill does Bluegrass, though, he keeps it simple, tight, and conventional. These are his songs, so it's not as though he needs to subvert them in some way. In my opinion, doing them in a strictly bluegrass style was the subversion. The end result is 20 tracks that are great, but not groundbreaking. You know when bands do a covers record or a greatest hits? That is what this feels like, except he is covering his own songs. The recording is fantastic, and it sounds flawless on the green and yellow wax. This is an album that is best enjoyed through some quality headphones.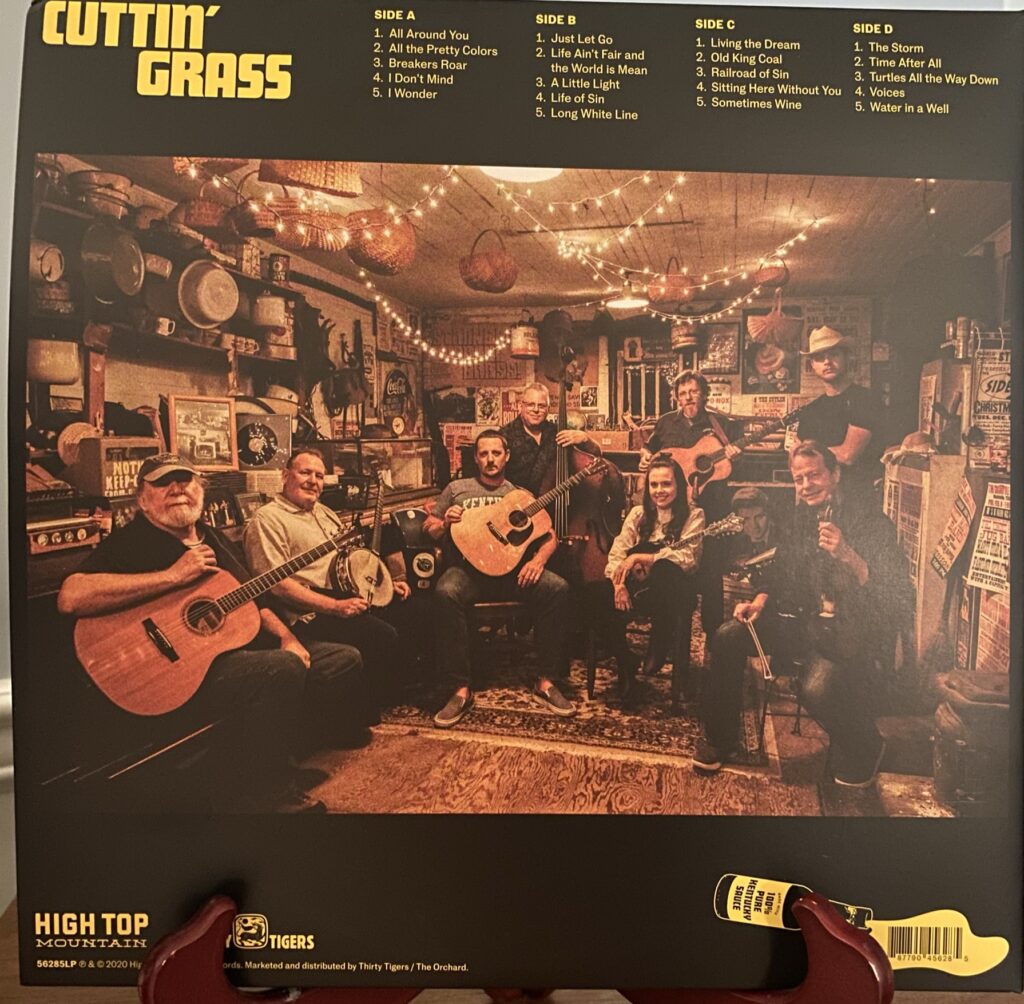 I am not really a bluegrass fanatic, so as far as personnel goes, the people that played on this album are basically anonymous to me. According to Wikipedia, a few of them have notable careers in the bluegrass genre, though. Admittedly, I graduated with a woman who has some degree of fame in the genre. That sentence makes a whole lot more sense if you understand that I come from one of the more barren parts of northeastern Pennsylvania.
While I typically give you a track-by-track breakdown, I don't think it would be very constructive here. It is quite literally 20 bluegrass tracks that are covers of existing songs from his catalog. Instead, I will identify some of my favorites from each side and some that I think should have been left on the cutting room floor.
Side A
So, Side A starts off with "All Around You" from Grammy nominated and winning A Sailor's Guide to Earth. It is one of my favorite songs from that album too. It is definitely a true reinvention of the song.
One of the more interesting inclusions on these bluegrass albums are the Sunday Valley tracks. Sunday Valley was Sturgill's first true musical project, and for the uninitiated, it sounds pretty much like cow punk bluegrass on cocaine. Serious music critics would merely refer to it as "country rock," however cow punk bluegrass on cocaine sounds cooler. Not gonna lie, the bluegrass version of "All the Pretty Colors" is a significant improvement from the original.
Sturgill Simpson – All The Pretty Colors
Finishing out Side A are two more Sunday Valley tracks, "I Wonder" and "I Don't Mind" along with "Breakers Roar" from A Sailor's Guide to Earth. I have to say I really enjoy both versions of "I Don't Mind" a whole lot. It is one of those songs that works both ways.
Sturgill Simpson "Breakers Roar"
Side B
This side features four tracks from Sturgill's breakthrough album, Metamodern Sounds in Country Music, which was my Sturgill Simpson gateway album. It also happens to include my absolute favorite song by him, "Life of Sin." Again, this is another song that works both ways in my opinion. The original is a real face melter as evidenced by the Letterman performance below, while the bluegrass version is a bit more soulful. One clever inclusion is the lyrical change from "the boys and me are still workin' on the sound" to "the boys and girls and me are still workin' on the sound," since bluegrass artist Sierra Hull performs on both Cuttin' Grass volumes.
David Letterman Sturgill Simpson Life of Sin
Rounding out the other tracks from Metamodern are the radio-friendly "Long White Line," "Just Let Go," and "A Little Light." The bluegrass version of "A Little Light" is a really cool version of the song. It really brings out the spirit of the track a bit more than the original. Finally, this side also includes "Life Ain't Fair and the World Is Mean" from Sturgill's debut album, High Top Mountain, which is extremely underrated.
Side C
A few tracks from High Top make an appearance on this side, "Old King Coal," "Railroad Sin," and "Sitting Here Without You." I am partial to "Old King Coal." It is the perfect topical song for where Sturgill is from, eastern Kentucky. It is a semi-autobiographical song because he discusses being one of the first members of his family to not dig coal. He has a pretty fascinating life story, the dude was doomed to be like his father, his father's father, his father's father's father, etc., but he broke that tradition. The High Top songs are bookended by "Living the Dream" from Metamodern and a Sunday Valley track I am particularly fond of "Sometimes Wine."
Sturgill Simpson - Sometimes Wine (Live @ Ryman Auditorium 2020)
Side D
Many of the critics and music intelligentsia crew commented that this album was overly ambitious and kind of loses steam towards the end. This is one of those few times I will actually agree with those people. While this final side features Sturgill's first and only single from Metamodern, "Turtles All the Way Down," it also has some uninspiring versions of "The Storm," "Time After All," and "Water in a Well" from High Top Mountain. Along with "Turtles All the Way Down," is "Voices," another great track from his breakthrough record.
I will note that throughout this whole record, Sierra Hull provides some excellent background vocals and harmonization. I would listen to an entire album that is just Sturgill Simpson and Sierra to be honest. When I got this album in the mail, my four-year-old looked at the back cover photo and exclaimed, "there's a girl!" I think I am fixin' to get her a mandolin for her next birthday.
Sturgill Simpson - Time After All (Live & Ryman Auditorium 2020)