A Letter to the Editors: Freddie deBoer and Writing About Forgiveness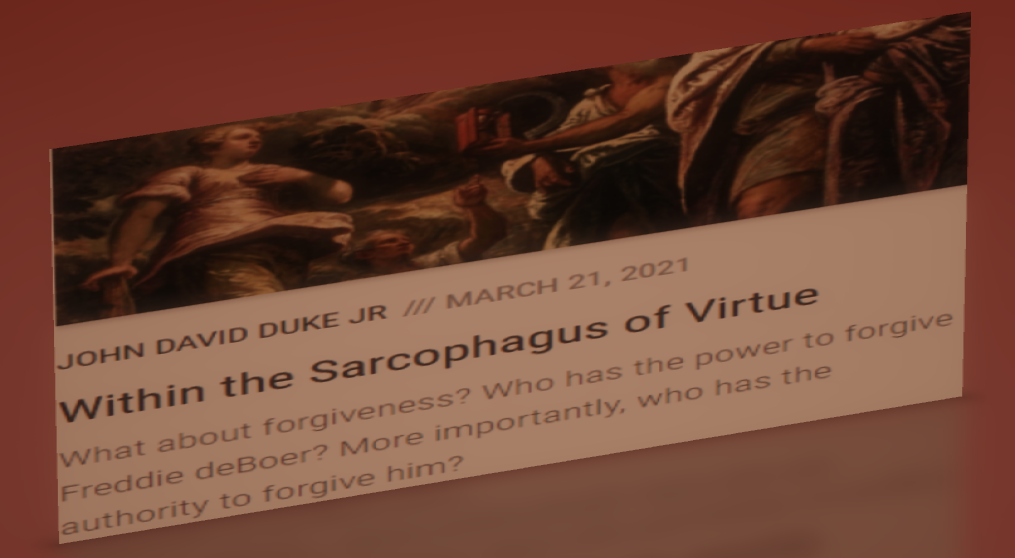 Something happened on Ordinary Times a couple weeks back that I've been thinking about a lot. A piece was published, not a piece that I disagreed with — that happens all the time, LOL — but a piece where I actually thought it shouldn't have been published at all, at least not in the form it was in. I don't mean this as a criticism per se, I simply mean as an editorial choice I'm not sure it was the right one, and as I've never felt that way before, it seemed worthy of remarking upon, and hopefully debating civilly.
The piece in question was John David Duke's piece on forgiveness and Freddie deBoer, Within The Sarcophagus of Virtue.
The reason I have some tummy rumblings about it being published is that Freddie deBoer used to be one of us, writing for Ordinary Times for quite some time. Though that was years ago, and he's gone on to bigger things, it doesn't seem beyond the realm of reason that he might possibly actually read the piece. Unlike speculating upon, even dunking on, a person in the public eye who will never read our scribblings, it's not completely inconceivable that this piece may come to Freddie's attention at some point, simply by virtue of our past association.
Within the essay, there were some phrases in it that read to me as judgmental. I think they were intended in the hypothetical, but to me they read as somewhat personal, even borderline accusatory in a couple places. I cannot stress enough that I do not think this was intentional. The author simply used Freddie's personal situation as a jumping-off point to talk about generalities of forgiveness and virtue, and in my opinion there was not enough space left, or created, between the real and the hypothetical to avoid certain statements coming off like they were directed at Freddie himself.
I won't share the statements in question here, but even after a series of very, very careful rereadings and much second-guessing, I strongly feel that some turns of phrase really needed some additional clarity if they were meant to be musings/hypotheticals rather than targeted specifically towards the subject of the essay.
Again, I am not slamming the piece, the way it was crafted, or the necessity for it, I am simply saying I do not think it should have run in the form it was written because this was not some high-falutin' celeb or windbag politician we're talking about. It was a friend. Maybe a friend we haven't seen for a while, but still.
Clearly the author was trying to say something important about forgiveness, something I would otherwise have probably agreed with wholeheartedly, but it simply did not seem appropriately considerate of Freddie's feelings. I think the piece could have benefited from a revision to add clarity and distance between the person and the overall point. Again, I do not believe that this was an intentional act on the part of the writer or the editors, but it bothered me enough to write this post, so.
I feel the need to rise to Freddie's defense particularly, because his sin, which was admittedly a grave one, was committed under and compounded by the influence of his mental illness. Freddie would say his mental illness doesn't absolve him of culpability, but at the same time I know, because I have read a lot of Freddie deBoer's writing over the years, that were it anyone other than himself in the hot seat, he would urge, even demand forgiveness to be bestowed.
He doesn't extend this same charity to himself, because he is, as so many of us are, his own harshest critic. Thus it falls to us to extend that charity TO him, to bestow forgiveness upon him, whether he thinks he deserves it or not.
We have a rule on Ordinary Times that the mental health of our contributors is an off-limits topic of discussion. Now, this rule is not always strictly adhered to nor evenly enforced, but I feel it's a sound and empathetic rule that both improves to the quality of discourse we have here on OT, while encouraging people to share their writing (facing a barrage of questions regarding one's sanity would surely have a dampening effect upon contributions). Part of the reasoning for this rule is that people who have mental health issues can often find their struggles compounded by people mocking their mental state and challenging their diagnosis. In this case, this rule was not adhered to, and a person in Freddie deBoer who is among the most prolific writers in the history of the site had their medical status held up for speculation by the commentariat.
I don't care that Freddie deBoer has moved on, hit the big time, whatever. He was an OT contributor. That means something, to me anyway. He was a part of this site, an important part of this site, for quite some time, and in my eyes, an Ordinarian he shall always be. He is US, in addition to being a relatively fragile human being doing the very hard task of taking up the challenge of saying difficult things to people who do not want to hear them. Thus I think it's a bit uncool to publish musings that touch upon his mental state, unless done with the utmost care, with every precaution taken to differentiate the general from the personal. I don't feel that the requisite level of care was achieved in this instance.
If we want to have this rule about avoiding discussion of our contributors and their mental health status — and again, I think it's an excellent rule — in my opinion, that needs to be true in perpetuity, even after said contributors have moved on to do other things. Not only for Freddie deBoer's sake, but for all of our sakes. This site would not exist without a fair number of people who have to stick their innermost thoughts out there, oftentimes facing some pretty savage criticism when they do.
Please, let's keep this one thing off limits.
Thank you for listening, and thank you all — writers, past and present, editors, and those who work behind the scenes keeping the lights on and the words flowing, for letting me be a part of what I think is truly one of the Internet's finest treasures.