Sunday Morning! "Time Regained" by Marcel Proust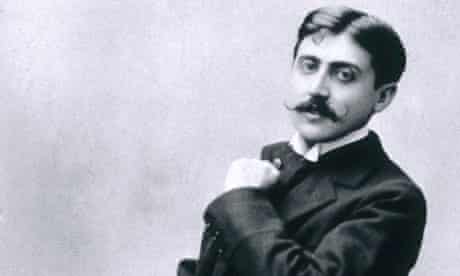 {All year, I've been blogging Proust's epic "In Search of Lost Time." Previous posts: 1, 2, 3, 4. 5, 6 , 7,  8, 9, 10, 11, and 12.}
---
And so, we've finally reached the end of Proust's epic "In Search of Lost Time", and, while it didn't always seem this would be the case, it all comes to a satisfying conclusion, not only wrapping everything up, but feeling as if this was all one lucid conversation we were having. At more than 4,000 pages and 1,267,069 words, it was a lengthy conversation, to be sure. But, let's be fair- Proust did cover an entire (fictional) life.
When I first read Proust in my 20s, I think I fell in love with the way he described those moments in everyday life in which, absolutely unexpectedly, joy suddenly comes crashing through the crust of experience. The way twilight will paint an empty room in fiery light and your heart will soar like a balloon for one instant. The way a smell or a taste or a piece of music will return you involuntarily to the moments in time you thought were lost forever. I suspect my 20s self loved Proust because he gave me a language for my own love of the world, which is the most any writer can do.
In my 30s, I was married and in graduate school, and the story cohered better in my memory, while the nuances of French society were clearer. I started to think of the hero as a sort of guide to doing philosophy in life. I also found his jealousy far more frustrating. I imagined myself to be in a stable marriage, unlike my parents', and believed that jealousy, far from being the spur to creative action that Proust seems to believe it, is simply poison. Of course, what I didn't pick up on then was Our Hero isn't so much misguided as simply badly coupled; his passion and aesthetic focus has been fixed on someone who is just not right for him. Perhaps I missed this because it was true of myself as well.
In my 40s, I find it easier to forgive him. Every time I found myself annoyed with how much time the character is wasting, I had to recall the lost time of my own youth, those weekends that fell away like grains of sand to the bottom of a vast ocean, never to be seen again.  All of the misconceived ambitions, dreams that would never bear fruit, romantic relationships built on sand, and friendships that one day vanished like the smoke rings my grandfather used to blow for us. We all waste time, scatter days like seeds where only a few will be worth reaping. And we do it because, in the enormous and seemingly endless manifold of our impressions, we never quite know which ones will make up the secret architecture of our lives… until much later anyway. Our hero is foolish and profligate and obsessive about all the wrong things, and he's truly, tragically, just like us.
In a sense, "Time Regained" is the volume in which our hero finally comes to his senses. He gets two big reminders of the fact that Time will swallow up everything eventually, and much quicker than we realize. The first is the World War that comes and passes over Europe like a very long storm, although our wealthy Parisian characters mostly stay dry. Many of them cope, in fact, by growing accustomed to the war and largely ignoring it, aside from those troubling air raids. The incorrigible Baron Charlus gives in to his more carnal urges, being discovered in a male brothel being whipped, and stays completely above the fray of nationalism, mourning the evils of war largely because it reduces the number of handsome waiters in his favorite restaurants! And our hero's friend, Robert de Saint-Loup, committed to the end to the valor of his noble lineage, dies gladly on the front lines.
After the war, our hero spends a length of time in a sanitarium for the vague health problems that have plagued him his whole life. When he returns to society after a few years away, he gets his second big shock. Time, it seems, is a great disguise artist, changing the faces of loved ones and the person he sees in the mirror into white-haired strangers. And society has reshuffled its deck once again. The great actress Berma has shrunk in stature as illness brings her nearer to death and selfish descendants keep her working past beyond her strength; meanwhile, her younger rival, Rachel, once a courtesan and mistress, has become the great actress of her day. The grating striver Bloch is now a great man of talent. The Baron de Charlus is senile. Odette, the former Mme Swann, has grown old and returned to her tartish ways. Most shocking of all, her artistic tastes have made the eternal Madame de Guermantes yesterday's news, and she couldn't care less.
Or, perhaps even more shocking: our hero has also grown old. Time, which is normally invisible, has made itself visible in his body and those of his friends. The world in which he came of age has passed away, and if he doesn't get started, he will never write his story. And then it happens….
He steps on two uneven paving stones and, beyond reason, joy comes rushing in. Just as it did with the passing girls on the beach, and the sight of the steeples of Martinville, Vinteuil's piece of music, and yes, the taste of a madeleine dipped in tea. All his doubts disappear in an instant, along with his anxieties about the future, which are, after all, always anxieties about death. The happiness that he feels in these moments takes him outside of Time, their memory allows him to transcend Time, and these moments thus make up his true life. He finally realizes the work ahead of him: Happiness sets him a riddle to be solved through art.
And surely this was a most tempting prospect, this task of recreating one's true life, of rejuvenating one's impressions.
If one were to write about all the events of a life in a uniform way, it wouldn't be true. It would be flat and have nothing of life to it. Our lives are lived in Time, but our impressions of different moments vary wildly. The work of the Artistic imagination allows us to aestheticize and preserve those privileged moments and, thus, in a sense, to regain Lost Time.
And as art exactly reconstitutes life around the truths to which we have attained inside ourselves there will always float an atmosphere of poetry, the soft charm of a mystery which is merely a vestige of the shadow which we have had to traverse, the indication, as precise as the markings of an altimeter, of the depth of a work.
He has finally seen not only how much Time he has wasted, when after all Time, not Space, is the real medium in which we life; he has also seen that the only way to escape it is "to make visible, to intellectualize in a work of art, realities that were outside of Time." So, this is what the entire story has come to: our hero finally sitting down to write the story. What has seemed, at times, a lighthearted tragedy ends as a story of redemption through art.
All our hero has to do now is remove himself from society and get to work; it's what he had to do all along. And, of course, it's the hardest thing to do for a writer because those who are not writers or artists are on a different schedule, to put it kindly. But this is how he will love the world: by detailing an entire vanishing society that maybe only he remembers, revealing its tedium and grandeur, the suffering that love provided, and finally those moments in which joy still broke through.
So, how do we "summarize Proust"? It is the story of how one artist found his way to the work of his life, in spite of everything.
So, what are YOU reading, remembering, watching, pondering, playing, eating, or otherwise taking joy in this Easter Sunday?