Saturday Spins: The Notting Hillbillies
Did you know, dear reader, that The Highwaymen were not the only country supergroup of the late 80s-mid 90s? Oh yes, the United Kingdom gave the world its own version. As you know, my collection contains multitudes, and last week I briefly covered legendary pop punk pioneers, Descendents. This week, I made the choice to slap this one on the platter, it features a member of my personal songwriter Mt. Rushmore.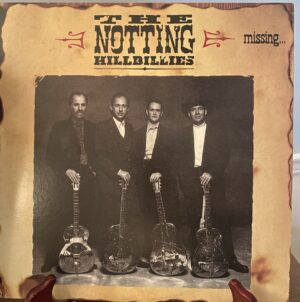 The Notting Hillbillies
Missing…Presumed Having a Good Time
1990
It is my presumption that Mark Knopfler was either very bored or had been waiting for precisely the right moment for this type of project. I realize it might have been sacrilegious to some when I compared this project to The Highwaymen, but please understand that I make the comparison due to their temporal and musical similarities. While I believe Mark Knopfler is a giant amongst other artists, he was not trying to upstage or beat the quadrumvirate that is Johnny, Willie, Waylon, and Kris.
However, along with Knopfler for this ride was a few well-known country and blues artists from the UK: Steve Phillips, Brendan Croker, and Guy Fletcher. A few other session musicians and lesser-known British musicians also participated on the project. Ed Bicknell, then manager of Dire Straits, played drums in the studio. What is so different about the Notting Hillbillies is that Knopfler eschewed front man status, and opted for a more background role. You can clearly hear his one-of-a-kind guitar tone throughout and he does sing lead vocals on one of the songs he penned.
If I ever go missing, and am legally declared dead, I most definitely want this album title as my epitaph. The rest of the album art is decent, it features the band holding dobro/resonator guitars with a dark background (front) and a shot of the shot from a studio (back). It may be hard to tell from the picture, but they have a logo that looks suspiciously like the London Underground logo. On the inner sleeve, both Notting Hill and Hillbilly are defined at the bottom.
Notting Hill: A west London suburb famous for the Portabello Road Market and the Notting Hill Carnival.

Hillbilly: 1. A usually disparaging. An unsophisticated person. Esp. from the mountainous areas of the southeastern U.S. 2. Another name for Country and Western.
This is their only album. The group in various forms has reunited sporadically for live shows/tours throughout the years, most recently in 2002. That was almost 20 years ago, so another reuniting does not seem likely at this point, but if Mr. Knopfler is reading this maybe he will make it happen.
Track by Track
1. Railroad Worksong
Now, I do not like to admit my mistakes, but not including this song in my previous post entitled "Songs About John Henry" was a mistake. One of many so-called "traditional" songs included on this album; the Hillbillies opted to do versions of old blues, country, and bluegrass standards in their own way. This is one of those traditional "hammer songs" I wrote about that are passed down generation to generation with the lyrical content changing ever so slightly from version to version. This version definitely stays true to the traditional arrangement and lyrical content, with some great Knopfler guitar leads in the background that are played along with the pedal steel.
2. Bewildered
This song was written in the late 30s, but it was made famous by James Brown in 1959 in a doowop style ballad. The Hillbillies' version features elements from the original composition, a jazz-cabaret style song, but there is a little bit of the James Brown spirit thrown in there with the background guitar played ever so softly.
the notting hillbillies bewildered 1990
3. Your Own Sweet Way
The sole Knopfler song on this album, he wrote it and sings lead vocals. It was the first single released from this album. You might still catch him performing this one live these days too. Seeing him live is definitely on my list, should he decide to continue touring. It is almost criminal that I haven't seen him live yet. This song is a slow-tempo ballad with eerie organ and pedal steel in the background. The organ eventually gets a solo where it sounds more like a carnival than a soulful tune.
The Notting Hillbillies - Your Own Sweet Way (Official Video)
4. Run Me Down
Another traditional track--this one was originally written in 1947 as a blues tune, and you can really hear it in the Hillbillies' version. The original song was entitled "You Got to Run Me Down" and was written by Jazz Gillum. This version puts a little bit more of a country-western spin on it with pedal steel guitar and swing piano.
The Notting Hillbillies "Run me down" 1990 Snape
5. One Way Gal
Here is a traditional country song that was originally written by William Moore in 1928. Lyle Lovett did a version in 2012, but The Notting Hillbillies tropical inspired version was done in 1990. A surprising and refreshing take on an ancient ragtime blues song. Upon first listen, I was not a huge fan, but now that I am revisiting this LP and doing some deeper research, I have newfound appreciation.
6. Blues Stay Away From Me
This is a (faithful) cover of the 1949 song of the same name by The Delmore Brothers. By now y'all should be getting that the theme of this record was not to stroke the songwriting egos of the various parties involved, nor was it a way for them to showcase new arrangements for songs that they already had written and performed. This album was a celebration of styles from a bygone era in mostly American music. The kind of music that was meticulously catalogued by the Lomax's.
7. Will You Miss Me
This track is probably the most notable one released by the Notting Hillbillies other than "Your Own Sweet Way." Written by Steve Phillips and released as the third single from this record. It is a very late 980s-early 90s country song. You can really hear Knopfler's guitar in this one. Hell, if it were sung by Knopfler, you'd think this was a Dire Straits song.
8. Please, Baby
This song is the last traditional blues standard on the album, it is a rendition of "Baby, Please Don't Go" which was originally written and performed by Big Joe Williams in 1935. Countless delta blues musicians sang versions of it, Van Morrison did a version, and so did AC/DC. There is nothing like a well-traveled blues song. Some historians have traced the roots of the song back to the 19th century as a slave song.
9. Weapon of Prayer
What's a country/blues record without a little gospel thrown in? This here track was written by Ira and Charlie Louvin, better known as, The Louvin Brothers. I have to say, I much prefer the original version of this song to the version that is on this particular album. I would say The Hillbillies do it some justice, but there is no substitute for the righteousness heard on The Louvin Brothers version in my opinion.
10. That's Where I Belong
Brendan Croker wrote this short and sweet ballad. An extremely traditional sounding country song. I guess when I just die and don't go missing and get declared dead, I would like these lyrics as my epitaph:
Show me a place where I don't have to worry
And that's where I belong
Show me a place where I don't have to hurry
And that's where I belong
11. Feel Like Going Home
The last song on the album is a pretty good cover of Charlie Rich. My favorite Charlie Rich song has to be "Rollin' With the Flow." It was covered by Kurt Vile on his most recent LP. It is such a great song. Anyway, Charlie Rich also wrote other good songs, and this is one of them. The Notting Hillbillies put forth a pretty good cover effort here. It was released as one of the singles from this album. It's also a great coda to a spectacular album.
The Notting Hillbillies - Feel Like Going Home (Official Video)