Owned On Facebook By My Mother: A Tribute
"[My mother] had handed down respect for the possibilities—and the will to grasp them." – Alice Walker
---
I have been thoroughly owned on Facebook by my own mother.
My spouse posted a little note on Facebook giving me some appreciation for the extraordinary parenting efforts in which I have recently engaged: re-learning 7th grade pre-algebra to be able to help my son. I was feeling pretty good about myself, when my mom came in like Superfly Jimmy Snuka off the top rope: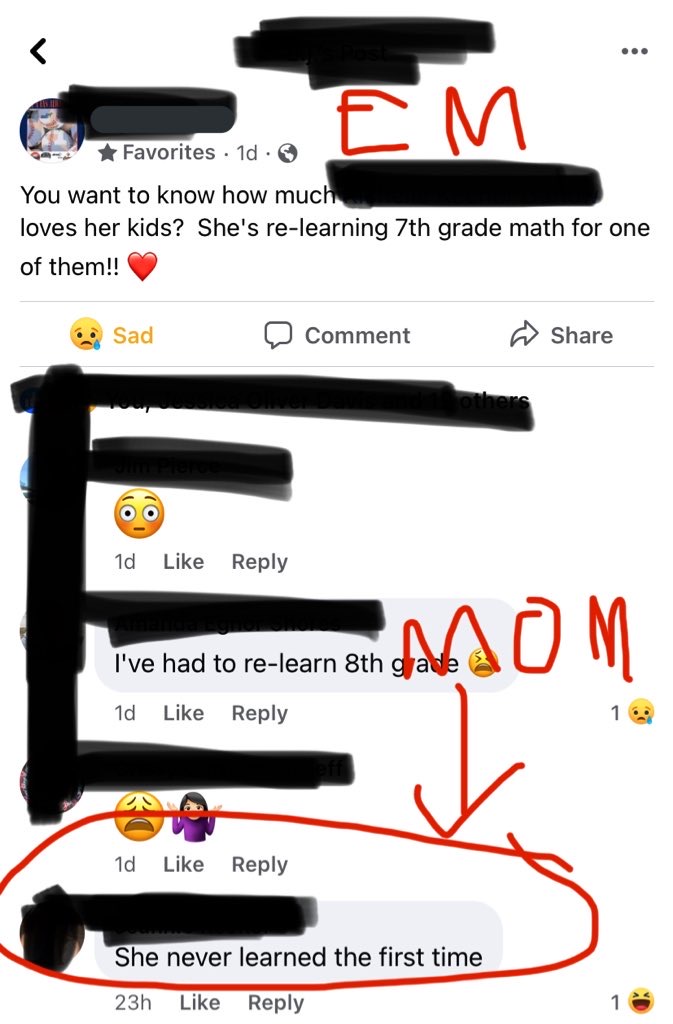 Thank you for the humbling, Ma.
This should probably be a Mother's Day post but when inspiration strikes, it's best I don't shelve it for a more opportune time. I am going to tell you about my mom, good, bad, and ugly, and I hope when I'm done I have adequately expressed my appreciation for her.
Let me tell you who she isn't:
She's not June Cleaver. Our house was always a disaster because she hates housework. I can't say she never had fresh baked cookies waiting when I came home from school because I feel like she probably did at least a few times, but that would be a random circumstance, not a usual thing. She's a great cook, though, and a loving and nurturing if not entirely conventional mom.
Of course, she's not an entirely conventional woman, either. My mom's life choices won't win her any awards, but no one could say it hasn't been interesting. She was born in Southern California and raised by her mom and stepdad, who had three more children. I have seen family photos from her youth. Five years older than her oldest younger sibling, she stood at least a head taller than all of them. In several group photos of the four children, she was only visible from the shoulders down. "Why is your head cut out, mom?" I asked. She replied, without any trace of self-pity, "It was a picture of the kids." I feel like this might give some insight into her childhood.
It is also helpful in understanding why she flew that particular coop as quickly as she could. By 19, she was married to her first husband. She gave birth to my sister in 1969, at 21, and was divorced soon after. She packed up my sister and migrated eastward, to the desert, where she got a job dealing Blackjack at Circus Circus. I was not even a glint in her eye and I don't know much about this time or most of the ensuing years, but I know my sister, somehow, had a horse named Rowdy and that my mom met her second husband here while working in the casino. The second husband didn't last very long; he left my 24-year-old mother for a younger woman within 2 years.
I'm not sure at what point in the 70s she met husband number 3; all I really know is he was from Ohio and somehow they ended up there, and he was gone by 1978. I know that, because that was the year I was conceived with who would be her 4th husband (eventually.) She had somehow ended up in West Virginia at a house party where she took a liking to the red-bearded, long-haired guy who showed up on his Harley. She enticed him with a promise that she could make him the best tacos he'd ever had. Pretty soon thereafter, biker dude moved into an apartment with my mom and my sister. My mom was a 30-year-old thrice-divorced mother of a 9-year-old. My dad was 21 and still lived at home until he met her.
In the fall of 1978, my dad wrecked his motorcycle. When I say wrecked, I mean the cops were trying to pull him over for taking an illegal right-on-red and my dad, drunk, decided it wasn't happening. My mom, having seen the chase begin (she had just gotten off the bike when she realized my dad was too drunk to hold it upright at the stop light), went to the police station and begged them not to chase him. "He won't stop," she pleaded. "You're going to kill him." Not quite, but almost; at some point my dad looked behind him to see where the cops were. When he turned back around, he saw "FORD" emblazoned across the tailgate of the truck he then ran into.
Witnesses thought he was dead. At the station, my mom heard on the radio "he hit a truck. Call a wrecker." He spent three months in the hospital. Sometime during his stay, my mom came for one of her daily visits and told him she was pregnant. "It seemed like a good time to tell him, because his jaw was wired shut and he couldn't yell at me," she once recalled. I was born in the spring; when I was almost four they got married.
With such an auspicious beginning, you can imagine that my childhood was not the most conventional. We had a house out in the country (paid for by my mom's parents), a fixer-upper that was never fixed up, and my parents both worked. My dad was a "tire guy" who was often on call to change tractor trailer tires at night. My mom did clerical work for minimum wage. We were well below the poverty line. They still liked to hang out with their biker friends, though my dad never really got his bike back on the road after the accident. By the time I was 5 my sister had moved to Oregon to live with her father, and my parents couldn't afford a baby sitter. I remember a lot of keg parties, lots of chain wallets, Harley t-shirts, and sleeping in the backseat of the car or on a random couch late at night while the partying continued. There were lots of evenings spent at the bar my parents frequented. I know that sounds crazy, and as a parent myself I cannot imagine taking my small kids to a bar, but it wasn't unusual then. I had a lot of friends whose parents also hung out there. It was the kind of place where strangers rarely came in.
Anyway, I tell you all this to paint a picture of the kind of mom I have. She wasn't traditional and probably in today's world, CPS would have been involved. That would have been very unfortunate. I was very much loved, if occasionally neglected and often exposed to some things children shouldn't be a part of. My mom told me every day, many times a day, that she loved me and was proud of me. I was a good student, and she spoke often of how I was going to go to college and would be able to do anything I wanted. It was spoken as though it were a given, not merely an aspiration. I knew there wouldn't be any money for college; it was assumed I would get scholarships (I did get a few small ones, along with grants and yes, loans.)
I had a lot of big dreams as a child and every single one was embraced by my mother. When I said I wanted to be an astronomer, there was a telescope, a star map, and books about astronomy under the Christmas tree. When I wanted to be an artist, I got a painter's easel for my birthday. When I was super into paleontology, I came home one day to find my room redecorated with cutouts of dinosaurs and was given a book called "The Encyclopedia of Dinosaurs" (which I still have). When I showed a talent for writing, I got a fancy electric typewriter for Christmas.
In short, I was able to succeed in life, despite the weirdness and dysfunction of my childhood, because my mom told me I would and did all she could to encourage me.
Here is where I should mention how she up and disappeared one day when I was 15, having run off with a trucker. It was as traumatic as you might imagine. I didn't hear from her for 8 months and didn't see her for a year and a half, and then just for a day before she moved to Oklahoma with said trucker. She was gone for over ten years, but has been back in West Virginia, back with my dad at our house in the country, since 2006.
If I ask my mom whether she's had a happy life, I think her honest answer would be no. She has had a lot of heartbreak, and she's been let down by a lot of people supposed to love her. But she's definitely had a lot of good times, and a lot of interesting experiences. She is extremely proud of her three grandsons. She loves her daughters. While her mothering may have left some holes, the love was never truly in doubt (save that whole trucker thing.) Last year when my sister was dying, my mother went out for a week's visit, then refused to leave. She was there in the room when my sister died, there when she was needed.
So when I saw her perfectly executed dig at me on Facebook, I laughed. My mom is not critical of me — in addition to not being June Cleaver, she is also not Marie Barrone — but she does not coddle. Nurture, yes; coddle, never. And my family is one where teasing is a common way in which we relate to one another. Also, she is completely correct; I failed miserably at my attempts at algebra when I was in school.
Say what you will about her flaws, and they are many, but my mom has had a life. She has done what she wanted, convention be damned, and I admire that about her. Maybe that's why I tend to eschew traditional expectations myself.
At 72, she still works full-time — partly because she can't afford not to, partly because she doesn't want to sit at home with my dad all day (he is another post I'm not sure I'll ever be able to write.) She is far from an old lady.
I admit I used to be embarrassed of her, so different was she from my friends' moms. I knew I'd be a completely different type of mom, and I am. But there are parts of her that I see in me. Like my mom, I have not lost myself in motherhood (though I like to think I've provided my sons with more security and stability.) Like my mom, I am not meek or demure. I am opinionated and sometimes loud.
I hope I remain as full of life as she is when I'm 72, and just as able to deliver a sick burn to my kid on Facebook.