Saturday Spins: The Many Shades of Blonde on Blonde
It's time for a Saturday Spins double feature, or quadruple feature, depending on how you look at these sorts of things. Last week I kicked of a semi-regular series on the various soundtracks in my collection with a Kubrick classic. Many of you know that I am somewhat of an amateur Dyanologist and have more Dylan knowledge packed away in my brain than most normal folks. Well today I am going to talk about my all-time favorite Dylan LP, which is coincidentally one of the best rock records ever made. I also plan to concurrently cover a record by a bluegrass/country rock outfit celebrating the 50th anniversary of that same record.
Bob Dylan
Blonde on Blonde
1966
Commentary
The third album in an incredible arc which saw Dylan going from weird folk kid from the village by way of Hibbing, Minnesota, to mercurial rock star. Depending on which Dylan historian you subscribe to or have read, Wilentz or Heylin, there are several conflicting accounts of personnel. A few constants were Robbie Robertson, Rick Danko, and Al Kooper.
When he began recording the album, Columbia execs pushed him to use the Hawks (The Band) in the studio in New York for it. Well, Levon quit for a bit and only one song on the album was recorded in New York, "One of Us Must Know (Sooner or Later)." In fact, there were numerous sessions that yielded virtually nothing for the album, besides the aforementioned song. However, many of these rough sketches and demos can be heard on the various Bootleg Series, Vols. 1-3 and 12, The Cutting Edge.1 Some of the songs from the New York sessions can also be heard on Biograph.
In early 1966, Dylan arrived in Nashville with Robertson and Kooper in tow to continue writing and recording. At this point, a group of soon-to-be-legendary-in-their-own-right Nashville session musicians were tapped to join as well. This group included, Charlie McCoy, Kenny Buttrey, and Joe South. Sean Wilentz spent a great deal of time in his book, Bob Dylan in America, discussing these sessions. Much like previous discussions I have had here, with Dawes and The Cowboy Junkies, the recording of Blonde on Blonde was done live to tape in a studio san partitions.
The end result was a masterpiece and rock's first double album.
The intersection of Dylan and Old Crow Medicine Show (OCMS) is a fascinating one. OCMS were discovered busking in front of a drugstore by Doc Watson's granddaughter who brought the old guy over to hear them. Many many years before that, front man Ketch Secor was given a bootleg2 that his friend and former bandmate Chris "Critter" Fuqua procured while on a trip to London. On this bootleg was a rough sketch Dylan wrote in the early 70s called, "Rock Me Mama."
To make an incredibly long story short, Secor pursued the rights to the lyrical content of the unfinished sketch and wrote is own song, yes, that Darius Rucker song that all of your friends like originates with OCMS by way of Bob Dylan. I am here to tell you that the OCMS version is much better than the Darius Rucker one, but I get the feeling you all knew that my very correct opinion was of that nature.
Since they are Dylan devotees, in 2016 OCMS played and recorded Blonde on Blonde live in its entirety with their own spin and arrangements. The end result: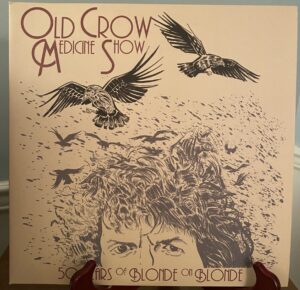 Old Crow Medicine Show
50 Years of Blonde on Blonde
2017
OCMS angle in making this record was obviously a tribute, but on another level, it was an appreciation for what Dylan did with a rock record: he brought in subtle Nashville-style country influences into mainstream rock. At the point in 1966 when Blonde on Blonde was released, we were still 3 years and one serious motorcycle accident from Nashville Skyline, Dylan's only real country album. One has to wonder if the combination of his influences and time spent with Nashville sessions musician got him thinking?
Old Crow Medicine Show - 50 Years of Blonde on Blonde (Album Trailer)
The artwork for both of these albums is pretty simple. Of course, with the original double LP, you have somewhat blurry portrait of a young Dylan, and with OCMS, there is some great artwork of the portrait with some crow accoutrements. Anyone who owns the LP version of Blonde on Blonde knows that it opens to be a full length picture of the man himself.
So, in order to make the double (or quadruple) feature work, I will do my typical track by track, but do a little comparison between the two albums. I mean, nothing compares to the original, but as I stated before, OCMS did a great tribute to a legendary and perfect album. I suppose I can throw in other versions by other artists as well--giving some accuracy to the title of this article.
Track By Track
1. Rainy Day Women No. 12 & 35
In order to keep driving the dagger into his former Folkie fanbase, Dylan wrote this wild song about getting stoned. The "getting stoned" has a dual meaning in this case, biblical and drug use. I am fairly certain everyone has heard this song, but if you haven't, it sounds like an insane marching band at a party. The OCMS version stays true to the form of the song, which I think they did on purpose for this track in particular. Since this was OCMS's first album on Columbia, they did a video if them literally marching into the offices in New York playing this song. I couldn't find that video, but here is a great live version:
Old Crow Medicine Show - Rainy Day Women #12 & 35 (Live)
2. Pledging my Time
A delightful blues song in the vein of Robert Johnson and the Mississippi Sheiks. You can hear those influences loud and clear. OCMS flips the script a bit and turns this song into a manic punk/bluegrass jam.
3. Visions of Johanna
One of Dylan's greatest writing accomplishments. I previously talked a bit about personnel and the difference between New York and Nashville for this album. He tried recording this song with just the Hawks at first, but couldn't quite get the sound like he wanted. It is a song that can only be described as an epic, noirish, poem. Each verse tries to tie together a specific story or narrative, but if you listen closely, its all just scattered imagery with a broader tribute to a lost and unattainable love, Johanna.
If you listen to a few of the outtakes contained in Vol. 7 and Vol 12 of the Bootleg Series, you can see the sketch of the song evolving. As I mentioned, my favorite version is not the Blonde on Blonde version, but The Cutting Edge version is:
Bob Dylan - Visions of Johanna
OCMS does another serviceable job of staying true to the original. Their version is nearly identical to Bob's original version with a bit of bluegrass pizazz thrown in to put their mark on it. No one can do this song like Bob Dylan.
4. One of Us Must Know (Sooner or Later)
The only song from the New York sessions to survive and make it onto the album. It is a mournful and inwards-facing song about a jilted lover. The Dylan version is a classic that prominently features piano and organ with some light guitar work. The organ might be my favorite part to be honest. OCMS opted to do a very quiet version featuring mainly fiddle with some acoustic guitar. Ketch's vocals carry their version like the organ carries Dylan's.
5. I Want You
A short and whimsical song with a, uh, diverse cast of characters. None of them seem to really fit the song as a story, to me it is about two lovers walking through a busy park, hence the presence of an organ grinder, dancing child, weeping mothers, to name a few. OCMS does a good job of keeping the spirit of the song, but bringing out the country flavor that Dylan only flirts with on the album version.
6. Stuck Inside of Mobile with the Memphis Blues Again
This is probably my second favorite song on the whole album. This song alone is worth an article of 1200 words. Each verse has its own unique set of lyrical content and it always comes back around to "Oh, Mama, is this really the end/To be stuck inside of Mobile/With the Memphis blues again." This would seem to represent a blues "turnaround," or even a way to break up the dense lyrical content from each verse. The song itself is really a country-rock song and OCMS brings that out in their version with an up-tempo country-rock romp.
7. Leopard-Skin Pill-Box Hat
A fashion icon at the time, the pill-box hat was iconic, from Jackie-O to Edie Sedgwick. The latter is purportedly the subject of this song, and a few others on this LP. Dylan's version is bluesy and has some lyrical allusions to a Lightin' Hopkins song called, "Automobile Blues." OCMS stays true to the original arrangement for the most part, albeit with a bluegrass tinge. Another great version of this song was done by Raphael Saadiq.
Leopard-Skin Pill-Box Hat
8. Just Like a Woman
One of Dylan's most popular songs and also purportedly about Sedgwick as well. Despite Dylan being married to Sara Lownds by this time, he does go out of his way to explore lost loves, former relationships, and flings. Many of these songs are very cryptic or written so very few, if not just two, people know what they are truly about. The OCMS version is as low key as the original, but sounds like it could be a mainstream country song. It's nice that some band members harmonize along with Ketch during many of the parts.
9. Most Likely You'll Go Your Way and I'll Go Mine
A bit of country influence can be heard throughout this song, but underneath that it sounds a bit like you're at a carnival. As with most songs on here though, it is really good, especially lyrically. OCMS took some liberties with the arrangement of this one especially. They sped up the tempo considerably and made the chorus sound a bit more epic. Mark Ronson released an excellent remix with a video in 2007. I have the 45 with his version and the original that was a Record Store Day release, I believe. The video goes through the many stages of Bob up to that point, much like "Thunder on the Mountain" does, but the Ronson remix was 14 years ago, so I think it may need some updates.
Bob Dylan - Most Likely You Go Your Way (And I'll Go Mine) (Mark Ronson Remix (video))
10. Temporary Like Achilles
Another great song with dense and ironic lyrical content. Only Bob Dylan could throw verbal darts at entire subcultures while simultaneously titling a song with a figure from Greek mythology. Most of this song, and some of the previous ones, make references to the folkies which Dylan used to preach to regularly; until that electric guitar came out of the case, that is. Dylan's version is a very bluesy jaunt, while OCMS speeds it up yet again with a bit more of a rocker.
11. Absolutely Sweet Marie
"To live outside the law you must be honest." I can still remember the first time I heard those lyrics and my brain melted. What does that even mean, man!? I love both versions of this song, the original is pure rock, while OCMS puts a bit of a country/western spin on it with pedal steel and piano. There is another version I hold near and dear to my heart, and that is George Harrison's version from the Bob Dylan 30th Anniversary Concert. If anyone has a lead on where I can find a purple jacket like Harrison is wearing here, let me know.
George Harrison Absolutely Sweet Marie Dylan Anniversary
12. 4th Time Around
Speaking of The Beatles, here we have what has been rumored to be a response to "Norwegian Wood." Same time signature, similar themes, and Dylan taking some shots at John Lennon for his theft of Dylan's songwriting toolbox. I discussed this song and more on the Saturday Spin for Rubber Soul. OCMS keeps it pretty true to the original arrangement, and do an admirable job of covering the song.
13. Obviously 5 Believers
A very blues song that sounds like it was an outtake from Highway 61 Revisited. When Dylan does the blues, he does it well. The harmonica truly makes this song great. The rest makes you want to get up and boogie. OCMS flipped the script and made it into another bluegrass hoedown replete with fiddle and banjo.
Old Crow Medicine Show - Obviously 5 Believers (Live)
14. Sad Eyed Lady of the Lowlands
Everyone knows that this song is a (long) love letter to Dylan's first wife, Sara Lownds. There are 1000000000 opinions out there by various music critics, amateur Dylanologists, and the writers I cited above, Heylin and Wilentz. Really listening to it only sparks more questions; ones that will never be answered either, because Bob. It becomes pretty apparent that his pen just kind of took over--much like Grady Tripp in the book/movie Wonder Boys, whose second novel was many years and thousands of pages in the making because he just kept writing and the ending kept getting further away. The OCMS version stays true to the original, there's not much else that could have been done to such a personal song other than a straight cover.
---