Game of Thrones: The Awesomization of Sam Tarly
The author is writing a series while rewatching Game of Thrones and re-reading the books. The other installments can be found here, here, here, here, here, here, and here.
---
In the TV version of Game of Thrones, the character Sam Tarly undergoes a dramatic transformation, evolving from a cowardly, gentle, artistic boy into a braver, stronger, (slightly) more bloodthirsty man. He kills wights, goes into battle against Wildlings, saves his girlfriend Gilly from being raped on more than one occasion, is the only character in the whole ensemble who manages to father a child, and becomes the Grand Maester of Westeros despite having very little training.

According to the show, Samwell Tarly is freakin awesome.

But then I reread the books. As I turned page after page, I kept waiting for Sam to man up, but it didn't happen. I kept waiting for the magical transformation from zero to hero I recalled from the TV show, and it never came. Sam was a whiner and a coward and a weakling, and he kept on being those things long after the TV show had awesomised him. Sam Tarly as GRRM originally conceived of him, is very far from a traditional fantasy protagonist, even in the chapters where the story is told from his point of view.

It was then that I realized that the action hero transformation Sam makes in the show wasn't what George RR Martin was going for when he created the character. Sam Tarly was never meant to be the pudgy guy who gets pushed hard and toughens up and ends up reluctantly becoming a hero. That was NEVER meant to be Sam's arc. What Book Sam does instead is much more interesting1 – he stays himself and finds another way to exist in the world, succeeding somehow without his parents' blessing, as many of us have to do when we grow up and learn the sad truth that with some people, there just ain't no pleasing them.

Brief aside – this is in keeping with the hints GRRM has dropped that the character of Sam is him writing a character much like himself. Martin famously refused to serve in the Vietnam War, had a troubled relationship with his father, and has some external qualities that are quite similar to how he describes Sam.




So what do David Benioff and DB Weiss do with all that? Well, they basically undo it, in a way that not only doesn't improve the character whatsoever, but actually directly undermines Sam's intended arc, while reducing the character of Gilly to nothing more than a cheerleader, a means to an end of making Sam cooler. And why? Well, because Benioff and Weiss weren't telling a story, they were thinly stringing together a series of cool tropes, and there's little cooler than an action hero.

(How little did Benioff and Weiss care about Sam Tarly? Well, in the DVD commentary, they forgot that Sam was a POV character in the books, and worse, that he was the eldest Tarly brother. That latter fact is critically important to Sam's character, and the showrunners-slash-writers didn't even care enough to bother to get it right on the DVD commentary!)

To recap: Samwell Tarly is an intelligent, kind, but cowardly and physically inept young man who was sent to The Wall around about the same time as Jon Snow was. Sam is the heir to Horn Hill, but his father Randyll prefers his little brother Dickon, because even though Dickon too is quite a nice person (it would have been soo easy to make Dickon Tarly Gaston Lite, and it's great that Martin resisted the temptation), he's a vastly better warrior than Sam. In order to make Dickon his heir, Randyll Tarly has his eldest son Sam shipped off to take the Black, expecting the soft and gentle Sam to quickly die in the North as a brother of the Night's Watch.

Not only does Sam survive, he finds a way to thrive at Castle Black, not through performing feats of strength or courage, but through his kindness and intellect, by becoming an apprentice maester. He helps Jon Snow to become Lord Commander of the Night's Watch, and uncovers secrets in his research that help defeat the Night King, also giving Jon a legit shot at the Iron Throne. Sam gets a cute semi-Wildling girlfriend called Gilly along the way, though in keeping with his status as Totally a Beta, she comes along with someone else's kid.

Sam ends up performing a lot of heroic acts he never expected, including going North of the Wall, helping a damsel in distress, and killing a wight, but in the books, even though he does these things, he never gets over being a coward, nor does he get over his inclination towards passivity. Yes, he does a few brave things along the way, but it's mostly by accident, and generally with a lot of complaining and quailing in terror. Yes, he gets the girl, but it's not really an intentional act on his part.

Now let's compare that to Sam Tarly in the TV show. In the show, Sam kills a wight and a Thenn and it becomes a huge point of pride for him. The sheer act of killing earns him respect among his fellows – unlike in the book, where the moniker "Sam the Slayer" is bestowed upon him sarcastically, in the show it's used as a term of endearment. Far more of Sam's screen time in the show revolves around him performing acts of violence than of kindness, and his thirst for knowledge is pushed to the backburner and even openly belittled, not by the other characters, but by the writers themselves.
Yes, belittled. Sam travels all the way to Oldtown to do research how to kill the Others and learns NOTHING. He doesn't even uncover that dragonglass kills wights – Stannis Baratheon told them this, and Sam promptly forgot (even though he had killed a wight with dragonglass himself.) Even Jon's parentage was discovered by Gilly, not Sam…and he interrupted and ignored her when she tried to tell him about it! And somehow at the end of the show, Sam is named Grand Maester, despite not having the years of training such a role would require. It's a joke.

The Amazing Adventures of Sam Tarly in the TV series basically prove Sam's father right! According to TV Sam's storyline, Randyll Tarly was completely justified in his abuse, and completely justified in sending Sam to The Wall on point of death. Because Sam DID learn to be the type of man Randyll wanted him to be all along…tougher, stronger, braver. Sam succeeded – on Randyll's terms.
The implications of TV Sam's character arc seem to be that the only way to be a successful man is to become a badass and give up on all that book learnin', which, as it turns out, didn't matter anyway. Sam didn't learn anything of value from those moldy old books, just as his father predicted, and he got named to a high position without ever needing to do the work to attain the position. It's not what you know, Sammy, it's WHO you know. Knowing things is for suckers and chumps, it's way better to kill some stuff and join the Good Old Boys Club, just like your dad, and David Benioff and DB Weiss too apparently, always wanted.

In the end, Sam Tarly becomes his father's son. One of the moments of TV Sam's supreme triumph is when he leaves his family home, Horn Hill, and steals his family's sword – acting as if he intends to use it!
Sam steals his father's sword - Game of Thrones S06E06

This scene could have actually worked, because one of the primary messages of ASOIAF is that Violence Is Bad. This scene could have worked if Sam took the sword and said something like "the Tarly family sword will never kill a living being again, only wights" or something in keeping with his character, the plot, and the theme.
But Benioff and Weiss treat that Violence Is Bad message as nothing more than a plot device, handy Manufactured Angst to bring out when it's convenient and put away when it isn't, like a big lump of Kryptonite flinging in from the sky to fell Superman. Whenever the writers want Sam to have a big moment where he looks like an action hero, they put Violence Is Bad away for a while and it matters not a whit to them if it completely undermines the character and the theme of the show to do it.

But it's not just badassery where TV Sam Tarly is awesomized. It's also in the bedroom.

My latest piece Game of Thrones: Bad Romance was about the stunning lack of romance in the TV version of Game of Thrones. I got a lot of pushback on that piece, but one of the things I got the most pushback on was Gilly + Sam, which I have emphatically filed under "unromantic".
To my surprise, a whole lot of people seem to think their relationship is romantic in the extreme. When I wrote my original piece, I actually thought of dedicating a section explaining the total unromanticness of the Gilly/Sam coupling but since I wanted to write about Sam anyway, I decided to plunk it here instead, so plunk I shall.

No, TV Gilly and Sam are not romantic. They are not romantic at all. Yes, they do hook up, and they have some sweet moments, and may even end up in some sort of love (yay!) but the underlying dynamics of their relationship are so problematic it sucks every drop of romantic magic out of it for me.

For starters, TV Sam is portrayed as a complete horndog from Day One. (If you'd like evidence proving this assertion, let me direct you to the work of blogger Turtle-Paced, who has kindly compiled a comparison/contrast of Sam's attitude towards sex using dialogue from the TV show vs. the book.)

TV Sam is both preoccupied with the tawdrier elements of the sex act, and portrayed as a bit of a desperate creepy voyeur trying to live vicariously through the experiences of others. More of Sam's dialogue in S2 is dedicated to sex than to the business of the Night's Watch! In that same essay, Turtle-Paced also points out how Sam's dialogue also carries undeniable elements of fat-shaming, homophobia, and implications that a man is not a man unless he has had sex.

This is the exact type of toxic masculinity men like Randyll Tarly would exhibit.

Now, this would not be a problem per se, if we were able to write this off as locker room talk between Men of the Night's Watch, with the understanding that Sam isn't a perfect paragon of virtue. But taking delight in boorish attitudes flies in the face of the person who Sam Tarly is meant to be! Sam being a typical bottom feeder undermines his story arc by proving Randyll right once again (fat guys are creeps! manly men are better than wimps! caring is for chicks!) and casts a disturbing light upon his later interactions with Gilly – a guy helping a woman out of the goodness of his heart reads a lot different than a guy helping a woman out of the fullness of his balls.

Then Benioff and Weiss removed Gilly's agency completely, reducing her to little more than a uterus first and a love interest for Sam second. While researching this piece I encountered a thread on Reddit about the alteration of Sam's character, in which Gilly was referred to as a "Sexy Lamp". That just about sums it up.
In the books, Gilly is not introduced as "Sam's Potential SexxyFunTime", but as a completely independent person from Sam. She takes it upon herself to approach not Sam, but Jon Snow, presenting Jon with a moral dilemma he cannot ignore. Craster's wives/daughters, like Gilly, are being abused both physically and sexually. Gilly is a prisoner, and she wants out. There is a 50-50 chance that the child she is carrying will be sacrificed to the White Walkers, and even if it lives, it will be born into the same life of sexual servitude Gilly herself is bound to if she cannot get it to freedom.
There is a bitterly ironic moment in the books where one of Craster's other wives, under the command of Craster himself, tells the Night's Watch "It's better to die free than live as a slave," in an attempt to prove that Craster's wives are happy people ostensibly living in liberty North of the Wall. But it is obvious that every one of Craster's wives, Gilly included, is not living free, regardless of their geographic location. Here Martin is making an emotionally intense statement on the reality of what it means to be a woman in a man's world. By virtue of her husband's reluctance to "be a slave" to a king thousands of miles away, a woman is put into extreme physical danger, yet she remains a slave to the only king who matters – the one she has to sleep next to every night.

(Let's just say I don't enjoy Little House on the Prairie as much as I once did.)
Sam, despite being chronically passive as created by GRRM, was written by Benioff and Weiss to handle EVERYthing Gilly did in the books, to take every action and make every decision, while Sexy Lamp Gilly remained utterly dependent upon him. In the book, Gilly was an active participant in her own rescue, prepared to do anything to get away from the terrible situation she was in and save her child's life. She even offers herself to Jon Snow as a wife in exchange for rescue for herself and her unborn child. She lays out a plan to Jon, tells him the reasons why she thinks he may be willing to help her (he did not accept Craster's hospitality, and so will not be violating the rules of guest right) and is generally quite clever. But on TV, Sam does all this for her instead.

Further adding to the Squick Factor, there is undeniable implication that Gilly feels she OWES it to Sam (both in the book and in the show) to have sex with him. In all honesty we have no idea how Gilly actually feels about Sam. She has to do what she has to do to survive, and that involves winning over the one person who appeared to be somewhat on her side by any means necessary. Yet TV Gilly is meant to do this as a character without any agency of her own, just this side of a Stepford wife, a damsel in distress waiting to be saved. In the books, she may not have had a choice, but she fought to make one anyway. In the TV show, not only did Gilly not have a choice, but she also didn't even seem to WANT a choice.
Even once Gilly gets South of the Wall, what else could she do but continue to pursue Sam? When he took her to Mole Town, the audience catches a glimpse of what her fate would have been without him. To Gilly, the question of "better to die free or live as a slave" is subsumed beneath "is it better to be a whore for one man, or a whore for dozens?" The solution to that equation is clear. And in honor of the millions of women who have been forced to find a solution to that most female of problems throughout history and even to this day, I find Gilly to be both the most heartbreaking and yet most relatable female characters in of all of GoT.

This is the context in which TV Sam meets Gilly. Sex is not romance for Gilly. Sex is something that has been inflicted on her. Sex is at best a commodity she can use to buy her child's life. Consent is a notion so far removed from Gilly's experience she probably wouldn't know what it even meant. How can a person consent when they have no choice?

People take note of how messed up it is that Daenerys is raped by Khal Drogo and later on comes to fall in love with him. But to romanticize Gilly and Sam's relationship, I think, is very much akin to the same thing, if not even worse due to the sheer power imbalances involved. At the least, Daenerys was a princess.

If you were, for instance, to see a movie where a cop saves an illiterate, dirt-poor woman from a lifetime of human trafficking, and then started sleeping with her, knowing as he did that she couldn't survive on her own and that she was most likely only consenting out of obligation borne of desperation, you would surely agree that the cop was being grossly unethical in doing so. In any other conceivable context getting those two characters together using anything but the greatest of care is not only not romantic, but downright disturbing.

Now, please understand, disturbing isn't inherently bad; in fact, a problematic relationship can be extremely interesting when it sheds light on the human condition (NGL, I kinda want to see that cop movie) but it isn't what I consider romantic, and the fact that the GoT writers treated it as such is troubling to me.
Benioff and Weiss treat Gilly + Sam not with kid gloves due to the seriousness of the power disparity underlying their relationship, but blithely, dismissively, as if they're characters in a rom com. They write Gilly and Sam's first encounter as a lighthearted "meet cute" scenario despite the fact that Sam was ogling Craster's wives lasciviously only moments before meeting her and clearly has sex on the brain, and despite the fact that Gilly is a victim and a prisoner.

Maybe this doesn't bother you, but for me, it cheapens Sam rescuing Gilly to such a huge extent I cannot ignore it.

In the book, Sam claimed to want to help Gilly because she was scared and he knew what it was to feel scared (of one's own abusive father, no less). His motives were pure – or at least not completely tainted…I'm sure book Sam, being only human, is somewhat of an unreliable narrator in that regard. But in the TV show, there was no doubt left in the audience's mind that he saved Gilly at least in part because he wanted to have sex with her, and why? Because dudes wanting to have sex with hot chicks is HAWT! And it makes Sam, like, so much totally more manlier if he wants to bone, amirite?

This thorny tangle of horribleness that is Gilly + Sam could have been well done and interesting due to its very realness, but of course David Benioff and DB Weiss simply could not allow that, because well done and interesting does not equal KEWL!
To focus on the ethics of Sam and Gilly's relationship would diminish the awesomization process and that could not be allowed. So, they reduced Gilly to a plot device to becoolify Sam with, using much the same technique they used to change Sansa's assault during the Riot of King's Landing into a ploy to make the Hound look more admirable when he intervened. In both cases, a female character was victimized primarily to enable a male one to rescue her, and that's one step away from fridging.

I hope it's becoming obvious now why I don't find Gilly and Sam's relationship as written by David Benioff and DB Weiss to be in any way romantic. It's because it isn't MEANT to be romantic. It's meant to make Sam look awesome-r. Because at the end of the day, Benioff and Weiss are decidedly in Camp Randyll Tarly. They don't like no goddamn sissies in their TV shows!

But wait, the awesomization of Sam Tarly is not yet complete!

When Sam gave in to Gilly's charms, he did something pretty bad. Beyond the ethics of sexual consent, he violated his vows of chastity, the vows he took when he joined the Night's Watch, those vows he swore before the gods themselves, to serve his brothers and to guard Westeros.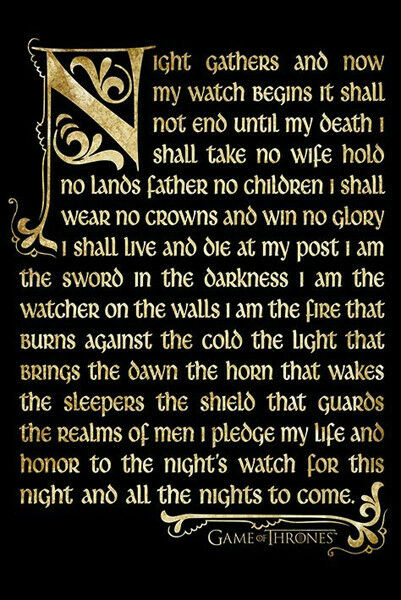 Some pretty intense stuff there. And Sam has given all that up…given it all up for the P…and yet faced absolutely no consequences whatsoever2. Everyone at Castle Black just shrugged and was like "meh" even though they still had to stick to their vows, and they had gone to all the trouble of hanging up that great big sign that read "No Girls Allowed" on the door.

Maesters are meant to be celibate too. That's kind of a big deal in GoT, actually. It was one of the reasons why Grand Maester Pycelle was such a hypocrite, because he wasn't celibate, and was one of the reasons Tyrion Lannister got the jump on him. Yet when Sam came rolling into the Citadel with a chick in tow, to be trained as a maester on Jon's command, no one cared that he brought a plus one. (two, actually) It was like everyone just kind of forgot about that inconvenient "chastity" rule. In the real world, Gilly arriving at the Citadel would be the equivalent of a woman with a baby moving in alongside one of the priests in the freaking Vatican and the muckety mucks at the Catholic Church tolerating it.

Not bloody likely.

But why, you may ask, does this awesomize Sam? Well, because action heroes don't have to follow the rules. Action heroes can kick down doors without a warrant, shoot everything up indiscriminately, kill dozens of minions, blow up whole entire buildings, have car chases through crowded city streets, punch the nosy reporter, tell the guys at Internal Affairs to eff themselves, and sail off into the sunset with the mayor's daughter and no one ever says anything to them.

Because they're JUST THAT AWESOME, they don't have to follow the rules. And with that, Sam's awesomization is complete. Rules are for beta cucks, not action heroes, and David Benioff and DB Weiss, apparently just couldn't bear to write a lew-zer, even when that's the way the character of Sam Tarly is by design.

One of the best parts of Game of Thrones – for me, anyway, THE best part, except for Sansa – is that actions always, always have consequences. Catelyn takes the Imp prisoner. Robb Stark marries the wrong girl. Edmure Tully wins a battle he was supposed to lose. Cersei tries to use the Faith of the Seven as hired muscle. Joffrey crosses the wrong old lady. Some sort of consequence comes from every action, something happens that makes sense given the rules of the world.

In the later seasons of Game of Thrones, Benioff and Weiss dispense with any and every consequence for Sam's actions, because they are determined to err on the side of balls to the wall awesomeness. Heck, he basically makes out with an army of wights for a good long while during the attack on Winterfell (I would imbed a video, but they're all pitch black and impossible to see anyway) and yet he somehow survives unscathed.
But Sam Tarly is not an action hero. He was never meant to be awesome, he was meant to be Sam. And maybe that worked for some people, but it didn't work for me.

Because the lesson that so many of us learned back in the middle school that the creators of Game of Thrones apparently never did, is that the people who try the hardest to be cool are actually the lamest ones of all.


---
Sam's unremitting lack of heroism very much reminds me of how my expectations re: the Hound were also subverted by GRRM…I thought "hmm, this complicated bad guy will end up turning good a la 7 zillion Hollywood redemption stories" but then it never really happened that way.