Saturday Spins: Soundtracks Vol 1, 2001: A Space Odyssey
In order to mix it up a bit here on Saturday Spins, I decided to delve into one of my many soundtracks, hence the "Vol. 1" designation. Although soundtracks made up of classical music pieces tend to sound a lot better on vinyl, admittedly if you choose to digest these sorts of pieces whilst working, using digital files is a lot easier.
Since I am a huge nerd, I enjoyed games like Baldur's Gate and Baldur's Gate II. I still do on occasion; I enjoy the familiarity of the same games rather than buying and playing new ones.1 It's not like I have time to do that anyway. The scores for these games are fun to listen to while working or writing. I don't believe they exist in vinyl, but if they do, I'd probably buy them.
I also do have a decent collection of classical music in my collection, but like rap/ hip hop, I have not covered any of them yet here on Saturday Spins. I am always taking requests if you want to dig through the 800+ pieces in my collection on Discogs. Here is a list of current soundtracks, or soundtrackish records, I do have on wax:
Star Wars--John Williams, The London Symphony Orchestra. This one is a reissue of the soundtrack of A New Hope.
The Big Lebowski--An actual collector's item that is still sealed going against my policy of unsealing records to listen to them.
O Brother, Where Art Thou
Crazy Heart
Big Chill
More Big Chill
More American Graffiti--I have been on the hunt for the first soundtrack volume from this excellent film.
Grease
Sound City--Real to Reel
Ben Hur--Miklos Rozsa
Frozen II2
The Last Waltz--which is technically both a live album and a soundtrack in my humble opinion.
No Direction Home--Again, technically a Bob Dylan Bootleg Series release (Vol. 7), but is the soundtrack for Scorsese's film of the same name.
Bernstein's West Side Story Symphonic Dances
So, there are plenty of LPs there to have many volumes in this ongoing series. I am open to requests for the next one.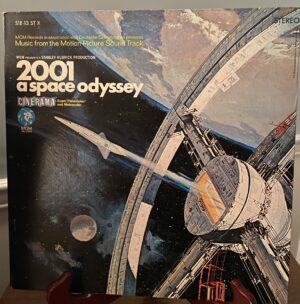 2001: A Space Odyssey
Various
1968
Commentary/Music
Nothing like a soundtrack to a movie that features a homicidal computer. 2001: A Space Odyssey is not my favorite Kubrick film, that designation belongs of course to Dr. Strangelove, but it is a seminal film in the science fiction arena. This record has the designation of being part of my original collecting spree.
Kubrick originally ordered a score for the film to be made by Alex North. Kubrick was a bit of an eccentric, so without telling North, he went ahead and had a soundtrack curated from existing commercially available pieces of classical music. One of the things the film is known for is the use of the music in most of the scenes instead of dialog. They let the music accompany the imagery.
Rather than do a track-by-track analyses as I usually do, I am going to just kinda touch on the various pieces in this film that are ubiquitous in our modern world. Everyone is familiar with Richard Strauss' "Also Sprach Zarathustra." Anyone that watches anything remotely sci-fi has heard it, anyone that is a fan of Ric Flair has heard it, and of course, if you have seen this film, you hear it not once, but twice!
I harp a lot of the importance of physical media, and I cannot stress enough that this kind of soundtrack, and this kind of music, is meant to be played in a quiet, dimly lit room, on the hi fi. You can put compressed audio files through good noise-cancelling headphones to come close, but it ain't the same. If you can't do this, then you're just gonna have to take my word for it.
Main Title: Also Sprach Zarathustra (2001: A Space Odyssey Soundtrack)
Another piece of music that has been shot into our collective consciousnesses since we were all youngins' is "The Blue Danube" by Johann Strauss II. It is used in the film during the scene where various spacecraft are seen docking and undocking from a space station and flying to the Moon. Space waltz! Of course, everyone has heard this piece in various forms of media as well.
The Blue Danube (Excerpt) (2001: A Space Odyssey Soundtrack)
Kubrick used those two traditional and well-known pieces to great effect in the film itself. It's really tough to write about this soundtrack without going on and on about the scenes in the film itself. Heavy is the head, folks. Another piece he uses, and I think it really does a great job of making the audience feel like they're in space, even though actually being in space is a pretty exclusive club, is the third suit from Aram Khachaturian's "Gayane." The Adagio is such a haunting piece of music, and listening to it on wax in a quiet room is a sublime experience.
To use micropolyphony in order to convey the feel of certain scenes in the movies, Kubrick turned to three works by György Ligeti. What is micropolyphony you ask? It is basically lines of music and rhythms played simultaneously in order to create a dense effect. Just give "Atmospheres" a listen, you eventually become overwhelmed in a way. I can only describe it as thick or dense, students of music theory may be able to assist me with a better way of explaining it. Kubrick also utilized "Requiem for Soprano, Mezzo-Soprano, 2 Mixed Choirs and Orchestra" and "Lux Aeterna," by Ligeti.
Lux Aeterna (2001: A Space Odyssey Soundtrack)
Finally, no discussion of music from this film would be complete without discussing the song "Daisy Bell" as sung by Hal 9000 shortly before its death at the hands of Dr. David Bowman. "Daisy Bell" was the first song "sung" by a computer--in 1961! The interpretation being as Dr. Bowman ripped out Hal 9000's processor, it was devolving back to the earliest feats a computer was programmed to do. Think of it as a homage. In the end Dr. Bowman ends up evolving in a sense.