Sunday Morning! Sodom and Gomorrah by Marcel Proust (pt.1)
{I've been blogging Proust's epic . Previous posts: 1, 2, 3, 4. 5, 6 and 7}
Marcel is not Proust.
This was actually a surprise to me when I first read "In Search of Lost Time" as an undergrad in my twenties; I gushed about what a great memoir I was finding it to be and a kindly lit professor said, "Oh, it's a wonderful book, but you know it is fiction." Ah, I had not realized! It's such a richly detailed epic, zooming in on finely-grained nuances of individual feeling and impressions of dozens of unique secondary characters and outwards to offer an anthropology of a society in flux, that I could be excused for thinking it was Proust's own account of his life. It is a life, just not his life.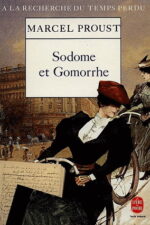 That contrast between the inner life and the social milieu is where the epic gets much of its energy and it is particularly pronounced in Volume 4 as Proust turns his anthropological lens at a subcultural group that was barely acknowledged in his time, much less understood, but to which he belonged. As one might guess from the title, homosexuality is a more prominent theme here and will become rather more so by the end of the work. It was the the last volume over which Proust supervised publication before his death, and it's tempting to think he was finally willing to speak more openly on the subject as his life was reaching its end. Ever since publication, there has been debate about whether he did the subject justice. André Gide famously felt he had not, accusing Proust of an "offense against the truth." He could write about the love that dare not speak its name, but only if he was talking about someone else.
So, finally, we understand why the Baron de Charlus has seemed so strange in previous volumes. In the last book, he blew up at our hero, boiling over with rage at his lack of respect after having offered to be a mentor figure to the young man. In general, Charlus is temperamental to the extreme, thin-skinned as if he sees himself being the subject of whispers. Our narrator promised he would explain the Baron's behavior, and he now does so immediately in a novella-length digression: Charlus is one of the tribe of Sodom, those men who, according to Proust, are close enough to women in their natures and desires that they seek out passion with men. Mon Dieu !
It takes quite an attention span to realize that this also is the punchline for a small joke set up three volumes before: the young Swann entrusted his beloved Odette to the care of his friend Charlus, and the bourgeois snobs who rejected him did so partly because they believed Odette was cuckolding Swann with his friend. Joke's on them; our narrator spies on Charlus with the tailor Jupien and realizes he is living an entirely secret life, in spite of his ironic renown as a "womanizer" and devout widower.
Charlus belongs to "that race of men whose ideal is manly because their temperament is feminine," according to Proust. He seems to be drawing on the "hermaphroditism" theory of homosexuality that was dominant in his time: men who are homosexual have the soul of a woman in the body of a man. The limitations of this theory seem more obvious today, but Proust has other ideas, not surprisingly. He details different types of homosexuals and further compares gay men to freemasons, a secret society who can identify each other by sight, while remaining otherwise invisible. He suggests the real act of perversion is when a homosexual has sex with their spouse of the opposite sex, and that homosexuality was a normal variation in heaven until man declared it abnormal on earth. He also draws a comparison to flowers that reproduce by random chance, through the interaction of insects. So, Proust has his theories.
And so, he can write extensively about the secret world of Belle Époque homosexuals as long as he pretends to be on the outside looking in, something that has long been considered a dodge. Proust actually went so far as to fight a duel with a reviewer who guessed he was gay, something everyone around him already knew. Even those among us who are deeply insightful about others often find themselves to be a mystery.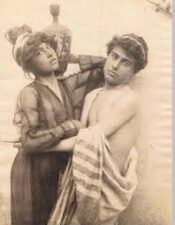 Besides, many have suggested the whole novel is teeming with barely-hidden homosexuality. The fact that our hero loves two women named Albertine and Gilberte has long been taken as a notable wink-wink, nudge-nudge, and there have been editions printed in which the genders were swapped for a queer readership with no noticeable difference to the story. But, of course, Swann already leads a secret life in the first volume, moving between social groups that have no idea to which one he really belongs. His wife Odette had a notable secret life and, in fact, had been with women as a concubine, much to Swann's chagrin. And, it's intriguing to consider the ways in which an unfaithful wife in the era was not so different from the great many homosexuals who were chastely married to the opposite sex. As we've seen, even the straight husbands were regular visitors to brothels. We're getting the sense it was an era of widespread hypocrisy over sexual matters; not as much unlike our own as we like to imagine.
Indeed, everyone seems to be living a double life in this volume. Swann, whose life now comes to an end, is considered a "foreigner," since his society thinks a Jew cannot be a "Frenchman." His wife, Odette, unexpectedly finds herself admired by high society because her salon revolves around Bergotte, whose own fortunes as a writer have risen. Indeed, there's something of the stock market in the way these salons rise and fall; Mme Swann has come up, while Mme Verdurin, the boorish minor aristocrat and aspiring tyrant of the salon in the first volume, has come down in the world a bit as her salon now tolerates a surprising amount of Dreyfusism. Mme de Guermantes seems somewhat forgotten.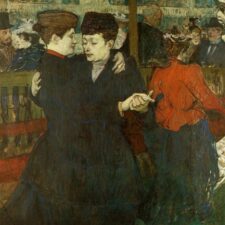 And then, there are the changing fortunes of Albertine, who our hero met on the beach as a young man, when she smiled upon him and then rebuffed his attempt at a kiss; and then again in Paris, where she now offered affection, but could not compete with his many crushes; and now she seems to have finally snared him simply by failing to arrive for a scheduled date. She just had something better to do. Once he senses she is not fully enamored with him, and might even be playing games with him, he decides he needs to be with her. And when he sees Albertine slow-dancing with one of her young friends in a casino, their breasts pressing together in a way that the stuffy doctor Cottard hilariously explains is how lesbians stimulate one another, our hero is all discombobulated and confused. So what if she plays games? Some people need a 30 page contract before they can start kissing, and we're starting to sense that our narrator is one of them. Proust explains:
We must be in love before we can care that all women are not virtuous, which is to say before we can be aware of the fact, and we must be in love too before we can hope, that is to say assure ourselves, that some are.
And this finally explains something that threw me earlier in the series- why is it that Proust offers an extended flashback of Swann's troubled relationship with Odette in what is supposed to be Marcel's remembrance of his own life? The answer it seems is that Swann was always a sort of role model for our hero and he learned a great deal about relationships from that second-hand story. In fact, he learned all about sexual jealousy, something he is just beginning to feel himself; and he also learned that women can be duplicitous, something he'd perhaps rather not know. That they too, like all of us, can maintain a secret life, hidden even from their partner.
And so, the plots are thickening. Join us next time on The Bold and la Belle!
So, what are YOU reading, pondering, playing, watching, or hiding this weekend?