Saturday Spins: Kiss' Destroyer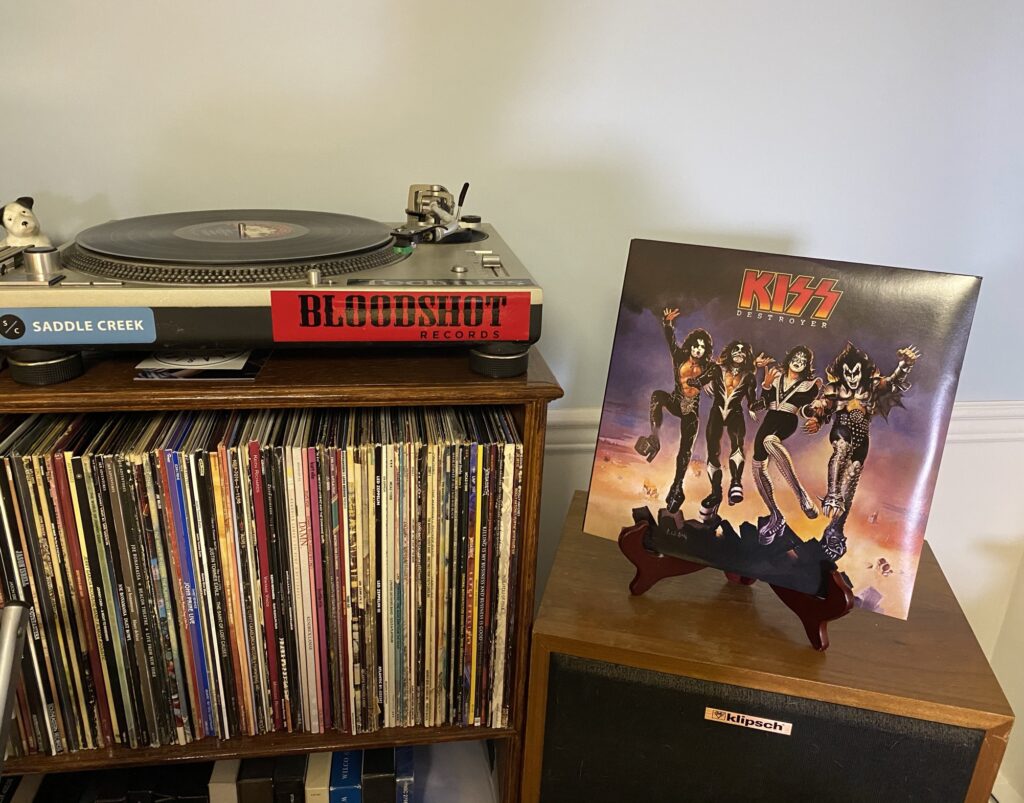 Last week we all took a psychedelic journey back to the Summer of Love. Folks, this week's LP is ready to rock your socks right off, though. I went to the Discogs randomizer to pick out this one.  I have a lot to cover this week--I'll discuss outlandish outfits, platform shoes, tongues, Satan, and, of course, the music.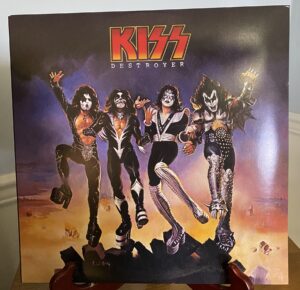 Kiss
Destroyer
1976 (2014 Reissue)
Commentary
Kiss was influenced by British glam metal group, Slade. Bands that mix fashion, performance art, and music or that come with a masked or thematic schtick have always held a special place in my heart. Kiss influenced several other great bands, not to mention the entire 80s glam metal genre. I can't come up with a full list, but some recent examples are Gwar (of course), Slipknot, Mushroomhead (who claim Slipknot stole their image), Mr. Bungle, Daft Punk, and Ghost.1  To a certain extent, even ZZ Top are costumed.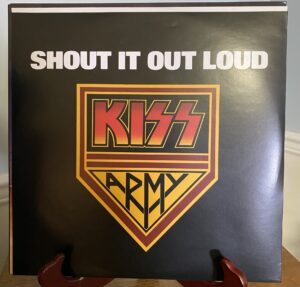 So, Kiss brought the whole make up/costume thing to a whole 'nother level by adding huge and elaborate stage set ups and pyrotechnics. I have no idea how they perform with those platform shoes either. If you have ever been to a Gwar concert, you'd know that they take it to a galactic level.2
The first three albums Kiss made were grittier and straightforward rock n roll albums. Destroyer changed all of that, and Kiss showed off songwriting and musical chops that I don't even think they knew they had. Hell, there are even appearances by the Brooklyn Boys Chorus and the New York Philharmonic. A lot of this growth was due to producer Bob Ezrin's constant push for the band to be the best they could be on this record.
No discussion of Kiss would be complete without discussing one of the greatest frontmen of all time, Paul Stanley. If you really have the time and can stand Paul Stanley, here is about 22 minutes of some of his go-to stage banter and witticisms. Gene Simmons is also highly recognizable, the face paint, the tongue, the ax-bass, the show, etc. This particular LP is old enough that is has the original lineup; the band has since dispatched Ace Frehley and Peter Criss.
The artwork is by noted fantasy artist, Ken Kelly. Kiss would also ask Kelly to provide artwork for their 1977 album, Love Gun. Unfortunately, my copy is not an OG pressing, but an 180-gram reissue from 2014. I do, however, have two copies of Alive II, which has been lauded as one of their best live albums.3
Track by Track
1. Detroit Rock City
One of Kiss' biggest hits is this song, rumored to be written for a fan that was killed in a gruesome car accident on the way to see the band. The mock radio broadcast at the beginning of the song is actually Gene Simmons reading the "report." Anyway, dark undertones as to why the song were written aside, it still slaps. Here is a video of the song being performed live 30 years after it was originally recorded.
Kiss - Detroit Rock City 2006 Live Video
2. King of the Night Time World
Another high energy rock song. Before "metal" was "metal," bands like Kiss that played hard rock were unfairly referred to as a metal band. This song is a good example of what may have been to a precursor to "metal" as we know it in the 80s and 90s, especially with the soaring guitar leads and driving drums, but retrospectively, it is just simply hard rock.
3. God of Thunder
Gene Simmons sang lead vocals on this song. Paul Stanley wrote it, but I gotta say it works really well with Simmons on vocals. It is a great song with many added sound effects, explosions, crowd noise, and Bob Ezrin's young son shouting random thoughts. It is a bit harder than the previous two songs, and the lyrical content is, uh, a bit darker.
4. Great Expectations
Gene Simmons can sing heavy and on this particular track, he can sing softly. Simmons actually wrote this one as well. It is quite a departure from the previous heavy song. A more melodic song that almost sounds whimsical. It features the Brooklyn Boys Chorus singing on the chorus. If you listen closely you can hear the first phrase of the main theme from the second movement of Beethoven's Piano Sonata No. 8 in C minor.
5. Flaming Youth
The ultimate rock song for an angsty teenager. It was the third of five singles from Destroyer. According to Gene Simmons, the song was originally named "Mad Dog," but was reworked and renamed. The first verse says it all, it describes teenaged Chris to a T:
My parents think I'm crazy
And they hate the things I do
I'm stupid and I'm lazy
Man, if they only knew
6. Sweet Pain
This is my favorite song on the album. Not because of groundbreaking or thoughtful lyrics, but because it is catchy as hell. It was written by Simmons and he sang lead vocals as well. Dick Wagner of Alice Cooper fame played the guitar solo on this one, Ace Frehley did not know until he heard the finished version. Both are extremely accomplished and legendary guitarists, it's a mystery why Ezrin decided to bench Frehley at times on this particular LP.
7. Shout It Out Loud
Perhaps one of the most underrated Kiss party rock anthems. "Rock and Roll All Nite" gets all the credit, but "Shout It Out Loud" is just as rocking and catchy. Kiss would routinely close out shows with this one on their Alive II Tour. Maybe soon, we will see Alive II here on Saturday Spins.
8. Beth
Kiss can do ballads featuring the New York Philharmonic just as well as raucous rock tracks. Beth was the fifth and final single from Destroyer and was the b-side to "Detroit Rock City." It actually made the album sell like it was projected to sell. It is a song about a musician out on tour with his band and his lover, Beth, waiting for him at home in an empty house all alone.
9. Do You Love Me
Contrary to the title this is not a cover of the hit song by The Contours.  It is back to a straight rock song about asking a girlfriend if she really loves the singer, or is it the rock 'n roll lifestyle that she loves? It has some great piano in it.
10. Rock and Roll Party
Originally a "secret track;" it mixes some of the boys chorus from "Great Expectations" and crowd noise for a bizarre and ambient outro song.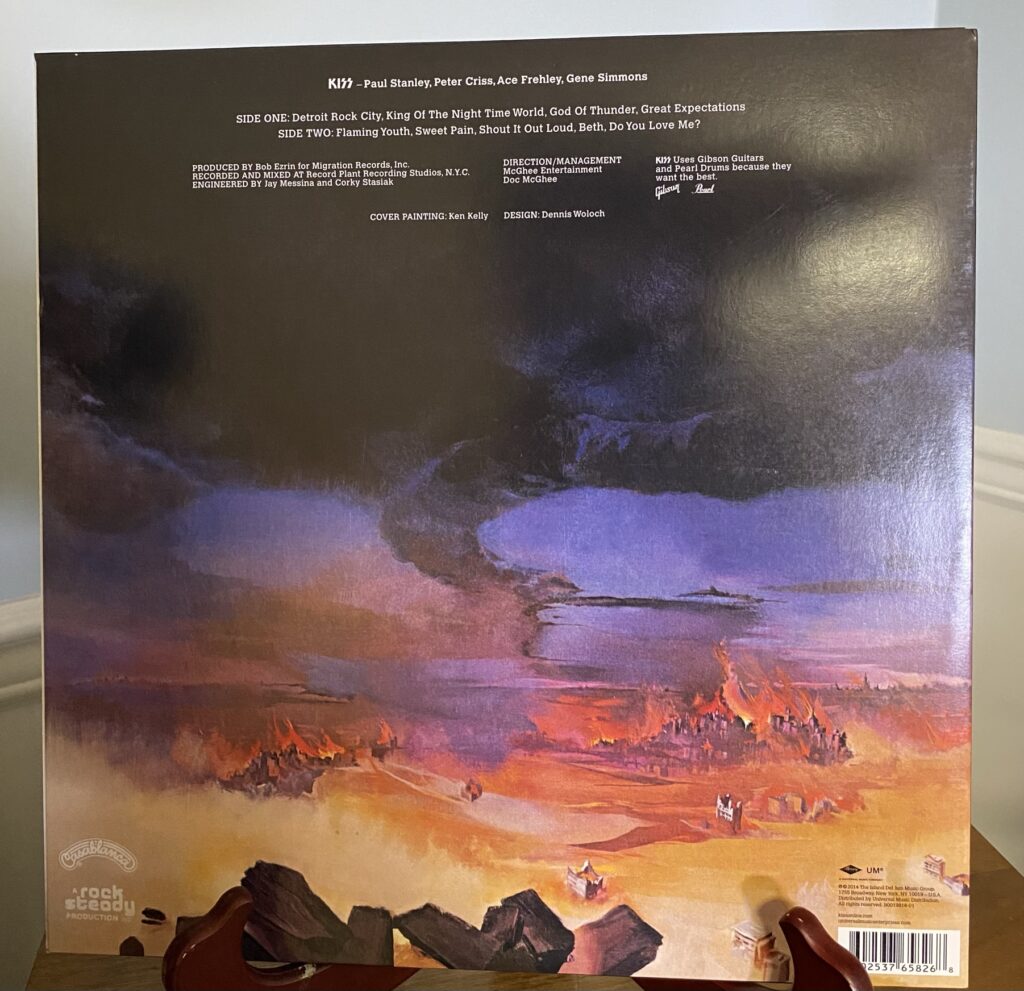 I recently got really into Ghost. I'm not really down with the whole "Hail Satan" thing (by most accounts it is merely a gimmick and is more of a commentary on organized religion as a whole), but the music is good and the performance art is even better. Kiss has also faced allegations of Satanism.
I was invited to one in college by my roommate, I had other commitments, but he returned in the wee hours of the morning covered in purple and red paint/slime and sporting a black eye. I guess I made the right choice.